Magic Mondays: Ten Ways to Improve Your Week in LondonBy Angelica Malin
Another week, another chance to shine. From exercise classes to chocolate festivals, wellness holidays to pamper time, there's tons of fantastic, worthy things to fill your time with in capital.
Here's ten ways to have the happiest, most fulfilling week possible in London. We say: thank God it's Monday:
The Problem: Sick of cleaning out your juicer and wiping down the beetroot stains on your walls? We don't blame you. But don't worry, help is at hand – consider your mornings saved by a company that just does it better.
The Answer: Roots Juicery is an organic cold pressed juice bar, serving health food and coffee in Fitzrovia. They offer cold pressed juices, nut milks, superfood smoothies and wholesome breakfasts, salads and snacks, all freshly made on site every day. They don't scrimp on quality, their produce is organic and sourced as close to home as possible. Save yourself the messy morning and let them do the hard work, eh?
Price: Juice from £4.80
2. For Healthy Living: Nama Foods Classes
The Problem: Gone a little heavy on the Sunday roast recently? Maybe you need to learn the art of the foodie detox with a bit of raw food love – raw food is great for your digestive system, and you'll be amazed with what you can do with raw, unrefined goodies from nature.
The Answer: Nama Foods in Notting Hill regularly host raw food courses at their London restaurant, and have a whole bunch of brand new ones due to begin shortly, including A Raw World Food Series, focussing on one country at a time, with full menus, including: Italy, Japan, Mexico, Morocco, Spain and Peru. They also have a raw chocolate workshop, where you can delve into the yummy world of raw chocolate, cakes, and other sweet treats. On all of the courses, you'll be shown tried and tested recipes and preparation techniques, using only the finest raw, organic ingredients. You'll create new flavours and textures that you never imagined possible, and you'll leave with the ability to make healthy, nourishing, eye-pleasing dishes, either just for yourself or on a grander scale.
Price: From £75
3. For All the Single Ladies: Brown's Hotel Mayfair
The Problem: Who says you have to get sassed up just for a man? Sisters doing it for themselves, and all that jazz. We think it's about time you treated yourself – boyfriend or no boyfriend – and we have just the place to do it this Valentine's.
The Answer: With Valentine's Day fast approaching, Brown's Hotel have launched Anti Valentine's Spa Treatments.  No need to hide away and stay inside this Valentine's Day; celebrate being single with Brown'sHotel's special spa treatment selection. These include: No Man Manicure, Lonely Legs Pedicure, Too Pretty to Be Single Facial, Bitter and Twisted Muscle Relax Massage and Too hot to handle Personal Training Session. Power to the ladies.
Price: From £45
4. For You Time: South Kensington Club
The Problem: Haven't got enough hours in the week for a bit of 'me' time? This trendy membership spa, cafe and wellness centre will help you find the time to switch off, relax and take care of number one.
The Answer: The South Kensington Club is an innovative private members' club, inspired by a spirit of adventure and a multicultural perspective. A place for you to feel at home – enjoy the surroundings, the limitless potential to explore and expand your horizons, whilst benefiting from the state of the art facilities. The Club draws on ancient rituals from around the world to promote fitness, health and the spirit of discovery. It is simultaneously a place to learn and be inspired, to connect with like-minded individuals, or to retreat and unwind in total privacy. Whatever your definition of escape, you should find it here. The facilities are unparalleled as is our commitment to our members.
Price: To apply for membership email members@southkensingtonclub.com
5. For Taking Up a Hobby: Wonderush
The Problem: You're stuck watching re-runs of Peep Show every night, as your boyfriend heats up M&S meal deals. It's time to get out a bit more, hey?
The Answer: Hobbies, seem, well, a little unobtainable, right? You just don't know where to start. Not any more – this helpful website and app allows you to find and try endless amounts of fun hobbies throughout London for a fixed fee every month. Join to access hundreds of handpicked things to do in London, any day and anywhere, and book as many different classes and experiences as you like every month at no extra cost.From salsa to standup comedy, yoga raves to ukulele classes and hot tub dining to cocktail making, you can book as many activities as you like every month for no extra cost. Simply turn up to whatever you booked, give it a go and have a great time. Genius.
Price: £29 a month
6. For Headspace: The Mindfulness Project
The Problem: Life's stresses can catch up with all of us, and sometimes we just need to take a little time out. Easier said than done, though, and a guru in meditation might be just what you need to make the most of your time out.
The Answer: The Mindfulness Project is a not-for-profit company founded by Alexandra Frey and Autumn Totton in 2013. The Project consists of an amazing team of advisors, support staff, and mindfulness teachers coordinating and delivering a full programme of mindfulness meditation courses, events and therapy. They run multiple 8-week mindfulness based stress reduction courses on an ongoing basis, where participants can learn to meditate and the essential skills of mindfulness. They also offer more advanced courses, ongoing drop-in meditation classes, workshops, and seminars on mindful-living topics to help support all levels of practice.
Price: 8-week course at £325.00
7. For Chocolate Therapy: Whole Foods Kensington
The Problem: Who doesn't need a chocolate pick-me-up halfway through the week? And a free one – now you're talking. We've got your mid-week chocolate fix signed, sealed and delivered.
The Answer: Whole Foods Market Kensington is hosting the 2nd annual Chocolate Fest- the festival of Chocolate in London. You'll taste chocolate in every size, shape and flavour imaginable! They'll have have over 20 suppliers featuring their chocolate creations including local suppliers like Amelia Rope and Montezuma as well as bean to bar suppliers like Madecasse, Akesson's, & Mast brothers. This is a free event so if you love chocolate, come on down and bring your friends!
Price: Free
8. For Couples Yoga: Fierce Grace
The Problem: You're fitness trend crazy. Your partner has literally no idea what you get up to after work, and why you come home a sweaty, nasty mess. Isn't it time you put him through his paces?
The Answer: Fierce Grace have just announced the return of their popular Partner Stretching Class in time for Valentine's Day. Led by Michele Pernetta, founder of Fierce Grace, the practice involves being led through assisted yoga stretches, thai yoga massage, resistance stretches and Shiatsu techniques. The full practice is performed under the guidance of Michele with the yoga mind-set to be sensitive, gentle and aware; it is fun, informal and suitable for all levels. The class is performed in pairs, you can bring a partner or a friend to stretch with, or partner up in class. The room is warm (not too hot) the stretch factor is high without you getting too sweaty! The heat allows you to press further into the poses as your muscles and joints are at their optimum temperature so there is less chance of injury. Bring. It. On.
Price: £17 cost for members and non-members – Saturday 13th February 2016 at 5:45pm at Fierce Grace Primrose Hill
9. For Easy Fitness: Exercise in the City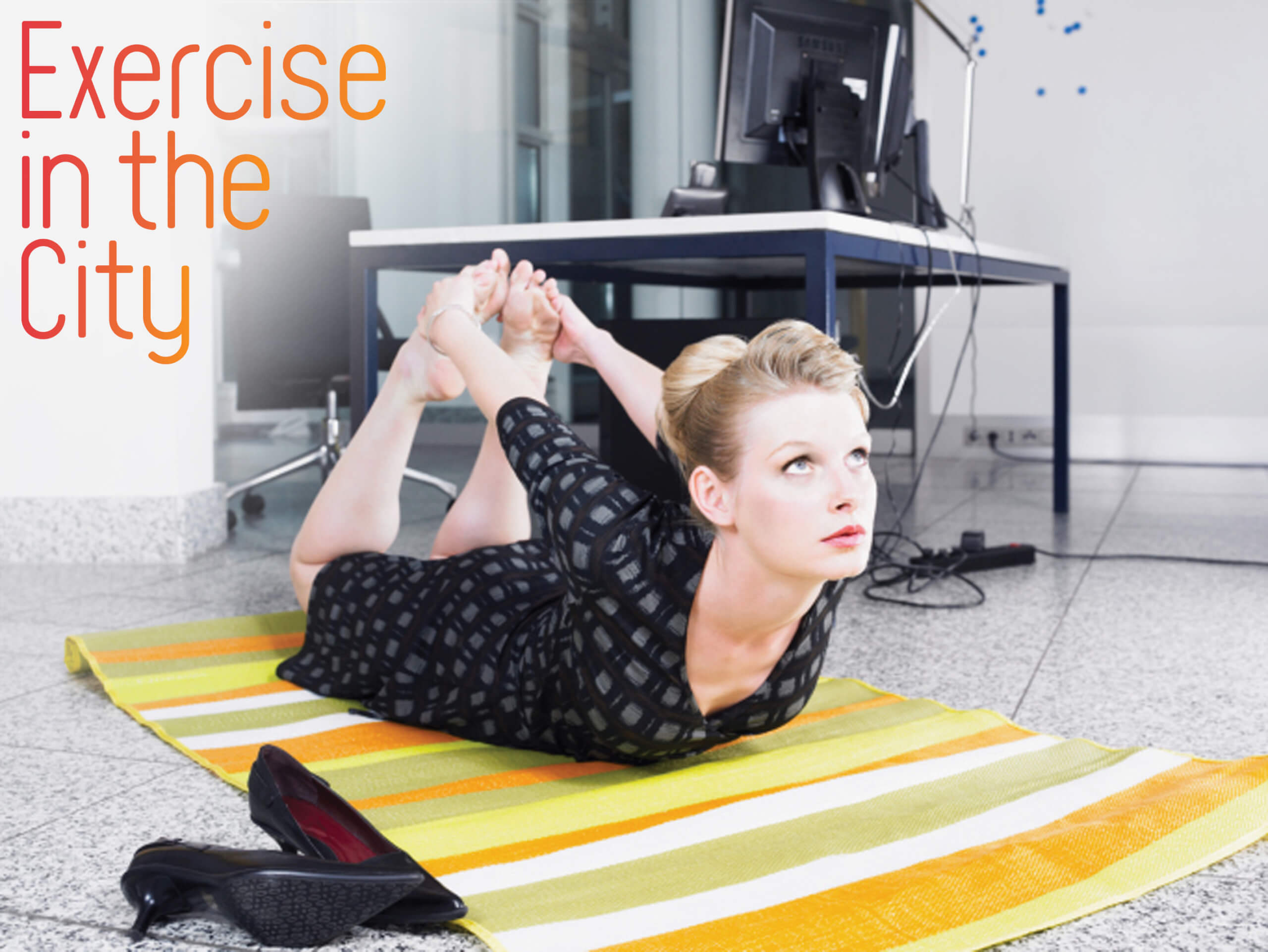 The Problem: Do you ever find it hard to find the time or the motivation to fit exercise into your working day? You're certainly not alone – I, for one, am forever trying to find way to sneak some exercise in, and it usually results in me carrying trainers around in my handbag all day long.
The Answer: Exercise in the City bring Pilates, and all your favourite exercise classes, to you at your London office – so no excuses, All you need is a free room or space in your workplace and some willing colleagues; classes can be held during a lunch break, before or after work. For employees, it's a low-cost, easy and effective way to fit exercise into your working day. For employers, providing physical activity for your staff is proven to increase productivity, reduce absenteeism and of course improve the health and wellbeing of your staff.
Price: For more details and to book your first class contact us info@exerciseinthecity.com
10. For an Escape: Health and Fitness Travel
The Problem: Everyone's going to Venice for Valentine's Day and you just can't hack the throughout of a staged photo kissing on a gondola. Make a break from the norm and go on a quirky health and fitness holiday with your loved one instead.
The Answer: For couples looking to avoid cliché ideas of romance, Health and Fitness Travel, the leading experts in tailor-made healthy holidays worldwide, have amazing cultural wellness adventures. Combining cultural tour discovery with wellness retreat recovery, their healthy escapes offer everything from city tours and cooking classes, to zip-lining and volcano hikes. Discover sites from the cities of Italy to experiencing Bali's famed monkey forest. For example, escape for a Valentine's Day to remember by exploring the stunning tropical rainforests and unspoilt coastlines of Costa Rica. From guided tours of the city of San Jose and a visit to an authentic coffee plantation, to white water rafting and zip-lining through a volcanic national park, you will love the adventures you share together on this exciting cultural adventure.
Price: Prices from £2,425 per person