About Time You Saw: Aristocrats at The Donmar WarehouseBy Gilly Hopper
The O'Donnell family is on its last legs. Gathering in the 1970s at their ancestral home – the fictitious Ballybeg Hall – for the impending nuptials of the youngest daughter, Claire, the family are brought together by circumstance alone; pomp has long subsided.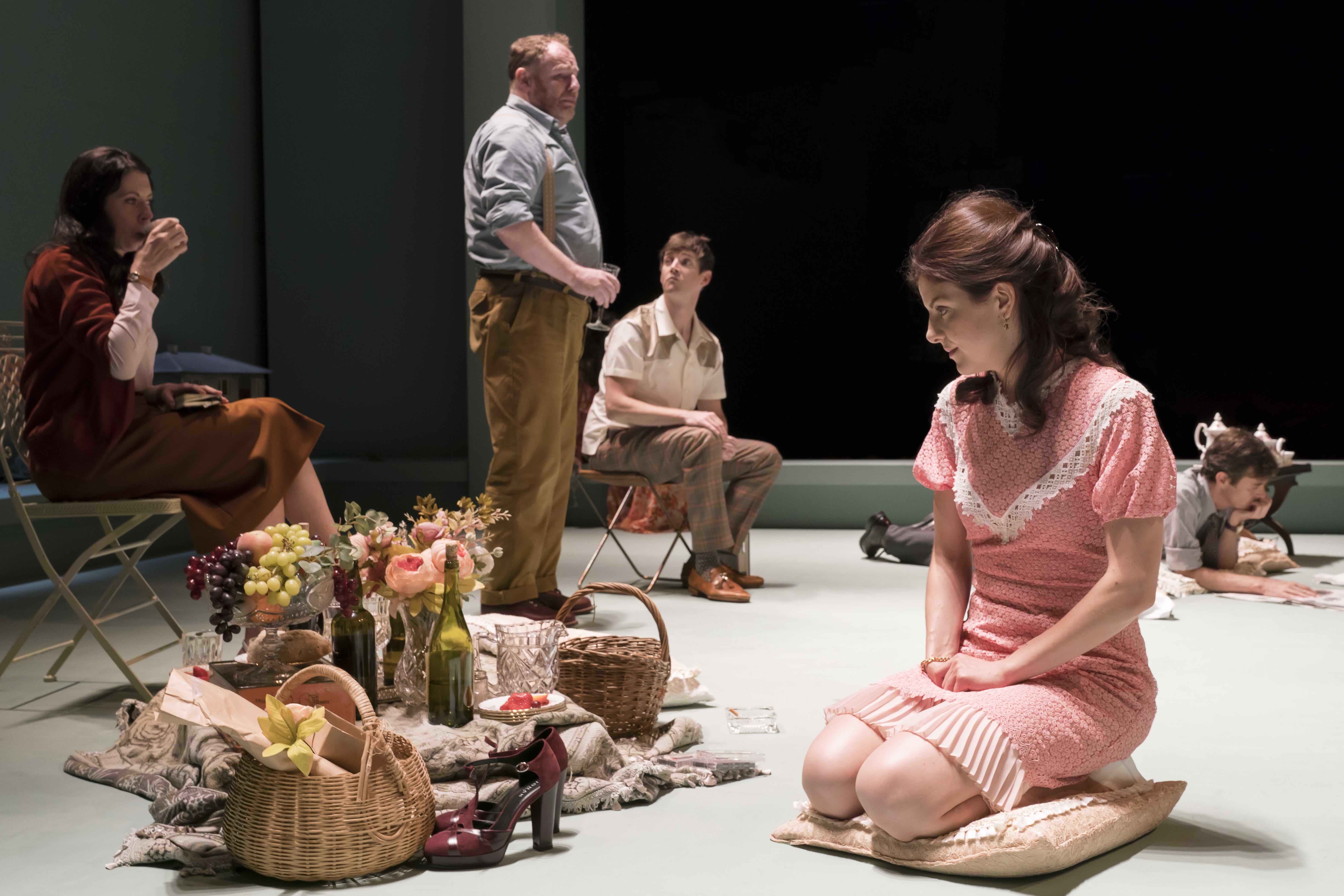 On stage, a dollhouse rests at a centre point, marooned in a sea of pistachio-coloured scenery designed by Es Devlin. This is the first nod to Friel's Chekhovian fantasies: family structures are the second. Sitting along the back rung of the stage are the family members – each introduced in turn – while the patriarch of the family, Judge O'Donnell, is conjured on stage via baby monitor. The portrait painted is one of a family fraying at the edges: an alcoholic; an anxious bride to be; a dutiful and housebound daughter; and a son who is now a father with German children, but little of the language himself. Not much of a legacy.
During the course of this three act play, son-in-law, Eamonn (Emmett Kirwan) suggests that the historical researcher Dr Tom Hoffnung (Paul Higgins) – who is currently residing in Ballybeg to chronicle the demise of the Big House and the stature of its inheritors – should write a Gothic novel: "Ballybeg Hall – from Supreme Court to sausage factory." In four generations the family have gone from the chief of justice to a failed solicitor. Friel's inclusion of Tom as a character gives context and clarification to the stories at play and the memories retold – changed by history, and by orator.
Assessing the on-going dilemmas of family and fantasy, Aristocrats considers how we recollect. As the slightly peculiar Casimir, David Dawson is awfully good. The prodigal son really should get the best part, right? Casimir's twitches, his nervous vocal repetitions – "of course you do" – in addition to his wantfulness and puritan qualities are so well placed.
Directed by Lyndsey Turner, the work has all the composite parts of a simple, compelling familial drama. While there was a smidge too much melodrama right before the half – in which moment a confused father stumbled on stage – and some foggy accents, most devices are subtly implemented and effective in their execution. Large themes of colonisation, family, elitism and social mobility are tackled one by one (at varying degrees of seriousness). Still, there remains lightness and a duality, to each scene. Pacification comes in the form of Irish song, implemented to root us, and the family, in tradition and nostalgia.
By all accounts, the Donmar's revival of Aristocrats lives up to its legacy.
Aristocrats runs at the Donmar until 22nd September 2018. For more information and to book tickets, see here. 
Donmar Warehouse, 41 Earlham Street
, London WC2H 9LX
Photo Credit: Johan Persson