Tel Aviv born, Ron Arad works in an old dairy farm in Camden Town. It's a crumbling yard, once home to cows and horses, but now, through a broken cobbled courtyard and up some rickety stairs, it's the studio of the artist of the moment. It's a place of industry and cutting edge experimentation in the field of architecture, sculpture, furniture and industrial design with 20 devoted staff where the energy and excitement is palpable.
Photo Credit: John Davis
Ron Arad is the artist of the moment whose giant sculpture 'Spyre' stands in the forecourt of Royal Academy during the summer show. His first solo London exhibition has just opened at Ben Brown Gallery and will run until 15th September. Meanwhile, his monumental sculpture, winner of the Terrace Wires art installation in St Pancras Station opens this week and can be viewed until January 2017.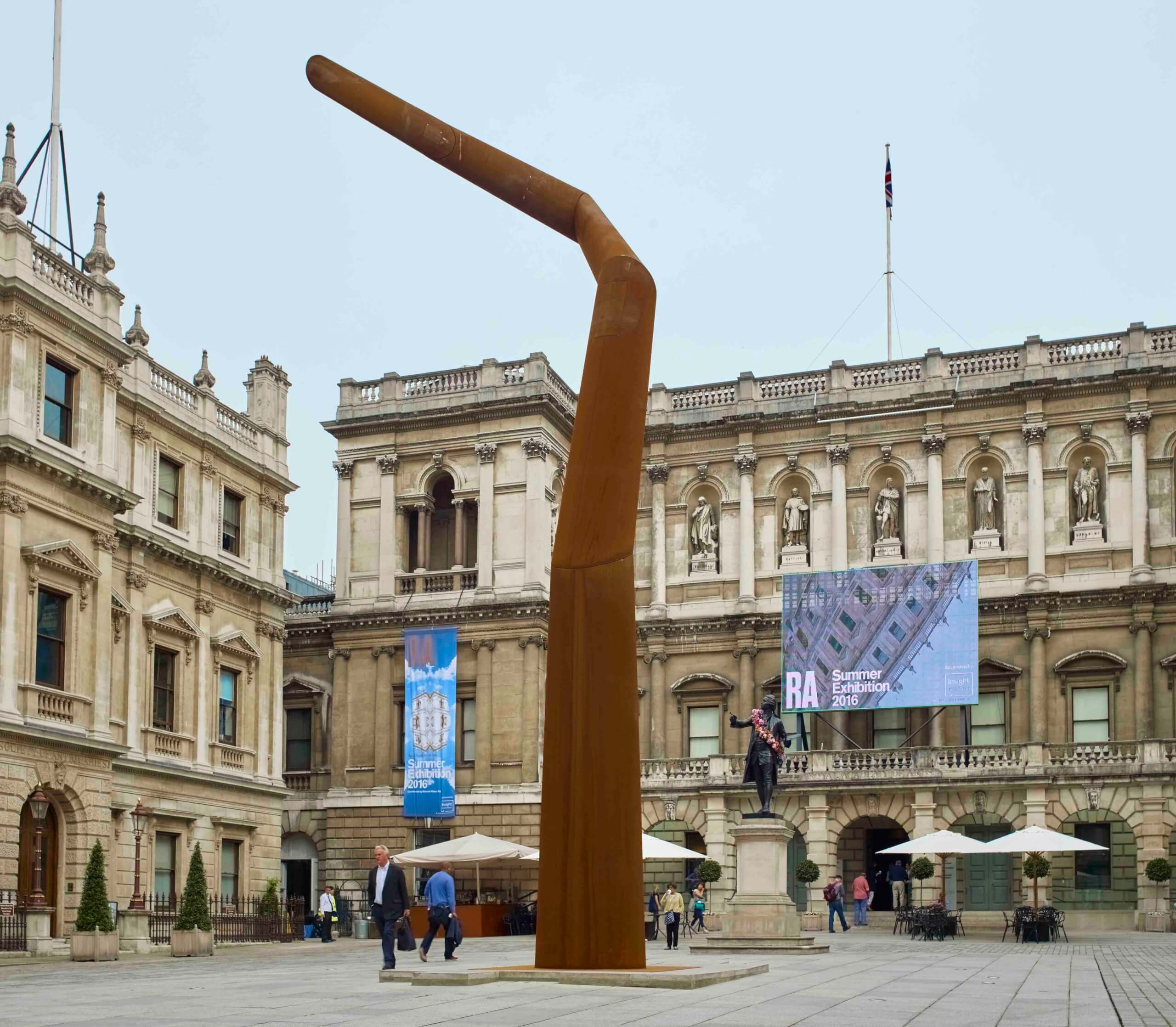 Photo Credit: Stephen White
Last month, Ron Arad had three different unveilings. There was the giant sculpture in the Royal Academy forecourt titled 'Spyre' with its moving tentacle which has a camera at the end, so the sculpture is looking back at the audience looking at the sculpture. There was his first solo exhibition in London at Ben Brown Gallery exploring the boundaries of metals, wood and glass. And in Washington DC there was the opening of the iconic hotel made famous by the Watergate Scandal after a Ron Arad redesign.
And now this month, one wonders what the playbox mind of Ron Arad has in store for us when his piece for St. Pancras Station is unveiled this week. Will the powerful piece 'A Thought of a Train of Thought' ,created in Amsterdam, reflect the world back to the viewer in ever changing rhythms? Will subtle reflections and visual puns make us question reality and illusion? Busy commuters will see for themselves when this powerful work opens this week.
Ron Arad's work is full of wit and humour as is the man, I met him to discuss his life and art:
What do you want out of life?
I want everyone around me to be comfortable and happy. I enjoy what I am doing and I think if I please myself, other people will be pleased.
Ron tells me the story of how in his late 20's he dragged the abandoned Rover car chair from a rubbish tip and designed his first armchair. It became an icon and launched Ron into the world of furniture design creating the springboard for his architecture and sculpture
Ron goes onto explain: It dragged me into a world of furniture design.
So you dragged the chair and then the chair dragged you?
Yes.
How do you arrive at your pieces ?
One piece leads to the next piece. It's knowing what to reject which concerns me
Many artists would consider the constant flow of ideas enviable. How do you know what to reject?  
Ron." I have a team of some trusted people who have worked with me for a long time and we discuss all the projects in sculpture , architecture and design.
I heard that you have designed tables which walk up walls? 
No, not quite. At the Ben brown Gallery I have tables which would be a good idea to have them walk up walls. You should expolore that idea..
What is the most important piece of advice you could give a student? 
To stick to what who are, to enjoy what they doing and to satisfy their own curiosity. To be true to themselves.
What is the most important piece of advice you can give another person?
Don't do it. When I wanted to sell my studio the estate agent said 'don't do it'  it was the best piece of advice I ever received. If anyone advises 'don't do it', think carefully about what they have said.
Do you believe in God?
No. No, I don't.
In fate?
No. I don't believe in God, fate, organised religion and anyone who speaks on God's behalf. I believe that religion has done more bad than good.
I heard you say that artists and architects have a duty to do good things? 
Yes, that is true; to help the world they live in.
Do you know what is your highest high, creatively speaking? 
Most definitely my piece for St. Pancras Station being unveiled next week.
He turns towards the 3D designer glasses, his amazing array of chairs, sofas, sculpture sand architectural designs, and with typical Ron Arad humour, he gestures whilst smiling 'these are  so last month!'
What's happening next month? Why it's another Ron Arad opening – a 360 degree interactive installation at the Roundhouse. Ron Arad has a constant stream of ideas set to provoke thought, entertain and engage the viewer. His work is fun and in that respect he has achieved much of what he wants out of life stating 'if I please myself, other people will be happy.'
Ben Brown Gallery – 12 Brook's Mews, London, W1K  4DG
The Royal Academy Forecourt, Burlington House, Piccadilly W1J OBD
St. Pancras International Station, Euston Road, London N1C 4QP