About Time You Tried: London's Best Peanut Butter BreakfastsBy Olivia Forster
Studies have shown that Americans love peanut butter more than us, but we know this not to be true.  Case proved by our selection of the most peanut buttery breakfasts in all of London. In association with Meridian Foods, as part of #MeridianNutWeek (follow Meridian Foods on Twitter here and like them on Facebook here), we searched high and low for London's finest breakfasts. Wake up the nutty way with London's best peanut butter breakfasts:
1. Peanuts on the Move: Strumpets and Crumpets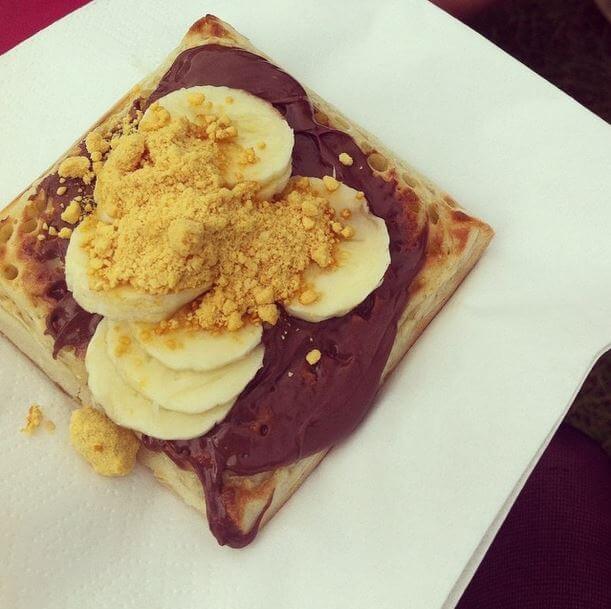 What: Toasted crumpets with peanut butter (£1.80)
Where: Festivals across the UK – next stop Wilderness (August 6th-9th)
Why: Strumpets with Crumpets are a festival favourite, provide a welcome escape after days of sliding around in mud and eating too many greasy festival snacks and cider.  The corset-clad crumpet ladies make an appearance at all of our favourite festivals such as Glastonbury and Wilderness, serving just crumpets, tea and coffee – a taste of home for when you need it the most. We like keeping it pure and simple with straight-up peanut butter, but there's the option to pimp it with banana and honeycomb.
2. Peanuts in the Sky: Duck & Waffle
What: The Full Elvis (£15)
Where: Heron Tower, 110 Bishopsgate, EC2N 4AY
Why: Mixing two of our favourite things, peanut butter and a bloody good view, oh and waffles. The Full Elvis PBJ is like a Full English for the sweet of tooth.  A giant waffle provides the base for a mountain of strawberries, blackberries, Chantilly cream and a (very generous) scattering of cocoa nibs and peanut crunch. A broken down PBJ sandwich if you will.
Photo Credit: Instagram @DuckandWaffle
3. The Retro Peanut: The Breakfast Club
What: The Elvis Shake (£4.40)
Where: 12-16 Artillery Lane, E1 7LS
Why: It's in the name. The Breakfast Club knocks up some of the best breakfasts in the city, with sites from Spitalfields to London Bridge (get there early to beat the weekend queues). As well as their classic BC butty and the monster 'Full Monty', The Breakfast Club also blend up a mean milkshake.  Nut-lovers should pick The Elvis Shake, a milky treat that would be good enough for the king himself. It is made up of just three oh so naughty ingredients, vanilla ice cream, peanut butter and banana, and we think its pretty damn fine.
Photo Credit: Instagram @thisparticularblog
4. Peanuts Are Not Just for Kids: Cereal Killer Cafe, Camden
What: A bowl of Cap'n Crunch Peanut Butter (£3)
Where: Mezz 2, Stables Market, Chalk Farm Road, NW1 8AH
Why: There was a moment when we thought London had all the single-concepts possible – hot dogs, burgers, porridge…. but then The Cereal Killers came along and brought us their cereal cafe. The first cafe opened on Brick Lane last year, with the second following suit in Camden.  Its total Breakfast heaven, with the best of the sugary stuff brought over from the US (we're particularly partial to a froot loop) along with some trusty British staples, aka. Dorset Cereals muesli. Its like being a kid in a breakfast sweetshop, and caters for all peanut butter lovers. We discovered the Cap'n Crunch Peanut Butter, top that with their peanut butter milk and you're on to a winner.
Photo Credit: Instagram @rosetodayblog
5. Peanuts for the Health Goddess: Frame Studios, Shoreditch  
What: The Macattack Smoothie (£5)
Where: 29 New Inn Yard, EC2A 3EY
Why: Frame continues its reputation as one of the quirkiest places to work out in Shoreditch (not forgetting their second site in Queens Park!).  With the fiercest instructors, the best equipment and a soundtrack to suit every taste (we recommend the 80's aerobics which features plenty of Madonna) this is somewhere to go to beat that treadmill fatigue.  Not only are they making exercise that bit more bearable but they are treating us at the same time.  The Frame smoothie bar is there to take your order before class, so the minute you're done, there is a healthy reward! Never fear peanut lovers, because we found the 'Macattack' – created by the clever in-house nutritionist Libby Limon, it contains superpower things such as bee pollen, cinnamon, almond milk… and you guessed it, peanut butter. Go forth and energize!
6. Sweet Peanuts: Plum + Spilt Milk

What: Banana and Peanut Butter Breakfast Muffin (£4)
Where: Great Northern Hotel, Pancras Road, N1C 4TB
Why: Put DOWN that sad little Starbucks blueberry muffin and head over to King's Cross where  Plum + Spilt milk have it covered with their new breakfast menu.  With ex-Gordon Ramsay chef Mark Sargeant in charge of the menu, we expected classic British dishes, what we got was delicious breakfast classics with a healthy twist.  Think quinoa porridge with blueberries and almonds, and the light-as-a-feather buckwheat crepes with strawberries, lemon balm and agave syrup. This is breakfast without the guilt factor, and they even have a muffin, just for you – the banana and peanut butter muffin is the best sort of sweet start to the day. Also try their Brioche egg bread (pictured) – it's dreamy.
7. Just Plain Ridiculous: Bad Egg
What:  Fried Chicken Bap with peanut butter and jam (£6)
Where: City Point, Moorgate, EC2
Why: We all deserve a treat, a day off, a blow out. Bad Egg is a no-fuss, no-frills diner which serves up alotta eggs. Eggs are by no means the only option here though, and the breakfast menu treats us to chunky slices of sourdough with different toppings (go for the guacamole) and a whole range of white fluffy baps, filled with all things naughty. We suggest that you nutty folk go straight for fried chicken bap with peanut butter and jam – it might sound crazy, but this combination works, trust us.
8. Protein Peanuts: Core Collective

What: Protein waffles with berry jam and peanut butter (£8)
Where: 45 Phillimore Walk, Holland Park, London W8 7RZ
Why: After the gym, you need to get your protein hit in. And how better to do it than one of London's most Instgrammable waffles – the vanilla protein waffles at trendy new luxury gym, Core Collective, in Kensington. These waffles are totally dreamy – the berry jam is perfectly sweet, and the use of Meridian almond butter is everything you need for a post-workout treat. Check in for one of their great TRX classes and reward yourself with these waffles afterwards.
9. Peanut Butter Everything: Delancey & Co
What: Reese's Cereal, Peanut Butter Bagels + Peanut Butter Cheesecake (from £1.25)
Where: No.34 Goodge Street W1T 2QL London
Why: It's peanut butter heaven over at Delancey. They've got Reese's Cereal, peanut butter cheesecake and peanut butter cookies. If you order their 'USA Cereal Pot', you can choose from a selection of cereal, and add on Fluff, banana or Nutella, too. They also serve dreamy bagels – get the cinnamon and raisin bagel with either peanut butter or Fluff. The concept is simple: choose between Challah, rye or poppyseed bagel, and one of the epic fillings. Make ours a Pizza Bagel with salt beef, cream cheese, tomato sauce, mozzarella and oregano. Nom.
Post in association with Meridian Foods, as part of #MeridianNutWeek – follow Meridian Foods on Twitter here and like them on Facebook here