Pancake Day 2016 – we hear it's the new Valentine's day. You know what annoys me about guides? They never tell you what to order. I hate food envy more than anything – I'm forever making people share food with me, which, I'll tell you this for free, isn't the best way to make friends. Problem solved this Pancake Day: we've got your menu order in the bag. Here's the pancakes to order this Shrove Tuesday, totally food envy free:
1. Reece's Pieces Pancakes at The Diner
The Ones: Reece's Pieces Pancakes with Reece's peanut butter chips, chocolate sauce and peanut ice cream (£7.50)
What: From sweet potato, bacon and guacamole combo to their signature Red Velvet and sweet Spiced Apple Donut pancakes with pistachio glaze, The Diner has all your favourites covered. From 9-12th February, you can eat pancakes from morning until night to your hearts content. In true American style, The Diner have syrup-titiously created a truly fantastic limited edition menu of sweet and savoury choices. Highlights include the indulgent Reece's Pieces pancakes featuring Reece's peanut butter chips, chocolate sauce and peanut ice cream, and the creamy Oreo Cookie stack with marshmallow fluff cream, broken oreos and icing sugar.
Why: The Diner's famous Red Velvet pancakes will also make an appearance with whipped honey butter along with the exclusive Spiced Apple Donut pancakes, featuring a mouthwatering pistachio glaze. So whether you are just a modest appreciator of the simple pancake or a true connoisseur of all things stacked, The Diner's Pancake Day menu is made for all.
Where: Locations here
Photo Credit: Paul Winch-Furness
2. Deep Fried Banoffee Pancakes at The Book Club
The Ones: Deep fried banoffee-inspired pancakes served with salted caramel rum sauce, fresh banana, whipped cream, and Nutella (£8.50)
What: The Book Club in Shoreditch and Stories on Broadway Market will be hosting an all-day pancake party like no other this Shrove Tuesday. Both venues will be serving a special Pancake Day menu with indulgent options ranging from the savoury, such as Mexican sweetcorn pancakes with chilli sauce, bacon and avocado, to downright sinful, deep fried pancakes with salted caramel rum sauce. There will of course be a gluten-free healthy option for those still clinging on to the healthy-eating bandwagon.
Why: Customers will also be able to take part in a 'Great British Flip Off' pancake challenge during the day to see how many flips they can land in a minute. There will be an optional £1 charity donation to enter and bar tab prizes for the winners.
Where: The Book Club and Stories
3. Smoky Bacon Pancakes at Heddon Street Kitchen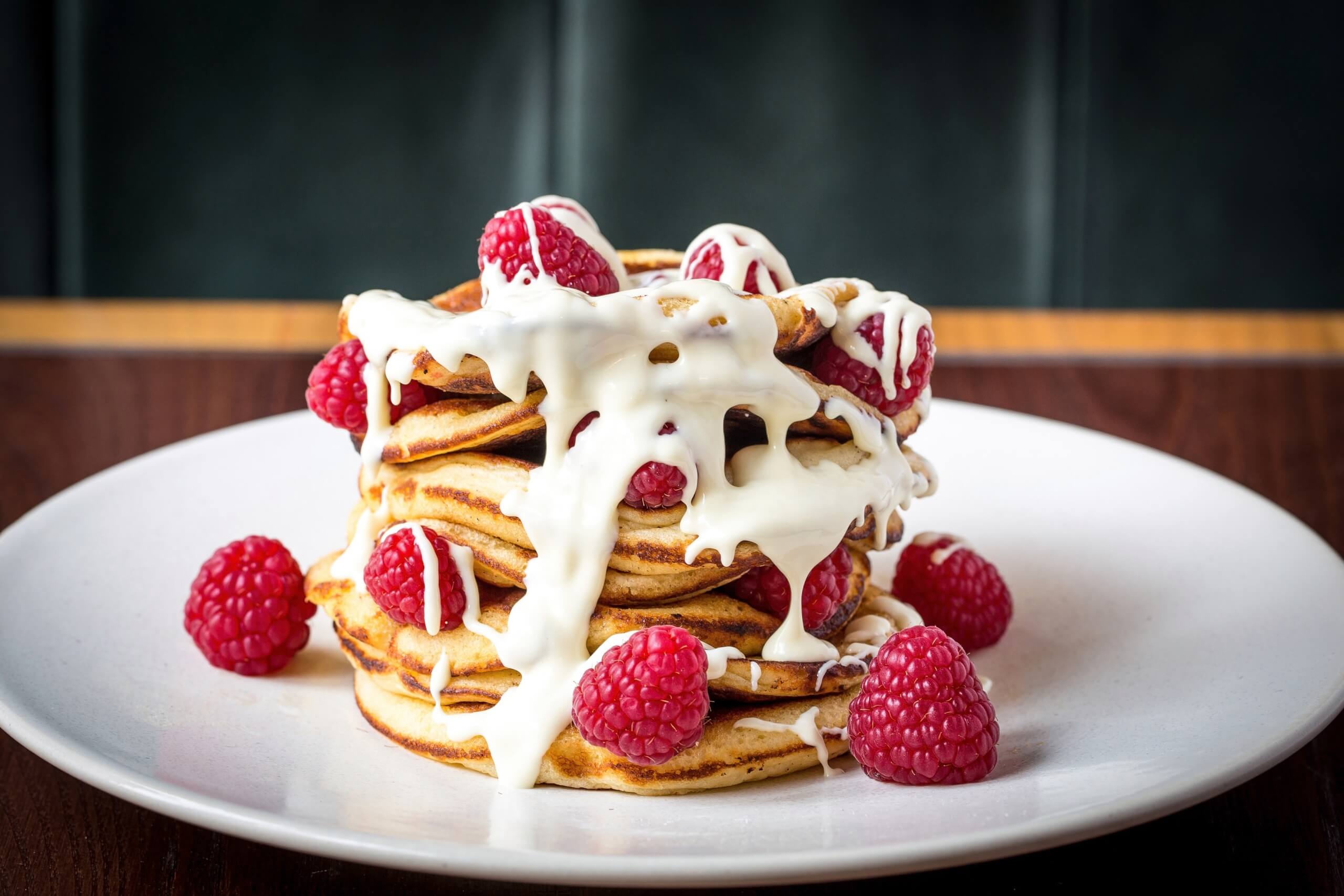 The Ones: Pancakes with caramelized banana and crispy smoked bacon (£7)
What: This Pancake Day, get your fill of sumptuous battered bites at Heddon Street Kitchen, part of the Gordon Ramsay Group. The restaurant's team of chefs have created an array of drool-worthy sweet and savoury options for you to enjoy throughout the day as a breakfast, snack or dessert.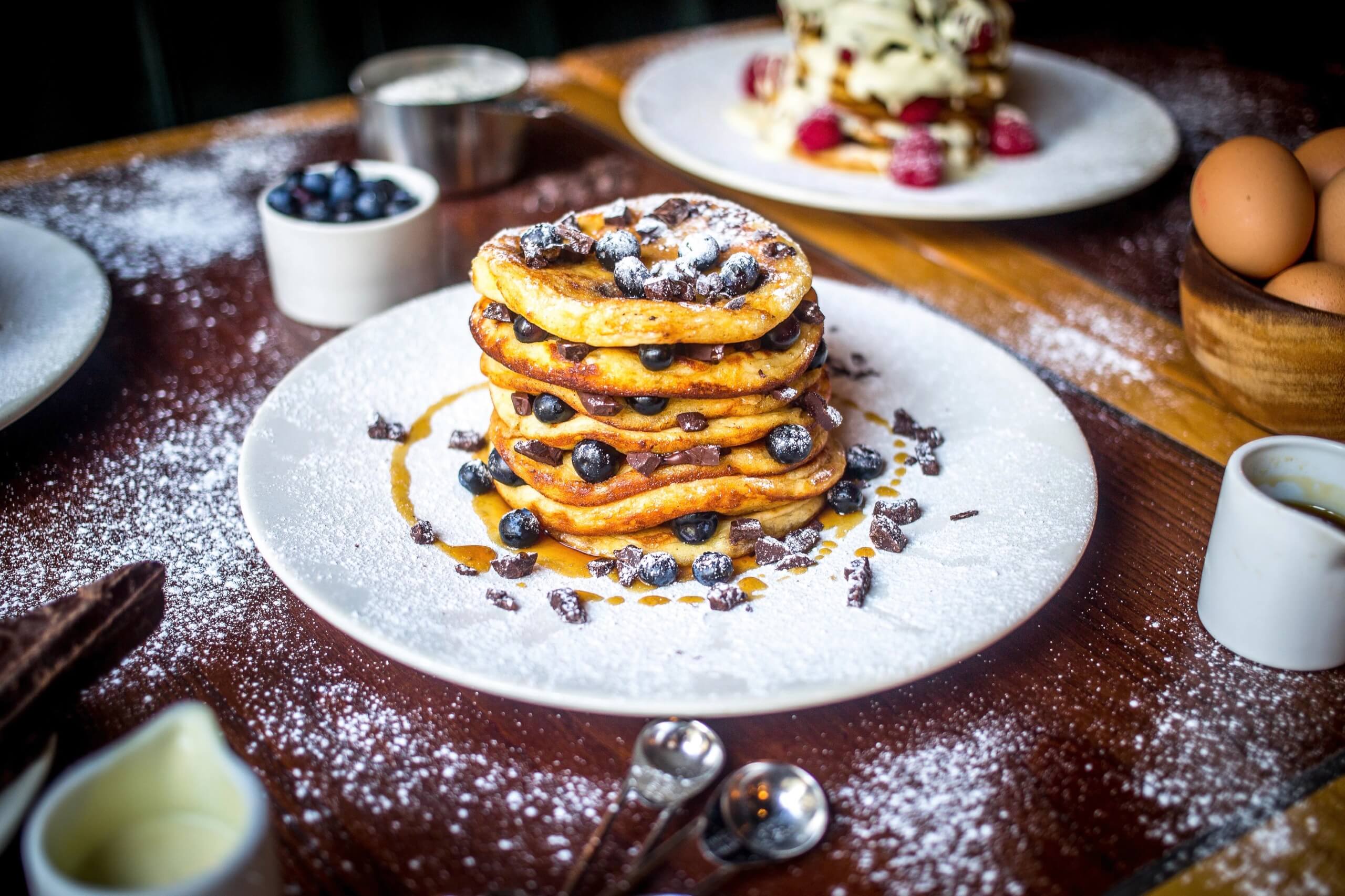 Why: Drop your shopping and head over to Heddon Street Kitchen to munch on some drool-worthy pancakes and cocktails. Located just off Regent Street, the restaurant is a beautiful and brooding space set across two floors – a stylish blend of vintage and modern, finished with all buttery leathers, machismo woods and shimmering steel. What's not to love?!
Where: 3–9 Heddon St, London W1B 4BE
4. Buttermilk Pancakes at CUT at 45 Park Lane
The Ones: Buttermilk Pancakes with whipped maple butter and seasonal berries (£16)
What: CUT at 45 Park Lane will be serving up their acclaimed American inspired buttermilk pancakes to celebrate shrove Tuesday. A side of bacon or with a dollop of cream on the side? Executive chef David McIntyre will be on hand to make your pancakes just how you like them. We hear a side of chocolate chips is a must…
Why: With its vibrant interiors and enticing menu, created by internationally acclaimed chef founder Wolfgang Puck, CUT at 45 Park Lane is a modern American steak restaurant. On Sundays, relax with brunch and a Bloody Mary, custom-made to your liking, as you listen to live music.
Where: 45 Park Lane, London, W1K 1PN
5. Battered Mars Bar Pancakes at Mac & Wild
The Ones: Battered Mars Bar Pancakes (£7)
What: To celebrate Pancake Day, Mac & Wild have stuck to their roots and created a very special Scottish delicacy, a battered Mars bar pancake. This pancake will be a perfect Shrove Tuesday treat and will get you shouting och aye from the rooftops. The delicious dish will consist of a crepe filled with luxurious chocolate ganache and gooey caramel. The pancake will then be battered and deep fried to create a wonderful hot and crunchy outer layer, containing the gorgeous ganache and caramel deep within. One bite and you'll be hooked.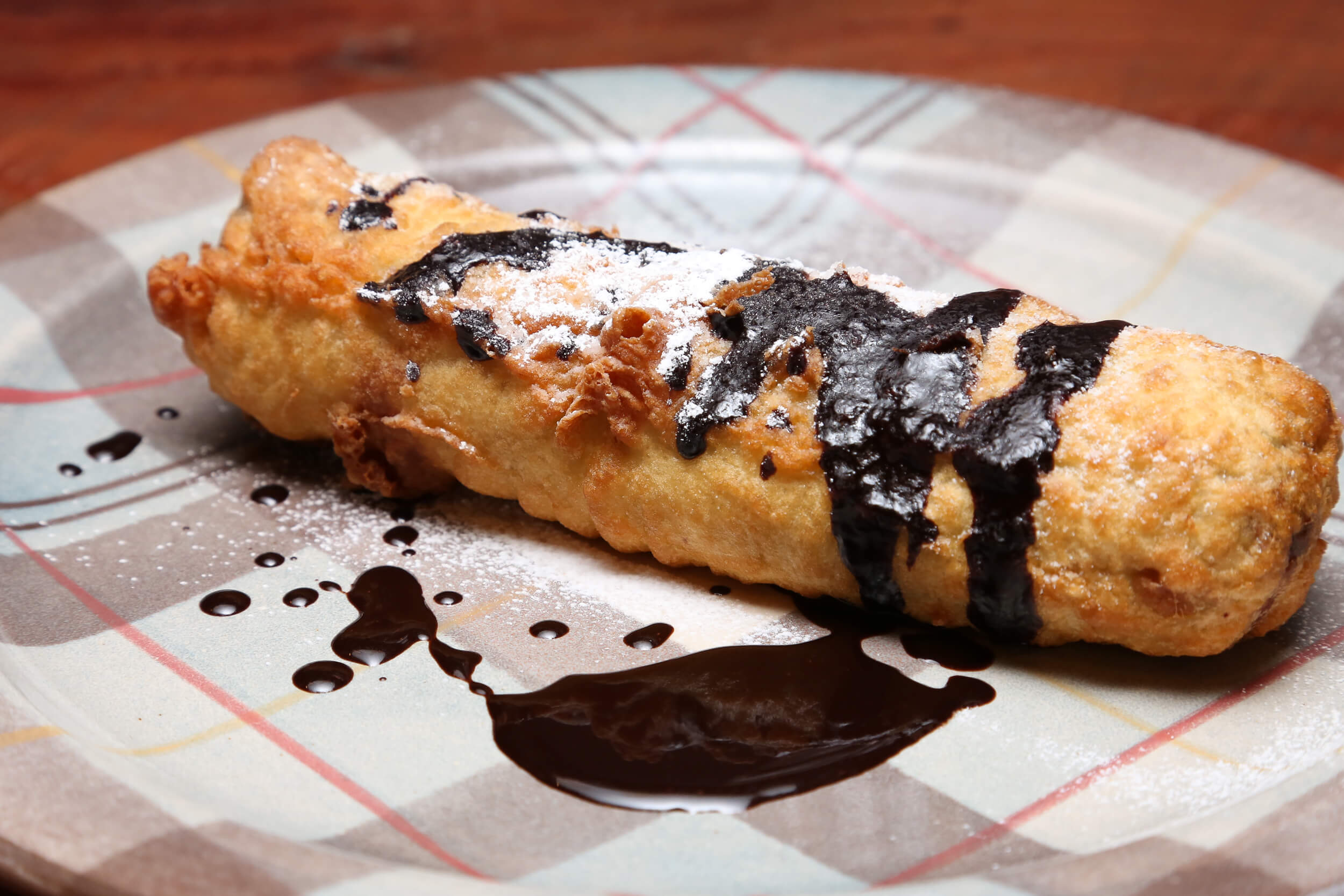 Why: Mac & Wild is the first permanent restaurant project from the Wild Game Company. Diners are taken on a journey to the Scottish Highlands, enjoying the finest wild venison, game and seafood as well as a diverse range of whiskeys and their own Mac & Wild bottled cocktails. Seriously good food.
Where: 65 Great Titchfield St, London W1W 7PS
6. Strawberries and Cream Pancakes at Rabbit Restaurant
The Ones: Pancakes with strawberries and cream (£6)
What: To celebrate one of their favourite days of the year, Pancake Day, Rabbit restaurant is going flipping mad. Head Chef Oliver Gladwin will be showing guests how its done by flipping all pancakes at the pass in front of customers. Rabbit will be asking those who think they can, to come in and have a go. Rabbit have created both a savoury and sweet pancake, perfect for those who want to indulge on this great day. So head down to Rabbit, you'd be flipping mad not to.
Why: Rabbit is the latest offering by the Gladwin Brothers, offering all day dining of British food. Think: sustainable ingredients and wines from the family farm in Sussex, served in a great space. Seriously, the menu won't let you down.
Where: 172 King's Rd, London SW3 4UP
7. Buttermilk Pancakes at Aubaine
The Ones: Buttermilk pancakes with fresh seasonal fruits and French Chantilly cream<
What: This Shrove Tuesday, on 9th February, French brasserie, patisserie and boulangerie Aubaine will be offering the ultimate stack of pancakes for two to share. Available for one day only, the indulgent treat will feature fluffy buttermilk pancakes piled high with fresh seasonal fruits and topped with smooth French Chantilly cream.
Why: Perfect for sharing, or savouring to yourself, the delicious snack will be available at all of Aubaine's nine neighbourhood restaurants on Shrove Tuesday for £16. True to Aubaine's celebrated high-quality food offering, the chefs here create food featuring traditional French ingredients, showcasing the exquisite food that France is famous for.
Where: Locations here
The Ones: Indian spiced pancakes (£12 for a single stack, or £18 for a stack to share)
What: This Shrove Tuesday, Michelin-starred Benares in Mayfair will be putting an Indian twist on the traditional American-style pancake. Available for one day only, Chef Patron Atul Kochhar's Indian-style pancakes will be flavoured with the subtle Indian spices Benares is renowned for perfecting – the perfect dish with which to end a modern Indian feast.
Why: Michelin-starred restaurant Benares has always been the place to push the foodie boundaries. Chef-owner Atul Kochhar's  signature modern Indian cuisine with a distinctive British twist has proved itself amongst other high-end restaurants in the area. Come here for an exceptional feast, with a vast selection of Indian small plates made for sharing.  It's an Indian food lovers dream.
Where: 12a, Berkeley Square, London W1J 6BS
9. Bourbon Caramel Pancakes at Foxlow
The Ones: Pancakes with Bourbon caramel with soft serve ice cream (£8)
What: This Pancake Day, Foxlow have three fillings for their amazing pancakes: classic lemon and sugar, Montecristo, with ham, cheese and maple syrup and Bourbon caramel with soft serve ice cream.
Why: All profits from Pancake Day will go to charity Magic Breakfast. The charity works with just under 500 schools across country setting up, supplying and running breakfast clubs in schools. It costs 22p per day to provide breakfast for a school child but more than just providing a healthy start to the day, the charity also works on social interactions and having a safe environment for the kids who wouldn't necessarily have that at home.
Where:
All Foxlow restaurants (Clerkenwell, Stoke Newington, Chiswick and Balham) from
8am to 5pm
on
9th February. 
10. Lemon and Sugar Soufflé Pancakes at SIXTYONE
The Ones: Lemon and sugar soufflé pancakes (£6)
What: Sixtyone, the relaxed neighbourhood restaurant in Marylebone will be serving a limited edition pancake dish on the 9th February that you won't want to miss. Created by Chef Patron, Arnaud Stevens and his talented team, indulge in some of the lightest and fluffiest lemon and sugar soufflé pancakes you've ever tasted!
Why: Sixtyone is a neighbourhood restaurant in south Marylebone less than 5 minutes walk from Park Lane. We serve great food with big, bold flavours inspired by the travels of Chef Patron, Arnaud Stevens. Located next to the restaurant is our seductive Champagne Bar serving a fabulous range of Champagnes and cocktails.
Where: 61 Upper Berkeley St, London W1H 7PP
11. Clotted Cream Pancakes at Aqua Shard
The Ones: Buttermilk pancakes with blueberry compote and cornish clotted cream ice cream
What: Pancake lovers rejoice – for Shrove Tuesday this year, aqua shard are offering something special to mark the date at the sky-high setting. New to the menu, buttermilk pancakes with blueberry compote and cornish clotted cream ice cream will be available to enjoy at the same time as taking in breathtaking views of the city from level 31 of The Shard.
Why: Available for breakfast, and dessert at lunch or dinner
Where: Level 31 The Shard, 31 St Thomas Street, SE1 9RY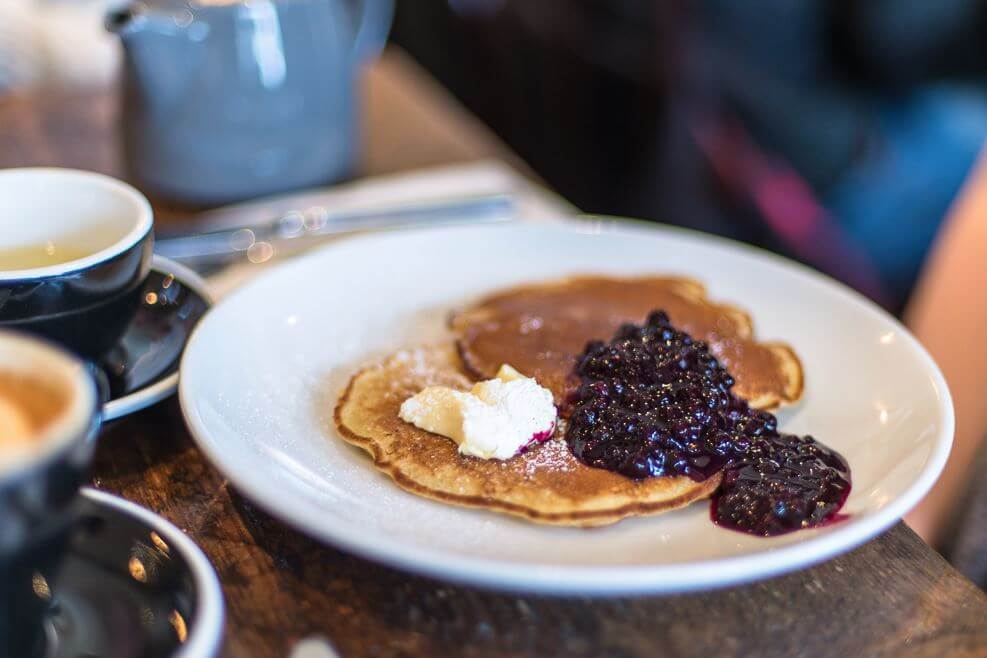 The Ones: Buttermilk pancakes with balsamic berries, mascarpone, pecans (£8.5)
What: Remember, pancakes are for life. Not just for Shrove Tuesday. No really, Caravan King's Cross keeps pancakes on their breakfast menu all year round. Right now they have stacks of the buttermilk variety with lashings of mixed berries and a hefty dollop of mascarpone. Sweet, sharp and indulgent these are a piece of pancake heaven. Watch out though, toppings change seasonally!
Why: Caravan is THE brunch destination in London, so much so that the vast King's Cross branch still has a queue every weekend. The little sister in Exmouth Market offers a more calm environment, with both offering a 'well-travelled' menu full packed full of flavours from across the globe. We only have one rule for you. Jalapeno Cornbread.
Where: 1 Granary Building, Granary Square, London N1C 4AA
Photo Credit: Giulia Mule
13. Blood Orange Pancakes at B&H Buildings
The Ones: Pancakes with blood orange and clotted cream ice cream (£7.50)
What: From the 9th-11th February, B&H Buildings will be serving up all the pancake classics, in their decadent B&H style. Available for lunch and dinner, the pancake menu will feature the eternally delicious sugar with a spritz of fresh lemon, and the indulgent topping of flambé-ed  blood orange and clotted cream ice cream.
Why: B&H is a modern all-day brasserie and bar, serving the brand's famous cocktails. B&H Buildings will offer the consistent quality and friendly service of a members club, but without any of the membership fees or contrived exclusivity.

Where: 42 Northampton Rd, London EC1R 0HU
14. 'Smores Pancakes at Sweet Things
The Ones: Pancakes with crushed digestive biscuits, melted mini marshmallows and a luxurious Belgian milk chocolate sauce (£5)
What: Masterchef finalist Natalie Allen will be serving up her famous crepes and pancakes from her Notting Hill site, this Shrove Tuesday. She's won a Great Taste Award for her brownies and the brunch offerings are just as delectable.
Why: The Eggs Benedict pancakes, with a ham and creamy hollandaise sauce will make an appearance, and for the sweet fiends, they've taken the famous smores and turned it into a pancake with crushed digestive biscuits, melted mini marshmallows and a luxurious Belgian milk chocolate sauce. For the pancake purists, there's the classic Nutella of course!
Where: 8 Blenheim Crescent, Notting Hill, W11 1NN
15. Banana and Berry Pancakes at Polo Bar
The Ones: Pancakes with banana, berries, vanilla ice cream and strawberry sauce (£14)
What: You say you love pancakes but do you love them enough to tackle a 12" stack complete with bananas, fresh berries, vanilla ice cream and strawberry sauce? If you think you are up to the challenge then step forward and book your place! And if you can scoff the lot, there is a free bottle of prosecco with your name on it!
Why: Not up for the challenge, fear not – they have a pop up pancake window available from 6th of February to the 9th, come along and take the infamous pancakes to go! Polo Bar is 24-hours, too, which means you can get your breakfast fill at any time in the day.
Where: 176 Bishopsgate, London EC2M 4NQ
16. Blueberry and Banana Pancakes at BREW
The Ones: Blueberry pancakes with caramelised banana, crème fraîche and maple syrup
What: At BREW, the coolly contemporary café known and loved for their deliciously innovative Antipodean menu, any time is brunch time! With sites now in Wimbledon, Putney, Wandsworth, Clapham and Chiswick, this pancake day make sure you indulge in their signature blueberry stack served with caramelised banana, crème fraîche and lashings of maple syrup.
Why: BREW are also donating £1 from every pancake dish sold to Pl84u Al-Suffa, a homeless charity who aim to save and serve humanity one 'PL8' at a time, Brew also donate their time and skills to their kitchens.
Where: Locations here 
17. Classic Pancakes at Blixen
The Ones: Classic Maple Sizzurp and Streaky Bacon (£7)
What: Blixen always has pancakes on offer – thick, fluffy ones laden with blueberries and mascarpone – but for one day only they will be doing three toppings. These are: blueberry and mascarpone, acon and maple syrup and smoked salmon and crème fraiche.
Why: This European brasserie with menus from breakfast to late-night drinks in an elegant former-bank space is simply divine. You can sit out in their gorgeous garden, celebrate Pancake Day (aka the next best thing to Christmas) and dream of summer.
Where: 65A Brushfield St, London E1 6AA
18. Spelt and Vanilla Fluffy Pancakes at Pont St
The Ones: Spelt and vanilla fluffy pancakes with blueberries and maple syrup
What: Chef Sophie Michell makes the fluffiest American style pancakes at glamorous all day restaurant Pont St. She's replaced the traditional flour with healthier spelt, an ancient grain full of nutrients and fibre without loosing any of the flavour and texture.
Why: It's the perfect option for an indulgent Shrove Tuesday without cheating on your healthy resolutions. Very virtuous indeed.
Where: 20 Chesham Place, London SW1X 8HQ, England
Photo Credit: Paul Winch-Furness
19. Red Velvet Pancakes at The Rib Room
The Ones: Red velvet pancakes with cream cheese glaze (£25, including glass of Prosecco)
What: This Pancake Day, The Rib Room restaurant in Knightsbridge is inviting diners to indulge in perfectly prepared pancakes for breakfast, lunch and dinner. Guests can choose from a selection of five classic and creative flavours for breakfast or lunch, including French crepes with salted caramel, red velvet pancakes with cream cheese glaze, and lemon and poppy seed pancakes.  For those who prefer their pancakes more robust, The Rib Room will also serve the 'mancake', a classic American pancake made with Guinness stout, finished with crispy bacon and maple syrup.  Served with a glass of fizz, these pancakes are an indulgent way to start the week.
Why: For dinner, guests can learn to flip and flambé a traditional French crepe Suzette with finesse. Bringing a touch of theatre into the restaurant, The Rib Room chefs will offer diners their top tips for successfully flipping their pancakes, then flambé them with the traditional caramel, citrus and Grand Marnier beurre Suzette sauce.
Where: Jumeirah Carlton Tower, Cadogan Pl, London SW1X 9PY
20. Buttermilk Pancakes at Berners Tavern
The Ones: Buttermilk pancakes, banana, Nutella and hazelnuts.
What: Sink your teeth into a stack of soft buttermilk pancakes at Berners Tavern. Headed up by Jason Atherton, this stunning restaurant is foodstagram heaven, and their pancakes make no exception. These ones are laced with Nutella, layered with banana and sprinkled with hazelnuts.
Why: Because pancakes can be chic. Eat them in style, surrounded by some 211 photographic portraits that cover the soaring high walls with a ceiling that dangles chandeliers inspired by those in New York's Grand Central Station.  
Where: Berners Tavern