National Chocolate Week: How to Eat All the Chocolate in LondonBy Angelica Malin
It's National Chocolate Week! Whether you like your chocolate white, milk, dark, poured over ice cream or baked in a fondant, there's something for everyone in London. From chocolate cocktails to Greek surprises, here's how to celebrate the world's best national week in London:
1. For a Dinner Party: Pots & Co Vanilla & Chocolate Pot
What: New product alert! This Chocolate Week, treat yourself to an utterly luxurious pudding with Pots & Co.'s NEW Vanilla & Chocolate Pot. Smooth, creamy and indulgent, this pudding combines a smooth layer of chocolate ganache, sat atop a generous base of Madagascan vanilla cream, which join to create a twist on the classic French crème brûlée.
Why: Pots & Co. has developed this delectable new flavour so that you can enjoy a professionally made pudding in the comfort of your own home. There's no need to cook or leave the house – simply transfer from fridge to table, and enjoy! Perfect for a mid-week treat, a dinner for two, a dinner party, BBQ, picnic, or on your own in front of the telly.
2. For an Exclusive: Doisy & Dam Chocolate Pot at Fish Market
What: Fish Market, located near Liverpool Street, is celebrating Chocolate Week with a limited edition chocolate pot designed in collaboration with superfood chocolate producers, Doisy & Dam. We've tasted it and we can confirm it's seriously delicious.
Why: It's basically healthy! Made using their maca, vanilla and cacao bars, the delicious dessert combines the bitter chocolatey flavour of cacao nibs with sweet vanilla and is finished off with a kick of maca root for an extra boost.  Priced at £7, the chocolate pot will be available on the Fish Market menu throughout Chocolate Week.
3. For Ice Cream: Remeo Gelato Dark Chocolate Gelato
What: Great Taste award winner Remeo Gelato's Dark Chocolate 72% Cocoa gelato contains an exceptionally high amount of the finest quality cocoa which provides an extremely intense and rich taste.  The chocolate is hand-melted and blended with the highest quality fresh milk in a delicate and smooth texture.
Why: This is just any ordinary ice-cream, this is quality gelato which is 35% lower in fat than regular ice cream. It's thick, creamy and utterly delicious. They've got a cracking range of flavours, from pistachio to dark chocolate and expresso. Oooft.
4. For a Slap-Up Meal: Chocolate Menu at Coq d'Argent
What: If you love your chocolate, this one's for you – as Coq d'Argent are serving up not one, not two, but a four-course chocolate menu. Priced at £42, Coq d'Argent will be serving a delicious 4-course chocolate menu, which will amaze you.
Why: For something special. Guests will be treated to dishes such as Haunch of wild roe deer, parsnip puree, poached pear, cranberries, cacao sauce, Roasted quail, celeriac, girolles, prunes and coco nibs followed by a special dark and white chocolate sphere which will be Coq d'Argent's dessert special all week.
5. For Chocolate Cake: Hilton London Bankside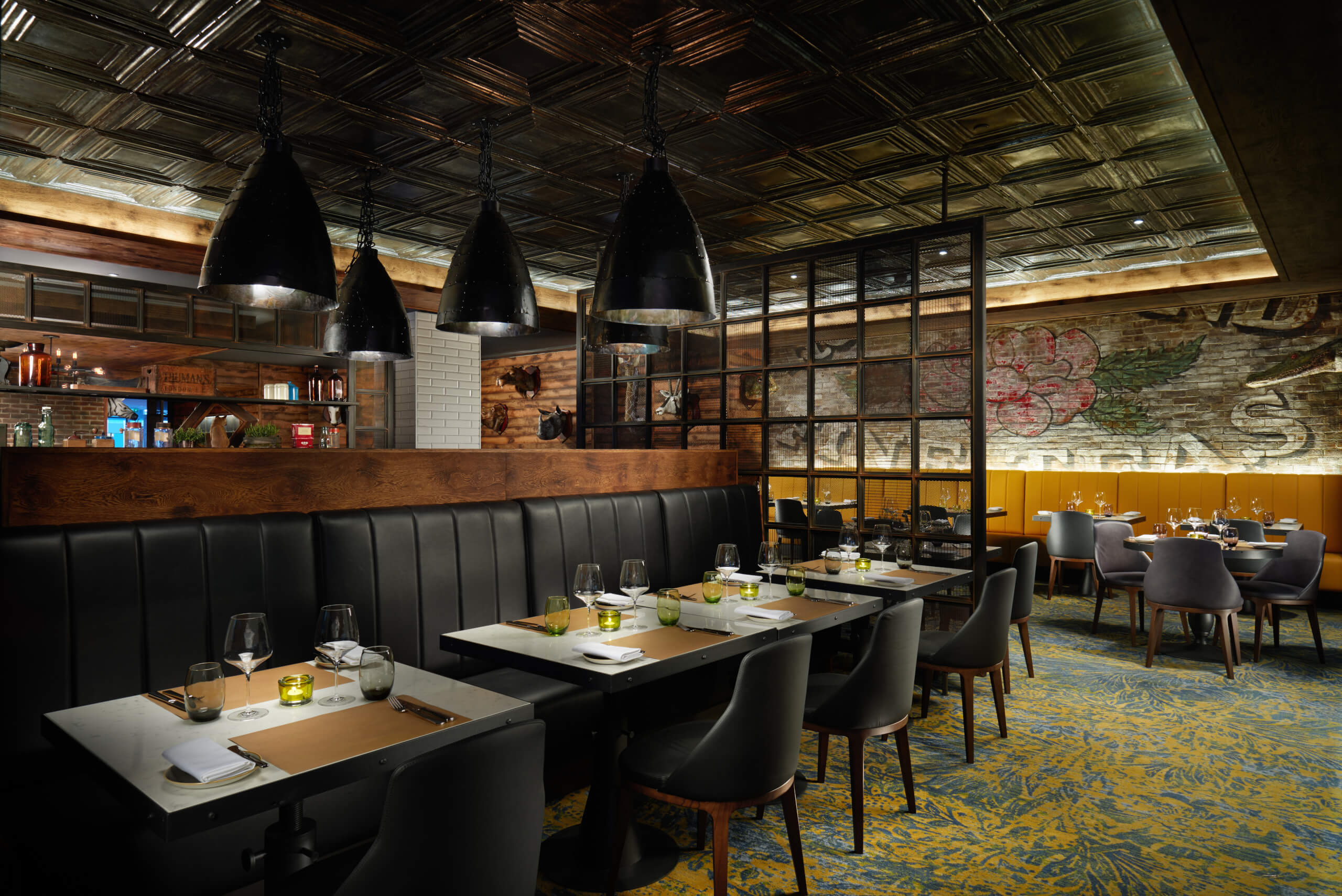 What: Enjoy Chocolate Week at the newly launched OXBO Bankside restaurant and The Distillery bar, located in the new Hilton London Bankside. Executive Chef, Paul Bates, will be serving a flourless chocolate cake at OXBO Bankside while The Distillery bar will offer a Chilli Tattoo cocktail made with Sailor Jerry Spiced rum.
Why: It's a bit of a newbie, but totally beautiful. Hilton London Bankside opens this month in the heart of Bankside with high-end food and beverage outlets and 292 stunning designer inspired guest rooms, including 25 bespoke suites with breath-taking views of the city skyline.
6. For Fondants: Valrhona Chocolate Fondant at New Street Grill
What: For Chocolate Week, diners at New Street Grill will be able to round off a meal of Josper-grilled steaks with a melting chocolate fondant throughout Chocolate Week. The gooey-centred melt in the mouth dessert will be served with vanilla ice cream and priced at £7.
Why: Because who doesn't love a chocolate fondant? They have no soul, I say. These fondants at New Street Grill are some of the best in town this chocolate week.
7. For Ice Cream: The Knickerbocker Glory at Social Eating House
What: Chocoholics will not be disappointed by the cherry and chocolate Knickerbocker Glory at Jason Atherton's Social Eating House. Serious ice cream heaven, in one of the coolest restaurants in London by this seriously talented chef.
Why: For childhood nostalgia. Expect indulgent scoops of cherry, vanilla and chocolate ice cream, layered between textures of dark and white chocolate brownie, chocolate soil and chocolate vermicelli then finished with a golden Griotte cherry nestled on a cloud of whipped cream. Priced at £8.50, the Knickerbocker Glory is the perfect way to celebrate this year's Chocolate Week.
8. For Vegans: Arabica's Luxury Chocolate Dates
What: Arabica Food & Spice, is an authentic purveyor of Middle Eastern spices, ingredients and sweets now sold nationwide in Marks & Spencer, Harvey Nichols, Fenwicks, Selfridges & Co, Fortnum & Mason and Harrods, as well as within many boutique retailers across the UK and abroad.
Why: Their chocolate dates are suitable for vegans and vegetarians – everybody wins. These dates are little parcels of heaven. Using the finest dates around and coated in the highest quality chocolate they are stuffed with almonds. Believe us when we say, you won't be disappointed.
9. For Special Cocktails: 'Death by Chocolate' at Bluebird
What: Chelsea favourite Bluebird will be offering a special 'Death by Chocolate' cocktail, available from 12–18th October for Chocolate Week. Priced at £15, the delicious cocktail features Chocolate raspberry vodka, herring cherry liqueur, chambord, fresh strawberry, shaken with mozart chocolate liqueur, served with a chocolate mousse in a 2 tiered glass.
Why: You can't help but love Bluebird.
10. For Chocolate Everything: Chocolate Gourmand Tasting Menu at Plateau
What: Canary Wharf based Plateau will be showcasing a five course chocolate gourmand tasting menu for one month only – perfect for total chocolate lovers.
Why: Guests will enjoy the likes of seared scallops, cauliflower and white chocolate puree with sea vegetables and avruga caviar and Roast saddle of venison with sour red cabbage, Brussel sprouts, fern and bitter chocolate, to name a few.
11. For Chocolate + Meat: Paternoster Chop House Chocolate Menu
What: Paternoster Chop House (the restaurant in First Dates, don't you know) will be offering a three-course set menu where chocolate takes centre stage and is delicately intertwined into each dish, including potted shrimps, cocoa butter and lava salt with spiced plum, roasted venison, red cabbage with venison 'chocolate' sauce and dark chilli hot chocolate with Dulcey Namelaka white chocolate sorbet.
Why: Paternoster Chop House is perfect for after-work indulgence. The restaurant is cool and vibey;
12. For Chocolate Creativity: Temptation Wheel at The Savoy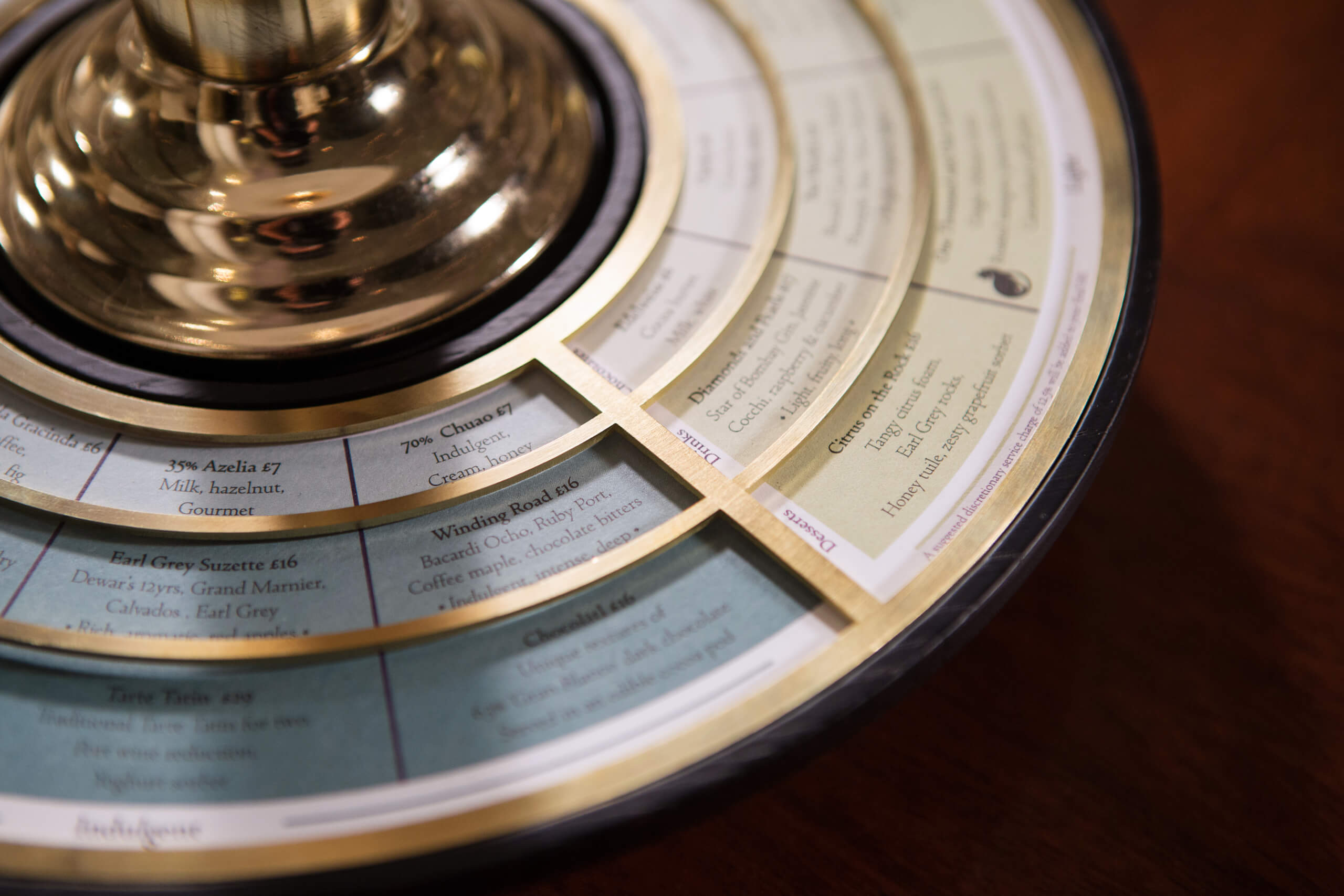 What:
The Savoy's new Temptation Wheel is the perfect way to enjoy the world's best chocolate and chocolatey creations. Served in the elegant Thames Foyer, the Temptation Wheel is a decadent new offering of gourmet
chocolate
, desserts and hand-crafted cocktails which launched this October. Created by The Savoy's Executive Pastry Chef, Ludwig Hely, the menu's starting point was the
chocolates 
themselves.
Why:
Each flavour in the Temptation Wheel is respected and thoughtfully matched to create a sweet feast of unparalleled decadence.The
chocolate
itself arrives as an embossed square in an individual box for guests to eat there and then or take home with them. Brought to the table on an impressive domed bell cart, the desserts have a visual and theatrical element, combining quality ingredients with cutting edge techniques, resulting in a breath-taking gastronomic experience.
Where: Strand, London WC2R 0EU
What: Rococo Chocolates is collaborating with Vallebona to create a pop-up lunch venue at their Belgravia chocolate cafe. You and your friends can enjoy our savoury sharing platters of cured meats and traditional cheeses, truffle honey, chocolate tapenade and fresh baked bread. What's more, bring a bottle of your favourite wine and for a small corkage fee you can enjoy it with a light lunch.
Why: For pudding, of course. Their homemade cakes, florentines, cantuccini and other freshly baked delights are amazing. And, of course, their our award-winning couture chocolates will round things off perfectly. Don't leave without trying their organic hot chocolate – it's incredible.
What: We do love a special. For Chocolate Week, Maitre Choux's has invented a new triple chocolate éclair, made with chocolate choux pastry, a chocolate crème filling and finished off with a chocolate plaque. It's the perfect way to celebrate National Chocolate Week and you'll love the flavours.
Why: In the hands of Joakim Prat, choux pastry has been transformed into something quite extraordinary. Joakim spent months perfecting Maître Choux's range of éclairs, choux and chouquettes – empty choux pastry casings that are traditionally eaten in France for breakfast or as a snack
What:
Celebrate the nation's favourite treat with the Gordon Ramsay Group during
Chocolate
Week. If you want to taste everything, excite all your senses with Union Street Café's Five Senses
Chocolate
Platter offering a selection of bitter, salted, sour, sweet and umami tasters. For something romantic, York & Albany will be serving up a rich, gooey
chocolate sharing brownie
 (which is definitely too good to share) for all the lovers out there!
Why:
For a really innovative treat, head over to maze in Mayfair for the ultimate c
hocolate
 truffle, an exciting mix of
chocolate
and truffles (of the mushroom variety); a unique savory and sweet dessert not to be missed.
What: Newly opened at one of the City's most iconic skycrapers, Le Restaurant de PAUL at Tower 42 will offer diners bottomless Mousse au Chocolat a Volonte (£6.50) throughout Chocolate Week.
Why: Did someone say bottomless? The ultimate after-dinner indulgence, enjoy as many luxurious servings of this rich pud as you like, whether sealing deals over dessert or stopping by with colleagues or friends and catching up over a bottle of Champagne.
17. For Chocolate Sausage Rolls: Rococo Chocolate x Ginger Pig
What: This Chocolate Week, there's an exciting collaboration between the Ginger Pig and Moxon St. neighbours Rococo Chocolates. After lengthy chats and the consumption of an abundance of sausage rolls and chocolate, they decided to create the ultimate indulgence: the chocolate sausage roll. Ginger Pig traditional sausage meat, carefully combined with the perfect amount of Rococo's single origin Dominican Republic 63% chocolate and studded with a handful of cocoa nibs for extra crunch, is wrapped in their buttery puff pastry – trust the experts when they say this is a match made in culinary heaven. The fantastic limited edition sausage rolls are priced at £4.00 each and will be available from the Ginger Pig's Moxon St. shop throughout Chocolate Week.
Why: What's more, on the 12th October there's a special collaboration between the two, celebrating meat and chocolate. Participants can join Rococo's pairings expert on 12th October as he takes them through a selection of their most popular cold cuts and cured meats, from rare roast beef to confit duck – each cut carefully matched with Rococo's award-winning chocolates. This unmissable pairing session will take place in Rococo's Moxon St. shop and is priced at £25 per person. For more information on the pairing session, click here.
What: The Columbia Express, Vodka, Tio Pepe En Rama Sherry, Chocolate bitters, Ardbeg, Espresso, Brown Sugar
Why: The Vault at Milroy's of Soho is a hidden gem in Soho with amazing cocktails made with home infused spirits and lots of creativity, perfect for intimate dates or catching up with friends.
Where: The Vault at Milroy's of Soho, 3 Greek St, London W1D 4NX
19. For Dessert Heaven: Suvlaki
What: Chocolate biscuit cake with homemade Greek coffee ice cream
Why: If you like rich things, you'll love this. A densely chocolatey indulgence with crunchy biscuit pieces, the dessert is not too sweet, as it's made with dark chocolate, perfectly complimented with Greek coffee ice-cream. Launched in July 2015, Suvlaki is a sleek, modern, fast casual restaurant serving delicious Greek street food suvlaki. The Athenian grill house will provide Soho with a unique new concept from lunch to dinner, take away to delivery and for late night bites.
What: Nutella and Mascarpone toastie
Why: Melt Room is all about bringing the taste of the much-loved New York-style cheese-stuffed hot sandwich to London. The cheese sandwich just went gourmet and we like it. Melt Room will use artisan and locally sourced ingredients to offer not only cheese, but an extensive range of unique meat, pork, chicken and vegetable combinations. As well as savoury toasties, they also sell a range of sweet toasties. Their Nutella and mascarpone toastie sounds so wrong, but believe us whey we say – it tastes so right.