About Time: You Supported the Restaurant Industry with Home DeliveryBy Angelica Malin
Looking for London restaurants offering home delivery for the first time? We've got it covered. It goes without saying, this is a very tough time for the restaurant industry. Lots of restaurants in London have started offering delivery for the first time ever, and we'll aim to keep you updated here at About Time on ways you can continue to support the hospitality sector during self-isolation. Here's some recent news on new and noteworthy deliveries currently available in London:
1. Dine on a Sri Lankan-inspired menu from Sparrow, Lewisham
Photo Credit: Claire Menary
What: Sparrow is launching The Road to Jaffna collection menu, which will see the team focus on dishes inspired by founder Yohini Nandakumar's Sri Lankan roots. We must say, it sounds totally delicious.
The Lowdown: Dishes available include beef rib curry puff and pork belly and tamarind samosas, alongside starters of potato and paneer croquettes with imli chutney and chilli skillet-fried chicken. What's more, a selection of rice and curries will be available, including jaffna lamb curry, beetroot and squash curry, served with rice, coconut dahl and creamed spinach.
How: All dishes will be available for pre-arranged collection from the restaurant to avoid unnecessary contact – see here.
2. Get a cheese fix at home with The Cheese Truck
What: The Cheese Truck is hitting the road to bring you DIY fondue kits and cheese and charcuterie boards. The Cheese Truck are setting up delivery of all things cheese, so we don't have to go without our fix of the good stuff.
The Lowdown: From this week, the team will be on hand to deliver a selection of cheese, charcuterie and wine care packages, as well as homemade cheesecakes for those with a sweet tooth. The Cheese Trucks will be taking to the road to bring DIY cheeseboards, raclette and fondue kits to you.
How: Parking up throughout the week in varying areas of London (locations and timings will be communicated via their social channels beforehand), the trucks will have pre-ordered kits for collection for those who want a slice of The Cheese Bar in their homes. Also, The Cheese Bar will also be joining Deliveroo for the first time with their signature Grilled Cheese Sandwiches and more.
3. Get a delicious delivery from Townsend, Whitechapel
What: Whitechapel restaurant Townsend is launching a delivery service this week – founder Nick Gilkinson has worked with head chef Joe Fox to reconfigure the restaurant's signature dishes into a delivery friendly ready-to-eat format.
The Lowdown: Dishes on the menu include fluffy potato dumplings with potted brown shrimp and spinach, and a salad of white sprouting broccoli, Devon Blue cheese, roasted squash and pickled walnuts. For pudding, there's the much-loved treacle and ginger cake with custard. Nick has also pulled together a selection of his favourite wines designed to accompany Joe's dishes.
What's more, the team have created two supply package boxes, priced at £14 each, perfect for those unable to make it out to the supermarket in the coming weeks. The Essentials box includes fresh eggs, dried pasta, flour, chopped tomatoes, milk and butter whilst the Seasonal box include potatoes, seasonal greens, onion, carrots, leeks and crisp Braeburn apples.
How: Townsend orders will be available from Thursday 19th March on their website. Minimum order £10.
4. Feast on a meal plan from Mambow
What: Chef Abby Lee and the team at Mambow, the home-style 'mama's kitchen' in the heart of Shoreditch, will be boxing up and delivering some of Mambow's most popular dishes to doorsteps across London over the upcoming weeks, as well as meal plans for the whole week.
The Lowdown: They are taking orders for breakfast, lunch and dinner Monday-Saturday through their new online system. For breakfast, there's a line-up of seasonal frittatas, bircher muesli and a coconut yogurt bowl layered with seasonal compote. At lunchtime, Mambow is delivering seasonal signature lunch bowls, such as the Chick Flick with black rice, za'taar sprouts, roasted beets, spicy grilled chicken, salsa verde and pickles. Also available at lunch time will be delicious brunch bowls, such as the Nasi Lemak with crispy Malaysian fried chicken and coconut pandan rice.  Those looking to meal plan for their day can choose the Full Mambow, which includes a freshly-squeezed juice, immunity shot, breakfast, lunch bowl, sweet treat, and restorative Nemi Teas tea.
How: Delivery orders can be placed on the Mambow website www.wearemambow.com
5. Order a Middle Eastern feast from Honey & Co
What: One of our favourite London restaurants offering home delivery for the first time! Sarit Packer and Itamar Srulovich, the duo behind award-winning Honey & Co, and their team are firing up the ovens to cook fresh, seasonal food, which they will be boxing up and hand delivering to doorsteps across London over the upcoming weeks.
The Lowdown: Those at home can order Honey & Co's seasonal delivery menu, which starts with a sharing mezze starter, as is traditional in the Levant, which will include small plates such as falafel with tahini, ramson leaf labneh, tomato and citrus salad with red chilli and fresh herbs. Mains are designed to be shared and there are vegetarian and meat options, and for dessert, there is the choice of Honey & Co's signature feta and honey cheesecake, plum, pistachio, coconut and almond cake and flourless whole orange cake.
How: Delivery orders can be placed over the phone on 0207 388 6175 or by emailing enquiries@honeyandco.co.uk. Dinner deliveries can be delivered within 1 hour from placing the order; all baked goods require a 24-hour window. Delivery menus here. 
6. Get a Spanish delivery from Brindisa Foods
What: Influenced by founder and owner Monika Linton's early years on Spain's Eastern coast, Brindisa is a celebration of the varied cultures, landscapes and above all, the exceptional foods of Spain. If you're looking to bring a taste of Spain home, then you can't get much better than this.
The Lowdown: Brindisa has been sourcing and supplying high quality, authentic Spanish products to restaurants, delis and food halls since 1988, over 30 years. With a shop and chorizo stall in London's Borough Market, a cheese and charcuterie shop in Balham's Hildreth Street, Cheese Caves in their Balham warehouse and five restaurants, Brindisa is the home of authentic Spanish food in London. They also delivery nationwide, so you can chow down on cured meats, cheese and Spanish wine to your heart's content.
How: Available for delivery nationwide.
7. Order a plant-based bowl from Bema
What: Bema in Shoreditch is now available for delivery. Their delicious bowls take inspiration from the flavours and ingredients found across South America, India and the Middle East, changing seasonally as they spotlight different cuisines.
The Lowdown: Three signature gluten-free lunch bowls, available in two sizes, are joining the menu. These include; Indian, creamy lentil and chickpea coconut curry with beetroot infused quinoa; Mexican with a smoky chilli of red kidney, haricot and black beans on top of brown rice and Middle Eastern with roasted king oyster mushroom shawarma with turmeric infused quinoa, cucumber, tomato and parsley salad, coconut oil roasted sweet potato topped with earthy beetroot hummus.
How: For those in a hurry, bema has their own advanced ordering system that allows customers to order from the comfort of their office or home using bema's website, iOS app or via Deliveroo and collect from the pod at their own convenience.
8. Treat yourself to a Patty&Bun burger
What: For those self isolating or working from home, Patty&Bun is launching 20% off any orders over £20 on Deliveroo – making sure they can keep providing their legendary burgers safely to those unable to venture out. What's more, they will be offering NHS staff 50% off for pick up & takeaway. Legends.
The Lowdown: All of their burgers and sides will be available including their classic Ari Gold cheeseburger, vegan burgers such as their plant-based Hot Chick chicken burger, chips with rosemary salt and sauces. One of our favourite London restaurants offering home delivery – we reckon these are some of the best burgers of London, get involved.
How: Deliveries available through Deliveroo
9. Order Supa Ya Ramen to your sofa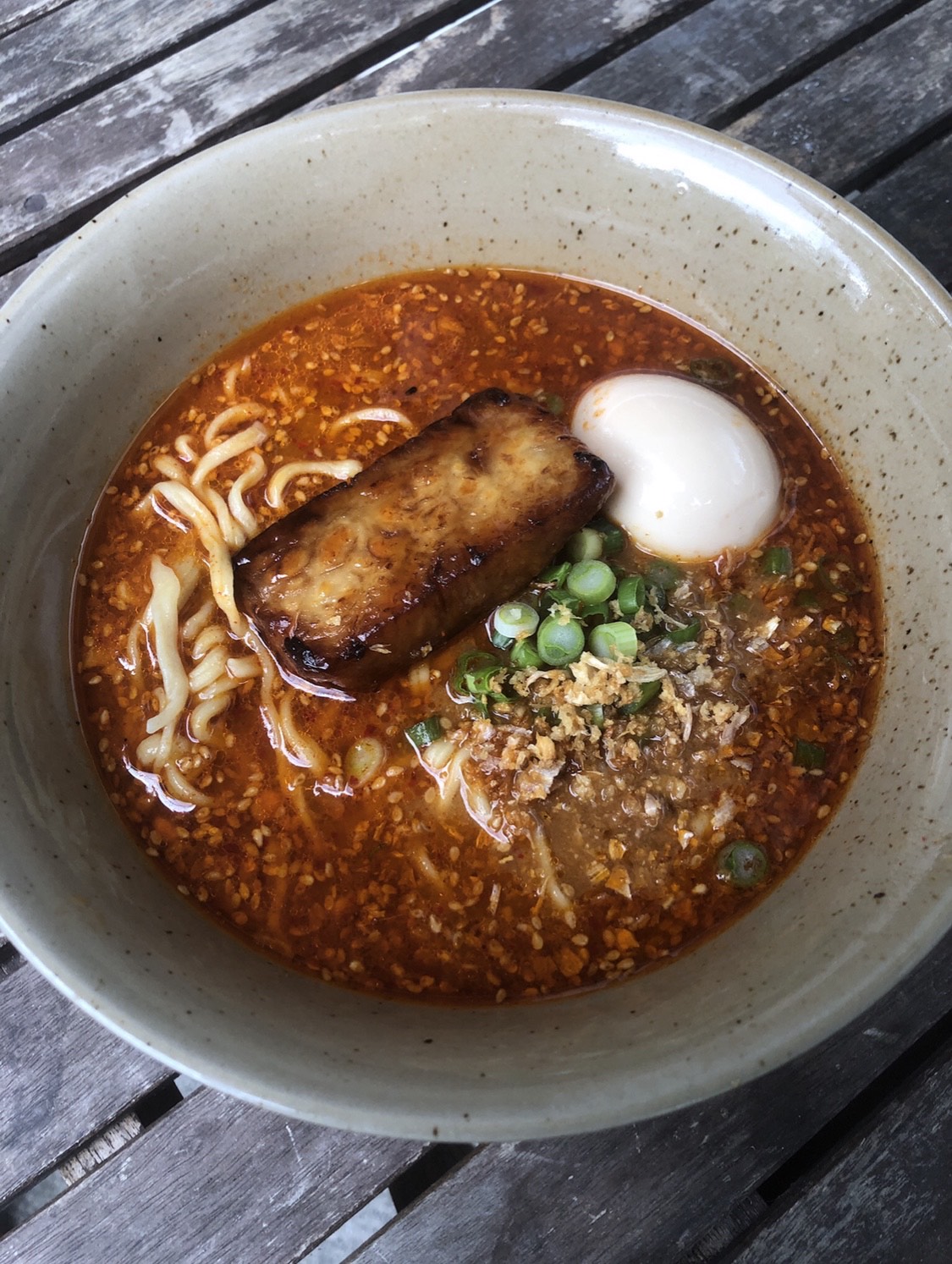 What: Supa Ya Ramen, the cult ramen supper club, has delayed the opening of their first permanent site on Hackney Road and instead they will be running a collection and delivery service.  It's a great time to support smaller restaurants and ordering delivery is one way you can support through these tough times.
The Lowdown: Expect fresh new-wave ramen dishes, available to eat in the comfort of your own home. This is not ramen like you've had before – it's an explosion of flavours, with a totally new take on the classic ramen concept. Try our personal favourite: roast chicken and buttered corn with roast celeriac & fried garlic.
How: The collection service is available from a hatch at the site and a delivery service will be available from early next week. Keep an eye on their Instagram for more.
10. Get a meat fix with Prairie Fire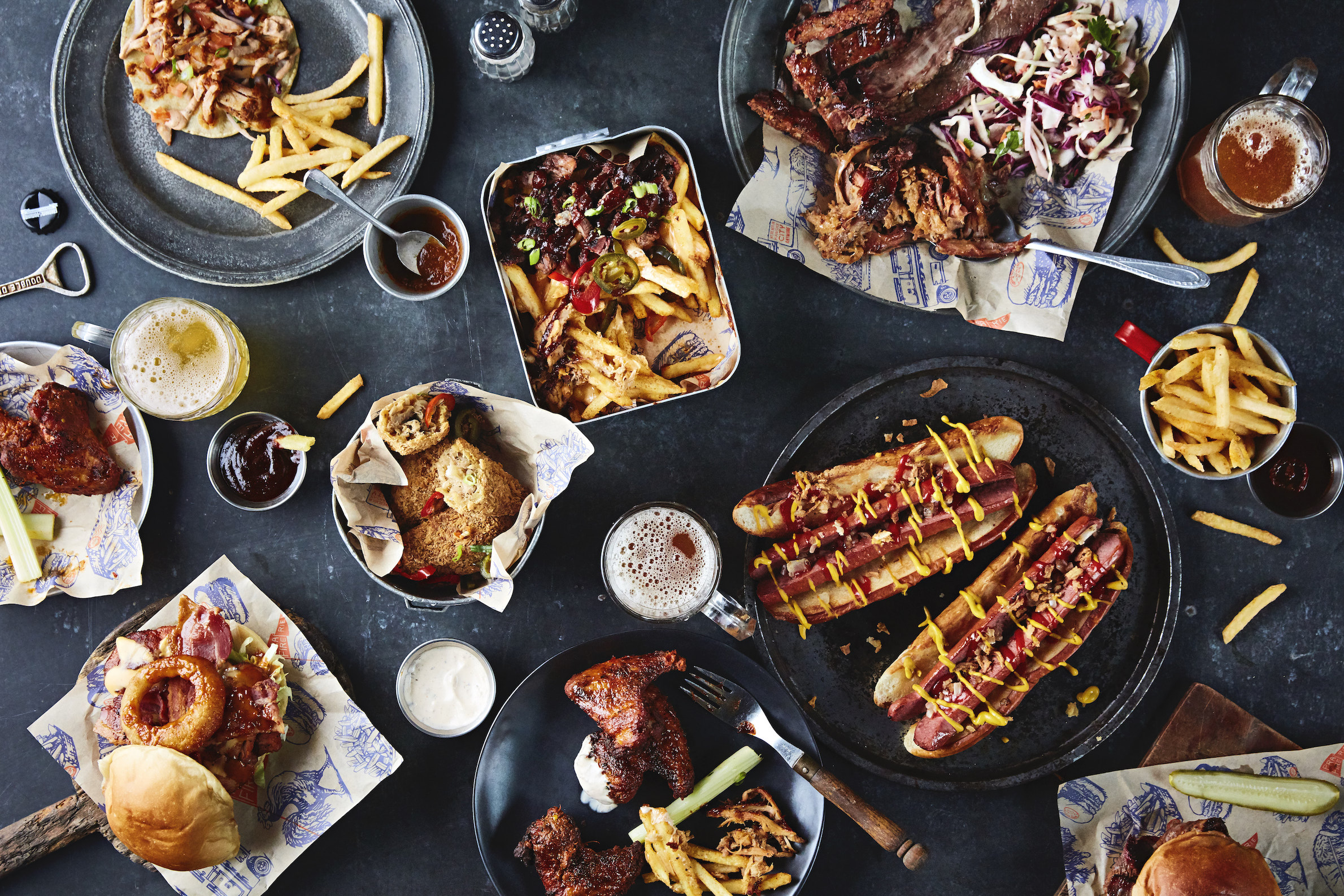 What: We can't go out so Prairie Fire is coming to you! The authentic Kansas City barbecue restaurant and taproom has launched "Q To You" a new delivery initiative whereby they are delivering the best of KC's slow smoked meats, sides, award-winning sauces and craft beers to residents of Central London so that they can enjoy a comforting family meal at home. One of our favourite London restaurants offering home delivery for the first time – perfect for meat lovers.
The Lowdown: All of their smoked meats will arrive fully cooked and chilled in vacuum sealed packages ready to reheat and tuck into at home. All cooked products can be stored in the fridge for up to 9 days. The menu includes the likes of 16-hour oak smoked brisket; 14-hour applewood smoked pulled pork; hickory smoked wings; sausage patties; cheese sauces for nachos and mac & cheese, chilli con carne, hot dogs etc. They are also delivering bottles of their award-winning sauces and a huge selection of craft beers for £5 each or a mix and match 6 pack for £25!
How: All you have to do is call 07504 521 183 to place your order with 24 hours' notice and they will drop straight to your door. Their menu can be found here.
12. Order a 'steak-away' from Gaucho & M Restaurants
What: Argentine steak restaurant group, Gaucho, and its sister company M Restaurants have launched a new home delivery service across their collection of much-loved restaurants nationwide.
The Lowdown: Gaucho's menu offers their wide selection of premium cut steaks, including Cuadril Rump, Ancho Ribeye, Chorizo Sirloin – cooked to order – with a selection of sides such as Chips with Thyme Salt, Heritage Carrots and Mushroom Confit with Beef Dripping, Garlic and Chilli. M Restaurants menu includes a Crab Sando with Kewpie Yuzu Mayo, Buttermilk Fried Chicken with Oat Crumb and Chilli Glaze, Sticky Pork Bao with Kimchi Mayo, the option to build your own burger, and a selection of Steak cuts including Botswana Ribeye 400g and USDA Fillet and sides including Triple Cooked Chips, Sweet Potato, Yoghurt and Smoked Almonds.
How: A select menu of favourites are all perfectly cooked in the restaurants before being dropped to your door with wine also available via both. Deliveries will arrive within half an hour of being ordered and will be delivered by restaurant staff on foot, with the option of no contact if required. Deliveries can be made to anyone living within a ½ mile radius of one of Gaucho or M restaurant.