Want a taste of Italy but don't have the time to travel? Take a bite out of London's best Italian delis instead – from biscotti to Limoncello, here's where to pick up your favourite Italian products in the capital:
The Lowdown: Tucked away on an unassuming West Kensington street, this Italian deli dining destination is everything you want an Italian deli to be. Sure, there's a wealth of organic produce to take away, but the real draw is Mamma Anna herself who invites you to dine as if you were in her family home in the private room downstairs from the shop.
Anna cooks up mouthwatering Walnut Pesto, Italian cakes and an incredible Mortadella and Courgette Quiche – our personal favourite – and will even create bespoke dishes especially for you. Eat as much as you can, then take some authentic delights home and pretend you made it all yourself. 
Where: Mamma Anna, Charleville Road, W14 9JL
The Lowdown: This casual eatery and deli from Italian restaurateur Andrea Reitano arrived in Mayfair earlier this year to much anticipation thanks to its promises to fly in authentic burrata from Puglia, mozzarella from Naples and all of Nonna's favourite fresh ingredients on a daily basis. The result is startlingly good pasta, antipasti and a truly tempting array of salads on display. Their Fennel, Orange and Anchovies has proved itself as a runaway success and the Caprese with Caponata (a Sicilian sweet and sour aubergine stew) speaks for itself. Menus change daily to suit seasonality so hurry.
Where: Caffe Rei, 3 Hay Hill, W1J 6AS
The Lowdown: Terroni, based in foodie haven Clerkenwell, claims to be the oldest Italian deli in England and has been feeding Londoners with top class charcuterie since 1878. Their reopening in 2012 saw them add an eat-in element, so these days you can enjoy a Peroni or Prosecco on tap whilst you contemplate the prosciutto and salami. Bruschetta is pretty special here (try the trio of gorgonzola / parmesan and balsamico / bresaola combo) but we're obsessed with the meat board for the Parma alone.
Where: Terroni, 138-140 Clerkenwell Road, EC1R 6DL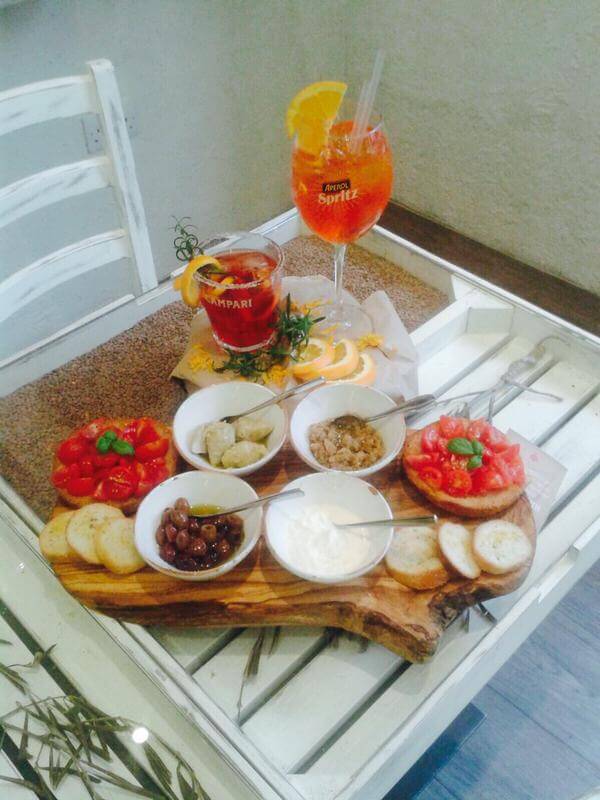 The Lowdown: Positioned just off Borough Market, this is the first London location for Italian mini-chain Pulia. With branches in Venice, Turin and Florence, Pulia is a deli slash café celebrating the cuisine of Puglia and the South East of Italy. Puglia is famous for its burrata – a sexed-up creamier version of mozzarella – so start with this alongside some crostini and super sweet tomatoes. Leave space for the star of the show, the Pasticciotto, a traditional Apulian custard pie and wash it all down with a bottle of Falanghina (fresh fruity white wine just right for summer). 
Where: Pulia, 36 Stoney Street, SE1 9LB
The Lowdown: Lina Stores is a family run Italian deli in the heart of Soho and has been going for 70 years. Their aim has always been to bring the very best of Italian produce to London and as a result there is an astounding selection of cheese, meats, olive oils and everything in between. They pride themselves of their traditional recipe pasta and have a rotating selection of up to 32 varieties – keep an eye out for the N'Duja and Smoked Ricotta, which utilises the famous Calabrian spiced pork to great effect; the Bottarga aka. Italian 'caviar' (actually a kind of smoked and dried roe) should be on your shopping list too.
Where: Lina Stores, 18 Brewer Street, W1F 0SH