The Great British Bake Off is back and we couldn't be happier. There's nothing better to do on a Wednesday night than to witness Paul Hollywood's dreamy eyes and Mary Berry's floral ensembles. We caught up with three former contestants who share their favourite recipes that will have you running to your mixing bowl in no time and there's not a soggy bottom in sight, that's a promise.
Chetna's Upside Down Plum Hazelnut Cake
It is a good time of the year to benefit from friends and neighbours crops of fresh plums. And what better way to use them than in a super delicious cake. This is a great autumn treat for when the fruits are at their best. This light moist sponge with ground hazelnut goes beautifully with the caramelised plums. Eat it warm, on its own or with some warm custard or cold ice cream.
For the caramel
50 gms unsalted butter
100 gms soft brown sugar
3 plums, stoned, halved and cut into thin slices
For the cake
175 gms unsalted softened butter
175 gms golden caster sugar
3 large eggs
175 gms self raising flour
25 gms ground hazelnuts
1 tsp baking powder
1 tsp vanilla extract
Method 
Preheat the oven to 180 C. Grease a 23 cm spring form cake tin.
In a pan melt the butter and sugar. Cook this for 2-3 minutes and pour it into the prepared cake tin. Arrange the plum slices in concentric circles over the caramel.
In a bowl mix all the cake ingredients and whisk for 2 minutes until light and creamy. Pour this mixture over the plums. Bake for 45-50 minutes until a skewer comes out clean.
Leave the cake to rest for 10 minutes in the tin before carefully inverting it on a serving plate.
Serve it with custard, ice cream or just on its own.
Kimberley's Lemon and Rosemary Butter Biscuits
Photo Courtesy: mirror.co.uk
For the biscuits
225g plain flour
150g unsalted butter, cubed
100g caster sugar (vanilla sugar if you have it)
Zest of 1 lemon
1 free-range egg yolk
1tbsp lemon juice
2tbsp rosemary leaves, finely chopped
For the glaze
125g icing sugar, sifted
2tbsp lemon juice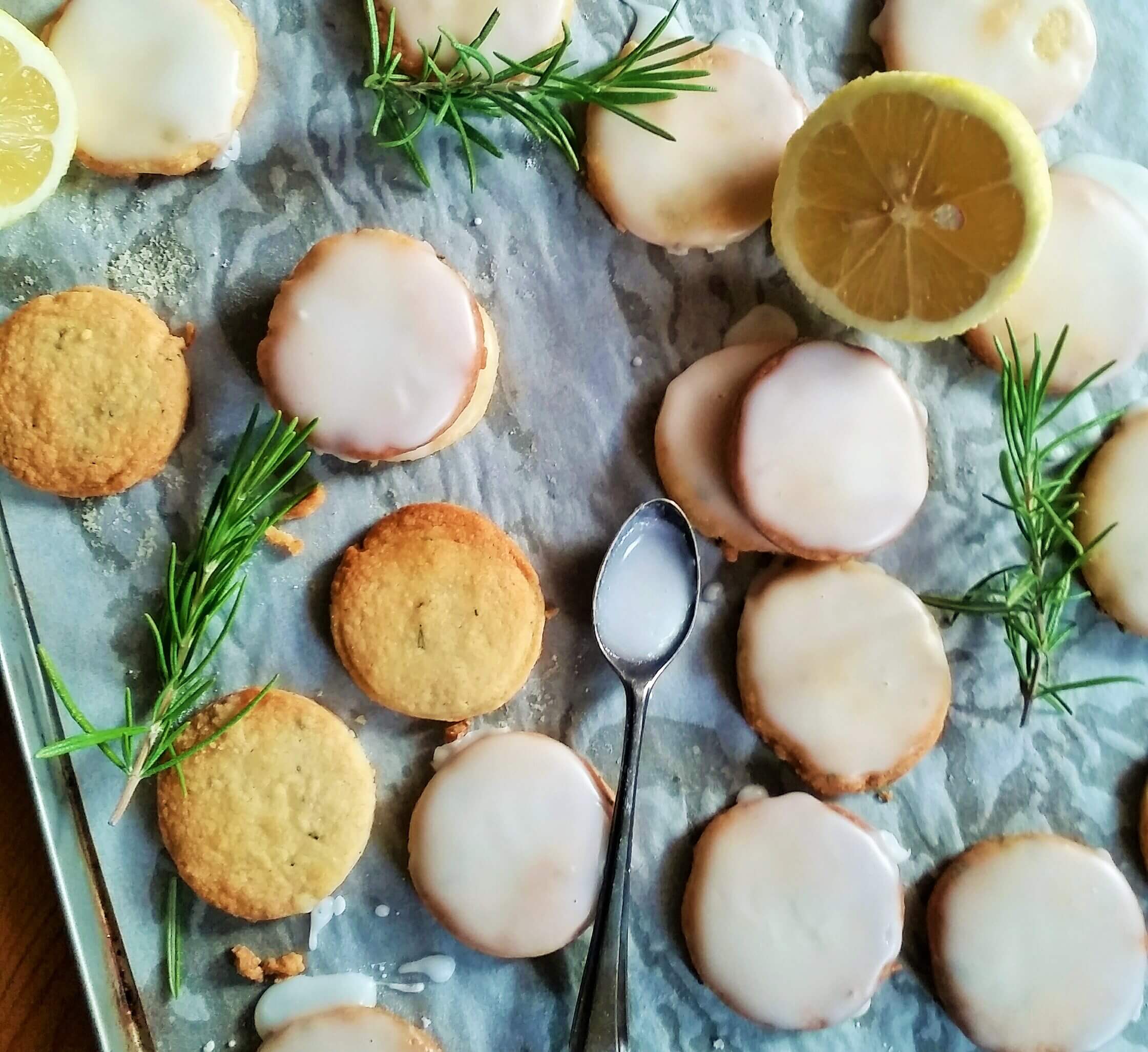 Method 
In a large mixing bowl rub the butter into the flour until the mixture resembles breadcrumbs. You can, of course, do this by pulsing in a food processor. Your call, friend. Stir in the sugar, lemon zest and rosemary.
Whisk together the egg yolk and lemon juice and tip in to the flour mixture. Using your fingers bring together to form what will be a very soft dough. Give it a quick knead on a very lightly floured surface just to bring it together to a uniform colour. Shape into a ball, flatten with your hands to about an inch thick, wrap in cling film and leave in the fridge to chill and firm up, about 20 minutes.
Meanwhile, heat your oven to 180C/160fan/Gas 4 and line two baking trays with greaseproof paper.
On a lightly floured surface roll out the dough to 5mm thickness. I used a 5cm plain edge cutter because I was making these with my goddaughter who, displaying wisdom beyond her years said, 'Let's use the small one because then we can have more.' Genius. I think they look cute. A 6cm cutter will be fine if cute isn't your thing. Cut your biscuits and very gently (as the butter will have started to warm up and soften) place on the baking sheets. Bake for 12-15 minutes until just golden on the edges. Leave to cool on the trays for 10 minutes then transfer to a wire cooling rack.
When completely cold they are ready to ice. Mix together the icing sugar and lemon juice in a small bowl. Dip the tops of the biscuits into the glaze and return to the cooling rack until the icing sets. Done. Super great.
Luis' Dark Chocolate and Hazelnut Chocolate Torte
Hre we have a really rich and indulgent chocolate cake. I make my version without any flour so it has the added advantage of being gluten free. This cake makes for a fantastic dessert and the addition of the fruits and chopped nuts on the top not only taste great but also make it look amazing.
Essential equipment
A worktop mixer fitted with a whisk
Chocolate Torte Ingredients
150g dark chocolate 70% – coarsely chopped
150g unsalted butter
115g caster sugar
50g soft brown sugar
4 medium eggs
150g ground hazelnuts
40g cocoa powder and 1 tbsp instant espresso powder dissolved in 80ml boiling water
½ tsp fine salt
For the Cake Decoration 
Handful fresh raspberries
Handful fresh blueberries
20g chopped roasted hazelnuts
A few fresh mint leaves
Preheat the oven to 160°C fan/180°C/320°F/gas 4. Grease and line the cake tin with non-stick baking parchment. Place the chocolate and butter in a bowl over a pan of simmering water and stir until melted and smooth. Remove and place on one side to cool slightly.
Put the sugars and eggs in your mixer bowl and whisk on high speed for 8 minutes until meringue like. Gently fold in the melted chocolate using a large metal spoon, be careful not to deflate the mixture. Next gently fold in the ground hazelnuts, cocoa powder/coffee mixture and salt. Pour the mixture very gently into the prepared cake tin and bake just below the centre of the oven for 35 – 40 minutes
The cake is ready when the centre feels just firm, the top has a slight crust and some cracks have appeared. Don't be tempted to open the oven door until at least 30 minutes has gone by. Remove from the oven and leave in the tin to cool.
Take the cake out of the tin and place on your presentation plate or stand. Arrange the raspberries and blueberries in the centre of the torte. Next scatter the chopped roasted hazelnuts around the fruit but leave the outer edge of the torte exposed. Pick some perfect mint leaves and use them to add a splash of colour around the fruits.
Luis is the new ambassador for Currys PC World.