Don't Miss: Flat Iron x Burger and Beyond's December CollaborationBy Angelica Malin
Two meaty heavyweights have teamed up for a very special burger collaboration you don't want to miss. Self-taught butcher and founder of Flat Iron, Charlie Carroll, has joined forces with cult favourite Burger & Beyond's founder Craig Povoas for a limited-edition cheeseburger, available at all Flat Iron restaurants and Burger & Beyond Shoreditch until Christmas Eve.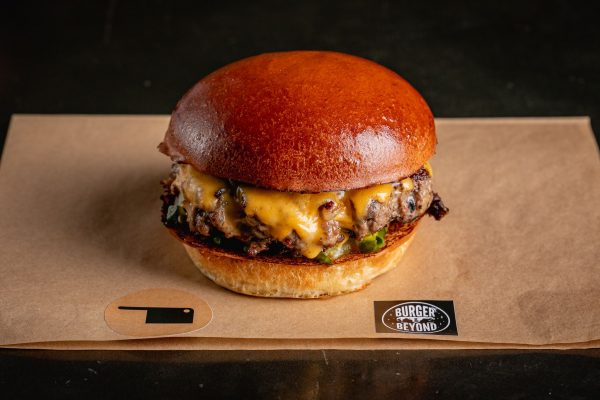 Burger-lovers can expect for things to get messy thanks to the 6oz succulent Wagyu beef patty (sourced from farmer Charles Ashbridge) topped with two slices of melted American cheese, pickled relish of diced jalapeños and cucumber, raw onions and finished with indulgent bone marrow butter. The limited-edition burger joins the Flat Iron menu alongside their existing signature Flat Iron steak, Wagyu beef burger and much-loved sides of beef dripping chips, roast aubergine with tomato and basil, creamed spinach and their latest addition of crispy bone marrow garlic mash.
The burger is available in all Flat Iron restaurants and Burger & Beyond Shoreditch restaurants until Christmas Eve for £13, with £1 from every burger being donated to The Felix Project.
Photo Credit: Justin DeSouza