We love cake. If we're not talking about, dreaming about cake, or tweeting about cake, we're furiously running around the streets of London trying to get our hands on a slice. You can keep your over-complicated cakes with 23 different flavours – we're all about the slice of the good stuff: carrot cake. Happy eating, London:
1. E5 Bakehouse, London Fields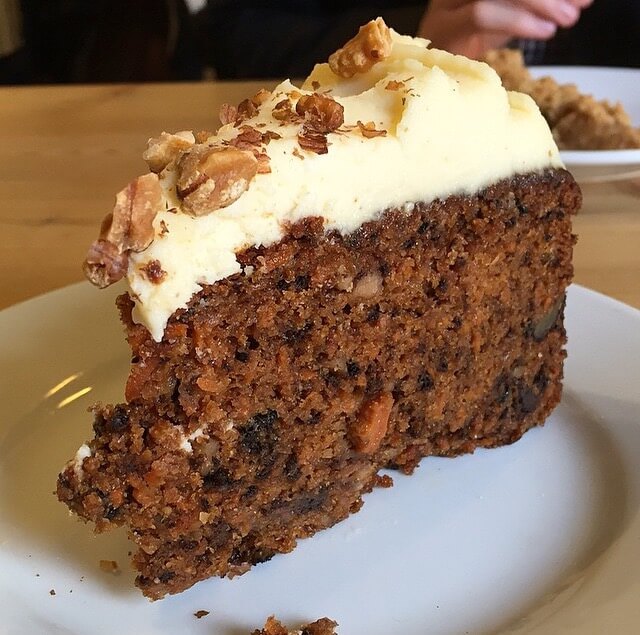 The Story: Housed in a railway arch, the chaps at E5 Bakehouse know a thing or two about how to make a good sourdough loaf. Championing organic and locally-sourced ingredients, the small team of bakers bake their bread using artisan methods and techniques. They treat their loaves with the love and respect they deserve –  from their ciabatta, focaccia and spelt loaf they're all packed full of doughy goodness.
Expect: Laid back vibes and a cool atmosphere makes E5 Bakehouse an ideal stomping ground for both their exceptional coffee and sweet treats. Homemade granola with Greek yogurt and fruit and bircher muesli with fresh fruits is their breakfast offering, while lunch they serve up a a daily-changing menu. Expect to tuck into cabbage leaves filled with curried puy lentils and carrots served with parsnip and cauliflower mash, and beetroot and caraway soup. Sack of your roast and head there on Sunday for their Sourdough pizzas.
Where: 365, Mentmore Terrace, London E8 EPH
Photo credit: Insatial Bleater
2. Konditer & Cook, Borough Market
The Story: The guys behind Konditor & Cook are like the Mary Berry and Paul Hollywood of the baking world – no uneven bakes here. Everybody rants and raves about Konditor & Cook, even Nigella Lawson is a fan and that lady knows her stuff. Established in 1993 by Gerhard Jenne who trained as a pastry chef in Munich, the shop specialises in brownies, cakes, and a whole host of other baked delights.
Expect: Cake. All the cake. Think lime and blueberry cheesecake, lemon chiffon cake, summer berry tart and the crowd-pleasing Very Berry Victoria – you can't beat a classic Vicki sponge. Their chocolate noisette cake consisting of chocolate and hazlenut sponges with a gianduja mascarpone frosting recently won a Great Taste Gold Star in 2014. The carrot cake is a heavenly combination of ground hazelnuts and carrots baked into a moist cinnamon-spiced sponge layers, coated in a tangy passionfruit and mascarpone frosting. It's the stuff dreams are made of.
Where: Locations here
3. Scandi Kitchen, Fitzrovia
The Story: ScandiKitchen on Great Titchfield Street is a trendy mid-week hangout for the yummy mummy and Swedish expat crowd alike. They do great lunches, like traditional beetroot salads and open prawn mayo rye sandwiches, as well as incredibly delicious banana cake. They have over 600 goodies from Sweden, Norway, Denmark and Finland – from crispbreads to tasty salmon and herring and salty liquorice varieties.
Expect: For breakfast, expect some seriously creative oats action. We're talking raw stirred lingonberry porridge with oats and rye, topped with Nordic lingonberries and pumpkin seeds, as well as Nordic Rye and Oat Porridge with a choice of apple compote, fresh berries, cinnamon and agave nectar toppings. Lunch is a feast of fresh salads, and you can't miss their cakes – the Mjuk pepparkaka, a soft gingerbread cake with lingonberry vanilla whip, is one of the best things you'll ever taste. And, of course, their carrot cake is the absolute dream.
Where: 61 Great Titchfield Street, London W1W 7PP
4. Brickwood, Clapham
The Story: Oh Brickwood, how we love your exposed brick walls and rustic wooden tables – this is a coffee shop done very, very well. Pair good coffee with heavenly brunch dishes and you've got yourself a winning formula, not many cafes succeed in both areas. This South London haunt is frequented by early-rises and the Australian crowd in search of their morning coffee fix. Taking inspiration from New Zealand and Oz, this cafe takes pride in the coffee they use. All of their coffee is their own market blend roasted by their best pals down at Caravan Kings Cross.
Expect: Like every breakfast menu they offer the classic granola, but the chaps at Brickwood also bake a gluten and dairy-free orange and almond cake, perfect to munch on the morning commute. Their grilled banana and walnut bread with espresso butter is pretty tasty too. They regularly switch up their cake cabinet, with all cakes baked fresh every morning by a team of their in-house bakers. From lemon and pistachio drizzle cake, hummingbird cake to our favourite the candid carrot cake with mascarpone, it's a generous slice and they've got the sponge to frosting ratio just right.
Where: 16, Clapham Common South Side, Lambeth, SW4 7AB and 11 Hildreth Street, Balham, SW12 9RQ.
5. Cakehole, Various Locations
The Story: Cooking up delicious cakes in her Vauxhall kitchen and delivering them on her trusty two wheels (that's a bike and not a micro scooter) to the local Oval Farmers Market back in 2007, Lara Morley the brains behind Cakehole has seen her popularity soar and has become a regular fixture at various markets across the city. This isn't none of your Betty Crocker stuff, with each cake made from the finest and freshest ingredients – organic milk, British sugar and fair-trade cocoa.
Expect: A ton of cakes, and we mean a great selection of cakes. We're talking red velvet, coffee walnut cake and chocolate fudge cake. For those who have a big sweet tooth order a slice of their salted caramel and walnut cake – the walnuts are a perfect nutty accompaniment to the salty, sweet caramel. If you're more savoury over sweet the apple crumble gingerbread isn't sickly and instead the apple and ginger flavours are a winning combination. Don't fret if you're gluten, wheat or dairy-free there's plenty of cake for you too. Hello, lemon almond cake.
Where: Locations here
6. The Hackney Pearl, Hackney
The Story: The name is fitting for this cafe as it's a real foodie gem in Hackney Wick. It may give off the hipster, East London vibe acting too cool for its own good, but this quaint cafe is as unpretentious as it gets. The furniture consists of mismatched tables and chairs and if you were to try and recreate this look at home it would resemble a jumble sale. Everyone loves a bit of shabby chic.
Expect: Good coffee, a fine selection of craft beers and traditional British fare is what you'll find at The Hackney Pearl. They serve brunch at weekends consisting of all the usual dishes; scrambled eggs, sourdough toast and a choice of toppings and their brekkie bap – free range egg mayo, homemade chilli jam, dry cured streaky bacon and rocket. Drop in for one of their expertly made coffees and a good slab of cake. Their carrot cake is more of a carrot loaf but it still tastes damn good and 'that' icing is something else. Enjoy your afternoon treat in their outdoor seating area (benches on the street – so hip, so trendy).
Where: 11 Prince Edward Road, London, E9 5LX
7. Lanka, Finchley Road
The Story: Japanese born chef Masayuki Hara is the brains behind Lanka. A trained French chef, Hara bakes french cakes and pastries influenced by Japanese flavours; green tea tart, green tea panacotta, green tea roll cake and green tea and azuki pudding – you get the idea. Don't worry if you don't dig green tea, there's shelves full of loads of  other sweet treats to choose from.
Expect: Baking 20-25 cakes from their selection of 50-plus varieties – the cake selection here is certainly not average. For classic French cakes get your fork stuck into their Paris Brest, mont blanc, chocolate tea eclair and chocolate and raspberry Millefeuille. The guys at Lanka also collaborated with Euphorium Tea Salon in Sri Lanka and sell a range of Sri Lankan tea brands and specialty infusions – tea and cake just got fancy. Their carrot cake is a mix of ginger, cinnamon and coconut creating a well-balanced,  flavoursome cake finished with a sprinkling of pistachios. Lovely stuff.
Where: 9 Goldhurst Terrace, London NW6 3HX
8. InSpiral, Camden
The Story: Inspiral is well-known on the vegan circuit a) because not many resturants can rustle up vegan grub like they do and b) it's fresh, healthy and delicious. The cafe has won the award for 'Vegan Restaurant of the Year' and is known for selling good quality plant based cakes and treats, order the  raw tiramisu or raw hazelnut tart. There's a shop inside meaning you can take home a ton of  goodies. The eatery overlooks camden lock and on a sunny day it's a popular haunt.
Expect: A shed load of vegan dishes. For breakfast choose between buckwheat crepes, gluten-free toast served with loads of breakfast delights and their vegan bake up. If you're after a light sponge and a carrot cake just like your mum use to make it, you'll probably want to swerve this one. Their carrot cake is a take on the classic using carrot juice, fruit and spices. It's a totally different texture and a much wetter mixture to a sponge layer but don't let that put you off, it's still dreamy. Best of all it's topped with a lime and coconut frosting.
Where: 250 Camden High Street, Camden, London NW1 8QS
9. The Free From Bakehouse, Borough Market
The Story: Gluten-free, wheat-free and dairy-free baked goods is on the menu at The Free From Bakehouse. This independent producer is bucking the trend that free from products are tasteless and inferior to regular sweet treats. Their hardwork has certainly paid off as their mantlepiece is now full of awards having been awarded 2 star gold at the Great Taste Award 2012 and winning at the Free From Awards with their almond, apricot and tahini flapjack.
Expect: The Free From Bakehouse bake both savoury and sweet goodies, people with allergies certainly won't miss out here. These guys know how to create gluten-free products without them tasting like card. The list is endless; butternut squash and feta tarts, peanut butter and white chocolate blondies and a zesty lemon polenta cake.
Where: Borough Market – every Wednesday, Thursday, Friday and Saturday
10. Fleet River Bakery, Holborn
The Story: Independent coffee shop Fleet River Bakery, is a small quaint cafe found behind Holborn Station away from the hordes of people. Fleet Street Bakery focuses their attention on dishing up traditional cafe nosh; simple yet delicious breakfast dishes, a daily lunch menu and more baked goods than you can shake a stick at. Take away a slice of cake and a cappuinco and head to Lincoln's Inn Fields for a afternoon of sun worshipping.
Expect: A counter top that could collapse under the sheer weight of cakes, their selection puts supermarket bakeries to shame. To shame, people. Chocolate brownies, honey polenta cake, peanut butter and chocolate chip cookies, banana and walnut cake – the list is endless. For a slice of a well-made carrot cake and dare we say the word – moist, theirs is an absolute winner. At lunch expect queues of hungry workers all wanting to get their mits on the salad selection, we don't blame them it's tasty.
Where: 71 Lincoln's Inn Fields, London WC2A 3JF
11. Berners Tavern, Fitrovia
The Story: The creativity at Berners Tavern's knows no bounds; from cereal cocktails to walnut-infused pumpkin pie drinks, great brunch and beautiful light summer dishes, all the food and cocktails are incredible. Come for cocktails – the frozen cocktail to try is the Sloe Long Sweet Tart (£13.50) which muddles together Plymouth sloe gin, sloe-infused cider, rhubarb, amontillado sherry, golden falernum and citrus fruits for all-round, perfectly balanced short summer drink.
Expect: Their spiced carrot cake with cream cheese mousse and ginger ice cream is utterly sensational. It's easy on the eyes, too. You can't miss the beautiful, seasonal dishes created by Executive Chef Jason Atherton, such as British summer salads with burrata and Isle of Wight tomatoes (£12) and Jerusalem artichoke risotto with mushroom salad (£20). Sip your cocktails in the lobby, surrounded by 24-carat gold furnishing and great modern art.
Where: 10 Berners St, London W1T 3LF
12. Outsider Tart, Chiswick
The Story: A couple of professional guys moved from New York to live and work in London – but discovered that good, wholesome cupcakes, sweet pies and fresh tarts were really hard to come by. Outsiders as they both are, they set about rectifying the situation by turning a favourite hobby into an award-winning business. Outsider Tart is an authentic American bake shop and cafe which is devoted to all things sweet and yummy.
Expect: A wide selection of sweet and savoury goods, which are made fresh on the premises every day using the best quality ingredients. Think: peanut butter whoopie pies, cupcakes and all the best sponge cakes. Their carrot cake is perfectly moist, and goes down too easily with a cup of tea. They also do a spiced pecan cake, need we say more?
Where: 83 Chiswick High Rd, London W4 2EF
The Story: Gail's was started by Ran Avidan and Tom Molnar who met working in London in the late 1990s. Ran had been used to artisan bread every day at home in Tel Aviv, and Tom had grown up baking bread with his grandmother in Florida. Their hunt for a good loaf brought them together. They were quick to find Gail Mejia, who had gathered around her a team of expert bakers and was busy supplying top chefs with world-class loaves. With the additional of their friend Emma King, who joined them, their first shop was in Hampstead, and the rest is history.
Expect: Don't judge it for being a chain: Gail's is world class. At their bakeries, you can pick up a world-class loaf from a seasonal, ever-changing range, as well as top-notch coffee made by carefully-trained baristas. They also do fantastic brunch dishes; we love the smoked salmon and cream cheese crepes, they are utterly divine. Their carrot cake is one of the finest in London, you heard it here first.
Where: Throughout London – here
The Story: Cook & Garcia opened in May 2012 on Richmond High Street. After years as a chef in hotels, restaurants and in contract catering, founder Richard Garcia decided to take the plunge and open his own place, with the support of his wife Janet Cook. The shop has received many accolades, including 'Best Independent Sandwich Bar in the UK', and they aim to provide something different to the usual chains, with locally sourced food, great coffee and a lovely atmosphere.
Expect: Fantastic cakes. Their carrot cake is always a favourite, as well as fantastic brownies and bakewell slices. For those wanting the delicious fillings without the bread, they also have a selection of freshly made, healthy salads. All the good stuff.
Where: Unit 1, 25 The Quadrant, Richmond, Richmond upon Thames TW9 1DJ
The Story: Operated by Des McDonald and his team, with over 20 years' experience running some of London's most renowned restaurants, Holborn Dining Room is an absolute find. The grand brasserie serves up seasonal, locally sourced British cuisine with a twist in a vibrantly bustling dining salon. Think: reclaimed oak with antique mirrors, red leather banquettes with tweed detailing, and two antique patina copper-topped bars, it's a place for enjoying a convivial meal with friends, a spontaneous pint of local lager and a burger, or a selection of crustacea and charcuterie paired with fine wine.
Expect: The best breakfast foods in their deli. From jumbo oat porridge with golden syrup, blueberry compote or Earl Grey agen prunes to Smoked salmon & cream cheese sandwiches, you simply cannot go wrong. Their carrot cake is one of the best in London, hands (and forks) down.
Where: 252 High Holborn, London WC1V 7EN
Photo credit: Felicity Spector
16. Peyton and Byrne, Throughout London
The Story: The master bakers at Peyton and Byrne serve oven fresh, home-made artisan bread, cakes, pastries and other baked goods daily, as well as sandwiches using bread baked that day with the motto – 'when they're gone, they're gone'. The recipes for their classic bakes have been in development for years – think exciting flavours like the West Country apple cake and chocolate, caramel explosion cake.
Expect: You will find over 40 exclusive blends of teas and ground on-site coffee as well as Dalston Cola, and incredible cakes. Their carrot cake is a thing of dreams, and is regularly voted one of the best in London. Try it at the Covent Garden branch and go for a wander around the Piazza… Heaven.
Where: Throughout London – here