Star Bakers: An Expert Guide to London's Showstopper CakesBy Angelica Malin
We're going to be bold, but we think this is the only cake guide you'll ever need to London. Bakeries in London are brimming with incredible treats – you only need to know where to look. We enlisted the help of some of our favourite foodie friends to find out their favourite cakes and bakes in London – from doughnuts to financiers, here's the cakes and sweet treats you need to be eating to celebrate the final of Great British Bake Off:
1. Best Doughnuts: Crosstown Doughnuts
Leah Hyslop, Online Lifestyle Editor of The Telegraph
I am addicted to Crosstown Doughnuts – in particular,  the 'cinnamon scroll'. It's basically a cinnamon roll crossed with a doughnut, topped with a vanilla bean glaze, and is the most indulgent breakfast imaginable. Paired with a strong coffee – perfection.
Crosstown Doughnuts is at 4 Broadwick St, London W1F 0DA
2. Best Croissants: The Malt House

William Sitwell, Editor of Waitrose Food
"The Malt House is a lovely little inn tucked away on Vanston Place near Fulham Broadway. It's a great place for a quiet breakfast and as well as being a master of scrambled eggs – succeeding where so many fail pathetically – they do the most wonderful, fresh and buttery bite-size croissants and pain au chocolat. The pastry is crisp, flaky, full of flavour and as close to French perfection as you could hope for this side of the channel."
The Malt House is at 17 Vanston Pl, London SW6 1AY
3. Best Brownies: Konditor & Cook
Rebecca Reid, Telegraph Wonder Woman Columnist
"Best cake in London is definitely the Konditor & Cook chocolate brownie. Their restaurant in Chancery Lane has a chilled out, low key vibe where it's all about the food. It's hard to chose from all the cakes they have, but their brownie is something else. It's the only brownie I've ever struggled to eat in one sitting."
Konditor & Cook is at 46 Gray's Inn Rd, London WC1X 8LR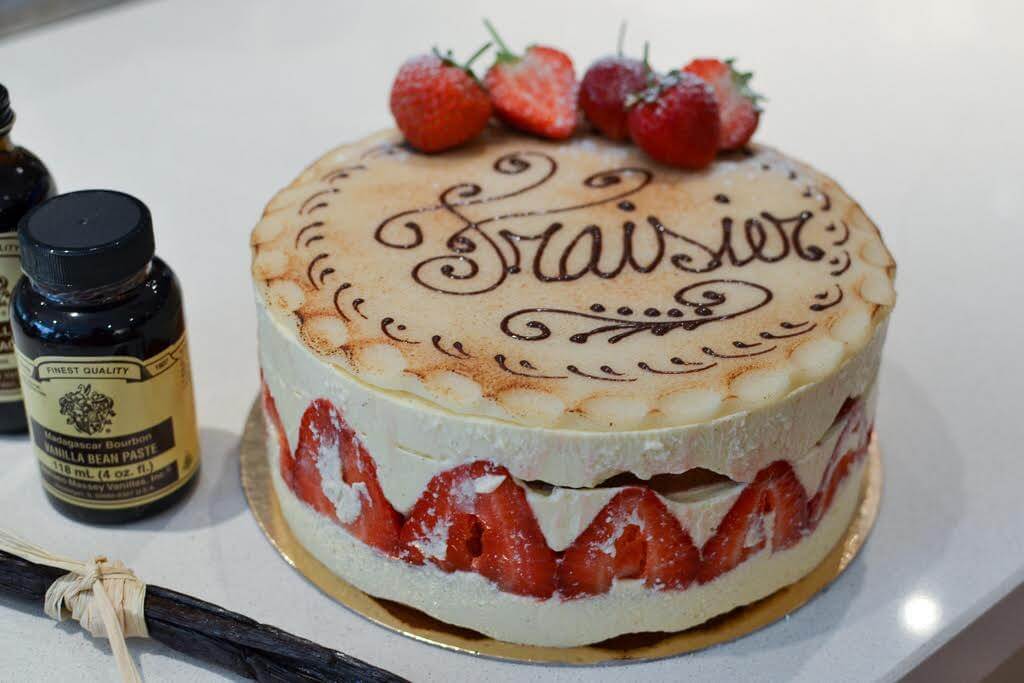 Eric Lanlard, Founder of Cake Boy
"My favourite cake would have to be the Frasier Cake from my Patisserie – Cake Boy. It's my favourite flavour combination crème mousse lime, marzipan and strawberries. For me it's more than just a cake, every time I eat it it brings back nostalgic memories for me. I always use to have this as my birthday cake when I was a child growing up in Brittany."
Cake Boy is at Unit B, Kingfisher House, Battersea Reach, Juniper Dr, London SW18 1TX
5. Best Afternoon Tea: OXO Tower
Alice Clarke, PR Manager at Pret a Manger
"Well apart from a Pret brownie (obviously), the best cake I've eaten all year was an incredible apricot, almond and thyme cake at OXO Tower's Not Afternoon Tea. If you're after a big slab of indulgence though, you can't go wrong with Konditor & Cook's Curly Whirly cake!"
Oxo Tower Wharf is at Bargehouse Street, South Bank, London SE1 9PH
7. Best Cheesecake: Outsider Tart
Felicity Spector, ITV News
"My favourite cake in London has to be the peanut butter cheesecake brownie from Outsider Tart – it's got everything in one cake. Peanut butter. Cheesecake. And brownie. You can't ask for more. Although at Thanksgiving I'll be all over their pumpkin cheesecake…"
Outsider Tart is at 83 Chiswick High Rd, London W4 2EF
Chetna Makan, GBBO Contestant
"Honey & Co cakes are always so lovely and delicious! I like their flavour combinations and their use of seasonal fruits in the cakes. Of the ones I have tasted I like Honey & Co cakes. They do such a variety of lovely flavoured cakes and oh so delicious."
Honey & Co is at 25A Warren St, London W1T 5LZ
Alicia Grimshaw, Deputy Editor of About Time Magazine
"I have a massive sweet tooth and pretty much enjoy any sweet treat or baked good, but it's the cinnamon bun from Nordic Bakery that gets my vote. Their cinnamon buns are baked to absolute perfection. Golden and sticky on the outside gives the bun a crunchy bite and reveals layers of spiced cinnamon pastry.  Give me a good cuppa and a cinnamon bun and I'm happy"
Nordic Bakery is at 14a Golden Square, Soho, London, W1F 9JG
James Shilcock, Founder of Vivid Drinks
"Roka is a bit of Japanese Zen in the middle of London's financial heartland. At Roka you'll find the best chocolate fondant cake with matcha. Chocolate and matcha is a bit like sex and alcohol, great alone, so much better together"
Roka is at 4, Canary Wharf Group, Park Pavilion, 40 Canada Square, London E14 5FW