As part of BeLOVeD Date Week, we searched high and low for London's best date bakes. There's nothing the humble date can't do – and added into cakes, it's really something special. From date cakes to date slices, here's where to get your tea and cake this week:
1. Best Quirky Date Cake: Ottolenghi
Order: Spiced date cake with cream cheese icing and pecans
Expect: The Ottolenghi empire has received critical acclaim since opening their first shop back in 2002. Now operating out of four outlets across the city, the Ottolenghi deli in Islington concentrates on seasonal food, pastries and a good selection of lunchtime dishes. Their food is vibrant, comforting and uses ingredients that are simple yet daring. Mediterranean influences help them create varied dishes packed full of flavour and spices – and you can't miss their great Shakshuka.
Where: 287 Upper St, London N1 2TZ
2. Best Date Cupcake: Sweet Things 
Order: Sticky toffee pudding cupcake
Expect: Primrose Hill's best kept secret, Sweet Things is an award-winning bakery that makes gorgeous cakes, cupcakes, gooey triple chocolate brownies, and lots more. The charming owner has gone from manning a small cupcake stall to baking for an incredibly loyal customer base, securing clients like Fortnum & Mason and Selfridges and running Sweet Things. They also host cupcake classes if you'd like to learn to make her sweet creations at home, too. Don't miss their sticky toffee pudding cupcake – made with dates, it's sweet, rich and has the most perfect buttercream icing. Heaven.
Where: 138 Regent's Park Rd, London NW1 8XL
3. Best Date Shortbread: Cocomaya
Order: Date and pecan shortbread bites
Expect: A wise person once told me you should never go food shopping hungry, and you should stick to that philosophy when visiting Cocomaya. The lure of the fashionable window display will have you bolting for the door. This is an artisan bakery that oozes sass – from the stylish decor of the marble worktops down to the well-polished wooden floor – Cocomaya has air of sophistication. It's trendy, stylish and the cakes are the stars of the show. The list of cakes are endless. You name it, they bake it.
Where: 12 Connaught Street, London, W2 2AF
4. Best Traditional Cake: Green Valley
Order: Mamoul – date and pistachio balls
Expect: Edgware Road excels in two areas: serving some of the tastiest kebabs in London (don't get me started on the sauce selection) and the stream of unbelievable Middle Eastern supermarkets – my diet mainly consists of hummus and pitta bread from these grocery shops. Green Valley is a modern Lebanese food hall that has got all the bases covered. We're talking about an in-house bakery freshly baking baklava, Turkish delights and nougat and a deli counter which is glass cabinet of dreams – showcasing home-made dips, cheeses and salads. Buy nuts by the kilos, buy Arabic breads that are as big as your duvet and buy Lebanese sweets by the boxes.
Where: 36-37 Upper Berkeley Street, Marble Arch, London W1H 5QF
5. Best Vegan Cake: Wild Food Cafe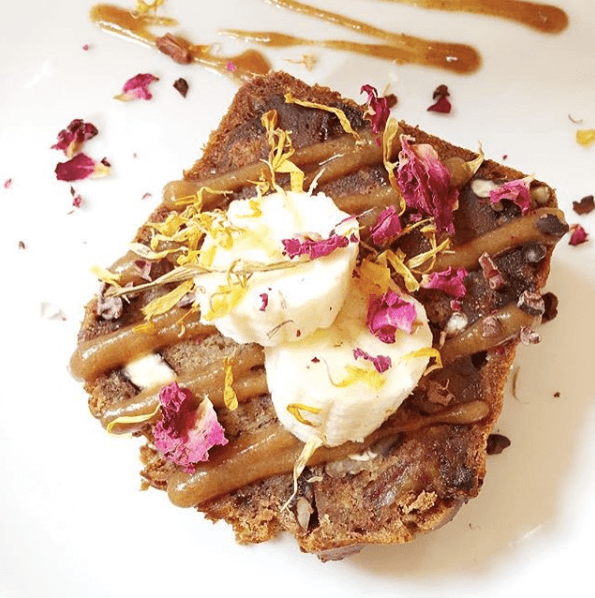 What: Walnut, pecan, date and banana loaf
Expect: Wild Food Cafe is the hip hangout in Neal's Yard frequented by plant-powered lovers and anyone who wants to feel virtuous. This vegan and vegetarian eatery create exceptionally tasty dishes from veggies that have been locally sourced from independent suppliers. Their Ethos: 'to promote aliveness and embody a world in which plant-passionate, nutrient-packed food is necessary.' We can recommend the baked sweet potato and cashew aioli with sweet potato wedges big time. Perfection. Come lunchtime the place is packed, it seems people are prepared to wait for a dehydrated butternut squash base.
Where: 1st Floor, 14 Neal's Yard. Covent Garden, London, WC2H 9DP
6. Best Date + Apple Cake: Bake-a-Boo
What: Apple and date cake
Expect: Bake-a-Boo is a quintessential English tea room in the heart of West Hampstead. The decorations is reminiscent of a craft shop – bunting, cupcake pictures and fake flowers (you get the idea). Bake-a-Boo specialises in hand-baked seasonal cakes, treats and cupcakes and they cater for vegans, celiacs and cook up some mean sugar-free cakes too. All cakes are served on vintage plates that look like they should belong on the Antiques Roadshow. Think your Grandma's crockery mixed with a jumble sale (in a good way).
Where: 86 Mill Lane,  London, NW6 1NL
7. Best Date + Coconut Cake: Coco Di Mama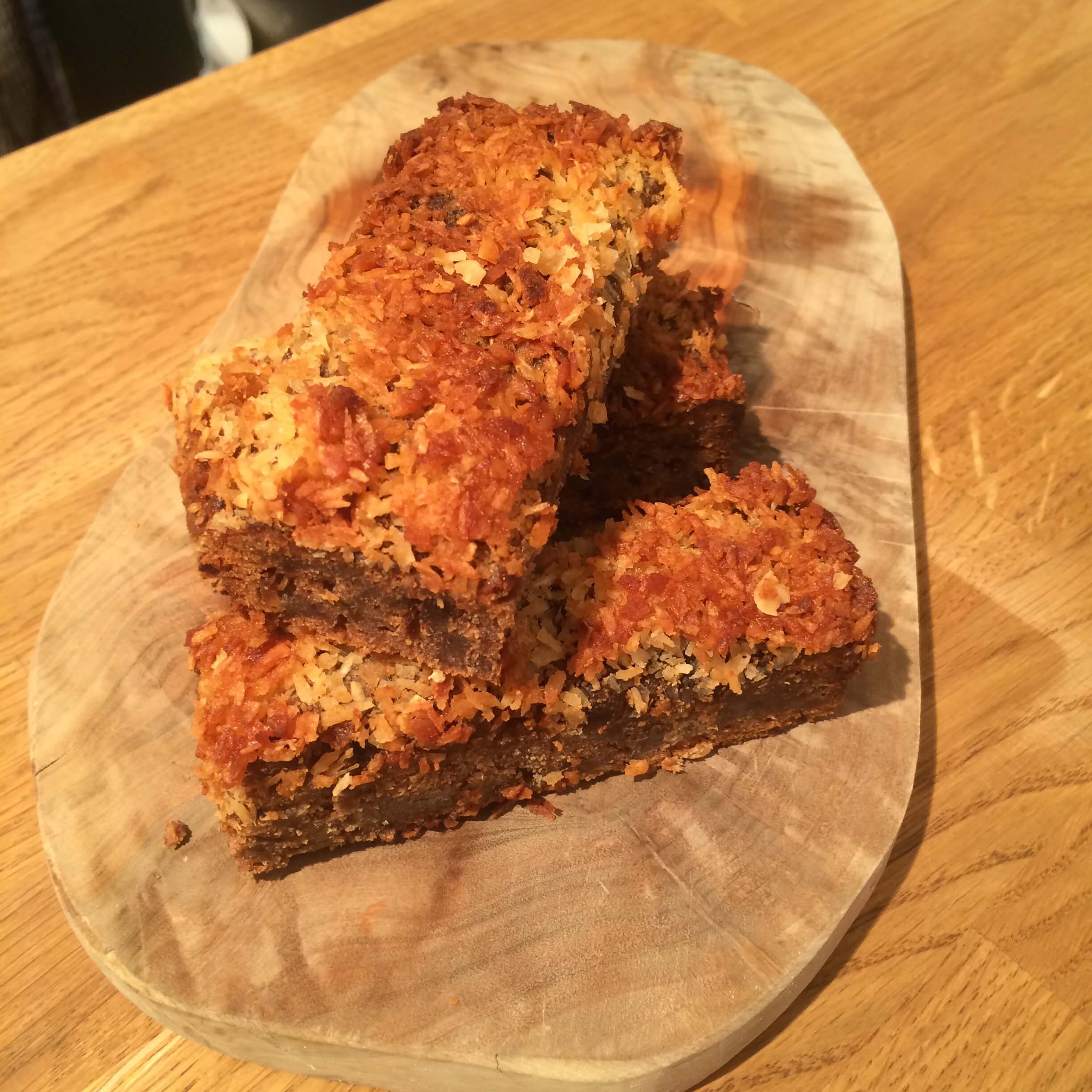 What: Date, apple and coconut cake
Expect: Coco Di Mama is about serving up simple, flavoursome and delicious dishes without getting lost in complicated recipes or the latest food fad. Why have foam with some red wine jus when you can have a steaming bowl of their slow cooked bolognese. They serve quick, Italian food using the finest ingredients from Italy and closer to home. Their coffee is by their pals at East London roasters Allpress using a unique blend from Brasil Santa Alina, Colombia Pescador and Guatemala Huehuetenango.
Where: Locations here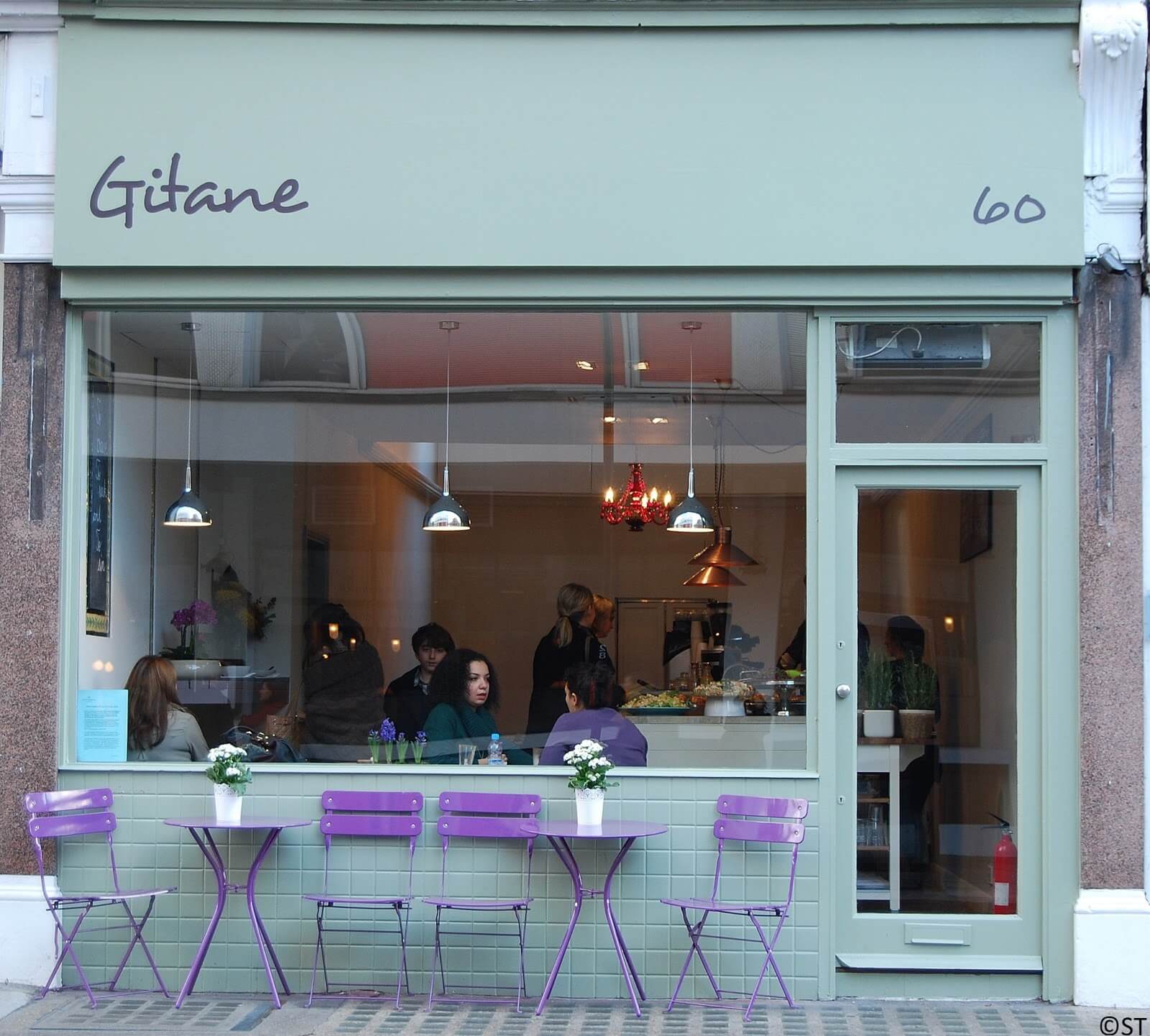 What: Date cookies  
Expect: Away from the rat race of Oxford street lies an independent Persian bistro in Fitzrovia boasting a minimal, informal environment –  perfect for grabbing a coffee and a pastry. The menu changes on a weekly basis and combines ingredients both from London and Iran. They've got a killer brunch menu with dishes including the Khagineh – a sweet omelette with  saffron, ground cardamom, butter, eggs, maple syrup and pistachios or try the Southern Iran style omelette with Persian dates.
Where: 60 Great Titchfield St, London W1W 7QG
9. Best Simple Date Cake: Nordic Bakery
What: Date and coffee cake
Expect: A beautiful, calm oasis that wafts of freshly cooked cinnamon buns is enough to make you forget all your mid-week stresses. The Scandinavian-style café offers simple and savoury Nordic bakery products – and an honest attitude. The food is all based on Nordic recipes and ingredients; think classic Swedish meatball sandwich with lingonberry jam on dark rye, and Gravadlax with cucumber and mustard dressing. For the sweet-toothed, their cinnamon buns are huge (a rustic take on the Finnish cinnamon bun).
Where: 14a Golden Square, Soho, London, W1F 9JG
10. Best Date Brownie: The Juice Well 
What: Chocolate brownie – dark chocolate, aduki beans, dates and coconut oil
Why: Having gained big love stateside, London is fully embracing the cold press juice movement. The Juice Well is a juice bar in Soho, creating organic locally sourced cold pressed juices, superfood smoothies and cleanses. They pack their juices with heaps of veggie and fruit goodness and make some pretty mean treats without the nasties and additives. No one could possibly turn down a healthy spin on a peanut butter cup.
Where: 4 Peter Street, Soho, London, W1F 0DN
Vegan Coffee Date Cake
This light recipe will satisfy any sweet tooth. By substituting refined sugar for Date Nectar you'll avoid the normal post-cake-sugar-slump, making it the perfect afternoon treat!
Ingredients
• 2 cups white spelt flour
• 1/2 tsp sea salt
• 1 1/2 tsp baking powder
• 1 1/2 tsp baking soda
• 1 1/2 cups firmly packed pitted & chopped dates
• 1/2 small cup of date nectar instead of sugar
• 5 tbsp vegan all-natural butter spread (this can be swapped for almond butter or unsalted regular butter depending on your preference) • 5 tbsp ground flaxseeds
• 5 tsp coffee extract Sauce • 100ml of Greek Yoghurt & 2 tsp of the date nectar
Directions
Preheat the oven to 190 degrees C and grease a 9-in square cake pan with coconut oil and dust with flour. Sift the flour, baking powder, and salt together into a medium bowl and set aside.
Bring 2 cups water to the boil in a medium saucepan, keeping covered. Add the chopped dates and simmer over a medium heat for 5 minutes, stirring occasionally.
Remove from the heat, add the baking soda, and stir (the mixture will appear fizzy and and bubble up a bit). Stir well to combine together.
Leave this date mixture to sit for 20 minutes, uncovered. (The baking soda breaks down the fiber of the dates.) Using an electric mixer, cream the allnatural buttery spread and date nectar together in a large bowl, until well combined and fluffy.
In a small bowl, whip the flaxseeds with 1/3 cup water using a small whisk, until frothy. The mixture should resemble egg whites in texture.
Add the whipped flaxseeds to the date nectar mixture and mix on medium speed until well blended. Add the coffee extract to the mix and stir to combine.
Add the date mixture and flour mixture together, alternating bits at a time (starting with the date mix).
Mix these well but gently, until all ingredients are incorporated. Careful not to overmix. Pour the batter into the prepared pan and bake for 25 to 30 minutes. Insert a toothpick into the center of the cake – it should come out clean when ready. Leave to cool for 15 minutes, then cut into squares.
Mix together 100ml natural yoghurt (0% fat and no added sugar) with 2 tsp date nectar and drizzle ontop. Serve warm for a delicious treat. Datelicious!
Post in association with BeLOVeD as part of BeLOVeD Date Week – follow them on Twitter here and like them on Facebook here. For more information, see BeLOVeD's website here.