Ben & Jerry's welcome the great British summer with a sweet tribute to an iconic national dish, exclusively available at their London Soho Scoop Shop.
Ben & Jerry's Phish & Chips: The Lowdown
From 12th July, Fry-day visitors to Ben & Jerry's London home can experience fan-favourite Phish Food (Fairtrade chocolate ice cream, with marshmallow swirl and chocolate-y shaped fish), lightly coated and fried in a crispy cornflake batter and joined by crunchy, salty pretzel chips, served with sweet raspberry ketchup and smooth mascarpone tartar sauces for dunking.
Ben & Jerry's Phish & Chips: But Why?
Ben & Jerry's original Phish Food ice cream was launched way back in 1997 and named after the Vermont jam band, Phish. Now, more than 20 years later, Ben & Jerry's Flavour Gurus getting fired up to bring fans a dessert with a difference, whilst paying homage to one of Britain's favourite dishes.
It's not the first time Ben & Jerry's has tried their hand at reinventing a savoury treat especially for London ice cream lovers. Last year the company rolled their Ice-Ice Bagels into town.
Ben & Jerry's Phish & Chips: Try It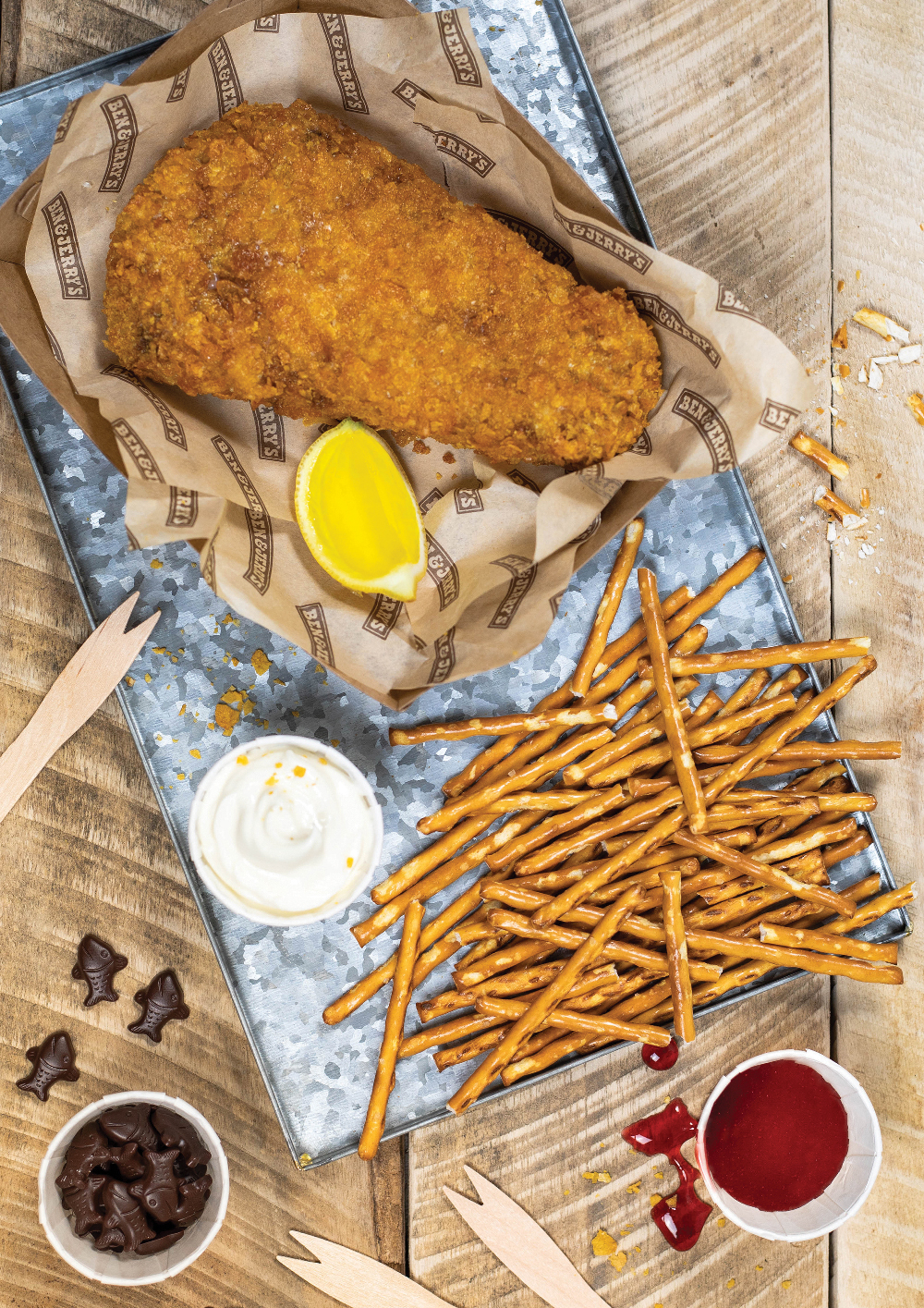 Ben & Jerry's Phish & Chips (£5.95) will be available every Fry-day in July from 11am – midnight, starting on 12thJuly exclusively at Ben & Jerry's Soho Scoop Shop on 74 Wardour Street, Soho. The menu item is Fairtrade certified and with a vegetarian, no jelly option available.
Here for a good time (not a long time) so make sure you grab one while stocks last!