About Time: You Celebrated Thanksgiving at CUT at 45 Park LaneBy Alicia Grimshaw
We're thankful for many things; Yorkshire Tea, a perfectly cooked poached egg, and Peep Show on Netflix. And there's one place we're thankful for, and that's CUT at 45 Park Lane. The warm and comforting embrace of CUT should never be forgotten – and with Thanksgiving just around the corner, I'm forever thankful for their wagyu sliders and banana pie pud.
Whether you're a homesick American or just have a really strong desire for American munch, there's only one place to celebrate Thanksgiving this year and that's at this Park Lane hotspot. I donned some loose fitting trousers, arrived with an empty stomach and visited CUT to try the special Thanksgiving menu. Here's what you need to know:
CUT at 45 Park Lane: The Lowdown
Thanksgiving is a pretty special gig at 45 Park Lane – it's not a cobbled together assortment of American grub. It's so much more. Born and raised in California, Executive Chef David McIntyre has been knocking together Thanksgiving dinners for his family for years. His three must haves? Beer, a good football game on the box, and a prized turkey. And boy, what a turkey CUT are serving this year.
CUT at 45 Park Lane: The Menu
Serving the menu for one day only (23rd November), David's Thanksgiving feast features three courses of traditional American eats with a CUT twist.
For starter, there's pumpkin soup with chanterelle mushrooms topped with goat's cheese. The soup was seriously moreish; super silky and utterly divine. Goat's cheese and pumpkin is such a winning combination, and the drizzle of pumpkin seed oil over the soup elevated this humble dish to new tasty heights. It's everything you want from a soup – warming, hearty and bursting with earthy flavours.
The main event. The crème de la crème: the turkey. If there's one thing David knows about, it's meat. David prepares his turkeys a few days before by brining the whole bird and letting it rest. The outcome is a golden and crispy skin, and the most delicious meat with a lovely, fragrant flavour. Honestly, you'd be hard pressed to find a better tasting turkey in the capital. And like any good Thanksgiving meal, the trimmings are just as important. The wild mushroom stuffing was wonderfully intense and nutty, and the braised greens were also an excellent side.
The red jewel sweet potato gratin topped with toasted pecans was bang on. Traditional at its core, but with a nice twist with the pecans, the gratin was smooth and sweet. And so ruddy good I had three portions. The creaminess of the gratin balanced nicely with the rich mushroom stuffing and the flavoursome turkey. Not forgetting everyone's favourite, the Brussel sprouts were cooked with confit bacon and pearl onions – not a veg I'm usually fond of – but these green beauties really won me over. If you like your dinner swimming in gravy, good news: they serve lashings of natural, homemade gravy made with the juices from the turkey.
But we're not just finished just yet, because there's one last hurrah. One last delicious hurrah. Try the kabocha pumpkin and ginger cheesecake – not overly sweet, the pumpkin not only lends richness to the pudding, but also cuts through the tart taste of the ginger. Served with a generous blob of ginger ice cream for a punchy taste. Pumpkin pie has got nothing on this biscuit base number.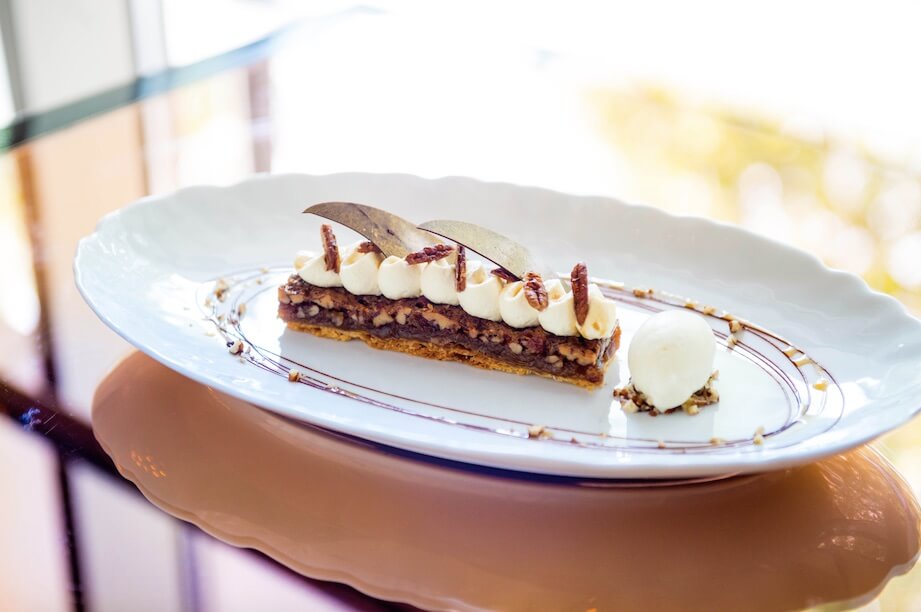 The pecan pie is the ultimate sweet ending to the Thanksgiving feast; sticky, gooey and studded with caramelised pecans, this homemade pie is heaven.
CUT at 45 Park Lane: The Verdict 
Props to David for creating a work of edible art.  I can't recommend this Thanksgiving menu enough. Eat a light lunch, and head down to Cut at 45 Park Lane for one hell of Thanksgiving feast this Thursday. I promise, you won't regret it.