It's about time you discovered the best things to eat in London this week. From lobster trains to tasting menus, we've got it covered;
What: The famous mono-product pioneer, Burger & Lobster, is launching the ultimate luxury brunch. Dubbed the 'Champagne Train', foodies will enjoy a First-Class champagne experience, in partnership with Taittinger, with bubbling flutes served by a miniature moving train down the stretch of the 9-metre bar at Burger & Lobster Soho.
The Lowdown: Guests will choose from the full a la carte menu including their famous prime cut, Nebraskan, 10oz burger or indulge in one of the only places in London to get wild Atlantic lobster. For the ultimate lux-meal experience, trend-hunters are invited to upgrade to the unique 'Champagne Train' journey for an additional £25 per person; which will allow diners to select flutes of chilled bubbling Taittinger as the train travels back and forth across the bar at their leisure. In addition, foodies can also choose from an array of delicious starters a la carte to accompany the champagne, including lobster croquettes, Norwegian king crab and rock oysters, served with the restaurant's delicious homemade Bloody Mary sauce.
When: 29th March-19th April
Book: To book your slot please visit here
What: This year, London's favourite cake shop Konditor & Cook have partnered with Master Chocolatier, Paul A. Young to create a luxury range of Easter treats.
The Lowdown: Konditor & Cook specialise in spreading joy through cake, and boy have they done it again! This year's Easter collection includes a delectable Chocolate Caramel Cake made from layers of chocolate sponge, smooth chocolate frosting and a layer of salted caramel; a Lemon Meringue Pie; buttery shortbread Bunny Biscuits filled with salted caramel and decorated with chocolate ganache and an Easter Treat Time Box, a box of bitesize Chocolate Caramel and Curly Whirly Cakes. Master Chocolatier Paul A. Young has created an exclusive range of hand-made luxury eggs for Konditor & Cook. These include small and large variants of milk and dark eggs, decorated with lustrous silver and gold brushstrokes, as well as a limited edition Peruvian single-origin chocolate egg which comes alongside a box of nine handmade 65% Peruvian cocoa nib and sea salt chocolates.
Where: Visit here
What: On Tuesday 30th April Masaki Sugisaki, Executive Chef at famed Japanese restaurant Dinings SW3, will kick-off the second of their monthly series of off-menu Omakase evenings paired with exclusive sakes. There are just twelve spaces available for each monthly event and tickets can be booked up to one month in advance.
The Lowdown: An intimate gathering around the central sushi counter, the evening will offer a unique chance to learn more about Dinings SW3's selection of own-brand Sakes and try a one-off Omakase menu, devised especially for that particular evening by Chef Masaki and his team, showcasing the best that the restaurant has to offer. 'Omakase' in Japanese means to 'entrust' or 'protect' and is translated in restaurants as 'putting yourself in the chef's hands'. Open to the public for the first time, the dinner will remain true to Japanese tradition as Masaki will be guiding guests through a one-of-a-kind menu which spans the breadth of Japanese cuisine – from the restaurant's signature sushi and 'tar-tar chips' with fresh sashimi to the hot 'Shuko' dishes cooked on the traditional Josper grill such as the 'Creel-caught native lobster with sauce vierge a la yuzu' as well as completely new creations from Chef Masaki such as his own take on the Katsu-Sando and the 'Cornish Squid Pasta Bolognese'.
Buy: Tickets are on sale here at a cost of £285 or £228 without the Sake pairing.
Where: Dinings SW3, Lennox Gardens Mews, Chelsea, London SW3 2JH
What: Busk in London; an initiative supported by the Mayor of London and designed to champion street performance, returns to The Ivy Tower Bridge for spring and summer 2019, in partnership with Slingsby Gin.
The Lowdown: As part of the collaboration, a series of talented Busk in London musicians will perform at the restaurant on select occasions from April to June, allowing Londoners and visitors to the city to celebrate the spring and summer months in style. Commencing on Wednesday, 17th April from 5.30pm, diners will be treated to the infectious folk-inspired tunes of talented singer-songwriter, Charlotte Campbell (who will also be performing on Wednesday, 24 April). In further celebration of the collaboration, Slingsby Gin and The Ivy Tower Bridge's bar team have concocted a series of bespoke and refreshing creations, available from Wednesday, 17 April to Thursday, 6 June. To enjoy the talents of Busk in London's performers alongside a sumptuous dining experience at The Ivy Tower Bridge, simply make a table reservation as no tickets are required.
Where: The Ivy Tower Bridge, One Tower Bridge, Tower Bridge Road, London, SE1 2AA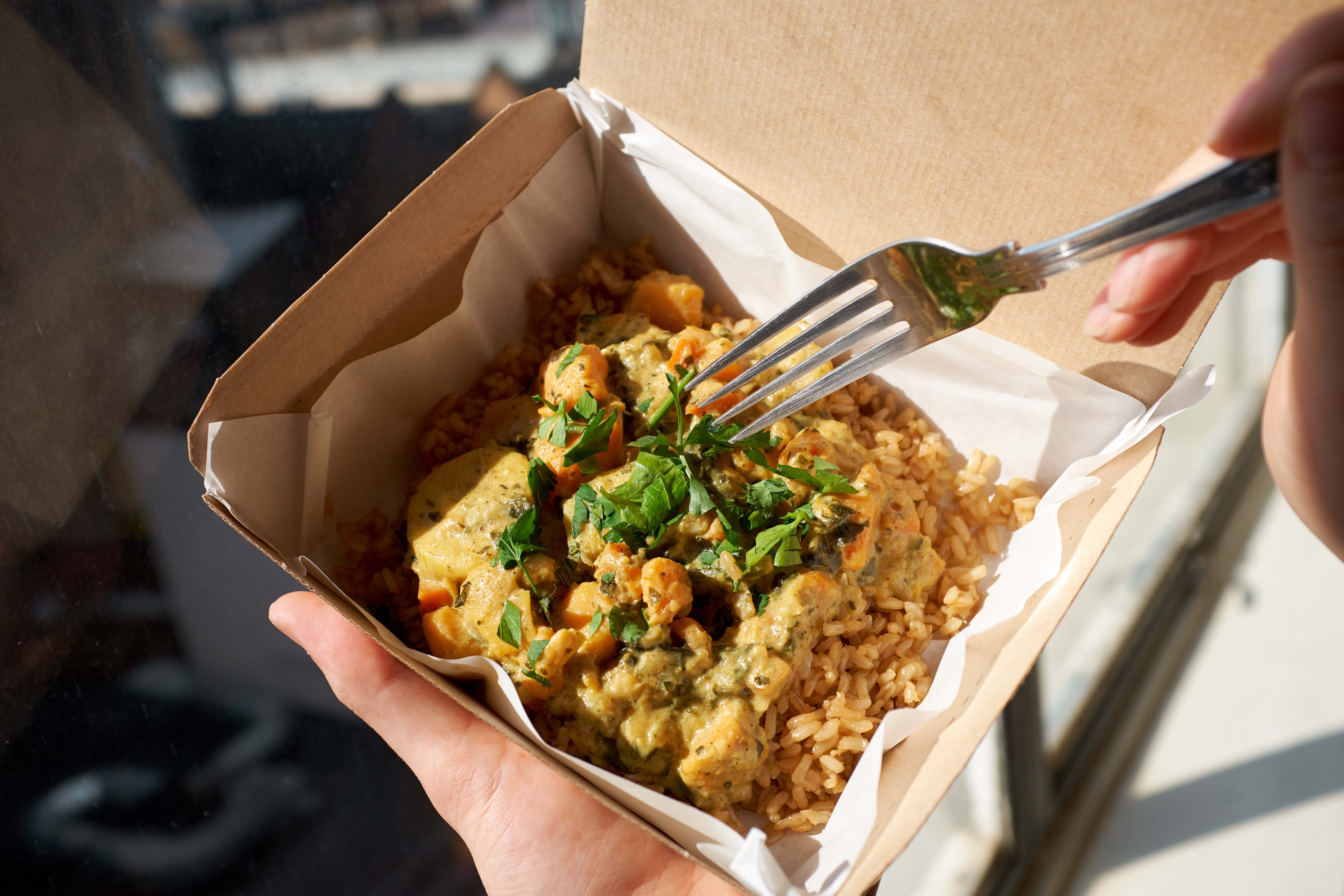 What: LEON have announced their brand spanking new menu for Spring featuring new flavours from Asia and the Caribbean
The Lowdown: LEON, the Naturally Fast Food chain, has announced the launch of its Spring Menu focussing on nourishment and comfort; with dishes that are kind to our bodies as well as being kind to the planet. Straight from the pages of LEON's latest cookbook Fast Vegan and inspired by West Indies cooking, the all-new Caribbean Plantain Curry is a spicy mix of sweet potato and plantain, two foods rich in stress and anxiety-busting magnesium. Blended with mineral and antioxidant-rich kale in a creamy coconut sauce, the curry is finished with zingy lime and spicy habanero chillies – making for a a boldly flavoured plant-based dish to the LEON menu, of which 67% is already vegan or vegetarian.
Where: To find your nearest LEON visit here
And one for luck…
What: This year, sourdough pizza pioneers, Franco Manca, are rewarding any brave runner who completes the 2019 London Marathon with a pizza on the house.
The Lowdown: Those who cross the finish line are able to show their medal in any Franco Manca pizzeria, to redeem a delicious sourdough reward of their choosing. The offer will run in Franco Manca pizzerias nationwide on the day of the Marathon, Sunday 28th April, and on Monday 29th April too, giving runners a chance to rest their feet, should they need to! The offer includes one pizza per marathon finisher upon presentation of a 2019 London Marathon finishers' medal. Applicable to any pizza on the menu or specials board, the deal is available to dine-in customers only, and cannot be used in conjunction with any other promotions. Extra toppings come at additional charge.
Where: To find your nearest Franco Manca, visit here