You time is precious. And so are doughnuts. We've spent our time discovering the best new openings and menus in London, so you don't have to waste yours. Let's get munching:
1. For a New Lunch Menu: som saa
What: som saa have officially launched their new lunch menu of regional Thai-style dishes and Asian inspired cocktails. Co-Head Chefs Andy Oliver and Mark Dobbie have combined the best of seasonal British meat and fish with some new ingredients they've specially sourced directly from Thailand.

Why: New dishes have been introduced especially for the lunch menu with a shift in focus from the more northern-inspired som saa stalwarts to the spicy, coconut and seafood driven cuisine of the southern coastal regions of Thailand. The new gung golae, grilled prawns in a southern style coconut marinade, bolsters up the grill section alongside the classic gai yaang, a thai style grilled chicken leg with tamarind dipping sauce. The wok section also sees a new southern-style addition in the pad ped neua – stir fried rump steak with 'prik kee nu' chillies and cumin leaf with the salads including the incredible som sam thai, a bankgok style green papaya salad with snake beans, dried shrimp, peanuts and cherry tomatoes, alongside the signature nahm dtok pla thort – whole deep fried seasbass with roasted rice and isaan herbs.
Where: 43A Commercial St, London E1 6BD
2. For a New Opening: R Chocolate London
What: R Chocolate London has one aim: to be the finest chocolate and patisserie brand in the UK. R Chocolate London has just opened on Belgravia's iconic Ebury Street, taking its place alongside London's world-renowned luxury brands. 
Why: R Chocolate London sell an array of sweet delicacies including their signature caramel chocolates in a variety of different flavours. The sea-salt elephant shaped caramel is a pretty special centrepiece – and it's pretty damn tasty too. There's also a Memory Lane collection which is an interpretation of all the original chocolate bars – think retro coconut bars, chunky peanut and nougat bars, and shortbread with caramel. R Chocolate's Belgravia kitchen and tea room features a dessert bar with an intimate 4-6 covers. This unique area is a place to enjoy the best desserts as well as being a space for chocolate masterclasses.
Where: 198 Ebury St, Belgravia, London SW1W 8UN
3. For Another New Opening: The Flour Station
What: The Flour Station have opened a permanent café in Camden's popular Stables Market, dishing up breakfast, lunch and dinner, and transforming the humble traybake into their signature series of individual masterpieces.
Why: Ranging from rich, decadent salted chocolate brownie with hazelnuts and a shortbread base, to soft, jammy oat and raspberry slices and a savoury scone bake filled with tomatoes, basil, onions, spinach and cheese, the traybake selection is focused on freshness and flavour. Breakfasts are served market-style on huge sharing platters, including plenty of toast, brioche with hazelnut frangipane, and a Flour Station original – breakfast pudding featuring layers of croissants soaked in vanilla custard and dappled with fruit. For lunch, there's Scandinavian open-faced rye sandwiches and a selection of The Flour Station's finest sourdough – with sticky toffee brioche buns to hit the post-lunch sweet spot.
Where: 91 North Yard, Chalk Farm Road, Camden, NW1 8AH
4. For a New Coffee Concept: The New Black
What: The New Black is a revolutionary coffee concept that is bringing an exciting and fresh approach to the modern coffee experience in London. It offers coffee connoisseurs and coffee amateurs an exclusive selection of artisan coffees from the world's most renowned coffee roasters, served with style and efficiently in one place.
Why: With the rise of artisan coffee shops alongside the mass-market chains, Founder Kia Boon, felt there was a gap in the market for a design-driven brand that curated the best of the artisan roasters from around the world. Highly trained baristas use the most advanced technology in coffee-making, never seen before in the UK, to provide everyone with the highest quality cup within minutes. The New Black has developed interactive iPads with tastewheels that help you better understand the different flavour profiles of coffee roast.  The coffee bar on Philpot Lane will also provide gourmet teas and pastries from the likes of St John Bakery and Babelle, paired to complement the flavours of coffee roasts.
Where: 10 Philpot Lane, London
5. For a New North London Hangout: The Common 
What: After a successful soft launch over the summer, today is the official opening date of T​he Common,​ NW10's newest restaurant, terrace and bar. Expect season British eats, with a menu that boasts simple, well sourced food and drink that is exciting, affordable and focused on sharing.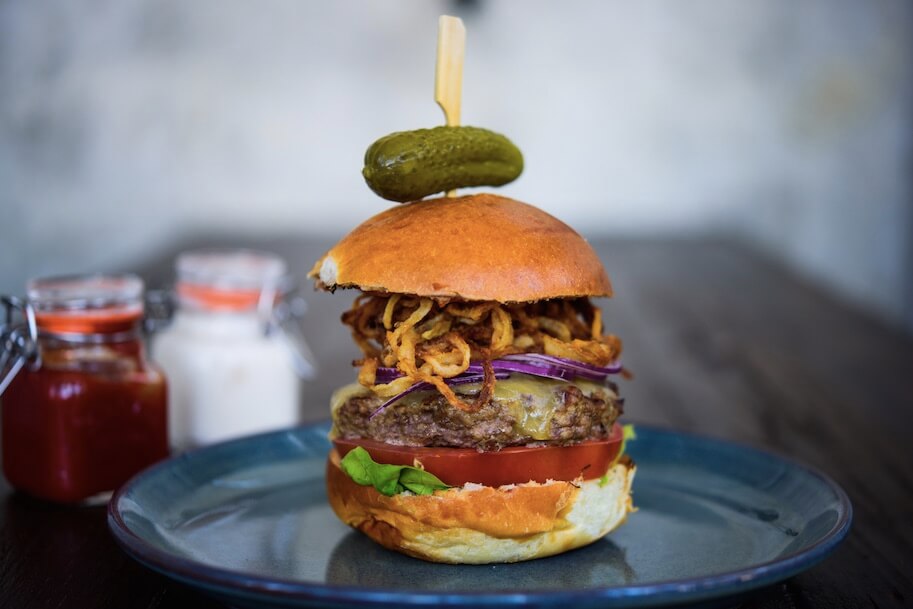 Why: Highlight from the menu include ​Chef Andre's well loved dishes, such as flakes of lemon sole and cod with slow cooked cherry tomatoes, capers, red chilli and coriander, ​and bavette steak served with chimmi ch​urri, two fried eggs and fries. The menu lends itself to sharing, with the wild mushrooms, parsley and lashings of truffle oil absolutely bang on. The restaurant only serves high-welfare meat and has fantastic vegetarian dishes including ​halloumi burger topped with sweet peppers, rocket s​alad, sweet chilli sauce and baby gem served with fries,  and a salad platta with lentils, ch​-ickpeas, red peppers, grilled aubergine and house relish.
Where: The Common, Old Oak Lane, London, NW10 6EJ
One for luck.. 
6. For a New Bar Opening: Bar Douro
What: Bar Douro has recently opened at new foodie hub, Flat Iron Square. The rustic bar and restaurant draws inspiration from the traditional cerveijarias and tascas of Lisbon and Porto, serving up a contemporary take on Portuguese cuisine alongside expertly sourced regional wines. Bringing the Portugal to the arches of London Bridge, fill your boots with smashing vino and mega small plates.
Why: The small-plates menu runs from Petiscos (snacks) including croquetes de alheira – croquettes with smoked sausage, and bolinhos de bacalhao (that's salt cod fritters to you and I), to small plates such as piri piri chicken wings, octopus with sweet potato and Bisaro pork ribs with ruby port glaze. Sharing dishes are also up for grabs, such as cataplana, a hearty fish stew and roast suckling pig with homemade crisps. Puddings include everyone's favourite custard tarts, pastel de nata, served with cinnamon ice cream. There will also be daily specials, cheese and charcuterie. And wine, plenty of wine.
Where: Arch 35B, Union Street, Flat Iron Square, London SE1 1TD
We're feeling pretty lucky..
7. For New Cocktails: Bó Drake 
What: Bó Drake may be known for their excellent Modern Thai munch, but there's now another reason to visit this Soho hotspot. The restaurant has just launched a brand new cocktail menu, created with mixologist Natalina Marano, formerly of neighbouring Soho stalwart 'The Vault' at Milroy's.
Why: The new drinks include; Zest & Bubble, a heady combination of Bia Jiu, Floc de Gascogne, Sureau and Prosecco, and Chard Boiled with Anjeo Tequila, Creole Shrubb, chocolate bitters and orange. The Let's Get Berried is a fruity little tipple and includes Berry-infused Vodka, Eau De Vie and egg white. Joining Bo Drake's signature dishes are a selection of new dishes demonstrating their distinctive European- Korean flavour fusion. Highlights from the new food offering include: bulgogi beef sliders with crispy pancetta, miso mayo and caramelised red onion, and duck tataki with girolle Mushrooms, orange soy dressing and garlic crisp.
Where: 6 Greek St, Soho, London W1 4DE
Room for one more.. 
8. For a New Festive Doughnut: Bread Ahead 
What: Just a little bit of news to brighten your week.  Forget your stollen bread and mince pies, from Thursday (17th November) Bread Ahead will be selling their new Christmas doughnut.
Why: Bread Ahead have specially created a chocolate orange doughnut for the festive season, launching next Thursday 17th November at 5pm at the Seven Dials bakery, and the first 100 people to get there will get a free doughnut. Yep, that's right – a free doughnut. The doughnut will then be available from 18th November – 24th December.
Where: Locations here