About Time: You Discovered Bombay Sapphire's New Tradition CocktailsBy Angelica Malin
If there's one thing I love more than cocktails, it's festive cocktails. Bombay Sapphire New Traditions cocktails are all about the extras – a sprig of fresh pine, the scent of zesty orange, a drop of cranberry, it's the little touches that make these Christmas cocktails. For me, there's simply nothing better than curling up in front of a roaring fire, watching Love Actually, and sipping something truly delicious and festive.
What's more, this year, Bombay Sapphire – the world's #1 premium gin – are getting you in the festive spirit with their limited-edition Christmas designs. Partnering with six of the world's most innovative artists and designers, Bombay Sapphire has re-imaged traditional Christmas items with modern interpretations, including a Christmas candle by Stephen Hendee, Christmas cracker by Studio Boo, Christmas bauble by Richard Clarkson and party poppers by Bompas & Parr. See more on their Facebook page here.
If you're looking to shake up your Christmas traditions, it's about time you discovered the special festive serves from Bombay Sapphire. Bombay Sapphire's New Traditions cocktails are all about breaking from the norm, with a unique range of seasonal cocktails, that use beautiful winter ingredients and fresh flavours. The six special cocktails bring together tradition and modernity, showing how versatile quality gin really can be. For some cocktail-making magic at home, here's the wonderful cocktails and how to make them yourself this Christmas:
Bombay Sapphire New Traditions: Christmas Eve Cocktails
For the Night Before: Spiced Apple Warmer
Why I Love It: This cocktail reminds me of hot apple juice my mum used to make on Christmas eve – she would simply heat the apple juice with cinnamon, clove and star anise, over the stove, and serve up in mugs for a real winter treat. This grown-up version of the cocktail gives a distinctly adult feel to the childhood classic, but still with all the comfort and nostalgia of my PJ-clad early years. So good.
The Idea: Serve with a warmed mince pie in front of an old-fashioned film, and you've got yourself the perfect Christmas eve all wrapped up. Don your favourite onesie and you're good to go.
Ingredients:
120ml Bombay Sapphire

300ml hot apple juice

Cinnamon stick

Star anise
Method:
Heat the apple juice in a pan

Add the measure of Bombay Sapphire

When it reaches a simmer, remove from the heat

Pour into a mug or glass with handle

Stir with a cinnamon stick

And finish by floating a single star anise on top
Bombay Sapphire New Traditions: Pre-Lunch Cocktails
For an Aperitif: Star 75
Why I Love It: This cocktail looks really impressive for guests, but it's so simple to make. The cocktail is the perfect aperitif to kick off your Christmas lunch celebrations – it's light, sweet and just so drinkable. The touch of fresh lemon makes sure the cocktail isn't too sweet, and the additional of Prosecco gives a real, special Christmas day feel.
The Idea: The cocktail is perfect for sipping alongside a selection of your best canapés – whip up some smoked salmon blinis with cream cheese and a squeeze of fresh lemon, and you've got yourself a party.
Ingredients: 
35ml Star of Bombay

15ml freshly squeezed lemon juice

15ml sugar syrup

75ml Martini & Rossi Prosecco

Maraschino cherry
Method:
Pour the lemon juice and sugar syrup into a cocktail shaker

Add the measure of the Star of Bombay

Fill with ice, close and shake well for 10 seconds

Carefully strain into a chilled champagne flute

Top up the cocktail with the chilled MARTINI & Rossi Prosecco

Then gently stir to combine

Finally, drop a maraschino cherry in the glass
For a Delicious Serve: Cranberry Ginger Twist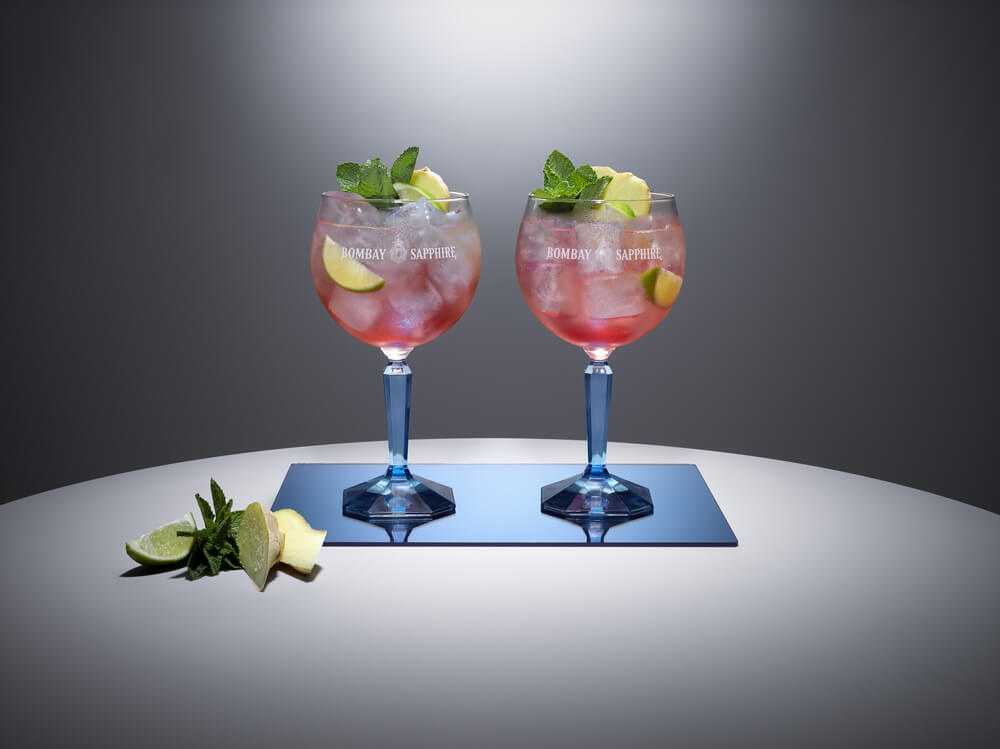 Why I Love It: This cocktail is just so refreshing; the combination of fresh ginger and lime really freshens it up, and it's the perfect thing to wake up the tastebuds before all the lovely Christmas day food you're going to devour. Ginger might be an usual addition this time of year – when suddenly everyone is obsessed with cloves and cinnamon – but don't overlook it, ginger can make a fantastic addition to your Christmas cocktail list.
The Idea: Start your meal with this heavenly, light cocktail, before things go downhill with the heavy eggnog, mulled wines and port. This cocktail is lovely alongside fresh smoked salmon and zingy, light flavours, so make sure to pair it with something subtle and delicious.
Serves one
Ingredients: 
50ml Bombay Sapphire

50ml fever tree tonic

25ml cranberry juice

25ml finger ale

Fresh ginger slices

Lime wedge

Single mint sprig
Method:
Fill balloon or highball glass with ice.

Add the measure of Bombay Sapphire

Then pour in the cranberry juice

Fizz up with premium tonic, and the ginger ale

Stir well

Garnish with fresh ginger slices and a lime wedge

Topped off with a single mint sprig




Bombay Sapphire New Traditions: Christmas Lunch Cocktails
For a New Classic: Cranberry Pine Twist
Why I Love It: Who doesn't love a gin and tonic at Christmas? It's one of the nation's favourite drinks – for good reason. The cocktail is just so delicious and drinkable, and I love with festive twist on the classic with the additional of a pine spring and some fresh cranberries. It takes a few minutes to make, but the touch of pine really adds a fancy, festive feel to the drink to impress guests.
The Idea: For me, no gin and tonic is complete without some delicious nibbles to enjoy alongside. Try making your own festive honey-roasted nuts to accompany the drink by baking a mixture of almonds, hazelnuts and peanuts in the oven with unsalted butter, runny honey, smoked paprika and sea salt.
Ingredients: 
50 ml Bombay Sapphire

125 ml premium tonic water

Pine sprig

Cranberries

Lime wheels
Method:
Fill balloon or highball glass with ice.

Add the measure of Bombay Sapphire followed by the premium tonic

Stir gently

Garnish with lime wheels

The finishing touches? A single pine sprig and a scattering of cranberries
Bombay Sapphire New Traditions: Post-Lunch Cocktails
For a Dessert Cocktail: Sweet Clementine Twist
Why I Love It: This really does taste like Christmas in a glass. There's something about the scent of fresh orange at Chrismtas time that reminds me of the Christmas pudding we used to bake, with tons of dried fruit, candied orange peel and lashings of brandy. This cocktail is beautiful in its simplicity – simply the juice of a clementine, tonic water and the spirits. Perfection.
The Idea: It would be criminal to enjoy this cocktail without a healthy helping of Christmas pudding – the flavours just work so well together. Christmas pudding is the treat we all pretend to hate, but secretly love, with lots of sultanas, orange zest, mixed spice and cherries. I use mine as an excuse to eat my body weight in brandy butter, and it works pretty well for me.
Ingredients: 
35ml Bombay Sapphire

20ml Martini Bianco

Juice of one clementine

75ml premium tonic water
Method:
Fill balloon or highball glass with ice.

Juice the clementine into glass

Followed by the Martini Bianco and Bombay Sapphire.

Swirl well to mix.

Pour the chilled tonic water over a bar spoon and onto the ice.

Swirl and garnish with a single clementine segment, then serve.
For a Pick-Me-Up Cocktail: Hot Gin Mocha
Why I Love It: Let's be honest: most of us pretend to like Espresso Martinis, but most of the time, they are way too bitter and leave us feeling totally wired. This Hot Gin Mocha is a lovely festive alternative; with the sweet of the cacao and the pinch of sugar balancing out the kick of espresso. Glorious.
The Idea: The perfect pick-me-up drink to enjoy at the end of your Christmas lunch, this is sure to wake you up and stall the 5pm sofa nap. Note: Quality Street optional, but advised.
Ingredients: 
120ml Bombay Sapphire

3 tsp caster sugar

75 ml Crème de Cacao

3 shots of strong espresso

Shavings of dark chocolate
Method:
Combine the espresso with a teaspoon of sugar in a pan and heat

Add the measure of Bombay Sapphire

Followed by a serving of Crème De Cacao

When it reaches a simmer, remove from the heat

Serve in suitable vessel, such as a mug or glass with handle

Finish with long shavings of dark chocolate