Before going to Japan I spent a long time trawling the internet for a two-week trip guide that could inspire or inform me on where to go. I'm pleased to be able to provide a guide for AT readers after two unforgettable weeks there. Hopefully this article will help another Japan planner; I certainly found having at least all the travel and accommodation sorted incredibly useful. Incidentally, I did this trip from March 16th-April 2nd 2018. This coincided with the UK Easter Bank Holiday giving 18 days in total. It's the perfect time of year if you want to both go skiing and see the cherry blossom – and it's also super sunny.
Ultimate Japan Guide: Before You Go
Flights: One of the biggest things putting me off going to Japan originally were worries over the cost of the flights. I ended up getting return tickets for less than £600 with Asiana Airlines. I hadn't heard of them before this trip and they really surprised me; the planes were modern and comfortable with nice food and service. Don't be afraid of the change in Korea – it's pretty simple and all our flights ran on time.
JR Pass: Without doubt the JR Pass was one of the best things about travelling around Japan. The JR Pass gives you unlimited access to most of the train lines (including bullet trains) across Japan. Buy the pass before you go for 7 or 14 days. Just a tip: you won't need it in Tokyo so bear that in mind when making those calculations. When you arrive you'll still need to get the pass made up at one of the big stations – leave lots of time to do this preferably not on a day when you're actually travelling. Even when you have the pass you'll still need to book onto the individual trains but this is no hassle at all. And the speed, comfort, and reliability of the trains make travelling around a part of the experience. For not a huge deal more you can get a first class green pass. If you're considering long journeys this may well be worth it as the green carriages are much quieter and that bit more comfortable. We used our passes over 10 times each and I'm hanging on to mine as a souvenir.
Inspirock: Before going I discovered a useful online tool called Inspirock. You can plug in your dates and start planning how long you'll be in each place. The best feature is a map which shows you the distances and rough journey times between places. This was really helpful in deciding what was realistic and what wasn't. I spent a lot of time changing around the days and destinations, and I'm glad I did.
Ultimate Japan Guide: Day 1-4 Tokyo
A word of warning: the jet lag is intense. Don't plan too much for at least the first day as I felt like I was drunk/tired/ mad all at once. Be strict with yourself and you can get over it pretty quickly. We arrived in Tokyo on a Saturday night and had three full days here. There's plenty of other people who can tell you what to do here. As a Londoner, I found the subway pretty easy to navigate, and for the same reason I didn't want to stay too long in Tokyo (another big city). For me, three days was enough to see the main sites and take in the atmosphere, and by the end I was keen to see what the rest of the country had to offer.
Eat Here: I really felt the 'expensive' aspect of Japan had been overplayed. Someone told me there are no bad restaurants in Japan, I certainly never went to any. Don't be afraid to be spontaneous and dive into places you like the look of. Deep Shibuya is a really cool area an in particular.
Stay Here: We stayed in an Airbnb near Shinjuku. The Shinjuku area is an ideal place to stay as its residential, buzzing at night and close to lots of useful transport links.
Ultimate Japan Guide: Day 4-8 Hakuba

I have written a whole separate piece on Hakuba. To summarise it here – it's a brilliant resort and I would really recommend it to anyone interested in trying skiing in Japan. The resorts are all still fully operational in March (pending very poor snow) and we had both plenty of snow and sun. Happo One is the biggest of the ski areas and also has the best village/atmosphere. Be sure to rent your gear from Rhythm Japan who have everything you will need, and visit the onsens after a long day on the slopes.
Eat Here: Luce is delicious for lunch and dinner (I ended up going for both). There are both Japanese options (try the wagyu shin) and Western classics too (the best chicken burger you'll have in Japan). Be careful as it closes fairly early in the evenings.
Stay Here: Phoenix Hotels and Chalets. Run by Shelly and Peter this will be your home from home. The chalets are nestled in the picturesque Olympic village and are perfectly located to access both the town and the slopes. You'll save money too by cooking in. In the chalets, everything is brand new and really high-spec. 100% recommend.
Ultimate Japan Guide: Day 8-9 Kanazawa
Described by some as a 'mountain village' Kanazawa is more of a city than a village but with some of the best traditional streets we saw in Japan. Its conveniently located on the direct line to Kyoto, so is definitely worth stopping in if you're coming from Hakuba. A day is long enough to visit some of the shrines, the castle (which isn't actually a castle) and the almost film-set old geisha districts. A good place to try a tea ceremony, I didn't actually bother as it felt a little crowded (and expensive).
Eat Here: Fawari – but be sure to book (our Tokyo Airbnb did for us). Really nice food, not hugely expensive and a great setting. The set menu is a safe bet if you want to try a bit of everything. That said, if you want to save money – there are plenty of good a la carte options too.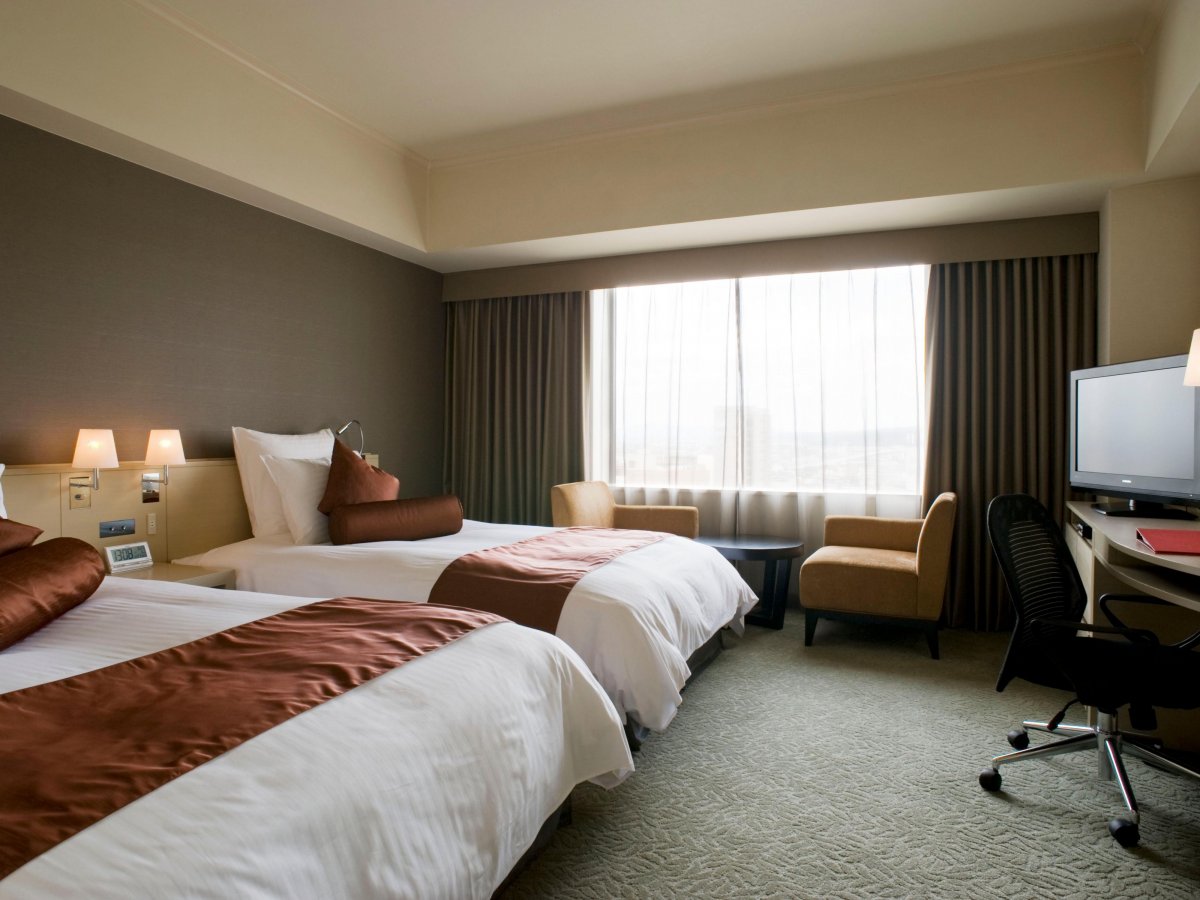 Stay Here: Ana Crowne Plaza. A much more business-like hotel then you might expect to stay in at a 'mountain village', however this hotel has a great location near the station and it's ideal if you're in a hurry when you arrive and want to drop your bags. The rooms are spacious, the staff are friendly and there are also great views over the city. What more could you want?
Ultimate Japan Guide: Day 9-14 Kyoto
Five nights in Kyoto? That seems a lot I hear you saying. Trust me on this one, use Kyoto as your base. When you have big bags you don't want to be lugging them all across the country to pack in as many places as possible. One of our best moves was staying in Kyoto for 5 nights, but using two of those days for day trips. One was Hiroshima about 4 hours away (easy with your JR Pass) and the other was the art island, Naoshima.
Naoshima actually turned out to be one of the best days we had in Japan. The journey there is actually pretty simple (a couple of trains and a ferry) and the JR Pass covers all but the ferry. My big piece of advice would be to get off the ferry quickly and rent a moped. There's no better feeling than riding past a Yayoi Kusama in the sun on a Japanese island surrounded by blue seas.
In terms of Kyoto itself, the remaining days give you plenty of time to explore this amazing city. We arrived at peak blossom; Philosophers Walk, the Shrines, the rivers, bars, and restaurants – there's so much to discover.
Eat Here: Chao Chao Gyoza. A famous gyoza shop and with good reason. The original shop often has a big queue but we went to their more recent one around the corner. Its easier to get in and they were the best Gyozas I've ever eaten. Don't miss the chocolate ones.
Stay Here: We stayed in an Airbnb again here which is perfect for longer periods and allows you to get to know the area better. We were in downtown (just below Nishiki Market). I loved the area and we got used to swinging by local restaurants at night. I couldn't tell you the name of any of them, but they were all tasty – don't bother making too many reservations before you arrive!
Ultimate Japan Guide: Day 14-15 Mt Fuji
It's a little complicated, but on balance, worth stopping by Mt Fuji on your way back to Tokyo. It's one of the most famous sites in Japan and is just as impressive in real life than in any photo or painting I have seen. One night here feels just long enough to reflect on your trip whilst not feeling you've wasted time.
Stay Here: It's the end of the trip – treat yourself and stay in one of the best bedrooms in the world. Hoshinoya Resort Fuji is, without doubt, the nicest hotel in the area. It doesn't come cheap, but it's worth it for the views and the balcony alone.
Ultimate Japan Guide: Day 16 Tokyo
As we were leaving very early in the morning from Narita (the further away airport), we had a final night stay in Tokyo. And it proved quite useful for last minute gifts, etc.
Eat Here: It's your last night in Tokyo, and I can't think of anywhere cooler to go than the 'Lost in Translation' New York Bar in the Hyatt. The best views of the city, live jazz and amazing cocktails (that are pretty reasonably priced for the location). I know, I know it's not super authentic Japanese ramen bar, but you'll probably be craving some duck fat chips by then anyway. Failing that, Shinjuku is just round the corner with plenty of authentic places for after.
Stay Here: Near Shinjuku Station – it has a direct line to the airport (your JR Pass will work for this too).