About Time: You Tried Skiing in Hakuba, JapanBy Iona Goulder
When I told my parents I was taking three days out of a two week trip to Japan to ski, they thought I was mad. Therefore, it's with great pleasure that I write this guide for other potentially wavering, parentally dissuading travelers about where and why you should 100% ski in Japan.
Skiing in Japan: Where to Go
Most people who know about skiing in Japan will probably tell you about Niseko, one of the most popular destinations for full-on-ski-your-heart-out travelers. As my brother can no doubt tell you, I'm not one of those, and I suspect many people reading this will be the same as myself. Skiing was just one part of this two week trip, but it wasn't the main aim. I wanted to find somewhere where I could experience the best Japanese skiing without going massively out of my way.
Hakuba is that place.
Hakuba is Japan's largest resort, consisting of nine interconnected ski resorts (more on that later) in the Northern part of Nagano, the base of the Japanese Northern Alps. What does that mean practically? It means that you can go from the metro to the moguls in under three hours.
Incidentally, and I will repeat this in every piece I write about Japan, BUY A JR PASS. You can purchase them ahead of your trip and they effectively give you unlimited, flexible fast travel across the whole country. It was one of the best things about visiting Japan and be it day, long distance or last minute, it makes all your trips very very easy (including this one). It helps of course that the trains are never ever delayed too.
Anyway, back to Hakuba. The resort hosted the Olympics in 1998 meaning they still have a lot of the infrastructure, shops, bars and facilities that you might expect from an Olympic village. With 1998 being twenty years ago nothing feels modern, but that's exactly why I loved it. Everything from the village to the gondolas has a retro charm that makes you want to grab the nearest multi-coloured onesie and hit the slopes. It also peaks at an elevation of 3,000 metres meaning there's plenty of powder right through till May (although the resort really begins to close in April). We visited at the end of March, perfect timing for people looking to combine skiing with seeing blossom, and the conditions were perfect; cloud and fog in the evening gave way to fresh snow and sun during the day. And the conditions were as good as any ski resort I'd been to before.
One of my concerns going skiing in Japan is that (for me anyway) skiing is just as much about the time after you take your boots off as it is the, usually painful, time they're on. Hakuba blends the best bits of a classic European resort with some Japanese extras thrown in.
Skiing in Japan: Ski Rental
For example: the ski rental. We used Rhythm Japan, and it couldn't have been a better experience. Like many places in Hakuba it's staffed with Australians (the Japanese ski season works well alongside their own) so no language barrier and, as we all know, Australians are all amazingly friendly. The equipment was top of the range and the staff knew the slopes and conditions really well so were able to advise on exactly what would work best. Going in March meant we hit sale season on the slopes and it's worth going down to Rhythm for the shop alone. I ended up walking out not only with a pair of rental skis, poles and boots, but a new balaclava and beanie to go with them. One tip: they also rent ski clothes out so if you don't feel like lugging salopettes around Japan (like I did) then this is a good option.
It's not just the rental that beat expectations, I was surprised to find giant Patagonia and North Face shops in the town as well as every type of restaurant you could want (except fondue). Jacks and Cru Cafe are two of the best bars in town, Luce combines a casual setting with incredible home-cooked food, whilst Mimi's is a very well respected restaurant for people looking for fine-dining. All in all, it adds up to a resort that truly offers everything you could want from a skiing holiday (minus the cheese).
Skiing in Japan: Where to Stay
When it comes to skiing, some people prefer hotels but I've always been about the self-catering life. Self-catering gives you flexibility and allows you to feel more at home than a hotel might, plus you can avoid seeing other people when you're feeling very anti-social, which with me is a fair amount of the time. I'd found the Phoenix Hotel through an internet search and although the hotel itself looked great, I was pleased to see they had a number of self-catering chalets as well. The whole operation is run by two Australians, Peter and Sally. When I say run, I don't mean they sit in an office somewhere deciding whether or not breakfast should start at 6:30 or 7. What I'm trying to say is; Peter is the one who'll pick you up, and Sally is at reception to recommend the best places to eat – and if it isn't one of them, it's a member of their family over from Australia to help during the season. The whole place has a relaxed, warm and welcoming feel that is, without doubt, a result of this kind couple at the heart of it.
The Phoenix Chalets are located in the village of the Happo One Resort (the largest of the nine ski areas). The village is home to a series of hotels, bars and restaurants nestled in the woods that was set up for the Olympics. It's the perfect setting, the surrounding forest and lantern-lit roads provide the beauty, whilst proximity to the town and slopes tick the boxes for practicality. As well as the shuttles run by the hotel, a series of (always on time) buses take you to any of the resorts and Phoenix is next to one of the main bus stops, and I don't think I ever carried my skis further than 20 metres the whole time I was there. It's also about 200 metres from Rhythm which is the best place to rent skis in the area. Finally, proximity to the 'mothership' hotel means you can benefit from the use of their reception, bar, and restaurant. Best of both worlds.
Travelling around Japan you quickly become accustomed to small rooms and even smaller beds. This isn't the case in the Phoenix Chalets. I was immediately struck by the size of the bedrooms, all fitted with generous double beds and large bathrooms with walk-in showers. Upstairs an open-plan living room and kitchen give 360-degree views of the surrounding village and forest. And one of the first things I noticed entering the chalets is that everything is heated. Not just a large box on the wall that gives you a dry mouth and makes a hated noise, but underfloor take-your-socks-off-sends-you-to-sleep heated. Everything you could need has been thought through; your own dedicated ski room, brand new ovens, kitchen equipment and a laundry machine I could understand (the instructions were in English, not because I can't do washing).
Whether you're travelling as a group or a couple as I was, I can't recommend these chalets enough. Being on a budget we were able to eat in and made use of the tv and dvd player. Nights like this help, and are so important in a place like Japan where you do occasionally need a break from the noise and pace of the cities. The team at the Phoenix go above and beyond to ensure your time off the slopes are just as enjoyable as when you're speeding down them.
Skiing in Japan: What to Do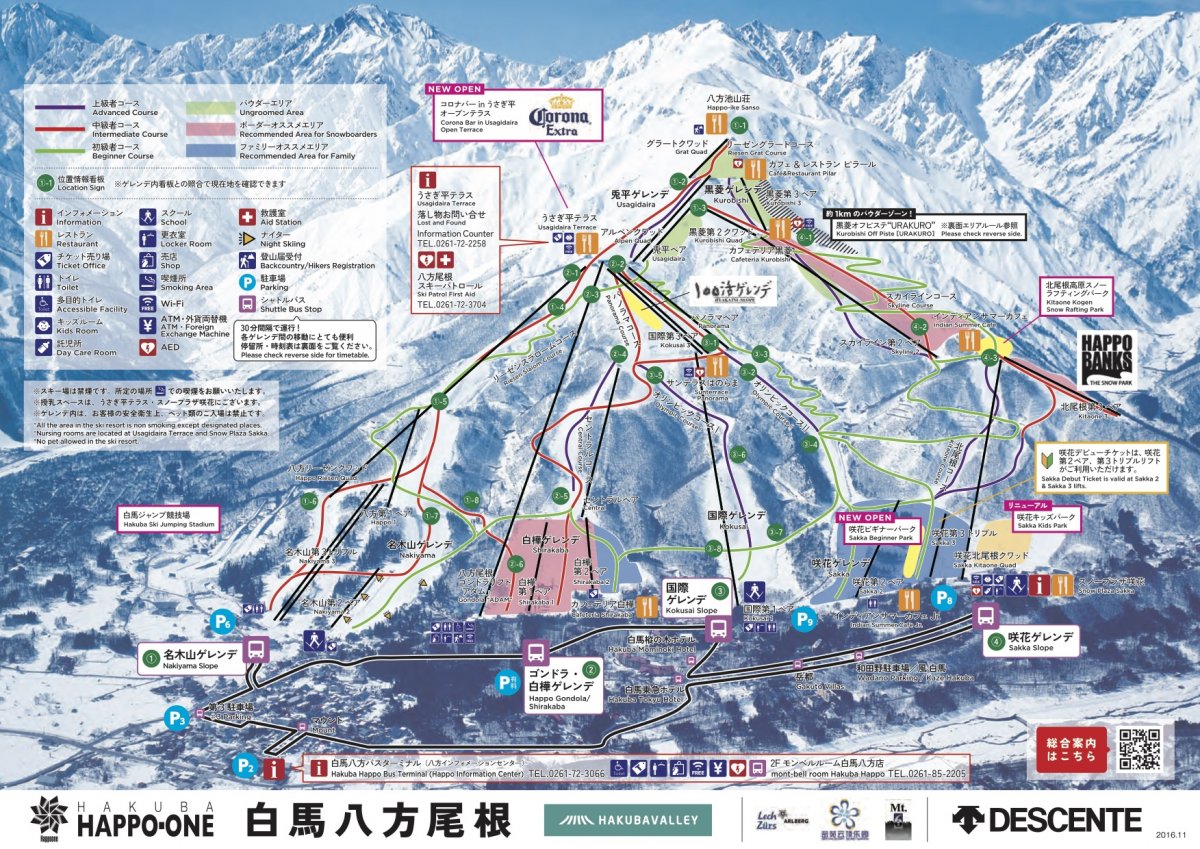 I've just realised I'm 3/4 of the way through this piece and I haven't talked about the skiing yet. Anyone expecting huge resorts with hundreds of long winding runs then you won't find this in Hakuba. Across the three days we were there we managed to ski five of the different resorts. We left Happo One, the largest of the nine, until the last day. Despite being the largest you can ski most of it in one day. It was one of the more difficult mountains and by the end of the day, almost every run was a field of moguls. There was also plenty of challenging steep runs and it's fun to be able to ski a previous Olympic downhill course. It's great for advancing, but perhaps intimidating for beginners. However, if you're looking to learn don't let that put you off. One of the best things about Hakuba Valley is the sheer variety of the slopes available.
In the first two days we skied different mountains in the morning and afternoon using the (fairly infrequent) buses to get around. Different mountains offered different experiences. Iwatake had amazing conditions with plenty of opportunities for off-piste, whilst Tsugaike offered some of the widest slopes I've ever skied. See a full list with descriptions on the Hakuba Valley site. There's no doubt there is more than enough to do here for 3/4/5 days. Any longer than that you may start to find it repetitive – but Hakuba's variety and conditions ensure that you'll never be bored.
When you're not skiing one of the other things about Hakuba is that it has some brilliant onsens. If you haven't tried one before then this is the perfect place to do so and it's ideal for after skiing.  We went to three whilst we were there. The first at the Highland Hotel has stunning views but is a little further from the town. Daini Sato NoYu in the centre of town is more traditional with very hot water. Meanwhile go to Mimizuku for the local experience. It was very busy when we went but that only adds to the experience. This website has a great list of all the onsens available along with a brief description and links.
Skiing in Japan: The Verdict
There's no doubt that I was surprised by just how good the skiing experience was in Japan, and in particular Hakuba. If you're on a first trip to the country like I was, you may be tempted to use the three days to see more of the 'key locations' (Osaka for example), but for anyone who loves skiing or has an interest in learning to ski this really is a no-brainer. Hours away from the capital, with great snow and sun (at least when I was there) and a chance to see a different side to the country. And places like the Phoenix Chalets and Rhythm Rental will make sure you feel comfortable off the slopes too. It just goes to show, sometimes it pays to ignore your parents.