I struggle to think of a European city to rival the beauty of Budapest. Replete with lavish thermal spas, gorgeous architecture and absurdly cheap and delicious food, you need to crank it up to the top of your mini-break bucket list.
Like all the best cities, Budapest lends itself to ambling afternoons spent strolling along the river and exploring its cobbled streets. Split by the river Danube into Buda and Pest, it's a tale of two cities. Buda secretly bustles with Ottoman-era spas, grand buildings and palaces, while Pest is home to a treasure trove of art nouveau facades, fine museums and an historic and resurgent Jewish quarter. Together, they unite to make a magical place, teaming with history, culture and bohemia.
And if you're intending to stay in Budapest in style, there's only one place to do it…
 Hotel Corinthia: The Hotel 
The Corinthia hotel epitomises Hungarian opulence. Originally built as the Grand Hotel Royal in 1896, it remains renowned as one of Budapest's most stunningly spectacular five-star hotels, standing proudly in the heart of the city.
The building itself is an impressive historical landmark, with its imposing neo-classical façade and soaring six-storey glass atrium, and is located just a stone's throw away from the famous Andrássy Avenue (now a UNESCO world heritage site, no less).
Hotel Corinthia: The Rooms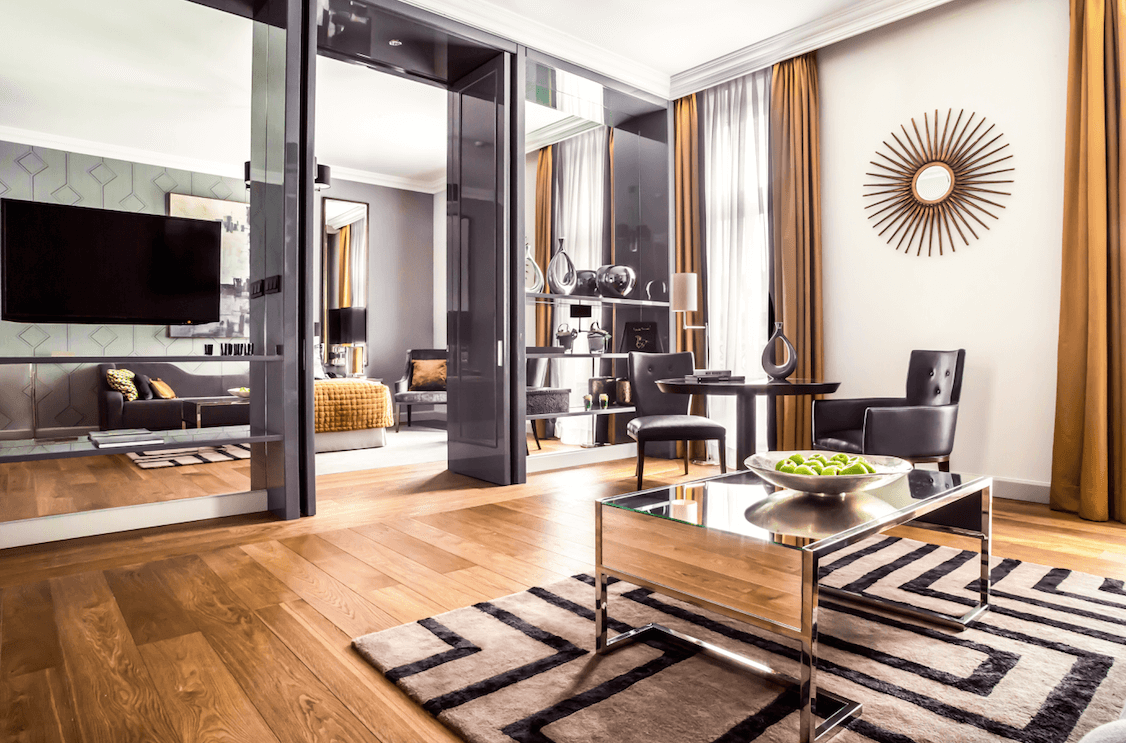 Rooms range from regular doubles, to suites and… apartments (casual). Many rooms are undergoing a process of renovation, so be sure to check when booking that you bag a newly decorated one. We stayed in the Executive Suite, and were bowled over by the understated grandeur of the place. The edgy interiors sit in stark contrast to the historical magnificence of the hotel, with eclectic furniture and neutral shades of taupe and grey gliding alongside plush bedding and velvety carpets. The modern furnishings are gorgeously juxtaposed to grand views over the historic city. Its hard to pull off this contrast between old and new so successfully, but the Corinthia miraculously manages it.
Staying in the Executive Suite also gives you access to the Executive Lounge, which is reason enough to choose this hotel in the first place. A private lift will whisk you directly up from the foyer to the lounge, which offers complimentary canapés and refreshments all day long. It's the perfect place to relax with a newspaper if you need to recharge from a day of exploring the city.
Hotel Corinthia: The Food
You wont be short on choice when it comes to eating in Budapest (book a table at Mazel Tov restaurant as soon as you land), but for the days when you don't feel like leaving the hotel, they have some stellar options available. Once you've had your fill of Hungarian goulash, the Rickshaw restaurant will refresh your palette with piquant flavours from the Far East (don't leave without trying the dim sum). Or if you want to try something a little different – Rock Bistro fuses traditional Hungarian dishes with Spanish-style tapas. And the hotel's breakfast buffet is served each morning in the Brasserie & Atrium, which also serves casual international and Hungarian cuisine. Yum.
Hotel Corinthia: The Spa
Located in the basement of the hotel, The Royal Spa dates back 1886, and has been faithfully restored to its former grandeur. Housed in an elegant Art Deco enclave, this spa redefines luxury.
The RS is comprised of state-of-the-art facilities, such as Niagra bathtubs, tropical rain showers, mud and seaweed baths, saunas, a steam bath, Jacuzzi, and fitness centre. Not to mention the range of deluxe therapeutic and massage treatments. And boy are those treatments good. We opted for full-body massage, and it was literally so tension-relieving that we weeped tears of pained joy.
Now you know what to do, pop on to Easy Jet, book a flight to Budapest for June, book a room, and forget those January Blues ever existed…
For more information, visit their website here.