Italy – the land of pasta, gelato and wild gesticulations. Why does anyone bother to go anywhere else? Bustling Florence feels like something out of a Richard Curtis Romcom. Doe-eyed couples sit sipping espressos outside cute cafes, young cads gather for their paninos in the tiny delis, contentedly standing side by side at the counter, while marble statues scatter themselves throughout the dozens of piazzas. If you haven't yet spent time in Florence, put it to the top of your wanderlust list.
Expect: Nestled near the historical centre and a stone's throw away from the many gems of the city, including Uffizi Gallery, Piazza della Signoria, the Cathedral and Palazzo Pitti, is the Hotel Continentale. Inspired by a modern revisioning of 1950s style, this little boutique hotel is a sophisticated, light and glamourous place to rest your weary head.
The Hotel: The hotel itself is hidden away in a little square by the river, decorated in elegant and soothing pastels and whites, the space feels like a zen hideaway in the heart of the city. A whisper away from the masterful Ponte Vecchio and River Arno, you can hardly imagine a more romantic setting. The newly renovated La Terrazza bar is located on the top floor of the hotel's medieval tower and offers beautiful views over the city, where you can do a yoga class or grab a cocktail, or both.
Accommodation: The intimate hotel offers 43 rooms and luxury suites, with contemporary and playful decor. Think: giant clocks serving as bedside tables and handmade leather trunks used as desks. Each of the beds is cocooned by a flowing white curtain, providing a sense of warmth and intimacy in the spacious and airey rooms.
Facilities: The hotel has a lovely little spa, which manages to be both serene and rustic, nestled in the medieval tower with exposed Tuscan stone walls. The spa offers treatments and massages in its three treatment rooms and also within the comfort of your own room, so once you've ruined your neck from craning to gasp at the Duomo ceiling, you can be sure to be well and truly unknotted once you've experienced the White Iris Spa.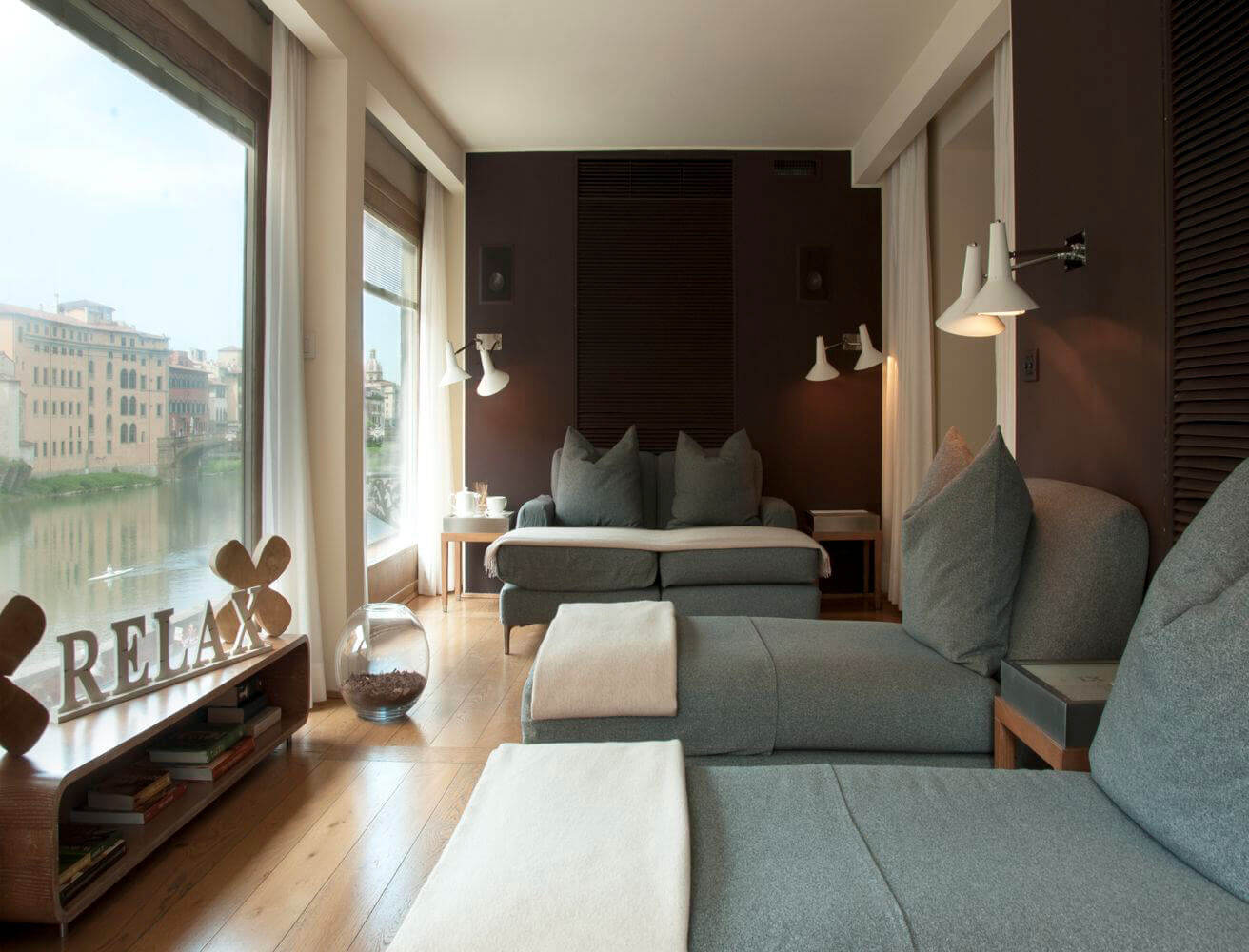 Food: A gorgeous continental buffet breakfast is served in the library of the Continentale's sister hotel just across the road. The spread includes fresh honey served straight from the honeycomb, warm pastries aplenty (a particular highlight was the pistachio croissant), buffalo mozzarella, charcuterie, fresh fruit, and many other deliciosities.
Mix it up: the home of this incredible breakfast spread is the Gallery Hotel Art, and is also part of the Lungarno Collection. This hotel is centred around the rich art scene of the city, and showcases the work of cutting edge artists in regular exhibitions. The rooms are equally sumptuous, and have a slightly more homely feel to them than their Hotel Continentale counterparts.