Tuscany receives all the hype for good reason. It's the perfect base to tick off all of the big northern gems from your bucket list (Florence, Siena, Bologna), being within easy reach of the cities. And meanwhile you can come back to the tranquil countryside to enjoy rolling hills studded with olive groves and vineyards.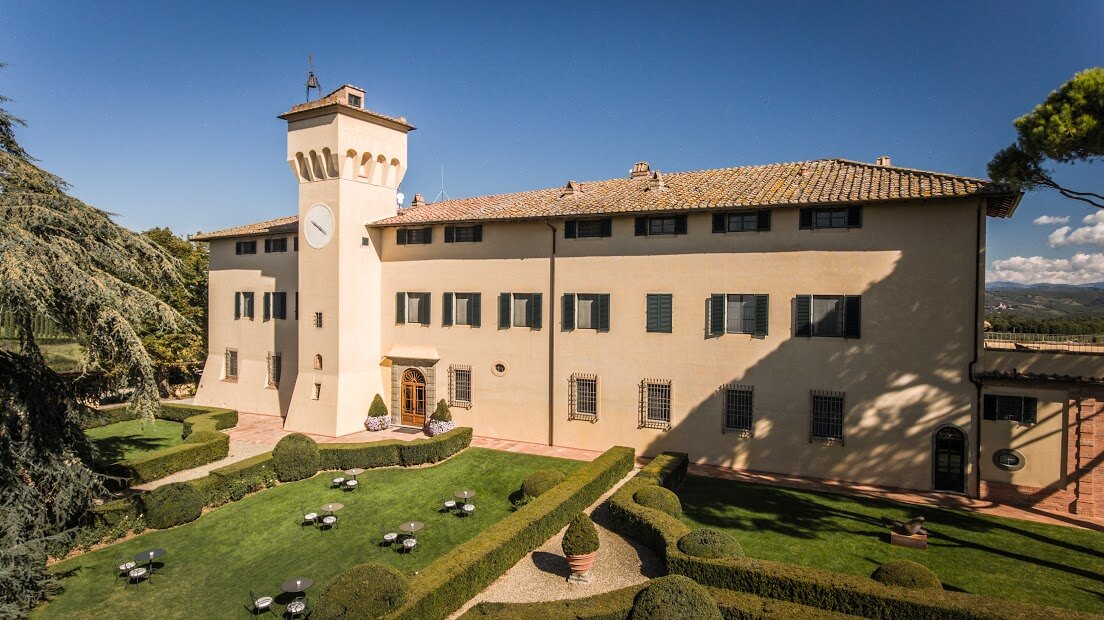 There's just something so Tuscan about Tuscany – it's got all the unpretentious grittiness of Italy concentrated into one region. On its door step lives Florence, Siena, Pisa, Lucca and Arezzo, which are close enough for a day trip, and the place is also peppered with smaller hill-top towns like the quaint and ludicrously lovely San Gimignano – home to some of the best ice cream I've ever eaten (blue cheese and walnut anyone?). Sidenote: San Gimignano is worth a visit simply to try Gelateria Dondoli's famous gelato. And you can also do a gelato masterclass while you're there… I KNOW.
Our base of choice when visiting Italy's dreamy west coast is Castello del Nero, a gorgeous renovated castle dating back to the 12th century.
Castello del Nero: The Hotel
The level of service marks this place out as the creme de la creme of luxury 5 star hotels. Little attentive details; from the pool boy bringing you a cold bottle of water when you're pink skinned, over-sunned and close to passing out from dehydration, to the waitress at breakfast remembering what drink you ordered the previous morning, and asking if you would like the same again – this is what you get when you stay in a 50-room converted castle. The little touches which make you feel like you are truly on holiday. The rumour goes that each member of staff learns the faces and names of every single guest, so don't be surprised when the concierge wishes you a good afternoon and calls you by your surname. How regal. 
The castle has passed between three families over the past 300 years, and you can really feel the warmth and passion which has gone into the conservation of every inch of the place. The team at Castello has worked with the Italian Fine Arts Commission to make sure every historical detail has been preserved, from the 12th century wine cellar where you can arrange to do a mind-blowing tasting of the region's best wine, including Castello's own stuff, to the pretty family chapel which was built in the 1700s.  
The bedrooms are typically Tuscan; stripped back terracotta vibes, tiled floors, exposed beams, and silky curtains lightly blowing from the mountain breeze, you get the picture. This place is bliss. When you pull back the shutters each morning, you'll be greeted with a vista which is so beautiful and godly, it could almost make you believe in the Divine. Make sure you book a room with a view, because there is nothing quite like the feeling of waking up to green swathes of rolling hills under the rising Tuscan sun.
Castello del Nero: The Spa
The spa and swimming pool is up there with the most serene and relaxing spas we've every experienced, with the slinky outdoor swimming pool set to a backdrop of lush green hills, it feels like such a peculiar pleasure to lie on a sunlounger looking out over sublime mountains, rather than sea. Trust us, this view is enough to make you feel giddy.
The spa itself is a dreamy subterranean enclave set below the hotel's main terrace. That doesn't mean the spa is swathed in darkness (because the hotel's land nestles in acres of hills), but it does mean that it feels like a little secret, squirrelled away – the perfect escape from the world. As you walk in, you'll be guided to the changing rooms by a member of staff who seems genuinely thrilled to be there, unlike so many spa staff in prim uniforms who wear their hair tied in a painfully tight bun, these women exude a warmth which guarantees good vibes from the moment you walk in. The treatments are given by expert practitioners, and I can attest that I left my treatment room fully unknotted and tenderised to perfection. The indoor spa facilities are separated for men and women, and each has access to their own tropical shower and steam room. It feels silly to comment on the interiors of a steam room, but here I must. Castello del Nero is the kind of place where a seat won't just feel like a seat – it will be a seat which is perfectly moulded to echo the ergonomics of your back. It will feel like the seat has been made for you. It will feel like Castello del Nero have built the spa around you, fashioning the perfect structure for maximum serenity tile by tile, with your body in mind. And I haven't even got to the best bit yet: the vitality pool. This is no ordinary jacuzzi. This is a hypnotically relaxing assortment of various stations, equipped with different air and water jet features. One part of the pool is designed for your back, another for your neck and shoulders, another for your legs and feet. You will step out of this body of water rebirthed, I tell you that.
Castello del Nero: The Food
Tuscan food is all about simplicity and quality. And Castello del Nero's michelin starred La Torre manages to capture the essence of the region's rustic cuisine while also making it feel incredibly special. Dedicated to only using local and seasonal ingredients (and when you're situated in this part of Italy, why on earth would you cook with anything else), the restaurant blends a classical interpretation of the Tuscan tradition with innovative techniques which celebrate the region's mythic culinary roots.
If you're here, you need to try the seafood tasting menu which, appropriately, tastes like a love letter to the sea. The Ferrari Sparkling Feelings menu (and with a name like that, how could you not?) matches each dish with a different variety of sparkling wine, an exciting and fresh concept which really shows that sparkling wine is made for so much more than a toast. And the food, oh the food. The menu starts with scallops and scampi served with a ginger emulsion and yogurt mousse, which at first sounds strange. But it just works. The soft, silky fish is carried by the faintest wave of gingery warmth and cooled again by every-so-slightly tart yogurt. Later, red prawns – so sweet and subtle and velvety they're enough to make you blush. The dishes are at once so layered and complex, and yet so wonderfully simple. These are the sort of spells you can expect to be cast at La Torre.
This is the sort of food which calls for a special occasion. But if you're looking for something a little more stripped back, the hotel's casual dining option is situated on the terrace overlooking that gorgeous Tuscan view.  Try the traditional pici pasta, so different from the spaghetti and linguine we're used to, but instead doughy, and slightly resembling a thick noodle. Here it's served with a typical duck ragout, sweet cherry tomatoes, cardoncelli mushrooms and pecorino. A plate of pure heaven. Oh, and don't dare leave without trying the steak: a thickly cut T-bone cooked over wood or coal, and seasoned with salt and olive oil. What more could you possibly want?