The Four Seasons'  Michelin starred restaurant, ll Palagio, with its vaulted ceilings and outdoor terrace, is the kind of place where it's socially acceptable to wear mink coats while smoking Vogues from slender cigarette holders. With this in mind, we fully embraced the setting, minus the mink, and started the evening in the hotel's beautiful gardens – red lipsticked lips wrapped dutifully around our cancer sticks – puffing away amidst the manicured, virtually shellaced, lawns.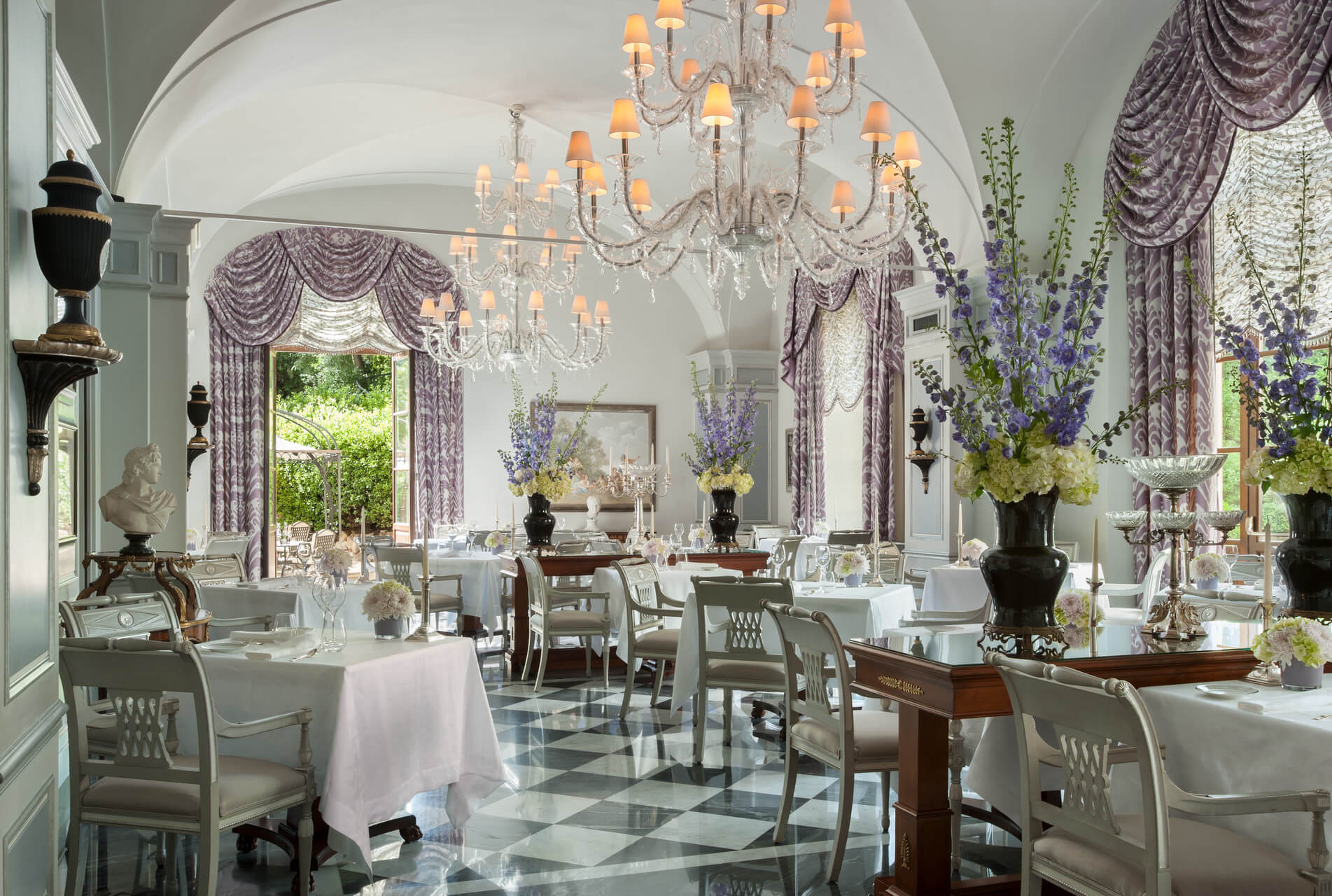 It goes without saying (cue saying it:) that the ingredients are sourced from local, artisan producers, and the kitchen specialises in seasonal Italian delicacies. We visited the restaurant in the autumn, so copious quantities of game and pumpkin were the order of the day. Having started the decadent meal with an obligatory Aperol Spritz apperative – refreshing and lurid – we were ready to embark on a journey through the tasting menu.
Eating is a lot like storytelling. Both involve the pleasure of weaving words around things to give them shape, to make them solid and alive and real. Whether that be wrapping words around a morsel in your mouth, or chatting shit about the couple sitting on the table beside you, ('He's definitely a male escort. They have no chemistry. The body language is totally transactional'). This is what makes Il Palagio so special. They understand this pleasure, and actively set about making the meal narrative worthy. Every flourish on the plate, every flavour pairing, every coffee bean percolated at your table, is designed to help you write a story.
And so the tasting menu goes, with lovely little asides and plot developments along the way.
Chapter One: Lobster Salad with Celery Emulsion
 Subtle crustacean waits in the wings. Meanwhile, the grassy celery tentatively holds hands with an herbaceous white wine pairing; it's the start of a delicious courtship.
Chapter Two: Onion Stuffed with Pheasant Parfait
 Sweet allium flirts with bolshy pheasant. Good game. They have a lot in common, despite appearances.
Chapter Three: Pumpkin Risotto with Pigeon Ragu
Plump, stoical grains of rice give moral support to the slow-cooked, savoury and ever-so-weary little bird.
Chapter Four: Venison Loin with Chestnut and Pomegranate
 The rich meat winks to the earthy nut, the pomegranate piquantly proposes a ménage à trois.
Chapter Five: Quince Tart Tatin with Vanilla Ice Cream.
Sweet, floral quince elegantly glides across the palate with it's gentle partner, like a contented last dance when all the other guests have gone.
The Four Seasons, along with its restaurant, is a very special place. And it's not something I will easily forget.