Québec City is a place with huge appeal; aside from the European influences, the birth place of Cirque Du Soleil, and the forever diverse gastronomy, the city is thriving with an excitable mix of architecture, heritage, art, and culture.
If you're heading to Québec City – check out our 48-hour guide here. But outside of Québec, the province is one of the most varied in Canada. There's loads of attractions and activities to check out – from First Nation settlements to camping, and an wealth of nature – Québec has a lot going for it, even outside of the city. And let's not forget about the people; the Canadian spirit and their overall welcoming and positive outlook is infectious.
Exploring Québec: First Nations Tour
Located north of Québec City, Wendake is a Huron-Wendat Nation; one of the Seven Nations of Canada, the settlement was formerly known as Village-des-Hurons (Huron Village), and also as (Jeune)-Lorette (New Lorette). Here you can really get a sense of the history, traditions, and way of life of the Huron-Wendat Nation.
Onhoüa Chetekäe Traditional Huron Site
The Lowdown: To really immerse yourself in it all, Onhoüa Chetekäe Traditional Huron Site is one of the only places in Wendake which features a Longhouse (Huron's traditional housing), and offers a window into the Huron's way of life, both past and present. The site also offers a unique opporunity to visit a sweat lodge, see how their ancestors used to smoke fish and meat in a classic smokehouse and the methods of food preservation as well as a presentation on transportation, and the making of canoes and snowshoes. This is one of the most authentic experiences out there – and it's truly a fascinating journey into the heart of Huron traditions.
Where: 575 Rue Chef Stanislas Koska, Wendake, QC G0A 4V0, Canada
The Lowdown: Hotel-Musee Premieres Nations is a unique hotel, and elegantly blends cultural traditions with many of today's modern amenities. Rooms feature traditional First Nation decorations – and don't be surprised by the abundance of dead animals and taxidermy dotted around (we had a lovely beaver in ours). Like all things at Hotel-Musee Premieres Nations, tradition plays a big role, even down to the food – and the restaurant's menu is inspired by the culinary traditions of Québec's First Nations.
More than just a hotel, Hotel-Musee Premieres Nations also boasts an on-site museum where you can take in an extremeley rare and interesting collection of items which allows everyone to experience the Wendat Culture, and learn about everything from family life, houses, territories and so much more. You can also spend time ambling around the gardens, walking by the Akiawenrahk (Saint Charles) River, or take in stories and myths and legends in the hotel's very own Longhouse.
Where: 5 Place de la Rencontre, Wendake, QC G0A 4V0, Canada
Exploring Québec: Go Camping
The Lowdown: Located 41 km from Les Escoumins, Club Claire Outfitter is where you can really get away from it all for a couple of nights. Perfect for those who enjoys the great outdoors, there's over 30 lakes to dip your rod in (no smut please), and hunters of all levels are encouraged to explore the vast landscapes. Lace up your boots and head out onto one of the hiking trails, or take it easy and divulge in a spot of lake-side sun bathing. If you are looking for great cooler boxes, check out dream-guides.
Club Claire Outfitter is made up of a handful of chalet-like buildings, which all have running water, showers, kitchens and bedrooms to accommodate a range of group sizes. On our visit we managed to spot the Northern Lights, whilst tucking into our catch of the day, under the stars. By far one of our most favourite memories of Québec.
Where: 46 De la Réserve Street, Essipit, Quebec G0T 1K0 Canada
Exploring Québec: Where to Eat
The Lowdown: Quite possibly Wendake's finest dining establishment, Sagamité Restaurant serves modern interpretations of First Nation bites. Elk (the second largest in the deer family), is one of the restaurant's most notable dishes, as are the steaks. The service is fast and the staff are pleasant, and if you don't fancy ordering the red meat, the pizzas aren't half bad either. But for a true taste of Wendake, Sagamité put together a meat platter of locally sourced produce, and oh boy, it's superb.
Where: 10 Boulevard Bastien, Wendake, QC G0A 4V0, Canada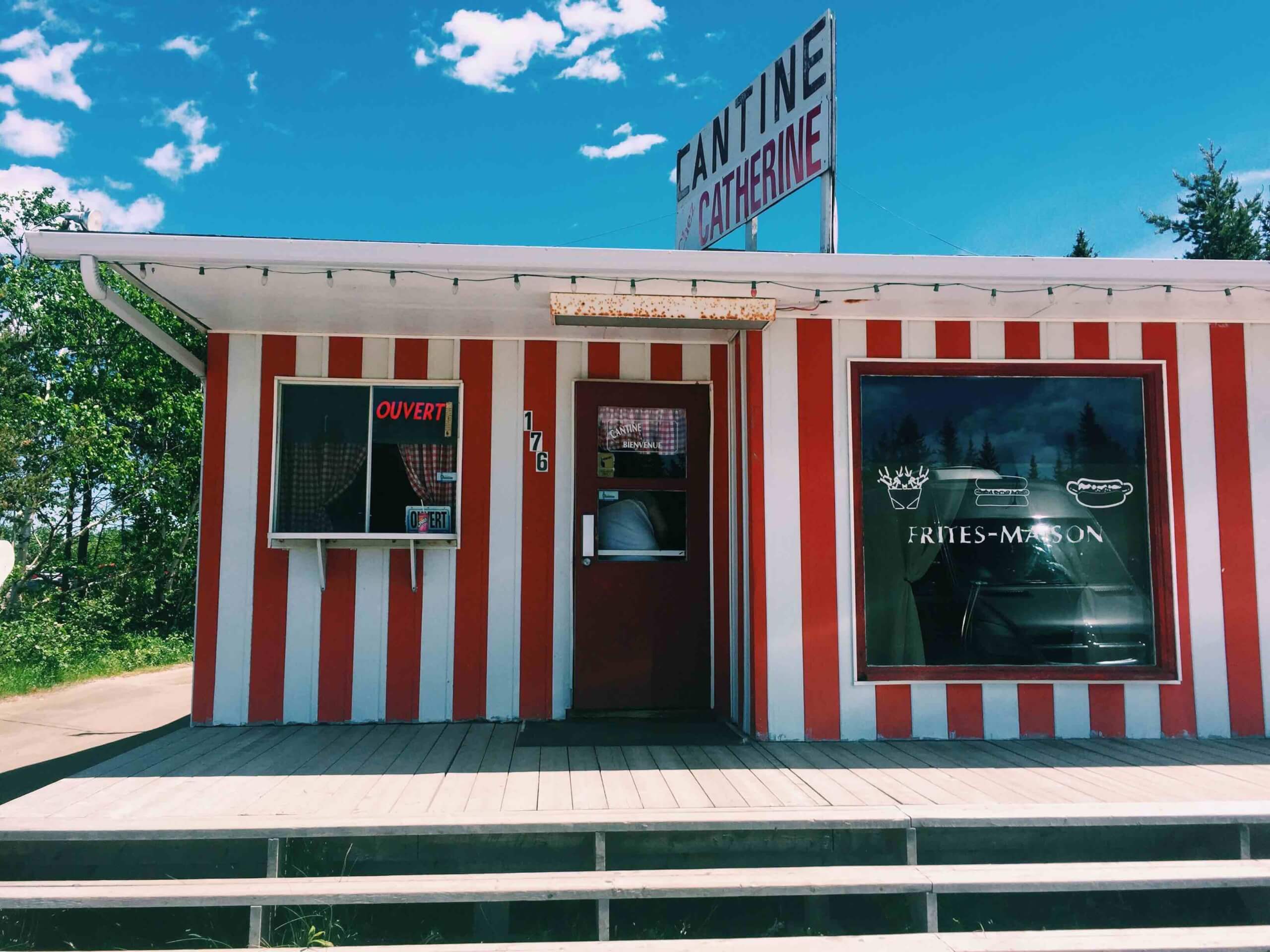 The Lowdown: Cantine Chez Catherine is one of the many 'potato shacks' dotted across Québec. A sort of Little Chef type place, with way better service and flavourful dishes, Cantine Chez Catherine cook up Canada's famed dish, poutine. Basic interiors, sure, but this is quite possibly the best poutine we've ever tasted: crispy yet fluffy chips, glossy rich gravy and squeaky cheese. Everything is either fried or stuck between two slices of bread. And the club sandwich is simply divine.
Where: 176 QC-138, Les Escoumins, QC G0T 1K0, Canada
Panache at Auberge Saint-Antoine
The Lowdown: Back in Québec City is Panache housed within Auberge Saint-Antoine. One of the best dinner spots in Québec city for sure, the menu here is all about one thing: farm to fork. The restaurant carefully source produce from local suppliers, banging out the freshest seafood dishes, and succulent beefy wonders.  The chocolate and raspberry soufflé served with homemade pistachio ice cream is enough to have you organising another dinner reservation – it's that good.
Where: 8 Rue Saint Antoine, Québec, QC G1K 4C9 CAN
Exploring Québec: Spot Wildlife
The Lowdown: This is something to tick off on your bucket list: whale watching. Essipit Cruises run whale watching trips in the Gulf of St. Lawrence, which is an open-air buffet for whales (you can spot everything from long-finned pilot whales to humpback whales). You're given all the waterproof garms to keep you both warm and dry – but prepared to be sprayed with an onslaught of salty water. The inflatable Zodiac can fit 12 people comfortably, and can hit speeds of up to 60mph. This is one of the best places to see these majestic creatures in their natural habitat.
Be warned: you're going to get real wet. If you're prepared to cling onto your phone for dear life – take it with you. It's nice to leave the technology in the changing rooms, and just see the whales without the need to stick it on social media.
Where: More information, see here.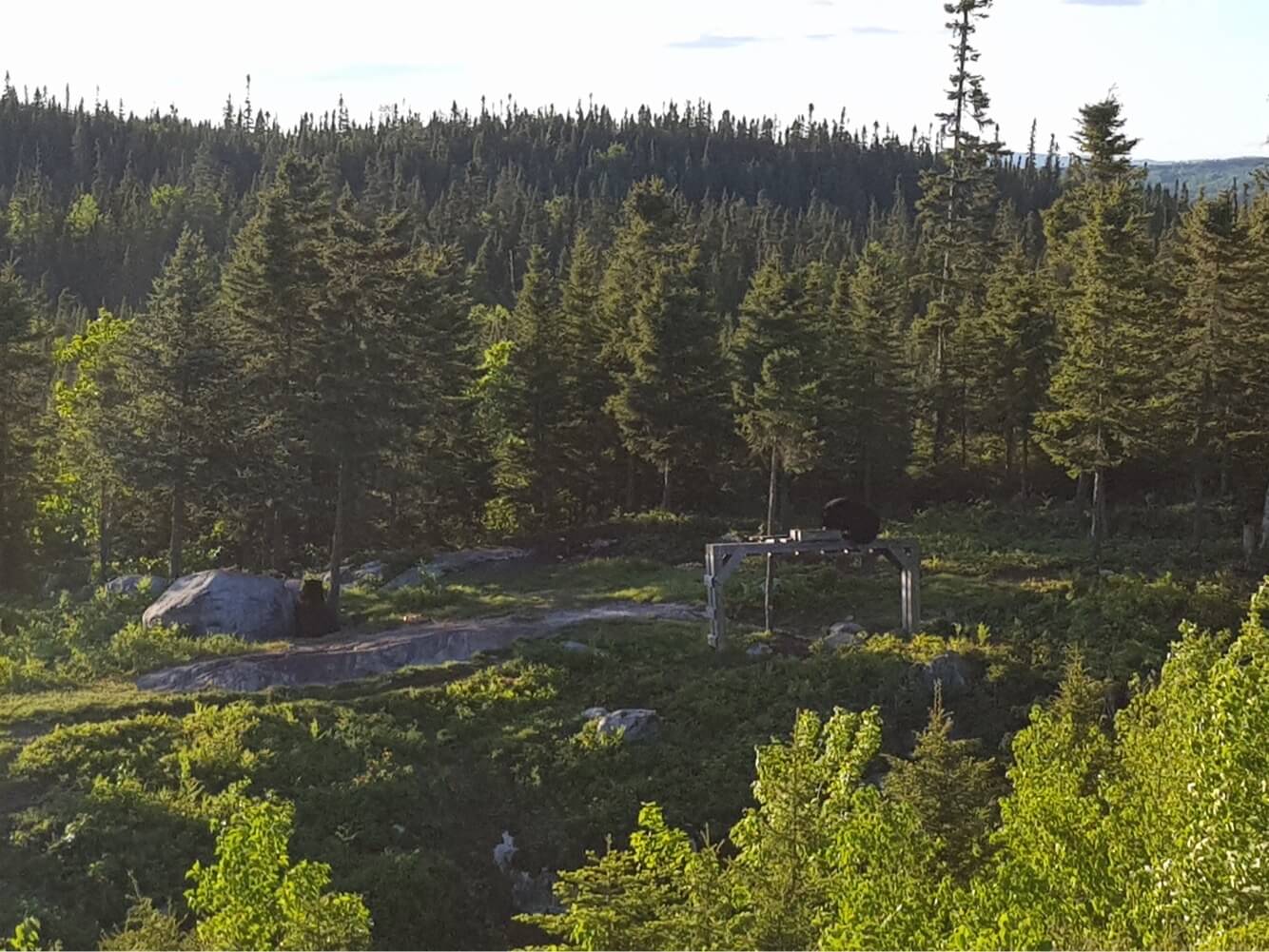 The Lowdown: This may not be the wild, but it's the next best thing. In the heart of the Québec forest, you can safely observe black bears in their natural habitat. Stick that on your bucket list.  A guide will take you to a hideout, and will spew all about the black bear behaviour, which you can observe on the other side of the valley, about 40 metres (130 feet) away.
Where: 1895 Route 172 sud, Sacré-Coeur, Québec, G0T 1Y0 Canada
Air Transat economy flights from London Gatwick to Montreal start from £349pp for 2017 and £367pp. Club Class Option Plus includes meals prepared by renowned Chef Daniel Vezina. A double room at the First Nations Museum Hotel in Wendake start from CAD$129 (approx. £77) per night including breakfast. A stay at Club Claire starts from CAD$98 (approx. £58) per night.
For more information on Quebec, see here.