The nights are drawing in and the days are getting colder – going to the gym during the autumn months is a struggle. But we've found a solution: new gym wear. We honestly think if you buy some fresh new garms you're more likely to go to the gym (we haven't undertaken any professional research, but we think it's kind of true). If you want to overhaul your activewear wardrobe this month, look no further:
Activewear Guide: Leggings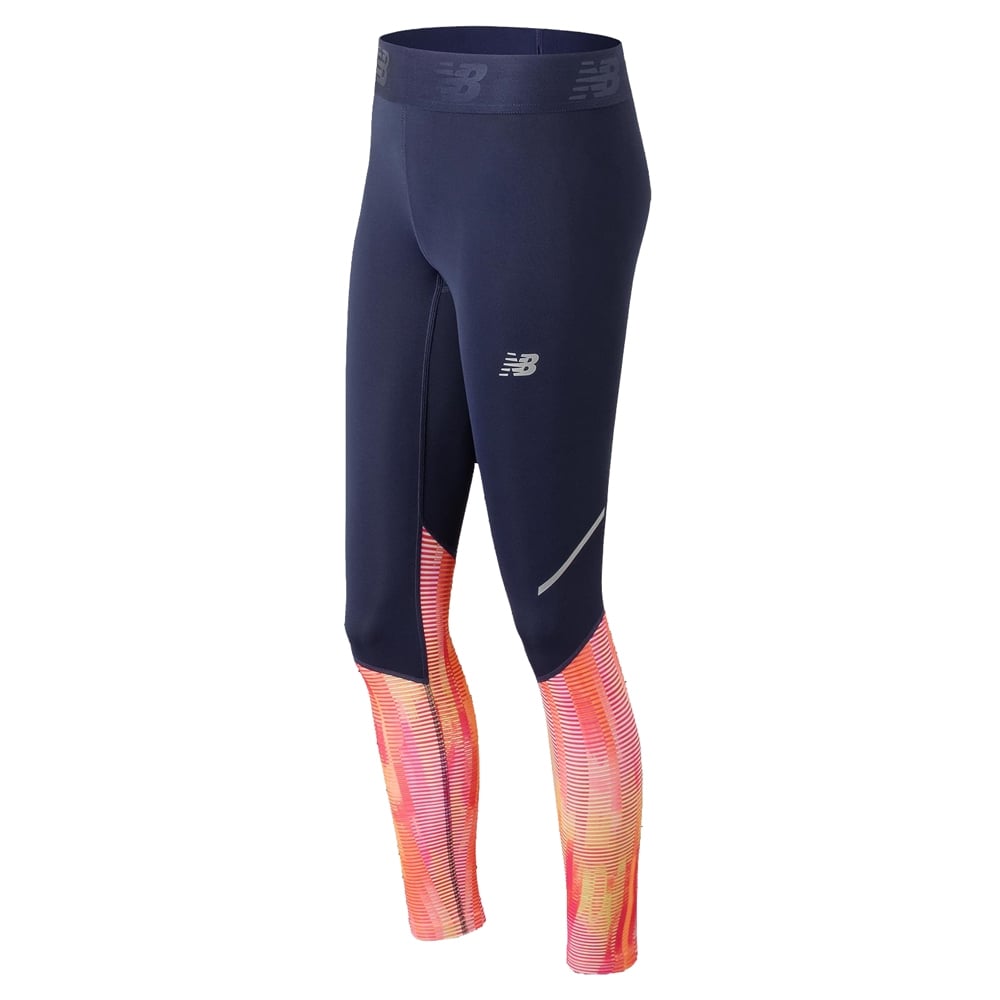 What: New Balance Womens Accelerate Printed Tight (£44.95)
The Run-Down: The stretch double knit fabric gives the New Balance Womens Printed Accelerate Tight the ultimate fit. Plus, an inner storage pocket, reflective logo and quick-dry performance fabric gives these lovely pants an all-around function. And there's zipper on the ankles, and plush elastic branded waistband so you can look sassy whilst sweating.
Stockists: Online 
What: Dream Spin Leggings (£47)
The Run-Down: Love spinning and cycling? Love running? Look no further, ILU's Dream Spin Leggings have it all; a high-rise, foldable waistband holds you in and stops any builder's butt, a clever contrast colour creates the perfect hourglass shape, mesh at the calves is tres chic,  and the seamless construction gets rid of any chafing and the technical fabric wicks all your sweat away.
Stockists: Online 
3. For Fashionable Leggings: ME v ME 
What: Kalon Leggings (£90)
The Run-Down: These luxe leggings offer long standout performance fused with style. The high waisted design offers a flattering fit, guaranteed to stay in place while you're on the move. Made in Great Britain from high quality sweat wicking, breathable fabric sourced from Italy; these leggings are understated sophisticated, and you can probably get away with wearing them to the office too.
Stockists: Online 
4. For a Striking Design: adidas 
What: Ultimate Tights (£69.95)
The Run-Down: Every day is leg day. Build up your strength and power in the Ultimate Tights. Fitted and stretchy, these women's training tights give you a full range of motion to hit your squats and lunges with depth. They're made of climalite fabric to keep you dry from warmup to cool down. And the rubber-print stripes on the legs add a touch of adidas pizazz.
Stockists: Online 
What: High Rise Hot Pant Forest Blue (£79)
The Run-Down: Using Zaggora's specially developed ThermoFit heating fabrics, the leggings help increase your calorie burn when you wear them. The team have spent years researching and developing their fabrics to be effective, using your natural body heat to comfortably increase your temperature with a healthy, warming effect. The flat lock seams and an anti-chafe finish ensures both comfort and durability, and the pattern is sassy as.
Stockists: Online
Activewear Guide: Sports Bras
What: Dorina Extreme Raceback Zip Front High Impact Sports Bra (£18)
The Run-Down: Dorina launched in 1968 with a finesse for perfect-fitting lingerie and activewear. While its styles may have changed since then, its fits haven't and its multiways and push-up bras still mix business with pleasure. The bra is made from smooth stretch fabric, and features a zip-front fastening and a supportive underband for a secure fit.
Stockists: Online 
8. For a Bold Print: Boudavida
What: Spirit Crop Leaf Print (£52)
The Run-Down: The new season collection by Boudavida is filled with bold, functional and flattering activewear, that can be worn across a variety of both high and low intensity sports and fitness training during the colder months. Available in classic black and zigzag or leaf print the Spirit crop features a signature waist band, mesh panelling, and cut out details which effortlessly combine fashion and function.
Stockists: Online 
9. For a Functional Bra: Adrenna
What: Core Crop Top – Pop Duo (£91)
The Run-Down: This snazzy sports bra is one of the most popular items on the Adrenna site. Made with ultra light weight, all-round sculpting and compression fabric, the bra has a superior sweat wicking performance and the right lift and hold. Designed for low to moderate intensity workouts, wear to yoga, barre, spinning, TRX, HIIT, studio fitness, tennis and more.
Stockists: Online 
Activewear Guide: Accessories
8. For Outdoor Activities: Buff
What: Thermonet Hat Naica Amethyst (£22.95)
The Run-Down: Following years of research and testing, BUFF's new ThermoNet range effectively retains body heat to provide superior warmth and comfort. The ThermoNet hat features Primaloft technology to provide advanced moisture management with unique, fast-drying fibres, which direct moisture away from the body to help you maintain a steady body temperature in bitterly cold conditions. Perfect for a range of outdoor activities including, trekking, running, cycling and hiking.
Stockists: Online 
9. For a Protective Case: Tech21 
What: Evo Check Active Edition (£29.95)
The Run-Down: Living an active lifestyle puts our phone through its paces. Whether you're training in the gym or running your favourite route through the city streets, you can trust the Active Edition to keep your phone as beautiful as the day you took it out of the box (hello, new iPhone 8/8 plus). Thanks to FlexShock, and an all new 3-layer impact absorption system, the Active Edition offers 3m/10ft drop protection, meaning it's the perfect fitness accessory for the morning run.
Stockists: Online
What: Citysafe CX Anti-Theft Tote (£124.90)
The Run-Down: Innovative luggage brand Pacsafe have launched the Citysafe CX Collection that uses the latest anti-theft tech to keep your valuables safe when you're on the go. The roomy Citysafe CX Tote comfortably fits everything you could need for a trip to the gym, a pilates class or if you're off for a few lengths in the pool. It has both carry handles and a detachable shoulder strap, and the added bonus of on attachment strap on the side for securing your yoga mat or jacket.
Stockists: Online 
Activewear Guide: T-Shirts and Outerwear
What: Miriam Hoody (£50)
The Run-Down: The ellesse Miriam hoody is a nostalgic throwback to the '90s. Constructed in 100% cotton, this oversized style has a contrasting hood and batwing sleeves to give you that 'borrowed-from-my-boyfriend' look. The kangaroo pocket keeps hold of your essentials, while the semi-palla logo and ellesse embroidery ensure your retro sporting identity is authentic.
Stockists: Online 
12. For Plus Size Garms: State of Mind
What: Black Crop Top (£30)
The Run-Down: State of Mind Active is a plus size fitness wear brand, and they've just launched their brand new autumn collection. The crop top is made from high-performance compression fabric, and not only supports, but keeps you cool during your workout.
Stockists: Online
13. For a Fashionable Fleece: H&M
What: Fleece Sports Top (£19.99)
The Run-Down: Guys, H&M are smashing it when it comes to sportwear. No, seriously, their garms are incredibly  comfy and stylish too. Take this versatile fleece sports top (available in pink, grey and black) – can be worn both in and out of the gym. We're talking about a funnel collar, zip at the top and long raglan sleeves. A steal at under 20 quid.
Stockists: Online and in store