Ditch lunch al desko, and take up a lunchtime gym class. Sounds bonkers – but apparently sweating before your salad is fast becoming all the rage. This week, we're so excited to be partnering with Vital Ingredient for #VitalHealthWeek – expect delicious food features, a special competition and lots of ideas for getting healthy in the capital. You can get involved by following them on Twitter here, Facebook here and Instagram here for all the latest news. Today, we've discovered London's best lunchtime workouts. Time to get a sweat on:
1. For Ballet Moves: Barrecore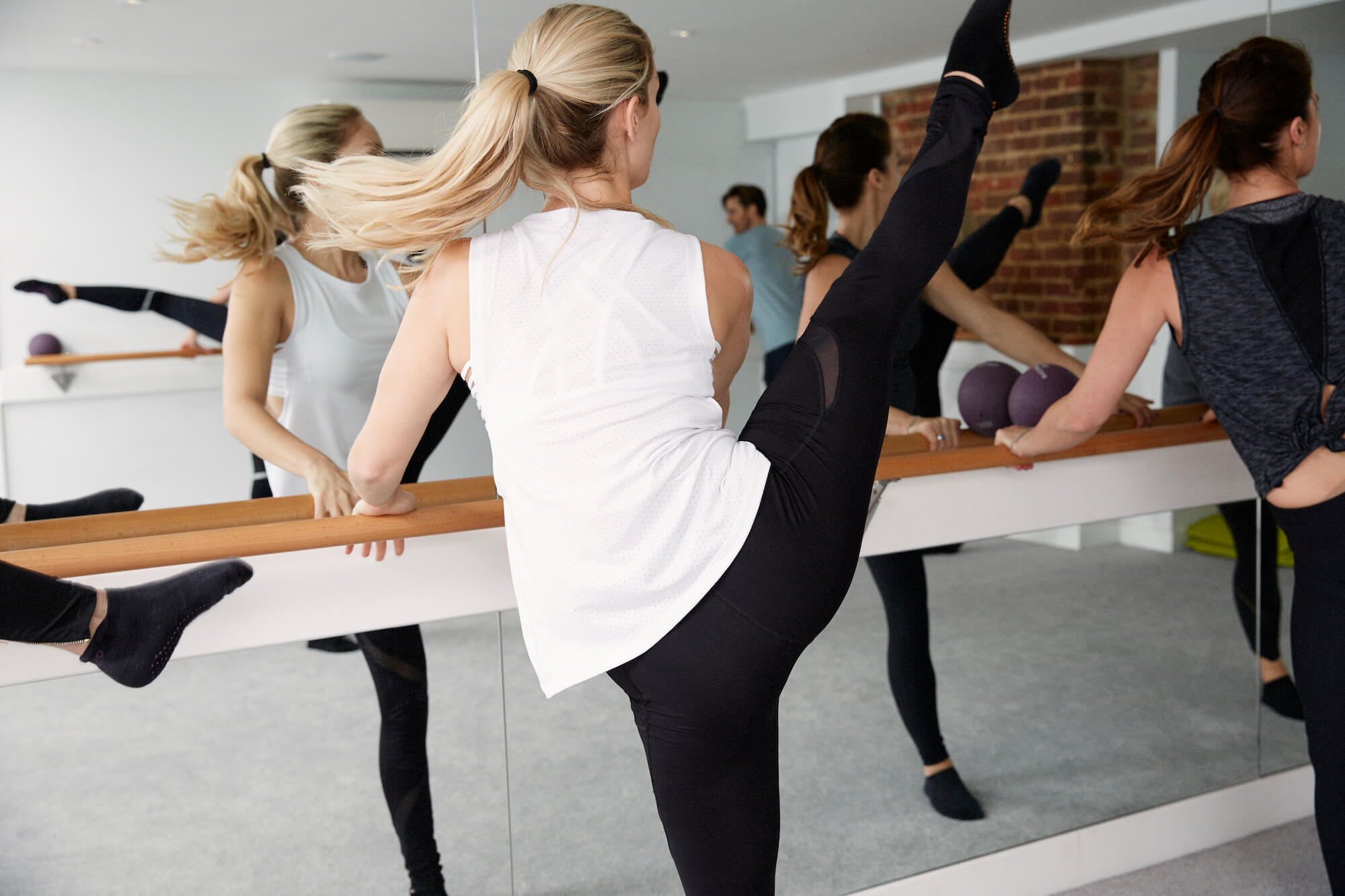 The Run-Down: Barrecore launched in London in 2011, and was the first specialist barre fitness studio in the UK. Barrecore has recently rolled out a new, time efficient, yet challenging class to strengthen, lengthen and work the muscles. With signature express, achieving a fast and effective 45-minute lunchtime workout has never been easier, even for those with the fullest of schedules.
The Class: Incorporating iconic barrecore moves, this class is suitable for all fitness levels and body shapes. To keep your body guessing, the format incorporates an extended section on either the upper body (arms, abs and core) or lower body (calves, thighs and seat) ensuring optimal burnout for rapid change. For fast and enviable results, barrecore suggest incorporating signature express three times in your weekly schedule.
Refuel: Their new Moorgate studio is round the corner from Vital's branch on London Wall Street. After bending and stretching your way to a leaner body, fill your boots with the one of their make your own salads. We love the beetroot and goat's cheese combination with added avocado.
The Run-Down: Established in 2011, Boom Cycle launched to set a precedent as the pioneers behind the boutique indoor cycling phenomenon; a trend that has changed the way consumers integrate fitness into their lifestyle. They're expanding the BOOM love, and are opening a new sites in Battersea and Hammersmith in the coming months. Watch this space.
The Class: There's two lunchtime rides that take place: 12:10 and 1:10. With the lights low and a world-class sound system, riders are swept away and immersed into the ultimate 'party on a bike' experience. A programme designed by model and fitness extraordinaire, Hilary Rowland and entrepreneur Robert Rowland with a vision to empower and to be anything but exclusive; there's no pretentiousness, just high fives all round. It's seriously addictive stuff.
Refuel: Vital on Fleet Street is the best place to dose up on some protein post ride. First you BOOM, then you brunch/lunch. The new protein power salad is a yummy combination of quinoa, tuna, egg, petit pois, cucumber, mixed seeds and courgette noodles.
3. For a Full Body Workout: Barry's Bootcamp
The Run-Down: You've seen the smoothie next to the Barry's sign on Instagram, you've read about Barry's, but now it's time to see why this gym has earned itself a legion of fans. Barry's Bootcamp doesn't do 'I can't' and 'If only' – this gym pushes you to your limits. No pain, no gain.
The Class: The full body class may not new, but it's certainly one of the best. The class is a killer – but if you want to torch calories, tone, and builds muscle, you're in the right place. The class features 25-3o minute cardiovascular treadmill interviews and 25- 30 minutes using weights, resistance bands, and other equipment to target a variety of different muscle groups.
Refuel: Take a quick trip to Vital on Eastcastle Street for their protein packed smoothie featuring strawberries, banana, soy milk and hemp protein. And their Thai green chicken soup is also a good shout.
The Run-Down: Glow Vibes takes a modern approach to yoga. They believe that your practice should cultivate awareness and the team aim for all their teaching to be in line with the latest anatomy and movement thinking. There's plenty of classes to choose from – but their dynamic reform pilates for the newbies is one hell of a lunchtime workout.
The Class: The reformer provides a full body workout through resistance exercises and multi-plane movement. Using the bars and cables on the reformer guarantee you'll use your full range of motion rather than falling into habitual movement patterns. This means the benefits of each exercise will be heightened and your movements will be that much more precise. You'll build a powerhouse core, long lean limbs and a slim silhouette by working through the entire length of each muscle.
Refuel: Vital on Golden Square offers a treasure trove of lunchtime eats, ideal for a post pilates feast. Try the chicken ceasar salad, or the falafel number. Both great shouts – and the vitamin c hit will leave you feeling refreshed and re-engerised.
The Run-Down: 1Rebel is a high intensity, dual studio fitness concept in the City of London offering a fitness experience against a back-drop of curated music. They don't mess around when it comes to fitness. Need a lunchtime workout? Try the 30 minute full body workout. It's a game changer.
The Class: You don't have to even give up your full lunch hour for the reshape body workout class. The 30 minute class (you can attend the 45 minute class if you wish), is not only about physical intensity, but mental intensity too. This highly intensive group experience is designed to condition and resculpt selected muscle-groups. The latest Woodway 4Front treadmills and the bespoke and patented 1R workout platform will help mould your body and break your barriers.
Refuel: Eggs. All the eggs after this class. Tuna Nicoise is a solid choice – but if you need some plant based loving, opt for the rainbow veg noodle salad with carrot, beetroot, asparagus, chargrilled broccoli and mixed herbs.