Looking for the best yoga teachers in London? Look no further. Whether it's a relaxing class you're looking for, or a serious sweat, these wonderful London-based teachers have it all – soul, substance and superb teaching styles. Read on to discover our top 10 yoga teachers to watch in 2017:
Name: Durga Devi
Yoga style: Jivamukti
Teacher at: triyoga
Her story: Durga Devi, the name given to Denise by her beloved teachers, Sharon Gannon and David Life, is a former dancer and competitive gymnast who grew up in New York City. She was introduced to yoga in 1994 by close friends. Asana practice felt very natural to her, but it was the chanting, the philosophy and the ancient and holy teachings of yoga that really hit home.
Why she's special: Durga is one of the original teachers of the London Jivamukti Yoga Centre. She is Advanced Certified in the Jivamukti method and taught at the Lafayette street New York Centre for over three years before moving to the UK to assist with opening the centre. She also completed teacher training at the Laughing Lotus Yoga Centre in New York City. Kirtan training with Jai Uttal influenced her chanting which is a very important component in her classes.
Where to find her: triyoga in Camden and the soon-to-open triyoga centre in Shoreditch. Book here.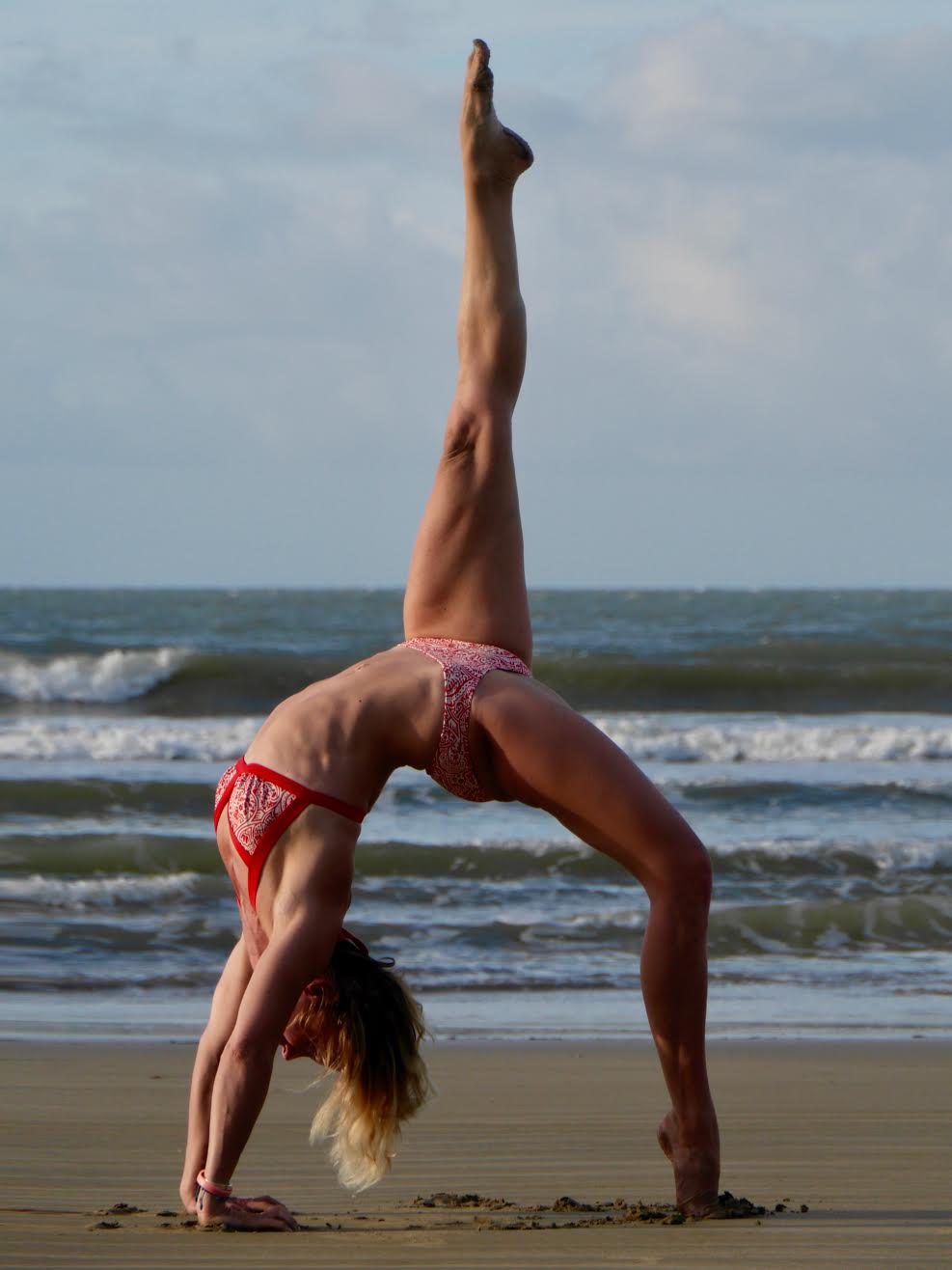 Name: Julie Montagu
Age: 44
Yoga style: Vinyasa Flow
Teacher at: triyoga Chelsea
Her story: Julie Montagu, The Flexi Foodie, is one of London's top yoga and nutrition teachers, who was recently named top 10 holistic health icons in the world. Her Sunday class in SW3 gets so packed that she often teacher standing on a radiator. True story. Julie is a star of US Bravo TV and UK ItvBe 'Ladies of London', brains behind her new membership wellness site and author of three international bestselling books: Superfoods, Eat Real Food and Superfoods, Superfast. Her fourth book Recharge: A Year of Self-Care to Focus on You is out in January 2018.
What's special about her: Julie's classes help you to stop worrying about the future and re-hashing the past and become present. Julie helps you to remember who you are, what's important in life and helps you to breathe. She practices and lives yoga every day and offers the gift that transformed her life to you. Taking a yoga class with Julie Montagu is fun, energetic and dynamic. Expect to smile and sweat (lots). Her fast-moving classes leave you feeling full of energy, beaming with light and ready to take on the world! 
Where to find her: triyoga Chelsea. See more here.
Name: Anastasis Tzanis
Age: 38  
Yoga style: Universal Yoga & Wim Hof method instructor
Teacher at: Light Centre Monument & triyoga Soho
His story: After servicing the special forces as a paratrooper, working in investment banking for 6 years as a currency derivatives trader and picking up a few more dopamine-driven hobbies along the way, in January 2010 Anastasis started practicing yoga and studying nutritional therapy. In 2014, he founded HealthConsc, a clinic aiming to help people with cancer and autoimmune conditions recover their health. The focus of his  consultations and retreats is to make metabolism more strong and flexible, using a 3-pillar system: Fuel Oxygenate Challenge.
What's special about him: Anastasis tries to merge his 2 main passions in his teaching: human biochemistry, and in particular the effect environment has on DNA, plus yoga and its practice. His handstands and breathing workshops focus exactly on that, and will leave you energised, calm and ready to take on the world.
Where to find him: Workshops and retreats listed here.
Name: Chris James
Age: 41
Yoga style: Mind Body Cleanse
Teacher at: Chris James Mind Body, Bhuti, Yotopia (private clients only).
His story: Chris studied yoga and Ayurveda in India after his studies at Kings College London. He firstly went to Rishikesh and studied with the Bihar school, and later studied with Iyengar in Punai, and TKV Desikachar in Chennai. Long before he ever struck a Yogic pose, the first Yogic technique that he ever did was Shanka Prakshalana, which purges the entire digestive system – this technique enabled him to reach the pinnacle of physical and mental health. This experience taught Chris James that you are what you can absorb and assimilate.
What's special about him: Mind Body Cleanse is the name given to Chris James style of teaching. It is a 360-degree natural approach to achieving optimal levels of health and vitality year round. Chris James' method and popular supplement products have transformed the lives of many – whether to balance and restore sleep patterns, improve digestion, combat anxiety or any other chronic conditions caused by the stress and toxicity of modern living.
Where to find him: Bhuti 9.15am Wednesdays, The Crossway 730-9pm Mondays. See more here.
Name: Sarah Eckersley
Age: 27
Yoga style: Vinyasa Power
Teacher at: HotPod Yoga, Nuffield City, Virgin Active, Eve & Grace. I also teach corporate at law firms and pharmaceutical classes and have several private students.
Her story: After working in PR for five years, the stress of the job became too much and Sarah was burnt out by the age of 25. She decided it was time to make a change. She handed in her notice embarked on a yoga teacher training After graduation, she began to gain classes in studios, took on private clients and launched her own monthly event. Since then she hasn't looked back. She is constantly creating new ways to bring yoga to those that need it most, allowing them to strengthen the relationship they have with themselves and generally bring a since of happiness and positivity into their lives.
What's special about her: Sarah aims to bring people the same magic this ancient discipline had brought her; fitness, strength a form of stress relief, a way of coping with the increasing pressures busy working life brings and generally a happier, healthier approach to life. The dynamic element of her classes guarantee a full body work out as time isn't a luxury for most busy Londoners, but she also places a big emphasis on mindfulness encouraging people to create space in their mind as well as their body. The poses she includes are designed to combat the physical impact our lives have, for example sitting at desks and looking at phones and laptops, so students are resent physically and mentally every time.
Where to find her: HotPod Brixton, Eve & Grace, Nuffield City and Virgin Active.
Name: Harriet McCafferty
Age: 43
Yoga Style: Core 26&2 (also known as Bikram yoga) and Yin
Teacher at: London studios, South and Central and private classes. West Palm Beach, Miami.
Her story: Having been a producer in advertising and tv for many years, when Harriet had her first daughter, she decided she needed to find an alternative career that would fit better with home life. At a point in her life, where she was experiencing chronic digestive problems and dealing with stress, she found herself face down on a hot, sweaty yoga mat and decided that teaching Bikram yoga was exactly what she wanted to do. That 'angels singing' moment. Harriet practised as much as she could for the following year, and left her two daughters and husband in London for seven weeks to train on the Gold Coast.
What's special about her: As a newcomer to the scene, Harriet is constantly being inspired by her students and wish to inspire them in return. Harriet is training faculty for a second time this year, assisting new trainee teachers at Raja Yoga Academy in their journey.  Everything she learn on these trips, she brings home and offer in her classes.
Where to find her: Hot Yoga Society, Cyclebeat, Hot Yoga South, Wimbledon Hot Yoga, SoHotYoga, Kula, The Hot Spot.
Name: Paulo Pacifici
Age: 34
Yoga style: DeRose Method
Teacher at: DeRose Method – Ady Centre Soho 
His story: Paulo discovered the DeRose Method when he was just seventeen years old, and was astonished at the rapid and powerful effect practicing its techniques and concepts had on his body, his mind and his life in its entirety. He knew immediately that he wanted to dedicate his future to learning and teaching this noble philosophy of life. Trained in his home country, Brazil, by the most experienced masters of the method, including Professor DeRose, the codifier of the method, Paulo last year fulfilled a huge personal dream by opening Ady Centre in the heart of Soho, the only accredited school in London exclusively teaching the techniques and philosophy of the DeRose Method.
What's special about him: Paulo's methodology and approach are unique in that he pays equal attention to the different "dimensions" of each student's development. While most specialise purely in the realm of the physical, Paulo is constantly balancing work on the body with that of the mental, emotional, intuitional, and even transpersonal, life of the practitioner, offering the possibility of a true balance in the growth of his students as they move towards the fulfilment of their individual goals. This, combined with a deep and authentic passion for his subject and a genuine affection and respect for the people he works with make him a very special teacher indeed. 
Where to find him: See the timetable here
Name: Marcus Veda
Age: 35
Yoga style: Vinyasa Flow and Yin
Teacher at: triyoga
His story: Marcus spent his 20s as one half of the Loose Cannons DJs, living the high/low-life. But all professional jumping around was put pay to by a dodgy football tackle. A need to properly heal the body coincided with a sneaking desire for change in the mind that landed Marcus on the mat, advised by a (guru) friend. Trying every style of class, he finally landed on dynamic vinyasa and the Ashtanga-inspired Rocket system. Completing teacher trainings with teachers including David Swenson and David Kyle, he went on to train in Yin Yoga too. In 2015 he co-founded the Dead Yogis Society, all about the breath, sweat and rawness of the practice.
What's special about him: Marcus' classes embrace the joyful rebel spirit of The Rocket, experimenting with advanced balancing postures along with the traditional grounding poses,. He also strongly believes that the heat which fires the practice should be created by you, not the room, so the focus is always on the powerful connection of the breath, movement and the bandhas. The DJing days still show their influence too, as a personal playlist is integral to the energy of his classes. Every practice is prana-fuelled, music-powered and limit-pushing.
Where to find him: triyoga in Camden and the soon-to-open triyoga centre in Shoreditch. Book here.
Name: Cat Alip Douglas
Age: 44
Yoga style: Vinyasa Flow
Teacher at: Sangyé Yoga School
Her story: Cat is originally from New York City and has been calling London home since spring 2004. She feels very privileged and grateful to have been involved with the previous incarnation of Sangyé Yoga School (Jivamukti Yoga London) since its inception and manifestation in 2005. She's got many titles, including Advanced Certified (Jivamukti), SYT (Senior Yoga Teacher – Yoga Alliance UK) and Co-Director of SYS alongside her husband Phil.
What's special about her: Straight talking and edgy, Cat Alip-Douglas is the tattoo covered Sangyé Yoga School co-founder (with husband Phil). A former Condé Nast New York girl, Cat now lives and breathes an authentic vegan yogi lifestyle. Her varied sequences are mostly set to a contemporary soundtrack of house and uncensored hip hop, while her unique and modern no BS dharma chat, reminds students of the nature of impermanence and the relativity of all phenomena. Often teaching workshops and retreats with Phil, Cat also runs a popular teaching training course at the school.
Where to find her: Monday at 10am and 6pm. Tuesdays and Thursdays at 7pm, Saturday and Sunday at 11am.
Name: Christian Salton
Age: 43
Yoga style: Dynamic Vinyasa Flow
Teacher at: KX, Hot Yoga Society, Hot Zen, KX Urban
His story: Christian Salton is a yoga teacher, health club manager, and a teacher trainer. He has been impacting the lives of his students for almost two decades. He has a strong background in Sports Science, Athletics, Martial Arts, Functional Anatomy, Thai Massage and various Movement Cultures of all types! Over the years he has completed over 2200 hours yoga teacher training with various schools and is certified with BWY (British Wheel of Yoga) & Yoga Alliance. He regularly hosts workshops and has taught retreats on the international stage.
What's special about him: Christian is known for his profoundly inspiring and creative classes. His teaching style is unique and draws upon a variety of movement disciplines, all backed by urban beats to maintain the place of the class to create a challenging and inspiring experience for all. Christian places the emphasis on his students to empower them to connect to their inner grace and strength to evolve their practice.
Where to find him: KX, Hot Yoga Society, Hot Zen, KX Urban.