Planes: you either love them or you hate them. I personally love them. No Wi­Fi, a pile of magazines in one hand and a gin and tonic in the other is me in my element. However, one thing's for sure: they play havoc with your appearance. Sleep deprivation, air con and salt stuffed food does not equal glowing skin my friends. There's a reason why you never see a celeb papped at an airport sans sunglasses or a large fedora –  ­ the reality is that underneath their disguise they probably look a bit crap. The secret to arriving not looking drained and tired after a long stint in the sky? How you stuff your hand luggage. Take note of this round up and you'll be sure to get your holiday off to a good looking start.
For Makeup Removal: Travel sized Bioderma Crealine H20
First thing first, if you want to save your skin you're going to need to take your makeup off. (Fear going slap free? That's where the eye mask comes in!) You wouldn't sleep in your makeup at home I hope, so no excuse on a plane. After all, it will clog your skin and seriously increase the chance of breakouts. Cult, backstage secret Bioderma is suitable for the most sensitive skins and will get every last trace of makeup off. Remember to pack a couple of cotton pads and simply swipe over face once you're stationed in your seat (gin and tonic in hand I hope).
For Dehydrated Skin: Rodial Dragon's Blood Hyaluronic Mask
The biggest beauty concern to combat whilst in the sky is dehydration. There's only so many bottles of water you can down to combat the dreaded air con so a two pronged attack is necessary. This gem from Rodial is perfect for flying as no one can tell you've got it on (sheet masks may cause concern), and is packed with hydrating hyaluronic acid and also refreshingly scented of rose and peach. Follow by your favourite serum or moisturiser to keep the hydration locked in for the remainder of the flight.
For Lips: Lanolips 101 Ointment
To save yourself from sandpaper lips smother on Lanolips 101 Ointment. Pure lanolin (yep, that's sheep wax), this multitasking miracle cream works a treat on dry or chapped lips and also as a precautionary measure. Packaged in a handy and hygienic squeezy tube you can also use it on cuticles, flaky skin and dry noses.
For Hands: L'Occitane Shea Butter Hand Cream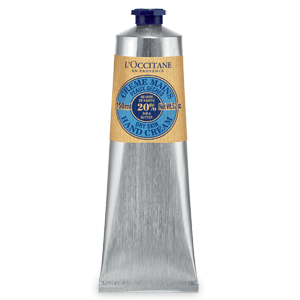 Next on the agenda is your hands: another body part to fall foul of lizardisation whilst up in the clouds. When you're kicking back with not much more to do than half heartedly watch a rom com, a rich hand cream is ideal. Shea butter is deeply nourishing and this beauty from L'Occitane smells absolutely divine ­ an easy peasy way to combat that awful plane smell.
For Sleep: This Works Deep Sleep Roller Ball
Now for a snooze. They don't call it beauty sleep for nothing and if you struggle in this department ­and who doesn't on a plane ­ then this is the answer. A beauty editor favourite, This Work's legendary Deep Sleep Pillow Spray is a natural blend of soothing lavender, vetivert and wild chamomile. The award winning sleep inducing formula is now available in a handy roller ball; simply apply to your wrists (or a tissue), inhale the vapours and find yourself drifting off to the land of nod in no time.
For Eyes: Holistic Silk Lavender Eye Mask
Now pop on your eye mask. This cotton velvet eye mask from travel experts Holistic Silk is scented with the soothing properties of lavender, blocks out all light and will induce you into a slumber in no time. Oh and you will also look (and feel) extra glam.
For Pores and Complexion: Caudalie Beauty Elixir Spray
On waking, to freshen up may I suggest using a facial spray like this treat from Caudalie. A spray is not just satisfying to use but much more hygienic than one of those face towels you are often given. Inspired by Queen Isabelle of Hungary's elixir of youth, this powerful plant based spray will not just wake you up but also smooth away fine lines, tighten pores and give your complexion an instant glow. ­Could you ask for much more?!
For Tired Skin: Aesop Ginger Flight Therapy
Whilst the This Works roller bar will help you sleep, this Aesop number will wake you up. Used in the identical way, the invigorating blend of aromatherapy oils including a heavy dose of ginger provides an uplifting and refreshing pick me up. Oh and the chic packaging is also rather Instagrammable.