Any brand or company that's pedalling detox teas or ways to beat the Christmas indulgence belong in the bin. We're about feeling empowered at About Time, and if that means feeling good by purchasing a new pair of legging, taking part in gym class or leaving your fitness comfort zone, we're all for it. And if you're looking for fitness at home, see here for the best rowing machine. Here's what's happening on the fitness and wellness scene in London this month:
January Fitness Lowdown: New Events
1. For Self Defence: Ace Hotel 
The Lowdown: Fancy something a little different? Up your street smarts with a lesson in Urban Krav Maga from the team at Street Smart Survival on Ace Hotel's Rooftop.
What to Expect: Centred around scenario-based self-defense techniques, you will be taught a number of tactics that can be used in real life environments drawing from various different fighting systems including Krav Maga, Karate, Aikido, Boxing, Muay Thai, MMA and Jiu Jitsu. Dependent on technique rather than punching power or brute strength, these monthly sessions will ensure that you're ready for anything and always one step ahead. Remember:  action always beats reaction.
Price: £12 per person. Book here.
Where: 100 Shoreditch High St, London E1 6JQ
Photo Credit: Paulina Czyz Photography 
2. For Jungle Fever: Boom Cycle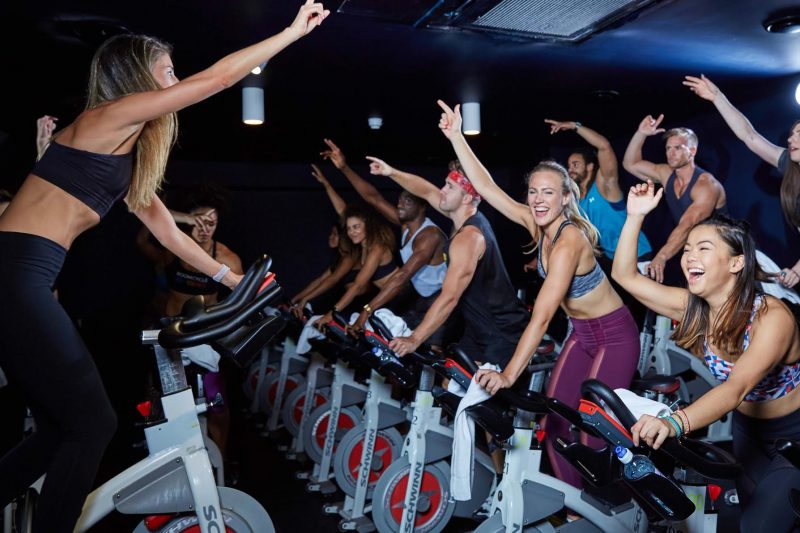 The Lowdown: Renowned for their big beats, Boom Cycle are giving Hammersmith a reason to rise this January. Kick starting on 15th January (6:30am and 7:30am), Boom Cycle will be hosting 'Boom Jungle' –  a morning rave ride experience.
What to Expect: A jungle extravaganza the moment you walk through the door and hop aboard the saddle for your 45minute 'wild ride'. Jungle themed playlists curated by Boom Cycle's expert motivational instructors will encourage you to cut-loose, seize the moment and embrace your sweaty animal side. Pre and post-ride Stefano Diemmi DJ will be performing live on the decks to continue the good vibes.
Price: £18 per person. Book here. 
Where: 10 Hammersmith Grove, Hammersmith, London W6 7AP
3. For a One-Off Event: Kurious Kittens x 1Rebel
The Lowdown: Kurious Kittens (the sister to female empowerment brand Killing Kittens) and 1Rebel have teamed up for a special event to help all you feel empowered, meet new people, and most importantly, have a laugh. Kurious Kittens is Killing Kittens little sister, and they organise events and workshops in partnership with educators and free-thinkers to teach open-minded people about the world of sex, hedonism and exploration.
What to Expect: Taking place on Thursday 31st January, everyone is invited to experience 1Rebel and Ride with a sound system that will rock your cleats off and a light show that will make you feel like you're in a European dance hall. With endorphins flowing, a drinks reception can be enjoyed afterwards where you can mingle with like-minded riders.
Price: £25 per person. Tickets here.
Where: 1Rebel, Victoria, 5 Allington Cl, Westminster, London SW1E 5BX
4. For Yoga and Brunch: Bombay Bustle x The Ady Centre
The Lowdown: Bombay Bustle will be hosting a series of Yoga Brunches every Saturday morning running until the 23rd February. Stretch out the weekend with a yoga class at The Ady Centre, the luxury lifestyle and wellness hub, followed by a well-earned three-course brunch at Bombay Bustle from Executive Chef, Surender Mohan.
What to Expect: Step into an hour-long transformative yoga session at The Ady Centre, where you'll be personally guided by talented DeRose method gurus, focusing on both physical and respiratory techniques to enhance well-being and fitness. Post workout, it's a short walk to nearby Bombay Bustle where the Yoga Brunch will feature dishes like warm lentil salad, tandoor spiced halloumi, and lemon and mint sorbet.
Price: £28 per person and can be bought online here.
Where: 29 Maddox Street, Mayfair, London W1S 2PA
January Fitness Lowdown: New Classes
5. For Spinning Newbies: Digme 
The Lowdown: Going to a spin class for the first time can be intimidating; 'How do I connect my shoes to the bike?' 'Is my seat at the right height', 'What does RPM mean?'. These are common questions that Digme instructors and front of house teams are asked on a daily basis, and this is why they've created their new Ride 101 class.
What to Expect: The instructors will take you through everything involved in attending a spin class at Digme in a fully inclusive and relaxed atmosphere. From setting your bike properly to understanding the stats on the bike so that you can confidently attend one of their Ride, Beat or Perform classes. Plus, you'll still get the Digme workout experience but at a pace that suits you.
Where: Locations here 
6. For a Cardio-Based Class: F45 
The Lowdown: The fast and furious Abacus workout from F45 is a 6 station, high-octane workout that will put your fitness levels to the ultimate test.
What to Expect: Inspired by the Tabata training method, this new class features a uniquely triggered timing regime that will keep your heart elevated for the full 45 minutes. Abacus consists of short, sharp sets complemented by a strong body weight and functional focus.
Where: Locations here 
7. For a Dance Workout: At Your Beat x POPfit
The Lowdown: Dance and fitness company At Your Beat are now hosting a brand-new programme of weekly classes at POPfit in east London. AYB principles are based on personal growth and finding your own "BEAT", whether that be your style, your pace, your principle – whatever keeps you moving and feeling good.
What to Expect: Classes include; FitBEAT, a calorie-burning endorphin rush to increase your general fitness levels and stamina; Peaches and Scream, this AYB body workout focuses explicitly on butt and abs toning by combining dance cardio and fitness moves; and LyricalBEAT which helps you find a deeper connection to music through freedom of movement and expression.
Where: 19 Sidworth St, London E8 3SD
January Fitness Lowdown: New Openings
7. For TRX: Body Machine Performance Studio
The Lowdown: Occupying three floors, Body Machine Performance Studio is a new TRX training facility which consists of a SpinAddikts indoor cycling studio, 1-1 personal training studio and gluten-free cafe.
What to Expect: At BMPS, the trainers focus on performance-based training that achieves optimal results, without fads or gimmicks. A wide variety of classes are offered to suit all ages and abilities, ranging from TRX Strength, Power, Mobility and Stretch sessions to SpinAddikts Basics, Endurance and Interval classes and even specially designed TRX and SpinAddikts classes for teens aged 12+.
Where: 42-44 Kensington High Street, London W8 4PE
Photo Credit: Peter Bennett Photo
8. For a Science-Based Workout: Orangetheory Fitness 
The Lowdown: Orangetheory have recently opened a new studio in Wandsworth. Orangetheory Fitness combines three aspects into one workout: science, coaching, and technology. Orangetheory Fitness offers a best in class, one hour, group-based workout, utilising wearable heart-rate technology to help participants focus on getting the most out of their workout, through real-time data and a more personalised experience.
What to Expect: Orangetheory Fitness offers 60-minute workout sessions split into intervals of cardiovascular and strength training with heart rate monitors to track intensity and maximize metabolic burn. Increase energy, get visible results and burn more calories, even after leaving the studio.
Where: 8 Garrett Lane, London, UK SW18 4TF