Disclaimer: I live out of a suitcase. A nice Ted Baker one, mind. But a suitcase nonetheless. My life is spent wondering whether I can get away with two plastic bags of mini toileteries at airport security, endlessly searching Skyscanner for deals (if you haven't tried it, the 'everywhere' setting is dangerous for wanderlusters) and planning what toppings I'll get on my Pret porridge at Gatwick. Note: the little squeezy tubes of Pip and Nut almond butter are a game-changer for this.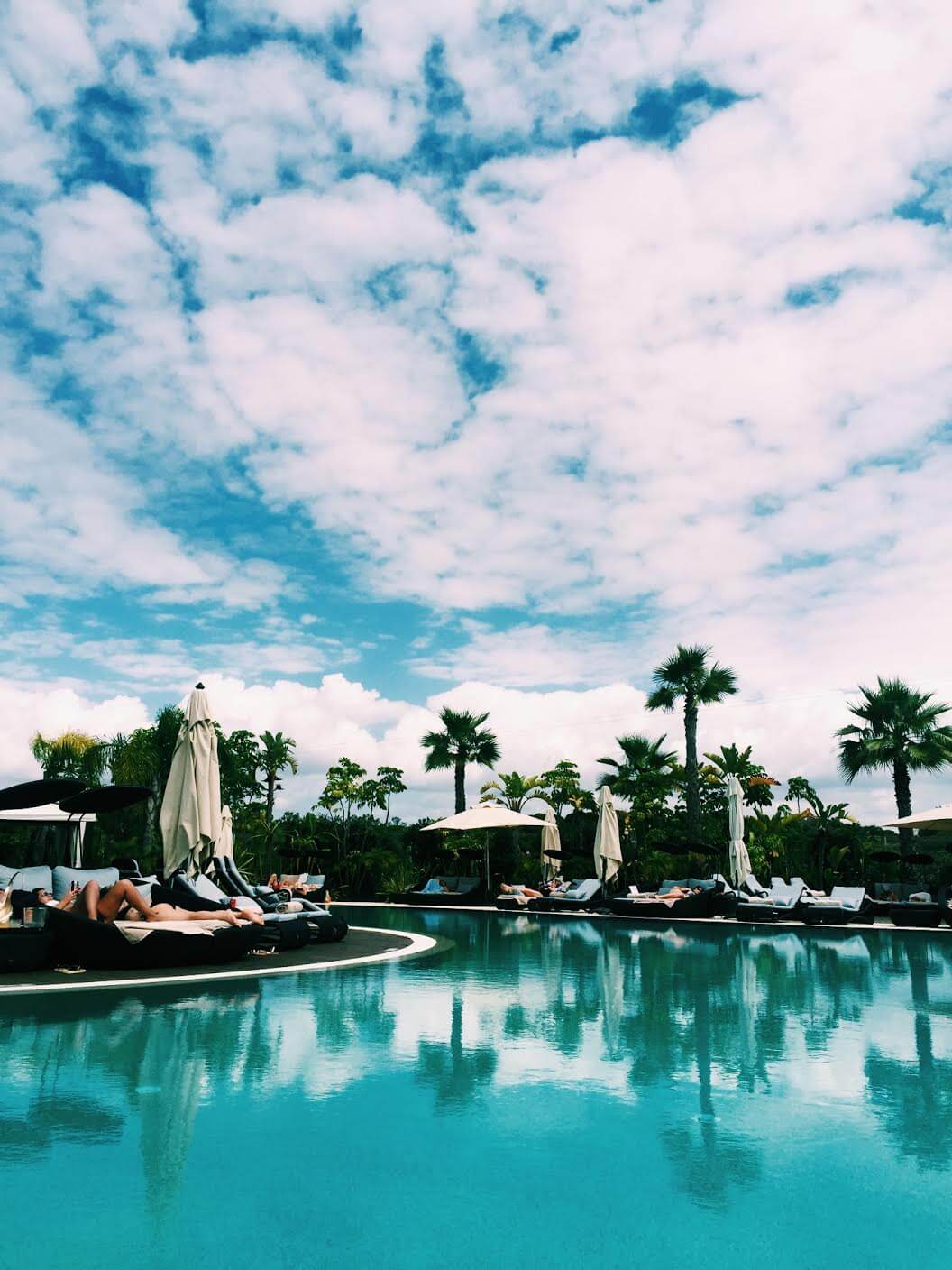 I can't complain, I spent my teenage years dreaming of being a travel journalist, and writing about travel feels like a total blessing. After my 25th trip this year (hello, air miles), I realised it was high-time to get together a list of the things I simply couldn't live without on little spontaneous travels. Here's my island essentials, for your eyes only, dear readers:
Handy Apps
When it comes to travelling, it's all about finding the best deal around for transport. I swear by Karhoo – a great cab comparison app – that services London. It's reliable and you'll always find the best value cabs to the airport, which are often the same price as the express trains. If I'm being swanky, I'll get a Blacklane – more like a private driver, they are one of the most efficient services around, and a Blacklane journey always makes me feel like a right rockstar. If you're a last minute Laura like me, you might find beauty apps as handy as I do. I swear by Treatwell for same-day beauty appointments – you can usually find something local within the hour – and Missbeez for at-home beauty. There's nothing better than a manicure in the comfort of your own home, whilst you tick off your packing list, and the service is always so professional.
Flying Essentials 
There's so many things I couldn't live without on a flight. I live in fear of airplane food, so always have endless emergency snacks on me, including Pip and Nut squeezy packs, which are great on Nairn's Oatcakes, Ombar chocolate buttons and nom foods organic popcorn (the cinnamon maple flavour popcorn is my favourite). I always order a box of EarlyBird Snacks for delivery before the flight – they deliver a selection of healthy, vegan treats in handy size portions! I also have a little sachet of Spatone liquid iron, as I tend to miss out on lots of nutrients when I'm travelling, and this one is a great, gentle supplement.
The night before a flight, I'll pamper with Joan Collins Timeless Beauty – their Ten Effects skin treat is a great pre-flight hydrator for the skin, and I love their I Am Woman dry polish for pre-holiday exfoliating. I usually do a protein treatment on my hair before hitting the beach (hello, frizzy hair) – the Organic Colour Systems Power Build one is fab. For during the flight, I always have some Vita Coco coconut oil handy for dry skin and some Aveda Tulusara oil for cleansing impurities. I tend to keep make-up flight when I fly, but at the moment I'm swearing by MAC's Veluxe Pearlfusion Shadow in Copperluxe and their Spring 17 trend forecast lip palette. If I'm feeling bold, I'll also add some MAC Instacurl Lash – it's honestly one of the best mascaras I've used in a long, long time. And, of course, some hand sanitizer for the airport – Merci Handy do a lovely one. If you need a bit of a glow, I totally love NIOD's photography fluid tan for a pre-holiday little sparkle. You glow girl.
Suitcases
If you're going to be flying often, then a snazzy suitcase is a must. I'm obsessed with the Ted Baker range, and couldn't love my medium-sized LUELA Porcelain Rose case more. Check the range out here. For carry-on luggage, I love the Ted Baker Talullah Butterfly Collective travel bag.
Photography
Cameras, cameras, cameras. I can't get enough of a good camera on holiday, and although I normally swear by my iPhone 6s for snaps, I've recently found a new love for polaroid cameras. The Fujifilm instax camera is my current obsession; it's great if you're looking for a digital detox on holiday, as you don't have to take your phone around with you, and what could be better than having some physical photos after your holiday to show your friends. The instax WIDE 300 is great if you're travelling somewhere with beautiful scenery, as it takes amazing wide landscape shots. If you're looking for a waterproof camera, the FinePix XP80 is great for fun beach shots and it's really durable, too.
Beachwear
There's nothing better than stocking up on some lovely dresses and wraps to make you feel great on the beach I love SimplyBeach for finding great deals, and tend to buy most of my stuff online here! At the moment, I'm loving Melissa Odabash for simple, timeless bikinis, and SeaFolly for colourful beach dresses and wraps.
The Melissa Odabash Brussels bikini is one of my absolute favourites (I have it in most colours) and I love this Stella Crochet Knit Jumpsuit. For holiday footwear, it's all about Dune London and L.K. Bennett – the Dune MYLO black block heel sandals and KESHA flower wedges were my summer stables and I simply lived in these L.K Bennett Sandi Embroided Rafia Sandals all holiday long. Man, I love shoes.
Accessories 
Simply, statement pieces on holiday are my absolute favourite – there's nothing better than a simple island outfit, jazzed up with some sparkles for a little holiday feel. I love the simple, elegant design of Henry London watches (especially the Hammersmith pink ones), and I'm unlikely to be found on holiday without a bit of Serefim London sparkle.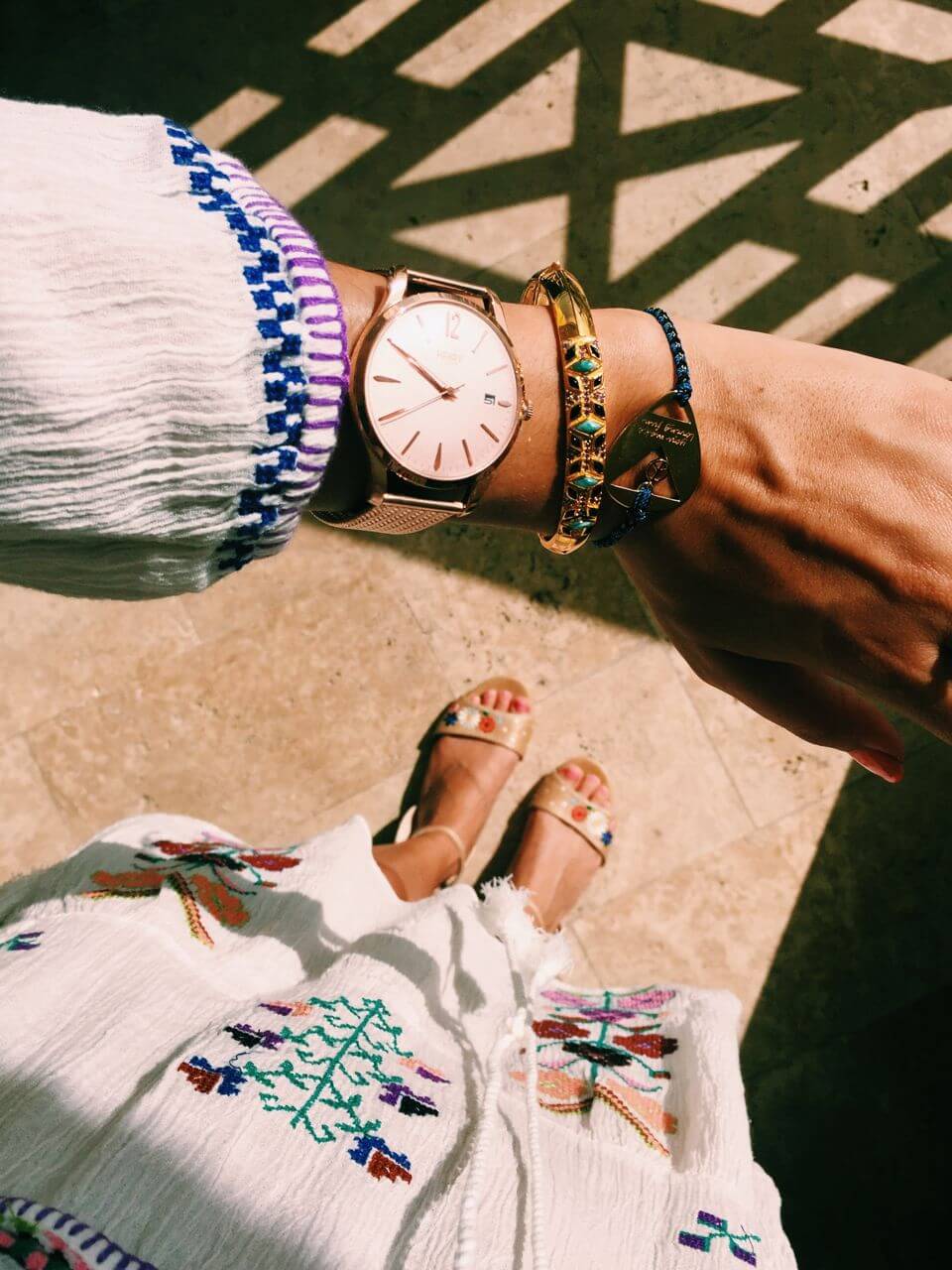 In the evenings, I like to sass things up with Daisy Jewellery pendants (I'm really loving their collaboration with Laura Whitmore at the moment) and their beautiful cord bracelets. For simple elegance, the Dinny Hall statement pieces are gorgeous, such as this Signature Bar necklace, and are great with simple black dresses. Island magic.
Holiday Beauty 
When it comes to beauty, I like to keep it really simple and practical on holiday, so only go for products that I know really work for me. During the holiday, I like to moisturise with NIOD Multi-Molecular Hyaluronic Complex, which is really feeding for the skin, and Hylamide Booster Glow, which gives you a sun-kissed look without having to sunbathe endlessly. For protecting my hair on the beach, I swear by Paul Mitchell Ultimate Colour Repair Spray, which smells lovely and helps protect from the sun's rays. For sunscreen, FrezyDerm Velvet Sunscreen is one of the best sun creams for the face I've ever tried (it feels so silky and moisturising, without any alcoholic scent) and I adore NUXE Sun Tanning Oil for a golden glow. In the evenings, I pamper with my mini essentials, which I normally source from Birchbox before my holiday. At the moment, I'm loving Amika Bombshell Blowout Spray, NUXE Prodigieux Shower Oil and Bare Escentuals True Oasis, which is a great gel moisturiser for when you're in the heat. To take it all off, Hylamide High Efficiency Face Cleaner has a lovely, oily feel, and is great for cleansing gently. When I need a real treat, I love STARSKIN Eye Catcher Eye Masks for a pamper. And to make sure my digestive system stays strong whilst away (hello, endless buffet meals and tropical delights), I always pack some Udo's Choice Digestive Enzymes, which are a great all-natural digestive aid.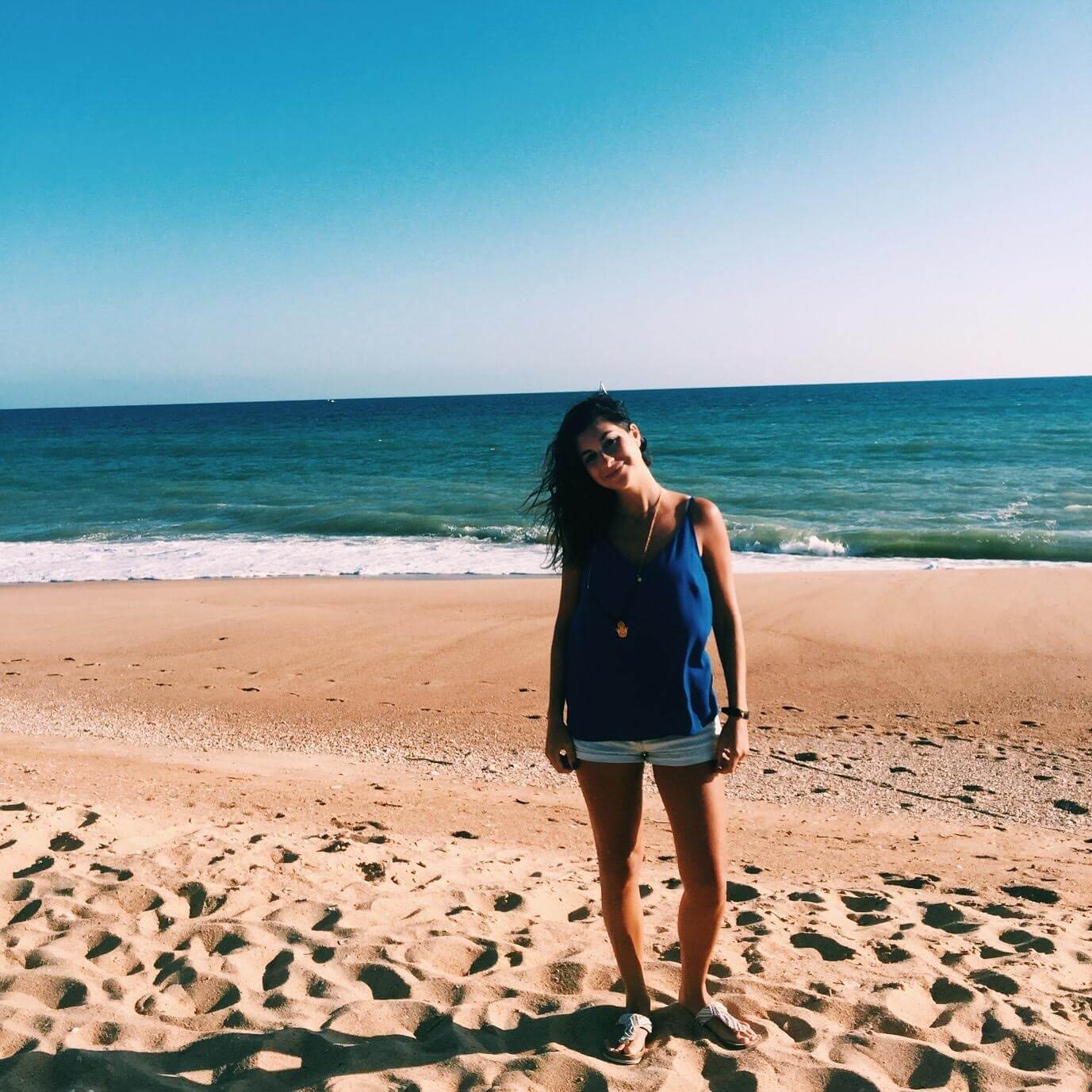 Happy travels all! Angelica x