Looking for a new way to enjoy yoga in the capital this month? Whether it's a downward dog on a floating garden, splashing around in a pool trying to find your tree pose or a bit of savasana in the sunshine, London's full of new and exciting ways to practice. It's time to don your Lululemons, here's how to find your flow in the city this September:
1. For Disco Divas: Fat Buddha Yoga
What: Down Dog and Disco is a super-fun new monthly yoga class at Hoxton Square Bar & Kitchen, run by Fat Buddha Yoga.
The Lowdown: Perfect for music-loving millennials that love to train and party hard, the fun new class has found a perfect home in Hoxton Square Bar & Kitchen, one of East London's favourite music venues. Tickets include a 60-minute yoga session to a Fat Buddha Music pumping disco soundtrack and an optional 4-5km run before the yoga session with LDN Brunch Club.
The Class: Don your brightest spandex and enjoy blissful strengthening sequences to rejuvenate mind, body and soul with this uplifting class. All ticket holders will also receive a free coffee or freshly pressed juice at Smokey Tails, Hoxton Square Bar's Kitchen in Residents.
Price: £10 or £15 for yoga + run
When: Saturdays monthly – 10 am. Timetable here.
Where: Location and tickets here
2. For All Yogis: Stretch Yoga at Farmopolis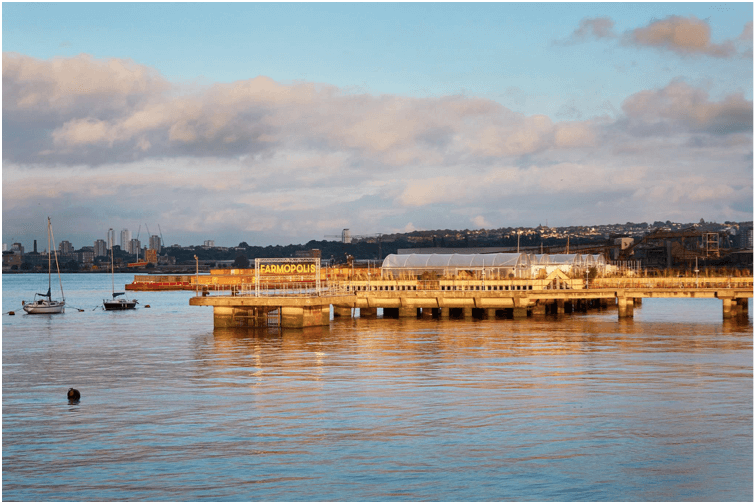 What: Stretch Yoga is a new yoga residency at Farmopolis – the floating garden on the Jetty in Greenwich. Farmopolis is the major new urban farming destination in London – a pioneering new model for public green space bringing together farming, food, arts and culture.
The Lowdown: Stretch believe yoga should be accessible to all, community focused, inclusive and free from stuffy dogma. Stretch Yoga host a weekly residency, offering yoga classes for adults and children every Saturday at Farmopolis on the jetty. A family run yoga company founded on community, this really is a class for all. 
The Class: Stretch embrace the eclectic and varied scope of yoga, and whilst they will be offering you some soothing restorative classes, many of their classes will be upbeat and dynamic – so prepared to get moving! Stretch is yoga for all, from the experienced practitioner to the absolute beginner. Tickets here.
Price: £10
When: Every Saturday in September – 10am-11am
Where: Farmopolis, The Jetty, SE10 0FL London
Photo credit: James Wick
3. For a Yoga Lunch: Yayā Flow Class + Lunch
What: After selling out almost instantly for their summertime series supper clubs, yayā have just announced a brand new yoga lunch event in October.
The Lowdown: Yayā greek supper club has partnered up with yoga teacher Sophia Pym to present a 75-minute flow and restore yoga class, followed by a yayā greek two-course vegetarian lunch at greenhouse studios in Hackney. Large sharing plates are what this supper club is all about; expect both traditional and re-invented greek dishes, made with a combination of authentic greek ingredients and locally sourced produce.
The Class: The class and menu reflect the spirit of greek cuisine and philosophy – living well, balance in flavours and techniques, and happiness in the moment. Yayā is a greek home-style cooking supper club run by friends emily & lou, created to share our passion for good food, friends and feasting.
Price: £40 – tickets here.
When: Sunday 9 october – 1-2.30pm
Where: The Greenhouse, 49 Green Lanes, London N16 9BU
4. For Mums-to-Be: YogaBellies
What: YogaBellies offer beautiful classes for women during the prenatal period; they use proven holistic therapies, practices and yogic techniques to guide yogis through the amazing journey that is pregnancy and birth.
The Lowdown: Their prenatal sessions incorporate traditional yoga asanas, self-hypnosis and deep relaxation, as well as soothing comfort techniques for birthing and unique YogaBellies® touch therapies for mum and baby. These classes are open to all women and 86% of their students have never set foot in a yoga class before. They have a whole host of studio and water based therapies that have been custom made for pregnant mummies. 
The Class: AquaBellies classes are 45-minute sessions in the swimming pool designed specifically for pregnant women. Classes vary each week and involve a mix of cardiovascular exercises, games and activities, aqua circuits, aqua yoga and floating exercises. AquaBellies classes finish with relaxation and breathing techniques specifically for pregnancy, labour and birth ensuring you leave the pool feeling blissed out and re-energised. 
Price: Prices vary – 8 week block classes, which start from around £90.
When: Timetable here
Where: Locations here
What: Yogaia is the ultimate solution for busy people wanting to fit more yoga into their lives. Yogaia is the world's first truly live and interactive yoga studio, offering live yoga classes you can practice from practically anywhere via your computer, tablet or smartphone.
The Lowdown: Join a live class to receive personalised guidance and alignment tips from the world's best yoga teachers  – just switch on your webcam! Don't worry, no one but your teacher can see you so it nearly feels like a 1:1 class. Can't make a live class? All of their live classes are recorded, so even if you're too busy to make a live class you can watch it whenever you want, as many times as you want. Plus, use their handy app to download your favourite classes for when you're away from the WiFi (like on a tropical beach getaway).
The Classes: Access over 100 new classes every week with more than 40 teachers representing different yoga styles, from relaxing Yin to energising Vinyasa. The length of classes varies from 5 – 75 minutes so you can always fit a class to your schedule, no matter how busy you are.
Price: £14.99 monthly (free for first 7 days)
Where: In the privacy of your home, in your garden, in a hotel room, in a park, on a beach. Click here.
6. For Something Different: FRAME at Farmopolis
What: FRAME Curates: Beyonce Barre and Yin Yoga at Farmopolis.
The Lowdown: Frame was put on Earth to make sure keeping fit and healthy never feels like a chore – they are known for feel-good, energetic and fun-filled classes. You can sweat it out with a high-intensity fitness class, dance, shake and party like it's 1999 or get zen with a restorative workout for the mind. This month Frame start their weekly residency of movement classes at Farmopolis designed to get you to smile while you sweat.
The Class: There's Beyonce Barre, where you can expect to work hard and feel the burn to get that Beyonce honed bum, and Yin Yoga, a slow paced style of yoga that focuses on the connective tissue such ligament and bone, and targets the joints that in ways that are rarely found in Dynamic yoga practises. Tickets here and here.
Price: £12
When: Saturdays and Sundays – 10am – 2pm
Where: Farmopolis, The Jetty, SE10 0FL London
7. For Free Yoga: lululemon Old Spitalfields Market
What: Canadian athletic apparel brand lululemon offer range of free yoga sessions throughout their stores across London and in other locations. We are most excited about the new yoga class on offer at the new east London store which just opened in Old Spitalfields Market, fit with its very own PRESS Juice bar.
The Lowdown: Each week, their sessions are hosted by lululemon's favourite yoga instructors, including the likes of lululemon store ambassadors include Annie Clarke from Mind Body Bowl and Steffy White of Steffy White Yoga. Why not head down to a yoga class and grab a juice afterwards. PRESS have created the very first 'lululemonade', a delicious lemon cold press juice, with a cayenne pepper kick! lemon, honey and cayenne and is only available exclusively at lululemon Spitalfields.
The Class: Each class is one hour, taught by the best East London instructors every week. This week, expert yogi Ale Donoso will be leading a Vinyasa Flow class – you will get sweaty, but options will be given for those who would like to take it a little more easy! This class is suitable for all levels. Make sure you arrive 10-15 minutes early to reserve your spot! See you on the mat! #thesweatlife
Price: Free. For more information and to book your spot, head over to the lululemon Facebook page.
When: Sundays – 10:30am-11:30am
Where: 109 Commercial Street, Spitalfields, London
8. For Community Yoga: The Life Centre
What: Flow, Relax & Rejuvenate Yoga at The Life Centre Notting Hill. The Life Centre is a beautiful quiet converted house and chapel, which hosts some of the UK's top yoga teachers.
The Lowdown: The Life Centre is a friendly haven, where yoga, pilates and natural therapies inspire wellbeing in the London communities of Notting Hill and Islington. Community classes are offered at a reduced rate to make yoga more accessible – £7 yoga for all!
The Class: This class combines active postures and vinyasa flow with restorative yoga, creating an energizing and nourishing balance for body, heart & mind. The dynamic and fluid practices will heat the body and build strength, endurance and flexibility. The quiet, restorative posture will help relax the muscles, tissues, organs and nervous system, encouraging a release of deeply held tension while replenishing energy. Open to all levels.
Price: £7 – book here.
When: Thursdays – 16:00–17:15
Where: 15 Edge Street, London, W8 7PN
9. For After-Work Yoga: Another Space
What: Yoga at Another Space, Covent Garden, with Marc, Nick or Chris – AKA the Yoga Boys – at convenient after-work times.
The Lowdown: Another Space is a unique combination of varied, complementary class-based workouts, all synced to the best music, to take body and mind somewhere new. Their classes include HIIT, cycle and yoga, all with a unique touch. The gym itself is totally beautiful, and your every whim has been taken care of – think lovely hot showers, fresh towels and smoothies for a post-class pick me up.
The Class: Stretch it out, think strong, stand tall. Traditional yoga – with a range of movement with a dynamic flow to raise your heart rate. Hot or ambient, this is yoga for all. I love the class with Nick, who has been teaching classes and workshops across the globe for 4 years. His playful practice contains strong influences from the world around him, and the class is guaranteed to leave you feeling great.
Price: 3 classes for £30 in September
When: Timetable here
Where: 4-10 Tower St, Covent Garden, London WC2H 9NP
10. For Bikram Yoga: Hot Yoga Society
What: Bikram Yoga – a 90-minute hot yoga session, which is guaranteed to work up a sweat and leave you feeling great. We also love yoglow, a full Bikram yoga sequence with 2 sets of 26 postures and 2 breathing exercises in the hot room to a soundtrack by DJ Goldie!
The Lowdown: Hot Yoga Society is London's biggest community of happy hot yoga lovers, brought together by passion for staying fit, feeling great, and putting hot yoga at the centre of a healthy lifestyle, for the body and mind. Their studio, nestled in the heart of London Bridge, is where they encourage our hundreds of members to use hot yoga as the key to a happy, healthy life.
The Classes: At the core of what they do is Bikram-method, 90 minute, 26 posture yoga. In addition, if you have a bit less time or like to mix it up a little, they offer a variety of different classes, including hot core, abs and glute blast, led by personal trainer and fitness guru Peter Mac, BROGA, upper and lower body blast with Matt Miller and warm power pilates.
Price: £35 for 20 days unlimited
When: Timetable here
Where: 1A Magdalen St, London SE1 2EN
Photo credit: Hot Yoga Society – Instagram
11. For Ballet-Inspired Yoga: Barrecore
What: BarreASANA – a fast-paced version of yoga, designed to help you tone up and sweat, taking inspiration from Barre workouts.
The Lowdown: Barrecore is an intelligent exercise system, integrating the fat-burning format of interval training with static stretches after each major muscle is worked. Each 60-minute workout targets the major muscle groups and improves posture and alignment no matter what your fitness level!
The Class: BarreASANA is really rather unique. The class will challenge you physically and mentally as you continuously flow through each pose whilst incorporating your favourite barrecore signature positions to inspiring and uplifting music blending rock, reggae, hip hop, and chilled out beats. This fast-paced class will tone your limbs and tighten your core, leaving you feeling lengthened, worked-out and mentally centred for your day ahead.
Price: £20 for the first class, £28 for a single class thereafter.
When: Timetable here
Where: Locations here
12. For a Yoga Escape: Mirihi Island
What: As of November, Mirihi Island will be offering yoga enthusiasts complimentary sessions to train with one of Asia's most experienced instructors, Sean Sanz, for free.
The Lowdown: Throughout the retreat guests at Mirihi Island will be invited to start the day against the backdrop of the rising sun with an energising yoga session led by Sean. Come evening, guests will have the chance to unwind at Sean's evening meditation session, where guests can balance and synchronise their mind, body and soul through chanting and breathing techniques. Burnt-out urbanites will revel in the chance to switch off from the pressures of daily life at Mirihi Island where 'digital-detoxing' is very much part of everyday life. The remote island has purposefully chosen not to place televisions in its charming villas or Wi-Fi in the restaurants, naturally encouraging guests to communicate with one another instead of reaching for their mobile devices or the remote.
The Class: Mirihi Island's yoga will take place every day from 07:30 – 08:20 between 1st November 2016 and 7th January 2017. Evening meditation sessions will last 30 minutes, times vary. The yoga and meditation classes are complimentary and open to guests of all abilities. For those with specific targets there is also the option of payable private sessions, which can be booked and tailored to an individual's ability, preferences and interests.
Price: Complimentary classes
Where: Locations here
12. For Another Yoga Escape: Segera Retreat, Kenya
What: Wilderness Collection's Segera Retreat in Kenya is hosting leading yoga expert, Nella Nencini-Hutchings, from 31st October to 6th November 2016, for a special yoga retreat and workshop, giving guests the opportunity to enjoy daily yoga classes and walking meditations in the midst of the stunning African bush.
The Lowdown: Segera is a wildlife sanctuary dedicated to a sustainable lifestyle focused around Conservation, Community, Culture and Commerce. Located at the foot of Mount Kenya, the retreat offers the classic East African safari experience and gives guests the opportunity to experience the Segera lifestyle. Meals are made from organic, local produce and Segera features a notable African art collection with which guests can engage.  In addition to the activities led by Nella during the yoga retreat, guests can indulge in a range of treatments and massages, including scrubs made from soil, salt and local spices and full-body therapies. Guests can pamper themselves from the privacy of their villas or at the Segera spa, which boasts a salt-water swimming pool and state-of-the-art gym.
The Class: Segera's beautiful botanical gardens, oasis and private wooden decks offer guests a range of tranquil spaces to meditate, enjoy individual yoga sessions and join small group sessions. Daily raw food menus, fresh juices and invigorating outdoor activities are also included in the yoga workshop. Nella Nencini-Hutchings describes herself as a 'safari mixologist' in addition to being a private pilot and trained yoga instructor. She is the founder of Tin Trunk Safaris and has many years' experience creating and running yoga workshops in the bush.
Price: Check the website 
Where: More information here
Homepage photo credit: Hot Yoga Society – Instagram