The weather is warmer and the nights are longer. It's official: summer is on its way. With the shift in temperature – we say, it's about time you upgraded your activewear wardrobe. Time to shop. And sweat:
1. For Colourful Activewear: Tikiboo
What: Bel Air Babe Cross Back Bra (£26.99)
The Lowdown: Bored of the traditional pink and black combos dominating the gyms and struggling to find any colourful activewear clothes within the UK at affordable prices, founder Faye looked further afield and started importing bright clothing from Brazil and Australia. Taking you back to the 90s style is this jazzy number: the Bel Air Babe Bra. With triple strap detail for a look on the back and full bust coverage on the front, the bra is suitable for the gym, weight training and yoga.
Stockists: Online here 
2. For Yoga Leggings: ILU Clothing 
What: De Stress Leggings (£52)
The Lowdown: The de stress leggings from ILU Clothing are high waisted, and are beautifully cut from a luxe piquet knit yet sweat wicking fabric – these leggings are designed both to flatter and to perform. Perfect for spin and sweaty workouts, yoga, pilates and also for everyday stylish living.
Stockists: Buy online 
3. For Ethical Clothing: Shakti Shanti 
What: Brazilian Spaghetti T-Back Top with Bra Support (£48)
The Lowdown: Ethical yoga and athleisure-wear brand, Shakti Shanti, has launched a new collection featuring bio-active fabric sourced from Brazil which has been developed to improve exercise performance and create 'a new level of interaction between the fabric and the skin'. The t-back top has less fabric around the shoulders, allowing for greater freedom of movement, and the Polyamide Elastane fabric ensures superior support.
Stockists: Online here 
4. For Performance Clothing: KYMIRA 
What: Women's Core 2.0 Top (£80)
The Lowdown: KYMIRA sport garments are used by a number of pro athletes to help improve performance during training and speed up recovery times. The Core 2.0 top has a form fitting design that tapers in at the waist and out over the hips, and the quick drying top features raglan seams, triple stitched hems, and their signature flatlock stitching to ensure a comfortable fit. Made from their infrared fabric, the top offers all the KYnergy benefits: increased blood circulation and temperature regulation, whilst wicking away moisture and feeling dry against the skin.
Stockists: Buy online 
5. For Body Sculpting Fabric: Natatio Swimwear 
What: Xena Crossback One Piece (£70)
The Lowdown: British sports swimwear brand Natatio ('na-tay-shio') has launched its debut UK collection which fuses high performance design with contemporary style. This stylish and athletic one piece is built for speed, with a sporty open back and streamlined design to allow high freedom of movement. The swimsuit is made from body sculpting fabric with contouring panels and straps – and is ultra resistant to chlorine, salt water and sun creams.
Stockists: Buy online 
What: New Balance Cruz (£75)
The Lowdown: Crafted from stretchy knit on luxurious fresh foam cushioning, this shoe delivers effortless, all-day comfort. Whether you're pounding the pavement, treadmill or taking part in a HIIT class, the two-way stretch flat knit upper features an adjustable midfoot saddle for a custom-like fit, while the deconstructed foam heel delivers superior comfort whatever the activity.
Stockists: Buy online 
7. For Summer Shorts: Under Armour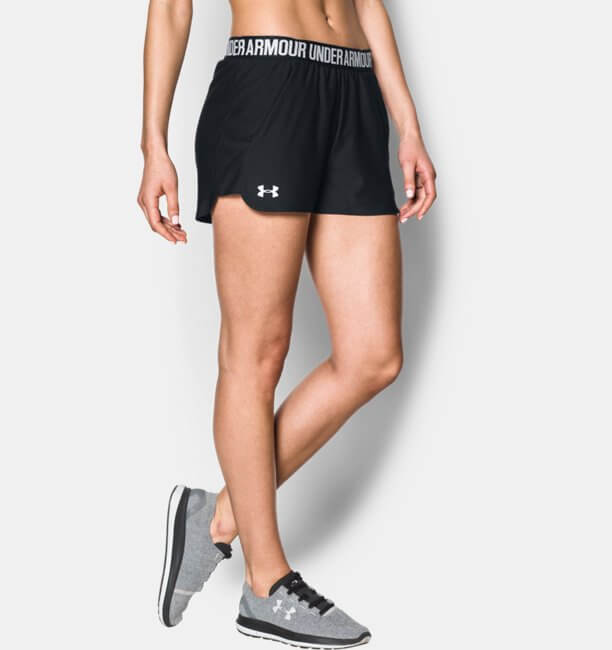 What: Women's UA Play Up 2.0 Shorts (£23)
The Lowdown: Everyone needs a go-to pair of shorts. With side hand pockets and a soft, smooth waistband – these are it. The soft, lightweight knit construction delivers superior comfort and breathability, and the material wicks away sweat and dries super fast. And they come in a range of colours (black, purple, blue, red..).
Stockists: Buy online
8. For Fashion Meets Activewear: Puma
What: Tipping Tee (£30)
The Lowdown: Mixing the world of sports and lifestyle, Puma's innovative products successfully fuse the creative influences from the world of sport and fashion. Strut your early 80s style in this vintage PUMA tipping tee. A fitted ribbed waistband, athletic striped sleeves and comfy cotton make this a go-to jersey for both the gym and the high street.
Stockists: Buy online 
9. For a High Vis Jacket: Reebok 
What: Vizocity Jacket (£45.50)
The Lowdown: With a durable water repellent finish keeping out the wet, you just may push that run past dusk, letting this jacket's silver tape safely reflect your dedicated position.The slim fitting fabric skims the body for comfort and freedom of movement during exercise, and the durable water repellent fabric is ideal for keeping wet weather out.
Stockists: Buy online 
10. For Outdoor Sports: We Are Handsome 
What: Retrograde Spray Jacket
The Lowdown: We Are Handsome's hooded nylon spray jacket has a breathable mesh back vent, adjustable drawcord details on the hood, sleeves and hem. All zips are watertight ensuring a stylish and dry fit should you be caught in the rain.
Stockists: Buy online