Part of being a yoga enthusiast is finding the perfect space in which you can practice your passion. While there are countless yoga studios in towns and cities nowadays, not everyone wants to have to leave the house every time they practice yoga. Instead, it can be really lovely, and extremely convenient, to have your own at-home yoga studio.
If having your own in-home yoga studio is a dream of yours, then there are some tips, considerations, and steps worth being aware of. This will help you create a space that is truly relaxing and encourages meaningful and useful yoga sessions.
Pick a Quiet Area in the Home
One of the biggest challenges in setting up an at-home yoga studio is finding the perfect spot in your home. Ideally, it should be an area that is quiet, separate from the main living areas and has a door so you can shut everything out. The room will also need to be large enough that you can stretch and move around with ease and not bump into walls.
Give Thought to the Flooring
Next, you want to think about the flooring. Typically, you want to steer away from carpet in a yoga studio and instead opt for a hard surface such as hardwood floors. This will allow you to get into your poses much easier. You can always throw your yoga mat down on the floor for comfort. When picking out a mat, look for one that is synthetic, so it can be wiped down, is non-slip, and offers some padding.
There Needs to be Airflow
Even though yoga isn't a high-impact sport, you can still work up a sweat. This is why you want to be sure that your yoga studio has adequate airflow. The best case scenario is that you have a window in the space that you can open up. If not, you can always install a ceiling fan or just plug in a stand fan. As far as stand fans go, the oscillating models offer the best airflow since they will move the air around the entire space.
Now if you're the type that prefers hot yoga, which is all the rage right now, airflow won't be necessary during your session, but it can help to clear the room/space after you finish up.
Hang Curtains for Privacy
While having a window in your yoga studio is excellent, you don't always want others to be able to see in the room. This is precisely why you will want to hang some sort of window coverings such as curtains or blinds. You will be able to control how visible the room is to the outside world, plus you can also control how much light you are letting in. In the summer months, you may want to keep the curtains or blinds closed to help keep the room a little cooler.
As far as where to find window coverings, freshideas.co.uk is a great place to check out. You can do all your shopping from the comfort of your own home and choose from a wide variety of curtains, roman blinds, and blinds. Fresh Ideas makes their products to measure, so you know you'll get a perfect fit each and every time. They also sell accessories such as curtain tracks, poles, and even electric curtain tracks. It's a one-stop shop that will get your studio up and running.
Get Rid of Any Unnecessary Items
To make the best use of the room, it's a good idea to get rid of anything that isn't absolutely necessary in the space. This includes furniture, decor, and any sort of clutter. You want the room to feel open and inviting.
Set Up a Music Player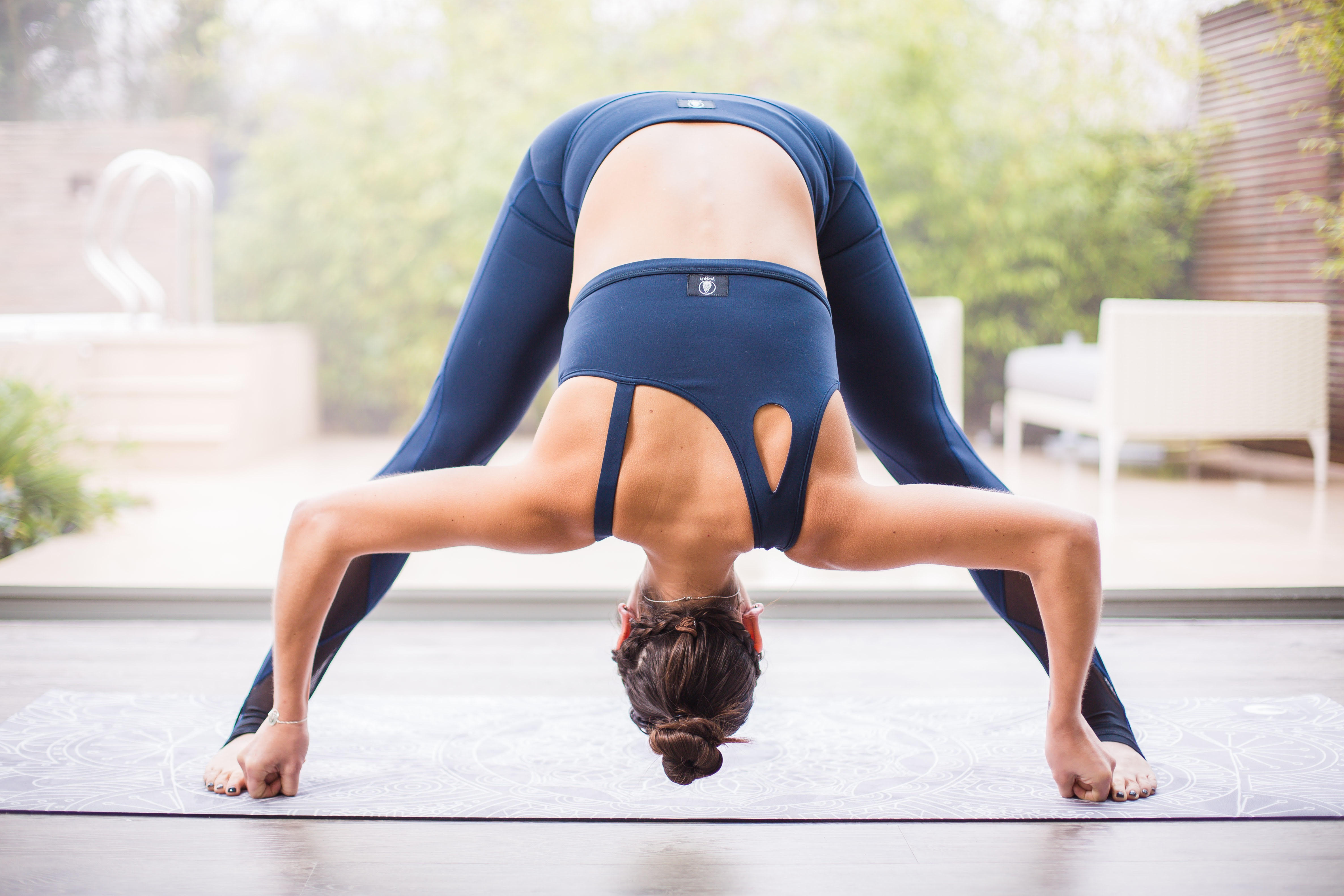 Many people who practice yoga enjoy soft music or nature sounds playing in the background. If this sounds like you then it can be helpful to hook up a music player in the room. Pick a system that comes with a remote control, so you don't have to walk over to the player to adjust the volume, track, etc.
Give Thought to the Lighting
Finally, there is lighting, which can play a huge role in the atmosphere and feeling of the yoga studio. In order to create a relaxing, natural, and peaceful atmosphere, it's best to opt for soft lights that aren't harsh. If you don't want to install new overhead lights, just pick up a lamp or two with a heavy thick shade to create soft light.
An Inviting At-Home Yoga Studio Can be Yours
There is absolutely no reason to leave the house merely to practice yoga. By finding a quiet space in your home and giving thought to the set-up and décor, you can create an open at-home studio that provides you with all the space and conveniences you need.