5 of the Best: Innovative Boxing Classes in LondonBy Gemma Perlin
Boxing isn't just about throwing punches. Get fit, feel great, learn some basic boxing technique and have fun with London's most innovative boxing classes, all bookable from the MINDBODY app.
1. For Clubbing Vibes: Doghouse Fitness 
The Class: BOX at Doghouse Fitness, 45 minutes
The Lowdown: A high intensity boxing circuit class in a nightclub, UV-lit setting, BOX is a workout like no other. Expect a combination of resistance-band training, mat and core work with boxing drills on the bag for a seriously intense and effective workout.
Where: 23 Harberson Road, Balham SW12 9QX
2. For a Power Plate/Boxing Mash-Up: Rize
The Class: Strike 360 at Rize, 50 minutes
The Lowdown: Combining Power Plate strength exercises with high-energy kickboxing drills on the bag, Strike360 is an effective workout to tone and work the body from head to toe. A high intensity interval training class, you'll be taken through a minimum of 3 minute rounds at a time with little rest in between, leaving you feeling strong and energised.
Where: 63 Balham High Road, Balham, London SW12 9AP
3. For an Intense Cardio Workout: Studio Lagree
The Class: Box-Fit at Studio Lagree, 50 minutes
The Lowdown: Designed for all levels with beginner and advanced options, Box-Fit aims to sculpt your body and deliver a tight, toned and strong physique. Unlike other classes, Box-Fit focuses on continuous punching, speed rounds and conditioning exercises, helping to burn calories and transform the body.
Where: Studio Lagree White City: Unit 1B, The West Works Building 195 Wood Lane, London, W12 7FQ and Studio Lagree Canary Wharf: Unit 155, Cannon Workshops, 3 Cannon Drive, London, E14 4AS
4. For a Morning Workout: Box Clever Sports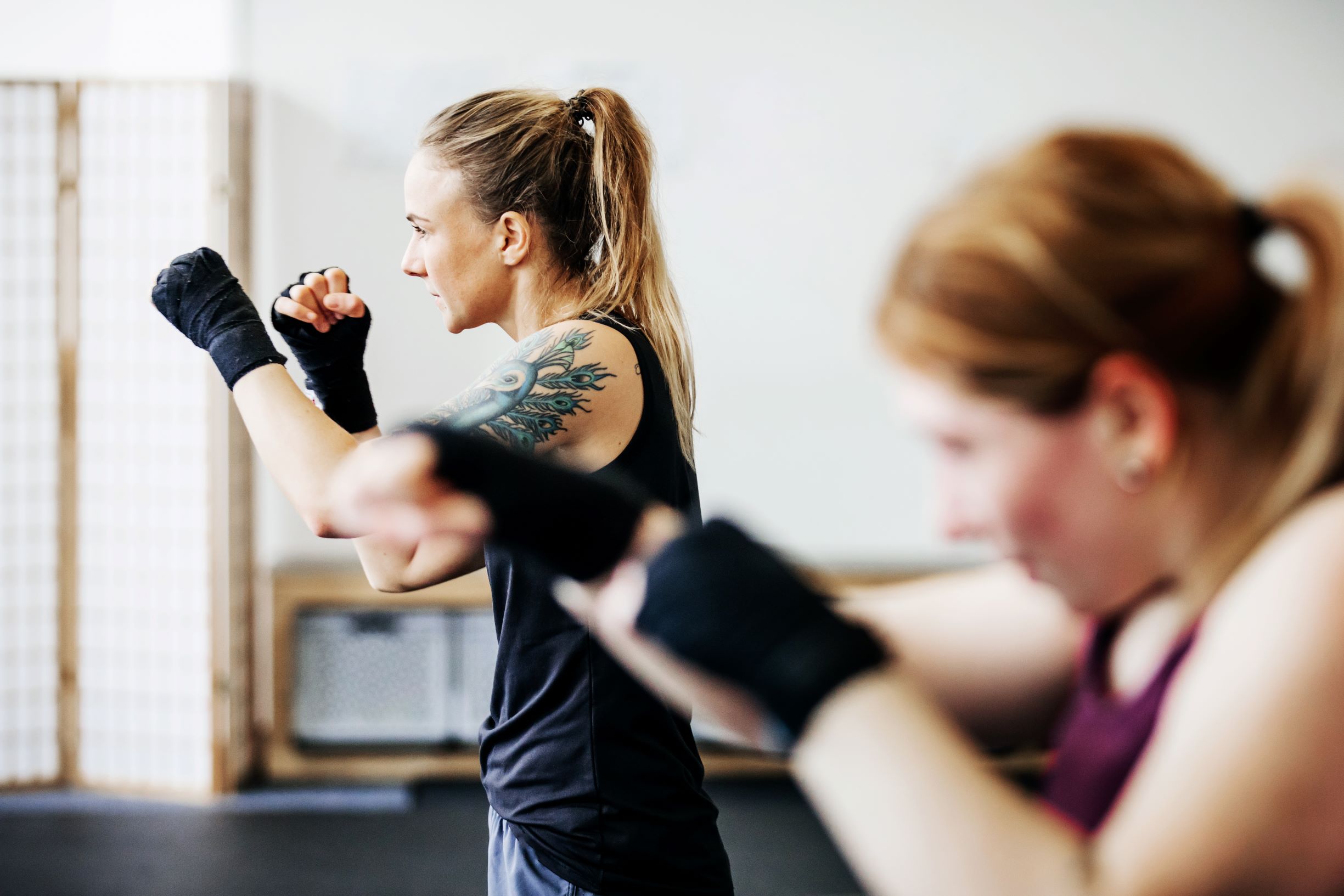 The Class: The Wake Up Session at Box Clever Sports, 60 minutes
The Lowdown: The studio's signature class, The Wake Up Session, is one of the only boxing classes specifically designed for morning workouts and will help kickstart your day the right way. Combining boxing drills, shadow boxing and bag work with cardio and an intense abs circuit, this class will leave you with an endorphin rush that'll see you through your busy day.
Where: Lowerwood Court, Westbourne Park Rd, London W11 1EU
5. For Cardio and Boxing Techniques: Stonebridge Boxing Club 
The Class: Box and Burn Boxercise at Stonebridge Boxing Club, 90 minutes
The Lowdown: Designed to burn calories and improve overall fitness, Box and Burn Boxercise is a group class that combines an intense cardio workout with technical boxing drills. Expect to endure intense cardio, circuit training and bag and pad work to help make you fitter and stronger, whilst having a lol at the same time.
Where: Ujima House, 388 High Rd, Wembley HA9 6AR
All of these classes are bookable from the MINDBODY app which you can download here.