Ultimate Guide to: Celebrating Thanksgiving in London 2017By Alicia Grimshaw
Looking for the best ways to celebrate Thanksgiving in London 2017? We're running a special indulgence week on About Time, with London's most indulgent desserts, ultimate festive afternoon teas and lots more. This Thanksgiving, discover everything from special menus to unique events – we've found the best ways to feast your way through Thanksgiving in London 2017. It's time to get indulging:
Thanksgiving in London 2017: Our Favourites
1. For Pumpkin Pie: Sea Containers x Edd Kimber
What: This Thanksgiving, Sea Containers Restaurant at Mondrian London will be serving up a play on a classic American menu with a pumpkin pie created exclusively by Great British Bake Off winner, Edd Kimber, The Boy Who Bakes, from 20th-26th November.
The Menu: Taking inspiration from Mondrian London's American-British heritage, the Thanksgiving menu will utilise seasonal British ingredients showcased in American classics, with sharing dishes such as baked pumpkin with braised turkey leg, whole grain mustard and honey, and roast turkey with butternut squash, cranberry and pine nut stuffing. To finish, enjoy Edd's signature pumpkin pie featuring a whisky pastry, a rich spiced pumpkin filling, topped off with a dusting of pecan crumble and a dollop of maple cream. One of favourite ways to celebrate Thanksgiving in London 2017.
Price: Dishes priced individually
Where: 20 Upper Ground, London SE1 9PD
2. For a Proper American Feast: Christopher's
What: Having celebrated this day for over 25 years, Christopher's in Covent Garden has almost become a second home for Americans in London, and on Thursday 23rd November, they're pulling out all the stops for a proper, full-on USA spread.
The Menu: Expect a feast of ballottine of turkey with corn bread, hazelnut and Michigan cherry stuffing, cranberry relish, buttered beans and creamed potatoes – plus the desserts are sure to be winners. Alongside their legendary pumpkin pie, this year sees a new addition to the menu: baked pecan pie cheesecake with Graham cracker ice cream and peanut butter chocolate cookie.
Price: £60 per person
Where: Covent Garden, 18 Wellington St, London WC2E 7DD
3. For Turkey and all the Trimmings: Town House Kensington
What: Available for one day only, 25th November, Town House Kensington will be celebrating Thanksgiving this year with a special 3-course menu featuring a selection of seasonal ingredients and traditional American eats.
The Menu: To start, choose between clam chowder with sweetcorn and celery, Cobb salad or the fresh cornbread topped with avocado and devilled egg. For mains, opt for either the Southern Kensington mixed grill, a medley of beef short ribs, pulled pork, buffalo wings, Boston beans and coleslaw, or the roast turkey with maple roasted carrots and  braised onion jus. And for pud, choose between pumpkin and apple crumble with cacao nougatine and cinnamon ice cream, warm S'mores filled with vanilla ice cream and pecan brittle or blondies – a brownie and rocky road mash up.
Price: £45 per person
Where: 109-113 Queen's Gate, Kensington, London SW7 5LR
4. For an All-Star Party: Bunga Bunga
What: Bunga Bunga is gearing up for an all American Thanksgiving celebration to kick start the holiday season. On Thursday 25th November, the Battersea restaurant are not only knocking out a four-course spread, but will also host a live American five piece band headed up by the fiery Shona Pratt. And there's karaoke too.
The Menu: Immersed in all things Ameri-Talian, everyone is invited to dine on a four-course Italian inspired American feast Mamma would be proud of. Highlights from the menu include turkey breast Milanese, and slow cooked Bunga ribs served with a Jack Daniels honey sauce, followed by Bunga's Thanksgiving special pizza topped with fior di latte mozzarella, roasted turkey, Jack Daniels BBQ glaze, caramelized red onion and pancetta before finishing with a pecan tartlet with Italian vanilla ice cream.
Price: £27 per person
Where: 37 Battersea Bridge Road, Battersea, London
What: Healthy rotisserie chicken joint Cocotte have concocted their very own special menu for Thanksgiving. To prolong the celebrations, the menu will be available from Thursday 23rd November until Sunday 26th November for lunch and dinner.
The Menu: Cocotte's Thankschicken menu will include half a chicken for two (instead of the usual turkey), served with roasted Brussel sprouts with parmesan as well as another side dish from the menu, 2 sauces, 2 desserts and 2 delectable Thanksdrinking spritz cocktails (which blend Belsazar red with Mondino Amaro and soda water).
Price: £50 for 2 people
Where: 95 Westbourne Grove, London W2 4UW
Thanksgiving in London 2017: Great New Menus
6. For a Sharing Menu: Rail House Cafe
What: Rail House Café will mark the American holiday with its first ever Thanksgiving feast, served family style. Available on Thursday 23rd November, the spread will feature classic, well-loved American dishes with a Rail House Cafe twist. A great way to celebrate Thanksgiving in London 2017.
The Menu: Expect roast Norfolk turkey served with cornbread, sausage and sultana stuffing, maple-butter roasted potatoes with crispy shallot and parmesan crumb, creamed corn casserole, glazed sprouts and smoky bacon, green beans and praline, Calvados gravy and cranberry and confit orange relish to top it all off. Dessert is sure to be a showstopper too, with pecan or pumpkin brûlée pie to complete the feast.
Price: £40 per person.
Where: 8 Sir Simon Milton Square, Westminster, London SW1E 5DJ
7. For a Boozy Dinner: Wild Turkey x The Jones Family Project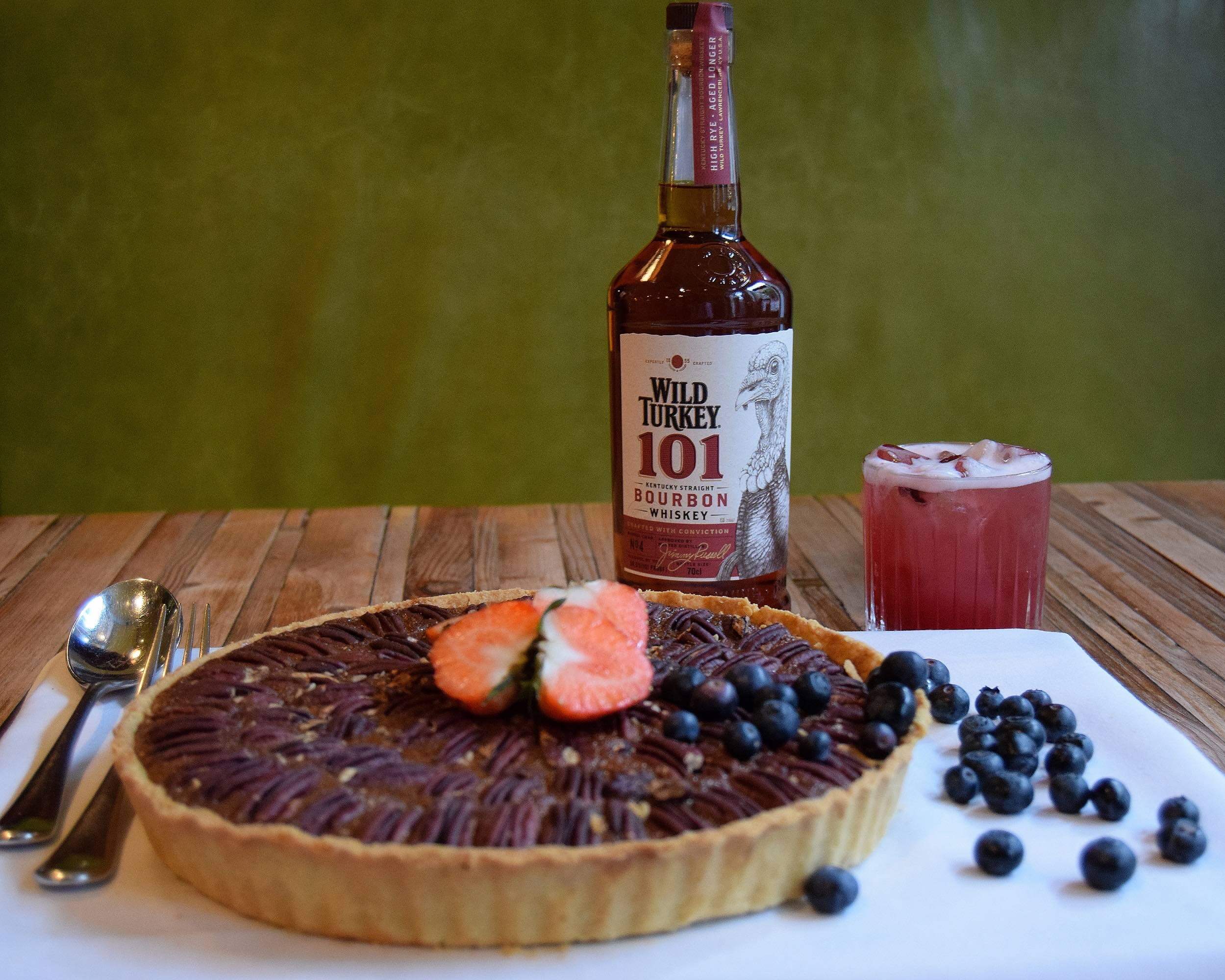 What: Wild Turkey and The Jones Family Project are inviting everyone to make the pilgrimage to east London over Thanksgiving weekend 23rd -25th November for a special dinner. Expect a three-course dinner with a paired bourbon cocktail and wine menu named after iconic U.S songs each celebrating four of the classic American harvest fruits – apples, blueberries, grapes and cranberries.
The Menu: The first course starts with cream of squash soup, topped with winter truffle shavings and pumpkin seeds, paired with Forever in Blue Jeans, a concoction of Wild Turkey 101 bourbon, Aperol, sweet vermouth, blueberry jam, and sugar. Then enjoy roast turkey breast, piled high with cornbread, sausage and sage stuffing, green beans, Brussel sprouts topped with garlic butter and breadcrumbs, smooth buttermilk mash and lashings of glorious gravy. And for dessert, dig into pecan pie topped with nougat ice cream with a side of Sweet Bitter Love, a sweet and sour combination of WildTurkey 101 bourbon, sherry, cranberry, pineapple and a dash of sherry vinegar.
Price: £35 per person or £70 including three bourbon cocktails and glass of wine. Pre-bookings necessary. Bookings can be made by emailing reservations@jonesfamilyproject.co.uk.
Where: 78 Great Eastern St, London EC2A 3JL
Photo Credit: Simon Burell 
8. For All the Sides: STK London 
What: With its beginnings and inspirations firmly rooted in the US, modern American steakhouse STK London are serving up a decadent Thanksgiving banquet on Thursday 23rd November.
The Menu: No Thanksgiving celebration would be complete without turkey and STK are serving this centre stage – slow roasted and organic. The turkey will be served alongside tender, cider braised USDA short ribs, a sweet side of cranberry and an array of indulgent, traditional sides including: sausage and bread stuffing, creamed corn cake, roasted pumpkin puree and green beans with almond crumbs. And there's spiced apple pie with moonshine ice cream for afters.
Price: £39 per person
Where: ME London Hotel, 336-337 Strand, London WC2R 1HA
9. For an Authentic Taste of America: Red Rooster
What: On Thursday 23rd November, Red Rooster Shoreditch – the restaurant within The Curtain – will be celebrating its first Thanksgiving and the restaurant's American roots with a blowout Thanksgiving menu.
The Menu: The menu features cornbread with honey butter and tomato jam, CC's deviled eggs with chicken skin aioli and duck jerky and Helga's meatballs covered in pickled gravy and lingonberries. Roast turkey, cornbread stuffing, cranberry sauce, sweet potatoes and marshmallows, mashed potatoes and green beans is for mains, and mama's apple pie for dessert.
Price: £55 per person and bookings can be made through the website
Where: 45 Curtain Rd, London EC2A 3PT
10. For Meat and More Meat: Big Easy
What: To get you into the swing of things this Thanksgiving, the kind folks at the Big Easy are putting on one hell of a Thanksgiving banquet. Last year was a sellout, so get your tickets, stat.
The Menu: The Big Easy's family-style dinner features pit-smoked turkey with their secret pan gravy or whole Nova Scotian lobster (if you fancy something a little different this Thanksgiving). Mouthwatering sides include southern slow-cooked cornbread stuffing, velvety sweet potato mash, green bean casserole, and other delicious veggies. No Thanksgiving feast would be complete without indulging in their Jack Daniels infused pumpkin pie.
Price: From £35 per person.
Where: Locations here
Thanksgiving in London 2017: Must-Trys
11. For Indian Dishes with an American Twist:  Amaya and Chutney Mary
What: Amaya and Chutney Mary are throwing a Thanksgiving party with some Indian favourites with a few American twists. The menu is available on Thursday 25th November, and it's a five-course feast of bold flavours.
The Menu: Kicking things off is the large diver caught king scallop griddled in a light green herb sauce, followed by tandoori foie gras with tamarind glaze and fresh mango salsa. Choose from either tandoori guinea fowl with kashmiri chilli, fenugreek leaves and mustard, or grilled duck breast cooked in roasted coconut and southern spices. Both dishes are served with a range of sides (sweet potato chaat, caramelised Brussel sprouts and chestnut, and Amaya naan). Finishing off the feast is organic prawn biryani with black rice, and autumn fruits brulee for dessert.
Price: £65 per person.
Where: Halkin Arcade, 19 Motcomb St, Belgravia, London SW1X 8LB
What: Celebrate Thanksgiving Day in true transatlantic style on Thursday 23rd November at 108 Brasserie, with three special courses created by Executive Chef Russell Ford. One of our favourite ways to celebrate Thanksgiving in London 2017.
The Menu: Starters on the menu include: roasted butternut squash salad with walnuts, crumbled goat's cheese and maple dressing; New England clam chowder served with homemade corn bread; and the 108 crab cake topped with spicy smashed avocado and cilantro. There's only one dish you should order for main: roast Caldecott Farm bronze turkey with chestnut stuffing and trimmings (there's also baked mac n' cheese for veggies and salmon fillet for fish lovers). For dessert, order either the New York cheesecake, pumpkin pie, or pecan pie.
Price: £40 per person or two courses at £30.
Where: 108 Marylebone Ln, Marylebone, London W1U 2QE
13. For Dutch Babies: Where the Pancakes Are
What: This Thanksgiving, Where The Pancakes Are will be paying tribute to the American harvest holiday with a special menu featuring traditional turkey and autumnal pumpkin.
The Lowdown: Usually open until 4pm on weekdays, Where The Pancakes are will be serving its seasonal spread from 8am to 9pm on 22nd– 24th November, offering Londoners an all-day Thanksgiving treat. The set menu features a starter of buckwheat lavash with spinach and cheese dip followed by the exclusive Thanksgiving baby, a twist on the restaurant's very successful 'dutch babies'.  An oven baked pancake stuffed with pulled turkey, roasted brussel sprouts, pumpkin and sage, served with the all-important cranberry sauce. This will be followed by spiced pecan pie, a take on an all-American classic. The meal will start with a glass of prosecco, a glass of red or white wine to accompany the dutch baby, and a festive eggnog latte to finish.
Price: £27 per person.
Where: 85a Southwark Bridge Rd, London SE1 0NQ
Photo Credit: Jade Nina Sarkhel
14. For an NYC-Inspired Dinner: Dirty Bones 
What: NYC-inspired comfort food and cocktail hangout, Dirty Bones, knows how to do festive food right. They're launching their holiday menus on Thanksgiving itself, and it features their heavenly fried white poultry.
The Lowdown: Dishes include; pork belly lettuce cups; chorizo charred octopus; fried chicken and sweet potato waffles; lobster mac n' cheese; rib-eye steak; pumpkin cheesecake; the stickiest toffee pudding and so much more. And their vegetarian and vegan options are just as epic.
Price: From £24 for three courses
Where: Locations here 
Photo Credit: Paul Winch-Furness 
15. For Live Music and Dinner: The Imaginarium
What: Thanksgiving does not have to be solely about indulgence, it's a time to think of what we are thankful for and celebrate all the goodness in the world. The Imaginarium will be hosting a thankful Thanksgiving feast (22nd November) with live music, and ancient stories from Andrew Begay; a rare opportunity to experience the richness of Native American culture directly with a man who serves as a bridge between his ancient, living culture and a modern experience of life.
The Lowdown: The entertainment will be accompanied by 12 dishes of soul food, 8 of which are vegan, and all meat, fish and dairy is sourced ethically. The menu has been created by Slap Ya Papa, and inspired by the plentiful plates of Louisiana.
Price: £45 per person. The Imaginarium will be sharing proceeds of the night with three charities supporting indigenous communities and their rights and culture (Standing Rock, Del Pueblo Para el Pueblo and Cultural Survival).
Where: The Imaginarium Hunter Penrose, 32 Southwark Street, London, SE1 1TU
16. For a Three Course Dinner: New St. Grill 
What: Located in a historic 18th century warehouse near Liverpool Street, New St Grill offer the perfect pre-Christmas turkey dinner by the way of an all- American feast in celebration of Thanksgiving.
The Lowdown: The menu created by Head Chef Barry McMillan will run from 20th – 24th November, and will mark the US celebration with a festive cocktail in Old Bengal Bar followed by a 3 course feast in the Grill. Get stuck in to New England clam chowder andJohnny cakes, followed by a succulent butter and thyme roasted turkey served with trimmings including bourbon and maple glazed sweet potato, greens and mash. Save space for the pecan pie served with buttermilk ice cream.
Price: £50 per person
Where: 16 New St, London EC2M 4TR
Thanksgiving in London 2017: Special Dishes
What: Head to King's Cross and join the newly opened burger bar, Cut + Grind, in celebrating Thanksgiving this year with an all-American offering – The Gobbler – to say thank you to our friends from across the pond, who inspired the chefs to perfect the mighty patty.
The Dishes: Available from 20th-26th November, this limited edition burger will offer the best bits of a traditional Thanksgiving feast; a succulent turkey mince patty topped with plenty of American sausage stuffing, sweet potato rostiI, red cabbage, American mustard and rich turkey gravy, packed into a toasted brioche bun. One of our top ways to celebrate Thanksgiving in London 2017.
Price: £13
Where: The Urbanest Building, 25-27 Canal Reach, King's Cross, London N1C 4DD
18. For a Waffle: BIRD x Frank's RedHot
What: Frank's RedHot has teamed up with chicken and waffles joint, BIRD, to launch the 'Franksgiving' special. Available from Tuesday (21st November) for five days only – the new waffle creation is a spicy, meaty extravaganza.
The Lowdown: The limited edition Thanksgiving masterpiece features an American-style waffle base stacked with creamy mash, stuffing, gravy and a crispy-fried chicken breast oozing with Frank's RedHot.
Price: £11
Where: Locations here