About Time: You Tried London's Most Indulgent DessertsBy Angelica Malin
To celebrate our special Indulgence Week on About Time, we tasted our way through some of London's most indulgent desserts to find our absolute favourites. Stay in the loop by following us on Twitter and using the hashtag #ATindulges. Baby, it's cold outside – here's where to get your sweet fix in the capital this week:
Must-Try: Salted caramel brownie sandwich with salted caramel ice-cream and hot dulce de leche sauce (£9.50 for 2 to share)
The Lowdown: Timmy Green is a great all-day spot in Victoria with a great Aussie-inspired brunch, prime grass fed meats and childhood-inspired small plates. Located in Nova, Victoria's newest upscale development, Timmy holds 150 covers and is set over two floors with an alfresco extended outdoor seating area. We love how the restaurant turns from a coffee shop, all-day cafe and lunch spot to a buzzing cocktail bar and restaurant in the evening. You can't miss their award-winning banana bread sandwich and coconut bread french toast on brunch menu!
Where: 11 Buckingham Palace Rd, Westminster, London, SW1E 5DJ
Photo Credit: Leyla Kazim
Must-Order: Chocolate Fondue – melted chocolate with a selection of items to dip: fresh fruit, brownie chunks, marshmallows (£12 for two to share)
The Lowdown: Jaz & Jul's in Islington is a chocolate-lovers' dream; expect lots of great cakes and pastries, all baked in house, and a delicious chocolate-themed brunch. On the weekend, indulge in their bottomless brunch – choose one savoury and one sweet item from their brunch menu, accompany it with unlimited drinks. For something delicious, try the sweet waffles with banana, chocolate sauce and crushed peanuts. What's more, all of Jaz & Jul's proper hot chocolates can be made boozy by adding a shot of your favourite organic liqueur – and you can add whipped coconut cream and vegan marshmallows too!
Where: 1 Chapel Market, London N1 9EZ
Photo Credit: Kirsty Owen
What: Stacked Hot Chocolate (£5.40)
The Lowdown: Camden Market's Cereal Killer Cafe is brimming with 90s nostalgia. Dedicated to selling cereal with over 120 international varieties and 30 types of milk and 20 types of toppings, they've also created ​the ultimate hot chocolate indulgence serve, available in regular size or to cosy up and share. Choose the stacked hot chocolate and opt for one of the delicious twists: peanut butter, salted caramel, Nutella, strawberry and white chocolate. One of London's most indulgent desserts, and our total favourite.
Where: Cereal Killer Cafe, ​Stables Yard, Camden Market, Chalk Farm Rd, NW1 8A
What: Ice Cream Sunday (from £5.50)
The Lowdown: The Parlour at Fortnum and Mason is guaranteed to impress anyone – the perfect place for a fun and delicious outing. Expect a build-your-own sundaes bar, where visitors are treated to a menu detailing every way to eat ice cream, including a gin and tonic float.
For a sweet treat, cosy up with a Parlour Hot Chocolate – with the choice of milk, dark or white, you can make it merry with Thunder Toffee Vodka, Butterscotch Schnapps or Grand Marnier, all topped with whipped cream and chocolate shavings. Delicious stuff.
Where: 181 Piccadilly, St. James's, London W1A 1ER
What: Indulgent Hot Chocolate (£4.50)
The Lowdown: ​Look no further for quirky hot chocolates than Camden Market's Chin Chin Labs – Europe's first liquid nitro ice cream parlour​. They have pimped up the hot chocolate experience – expect a delicious hot chocolate, complete with torched homemade marshmallow fluff. For your Instagram feed alone, it's something you simply must try.
Where: 49-50 Camden Lock Place, London, NW1 8AF, UK
What: Nutella Calzone (£10)
The Lowdown: Expect a quirky pizzeria and Italian-themed bar with Sistine Chapel stairway, live performances and karaoke – the perfect place for a bit of Christmas fun. This dessert is not for the faint-hearted – their Nutella and walnut-filled calzone is delicious and absolutely huge. Nutella pizza? We're listening.
Where: 37 Battersea Bridge Rd, Battersea, London SW11 3BA
What: Whisky Sticky Toffee Pudding  – whisky caramel sauce with vanilla ice cream (£6.50)
The Lowdown: Mac and Wild are a group of Scottish restaurants in London serving up the best of Scotland's produce from steak, burgers and seafood. They feed Londoners with some of the wildest, most delicious meat in the world, along with a carefully selected variety of seasonal Scottish produce from handpicked suppliers and producers from the Highlands. They also do a great sticky toffee pudding with the most delicious caramel sauce, the ideal winter treat.
Where: 65 Great Titchfield St, Fitzrovia, London W1W 7PS
What: Alice in Wonderland Cake (£109)
The Lowdown: Looking for something special? Anges de Sucre are your London-based Cake baking angels – they are an amazing cake shop and deliver all over London. Take your sweet tooth somewhere truly decadent with their award-winning cakes: birthday cakes, wedding cakes, baby shower cakes, cupcakes and lots more. Stylish, totally excessive, sometimes crazy and always mouth-wateringly tasty.
Where: Delivery and Selfridges
What: Sticky toffee pudding with vanilla ice cream (£6.50)
The Lowdown: Worth travelling for – homegrown, homemade, produce driven, The Swan is a food lovers' dream in the Cotswolds. Perfect for simple suppers to special occasions with family & friends, this is one restaurant you don't want to miss. All their food is incredible, but they do simply the best sticky toffee pudding I've ever tried – perfect for devouring by a roaring open fire with a glass of mulled wine.
Where: Lechlade, Southrop, Gloucestershire GL7 3NU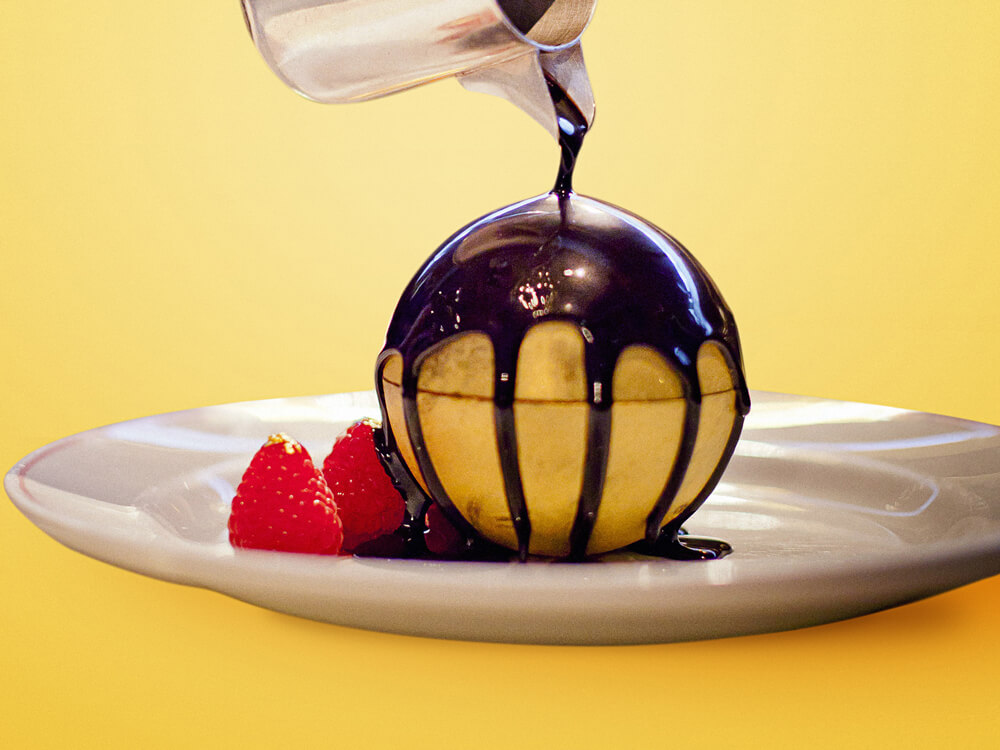 What: Signature Chocolate Glory – chocolate mousse, chocolate brownie, berries, passion fruit and orange jelly (£13.50)
The Lowdown: Bob Bob Ricard, the iconic Soho restaurant, serves a luxury English and Russian menu to its eclectic clientele in London's most glamorous dining room. This dessert is one of the most famous in London – for good reason. Expect an absolute feast of chocolate brownie, fresh berries, delicious melt-in-the-mouth mousse and so much more. There's also a 'press for champagne' button at every table, so you won't go thirsty here.
Where: 1 Upper James St, Soho, London W1F 9DF
Photo Credit: Bob Bob Ricard 
One for luck…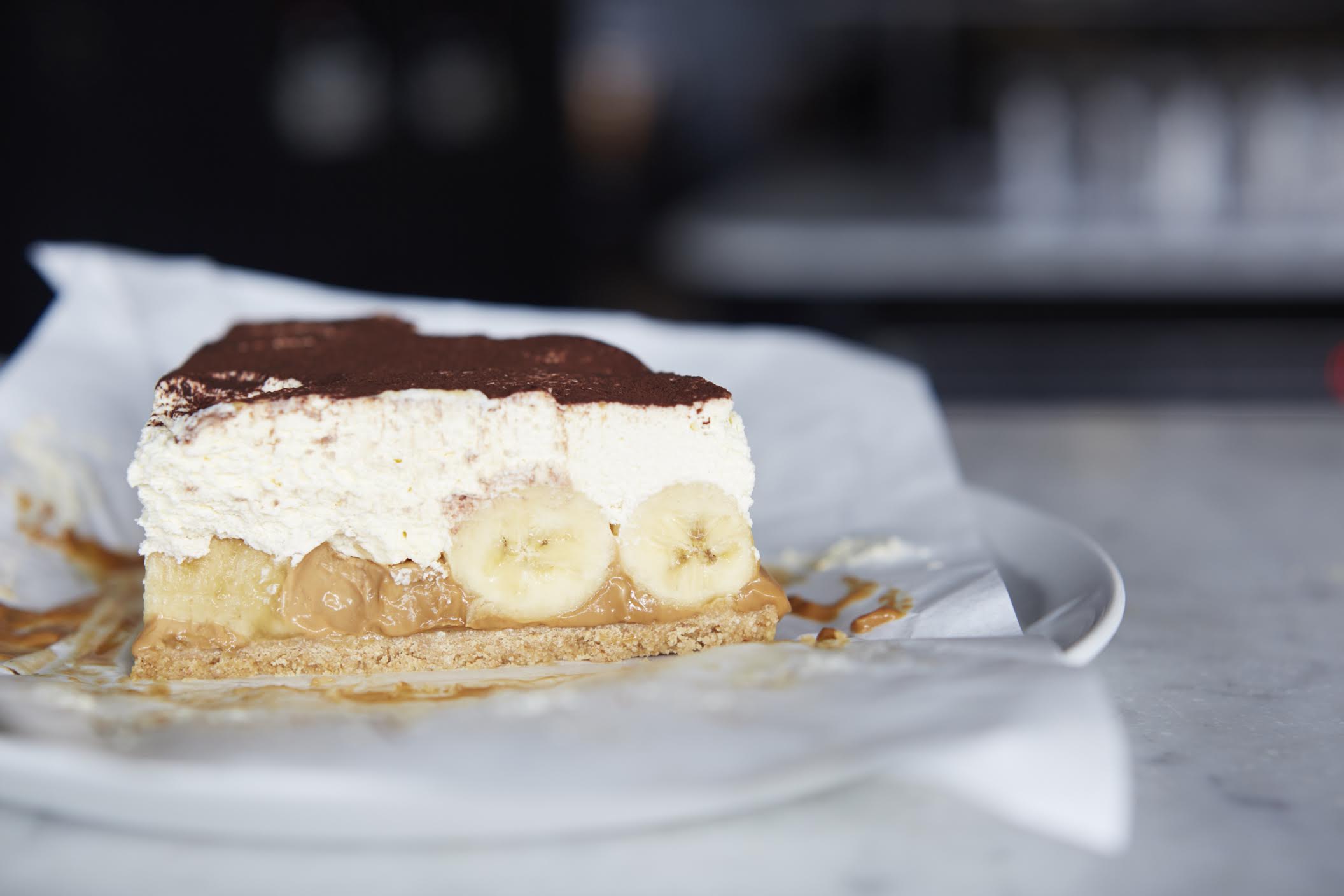 What: Banoffee Pie (£5.50)
The Lowdown: The Princess Victoria has just re-opened on Uxbridge Road! Now run by the Three Cheers Pub Co. team and followed by an extensive refurb it's looking smart and sparkly in time for the festive season, and includes a handsome horseshoe-shaped bar featuring over 100 gins and 40 beers, a dining room, and party rooms upstairs which can accommodate up to 50 dining.
Where: 217 Uxbridge Rd, Shepherd's Bush, London W12 9DH
Photo Credit: Lisa Linder