About Time You Met: Hasan Defour, Executive Chef at BaygoBy Alicia Grimshaw
Baygo is shaking up the standard lunchtime offering with their healthy and fresh Caribbean fare. A new kind of food, Baygo has transported traditional dishes from the islands of the Caribbean and reinvented them for a fast-paced City lifestyle. We sat down with Hasan Defour, Executive Chef at Baygo to chat food, business and starting out:
You've worked in restaurants across Singapore – what made you move back to London? 
My initial move out to Singapore was to open the Lime House Caribbean restaurant. I remember the first email I received from the founder and my business partner Chris Morris explaining the idea. 'I was doing Caribbean food in Singapore how am I going to get the ingredients for the dishes? What about the language barriers.'
Five years on Lime House is still the only Caribbean restaurant in Singapore. During my time there we decided on creating a grab and go Caribbean concept in the central business district. It was during this time we met a business partner/investor who saw the idea and asked if we were doing it anywhere else in the world. He loved the concept and wanted to take it to London. I was put in charge of the menu development and moved back once we had organised a replacement for the Singapore restaurant.
What's the ethos behind Baygo?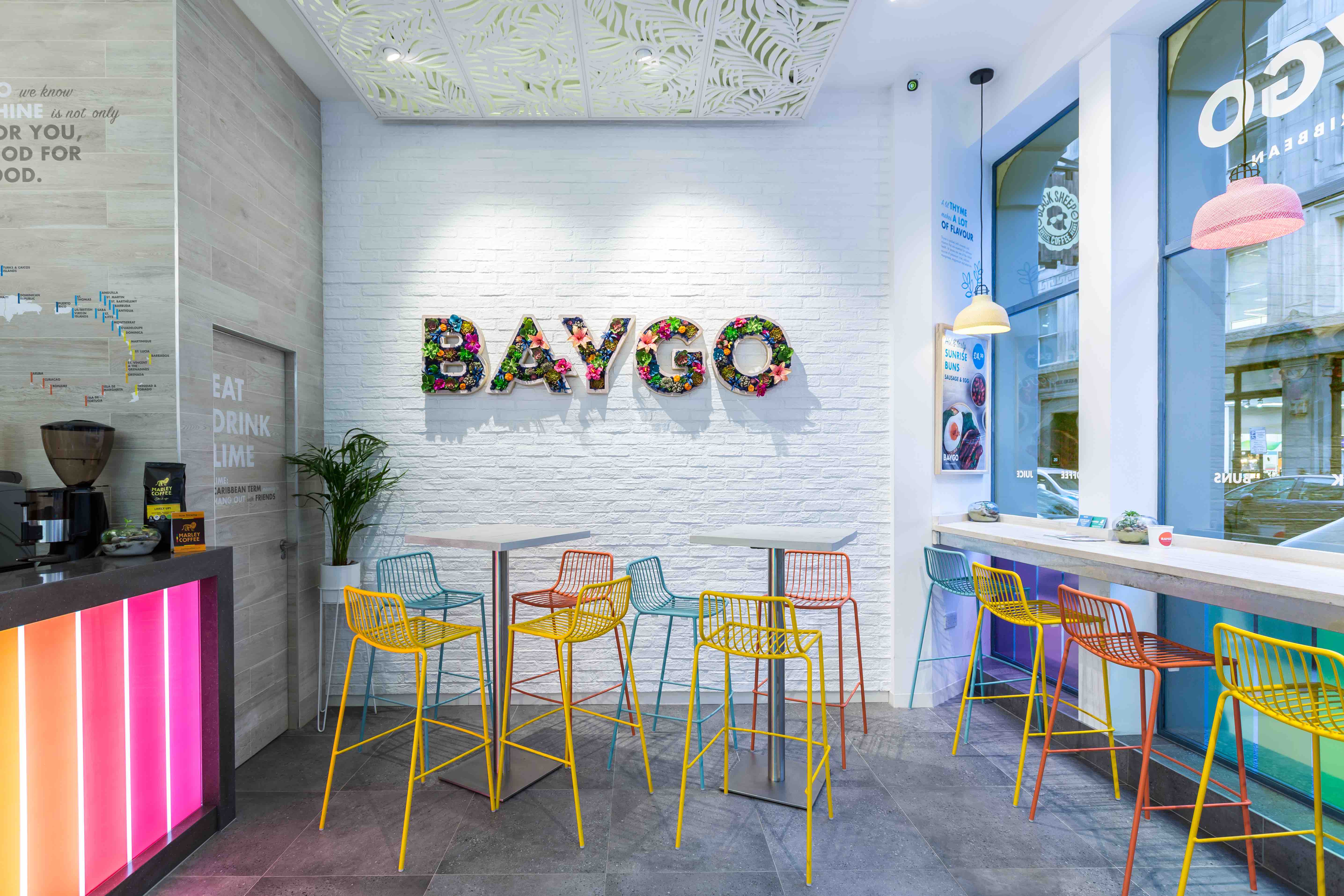 The ethos of Baygo is to change the mindset of the general public and how they see Caribbean food. We aim to create a fresh, healthy eating experience of Caribbean sunshine food in an environment that is fast paced and able to provide consistency in both product and service.
What can people expect from the menu? 
We've developed a menu that takes you on a Caribbean culinary journey, from the Caribbean classic of Jamaican jerk to St Lucian "Creole" sauce, to the curries of Trinidad and Tobago and lots more other island flavours.
Baygo's menu has been carefully developed to ensure we have those traditional Caribbean flavours; we only use fresh high-quality produce to create dishes. We've ensured the nutritional value of the dishes are more inline with the way the general public are eating, as there's been a surge in meat-free and plant-based eating. There's a term we use in the Caribbean called 'Ital', which is based around a plant-based diet. In the Caribbean, we've been catering for vegans for a long time.
What do you think of the Caribbean food scene in London? 
I'm a champion of Caribbean food, and I've been involved with the promotion development in London over a decade now.
The Caribbean food scene has exploded in London over the past few years and it's just amazing to be part of it! We at Baygo are pioneers of that journey because we've created the first Caribbean grab and go concept in London. There has been an increase in branded Caribbean restaurants which have paved the way by giving more people the opportunity to try the cuisine. This in turn had increased the public's awareness and willingness to experiment, and trying to recreate their own Caribbean flavours. And there's now more Caribbean products in the mainstream supermarkets and people are using them – so it's a great time for Caribbean food.
How long did it take for you to create the menu? 
The menu took about 6 months to create. This process started with me creating a variety of dishes from the Caribbean islands for the team to try. We then used a food development company to fine tune this, and part of the development included numerous tastings with our target market to ensure we were creating  a product the public wanted.
What's your first memory of food?
Growing up in Trinidad and Tobago I always remember my mum and dads' creative dishes; the smells and the tastes are still the essence of my love for food. Living in Trinidad opened me up to a melting pot of cultures, as there was always a celebration – from birthdays to religious festivals like Eid and Diwali.
What drew you to the food sector? 
I was in love with food from a very young age! When I started secondary school I wanted to do food and nutrition at that time boys had to do woodwork and technical drawing, and the girls took home economics. I insisted on doing home economics and the administration office allowed two other boys who had to same interest to join the class. We excelled and the school actually changed the set up allowing both boys and girls to do the two subjects. I haven't stopped since then.
What's the future plans for Baygo? 
Our plan is to create a few more outlets this year to grow the brand and help raise the awareness of fresh, healthy Caribbean food. From there we intend to spread across London and the rest of the UK, and I would love to see the concept in the Caribbean islands too!
How do you keep a work/life balance? 
Cooking is my passion, so it doesn't feel like work. Family keeps me grounded and I love to see new places and experience different cultures and cuisines. I've been blessed because my work has given me all these opportunities.
There's so many restaurants and eateries in London – how do you  stand out from the crowd? 
No one has done what we are doing with Caribbean food. We're showcasing that the food of the Caribbean is more than just rice 'n' peas and curried goat and jerk chicken. Our aim is to give you five minutes of sunshine – it could be from the healthy food, the music, ambience or the vibes and energy of our team.
What person or place has inspired your cooking the most? 
Without a doubt it's my mum, she's a master of the Caribbean cook house. I must give a mention to my food and nutrition teachers a St George's College in Trinidad as they gifted me with a spark about other cuisines of the world, and gave me that desire to know more.
For more information on Baygo, visit their website here. Baygo, 27-29 Eastcheap, London, EC3M 1DE