We might be known for our brunching ways, but we're also big fans of sandwiches. While you can't beat a good ham sarnie and a packet of cheese and onion crisps – we're all about the beef life, salt beef in fact. We take sandwiches very seriously and there's nothing worse than a badly made, poor quality sandwich. Here are London's best salt beef creations:
1. Best Traditional: Beigel Bake
What: Bagel with traditional salt beef (£3.70)
Why: This isn't just a bagel place, but an institution. Serving hungry Londoners to clubbers and early-risers – without sounding like a tour guide operator, Beigel bake is a must visit. Swerve the pastries and order the bagel with traditional salt beef  – it's why you went there and you won't be disappointed. Freshly baked bagels stuffed full of expertly cooked salt beef. It's the stuff of dreams, people. Best of all, if you fancy a bagel early doors the place is open 24 hours. Brinner is definitely OK in our books.
Where: Brick Lane, London
2. Best DIY: Delancey & Co
What: Big Beef – your choice of bread with salt beef, pickle and mustard (£7.95)
Why:  If you haven't been to Delancey and Co, you really have to. If for nothing else but the Smores' with fluff, nutella and banana on Challah bread. They do absolutely killer food at breakfast and lunch, and it's a peanut butter lovers dream.  The concept is simple: choose between Challah, rye or poppyseed bagel, and one of the epic fillings. For lunch time, it's all about the smoked salmon bagels and salt beef. We love the over-the-top sandwiches – make ours a Pizza Bagel with salt beef, cream cheese, tomato sauce, mozzarella and oregano. Nom.
Where: No.34 Goodge Street W1T 2QL London
3. Best All-Rounder: Mishkin's
What: Brick Lane salt beef with Colman's mustard and pickles (£5 /£10)
Why: Word on the street is that Mishkin's was established back in 1931 by Ezra Mishkin, with the current restaurant operating since 2011. Mishkin's is all about serving Jewish comfort food with love, giving traditional recipes a playful makeover, whilst also providing healthier alternatives. Their sandwiches are what they're known for, but their baked cheesecake is something very special. The chaps at Mishkin's are also a dab hand at creating some seriously good cocktails full of punchy flavours, with their maple old fashioned our favourite. Ooh-er.
Where: 25 Catherine Street, London, WC2B 5JS
Photo courtesy: Paul Winch-Furness 
4. Best Homemade: Monty's Deli 
What: Salt beef sandwich (small £4.50, regular  £7)
Why: Opened in 2012, Monty's Deli is all about perfecting the classic sandwich. They bake their own bagels, cure their meat, make their own special mustard and even bake their own rye bread. Their portions are large and much like KFC's crispy chicken skin (how do they do it?!)  their recipes are closely guarded secrets. At Monty's Deli you get good, Jewish food made with love. Monty's Deli is a must for any sandwich fan. Take that Subway.
Where: 76 Druid Street, London SE1
5. Best for Filling: Brass Rail 
What: Brass Rail Reuben – hot salt beef toasted with sauerkraut, Swiss cheese, gherkin and Russian dressing (half £8.95, whole £14.95)
Why: Selfridges iconic restaurant Brass Rail has been dishing up salt beef sarnies for 50 years and recently re-opened following a snazzy makeover, along with introducing a new brekkie menu featuring granola, eggs and the new all-day Bialy roll (a bloody massive hot salt beef sandwich with melted Swiss cheese, gherkin, gem lettuce and exclusive Brass Rail relish).  Brass Rail certainly holds its own in the salt beef stakes, their sandwiches are large and filled with tender salt beef and a range of different toppings and condiments.
Where: Ground Floor, Selfridges, 400 Oxford Street
6. Best Quirky: Tongue and Brisket
What: Salt beef stack – salt beef, latka and fried egg on a bagel or toast and tea or coffee (£4.50)
Why: There are many reasons why Tongue and Brisket are in the running for the best salt beef sandwiches in London. Their sandwiches are reasonably priced, with all of the meat house-brined and calved on site, no processed or pre-packaged food here. There's no extensive menu, with a small selection of sandwiches on offer – stick to one thing and do it really, really well. The guys at Tongue and Brisket know what goes into making a good ol' sarnie – well cooked meat using the finest possible ingredients around.
Where: 7su, 22 Leather Lane, London EC1N 7SU
7. Best Jewish: B & K Salt Beef Bar
What: Salt Beef (£6.50)
Why: When there's salt beef in the name, you know you're onto a winner. B & K have two outlets across the city, but it's the Edgware branch that is our go-to. Mike, or Mickey as he's known to his regulars is the man behind the carving knife and is known to dish out a few foodie treats while you wait. Along with regular salt beef toppings, B & K also give you the option of adding chopped herring, diced liver and heaps of salad. Friendly staff, impeccable service and some of the best salt beef sandwiches in North London. That, my friend, is a sandwich win.
Where: 11 Whitchurch Lane, Edgware Road, HA8 6LR
Photo Courtesy: Pies and Fries 
8. Best Family Recipe: Nana Fanny's 
What: Hot salt beef with thick cuts of sweet and sour pickles served on beigels or rye bread.
Why: Nana Fanny's have got the balance just right. For the meat lovers, their salt beef sandwich is tender, moist and downright delicious with the beef cooked using a family recipe from 1944. Veggie? Fear not, they serve a cracking falafel wrap with salted pickles, parsley lettuce and additional home-made chilli sauce. The portions are huge, the ingredients is fresh and everything is made to order – crikey, even Jamie Oliver is a fan.
Where: Markets across London. Locations here
Photo courtesy: Instagram M Kez 1986
9. Best Pimped Sandwich: The Bell & Brisket
What: The Lord Rupert – beef, pickled cabbage, Dijon, melted cheddar & gherkins.
Why: People say there's nothing worse than a soft apple and in Bel Shapiro's case, the lady behind The Bell & Brisket there's nothing worse than a badly made salt beef bagel. The Bell & Brisket have pimped the classic salt beef bagel in a big way by adding some unusual combinations of pickles, various cheeses and a whole array of different condiments. No one should have to settle for a sad sandwich when The Bell & Brisket are around.
Where: Locations here
10. Best Street Eat: The Jewish Deli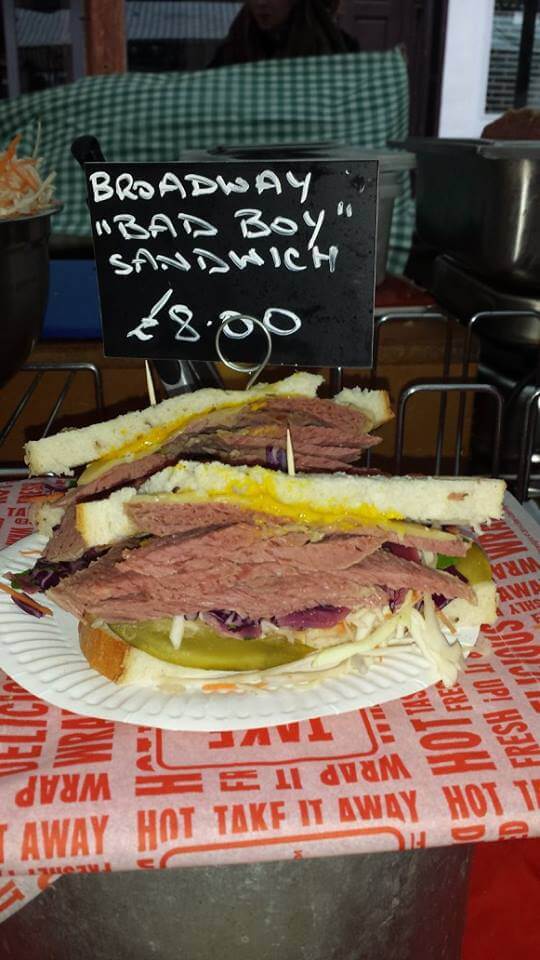 What: Salt beef bagel topped with mustard and pickles
Why: Ivan Lester the man behind the wonderful salt beef bagels being served at The Jewish Deli  still sticks to his family recipe which has been passed down through generations, this man knows his beef. Don't go asking what salt he uses, as he won't tell you – his recipes are top secret. A salt beef sandwich here isn't fancy and doesn't contain half the veg aisle – it's simple, honest street food done very, very well.
Where: Saturdays 9am-5pm, Broadway Market
And one for luck…
11. Best Show Stopper: Reubens
What: Salt Beef Sandwich (£15) with pickles, sauerkraut and so much more
Why: Reubens Restaurant was established in 1973 and has been serving its famous Salt Beef sandwiches day in, day out, ever since. Under the supervision of the Sephardi Kashrut Authority, they are the only kosher restaurant in the West End to offer traditional cuisine at affordable prices. Second to none when it comes to quality, all their meat is Glatt Kosher supplied by the finest kosher butchers available today. Their world famous salt beef is steamed in a special way with a special recipe to produce what is considered to be some of the finest salt beef in the world. Hell yes £15 for a sandwich.
Where: 79 Baker St, Marylebone, London W1U 6RG, United Kingdom