It's National Chocolate Week! If you haven't read our guide on the best things to eat, drink and do in the capital to celebrate, check it out here. And after all that, if you're longing to put your feet up with a cuppa and a decent chocolate bar – we've rounded up a stellar list of start-up chocolate brands you need to know about in 2016. Dig in:
1. For a Chocolate Delivery: Love Cocoa
The Story: Entrepreneur James Cadbury (yes, he's part of the Cadbury family) has launched an ethical chocolate start-up, inspired by the historic brand's British heritage. But these bars won't be available to pick up just anywhere: they'll be posted through letterboxes in a bid to shake up the greetings card market. In 2010, Cadbury was subject to a hostile takeover by American corporation Kraft, but James' Love Cocoa collection is firmly fixed in British tradition.
The Chocolate: Love Cocoa bars are handcrafted in the UK using organic, fair trade cocoa, ethically sourced from the Dominican Republic and Ecuador. Other natural ingredients are supplied by independent British producers as far as possible – for example, Barnes & Webb honey (London), Summerdown Farms English mint (Basingstoke) and Maldon Sea Salt (Essex). The array of chocolate bars comprises a series of British icons: Honeycomb and Honey, English Mint, Earl Grey and Maldon Sea Salt, as well as classic Milk (37% cocoa) and Dark (70% cocoa). Yes please.
Where: Order online 
2. For a Naturally Sweetened Chocolate: MAZA
The Story: The story of MAZA began in Christmas 2015, when founder Asma was looking for a present for her daughter. She searched high and low for some luxurious dark chocolate with a high cacao content without any sugar, but was met with nothing but disappointment. It was then that Asthma decided to set about making her own. After much trial and error, Asma finally succeeded. The end result? The UK's first ever chocolate to be sweetened with organic palmyra nectar, a unique ingredient harvested from the blossom of the palmyra tree, which endows MAZA chocolate with a rich taste.
The Chocolate: All the cacao is single origin, high quality and ethically sourced, so that the farmers receive a fair price. While all 3 varieties contain 70% cacao, their flavour profiles really differ depending on the origin of the cacao used. For example, the Almond Butter chocolate uses cacao sourced from Columbia and the Dominican Republic, while the Coconut Chocolate is made with Madagascan cacao, which has a natural berry-like flavour and colour. Almond butter chocolate = the dream.
Where: Order online
3. For Nutritious Chocolate: Adam's Fresh Chocolate 
The Story: Breaking the mould with an innovative mix of natural plant-based sugars and cacao, Adam's Fresh Chocolate was established by lifelong friends Adam Farag and Mark Claydon. The chaps have produced a unique range of organic raw chocolate products, packed with compounds, micronutrients and bags of flavour. Inspired by the need for a health-kick following a back injury over ten years ago, chef Adam discovered that micronutrients in raw plant foods can do a great deal of good and this led him to create this ground-breaking chocolate.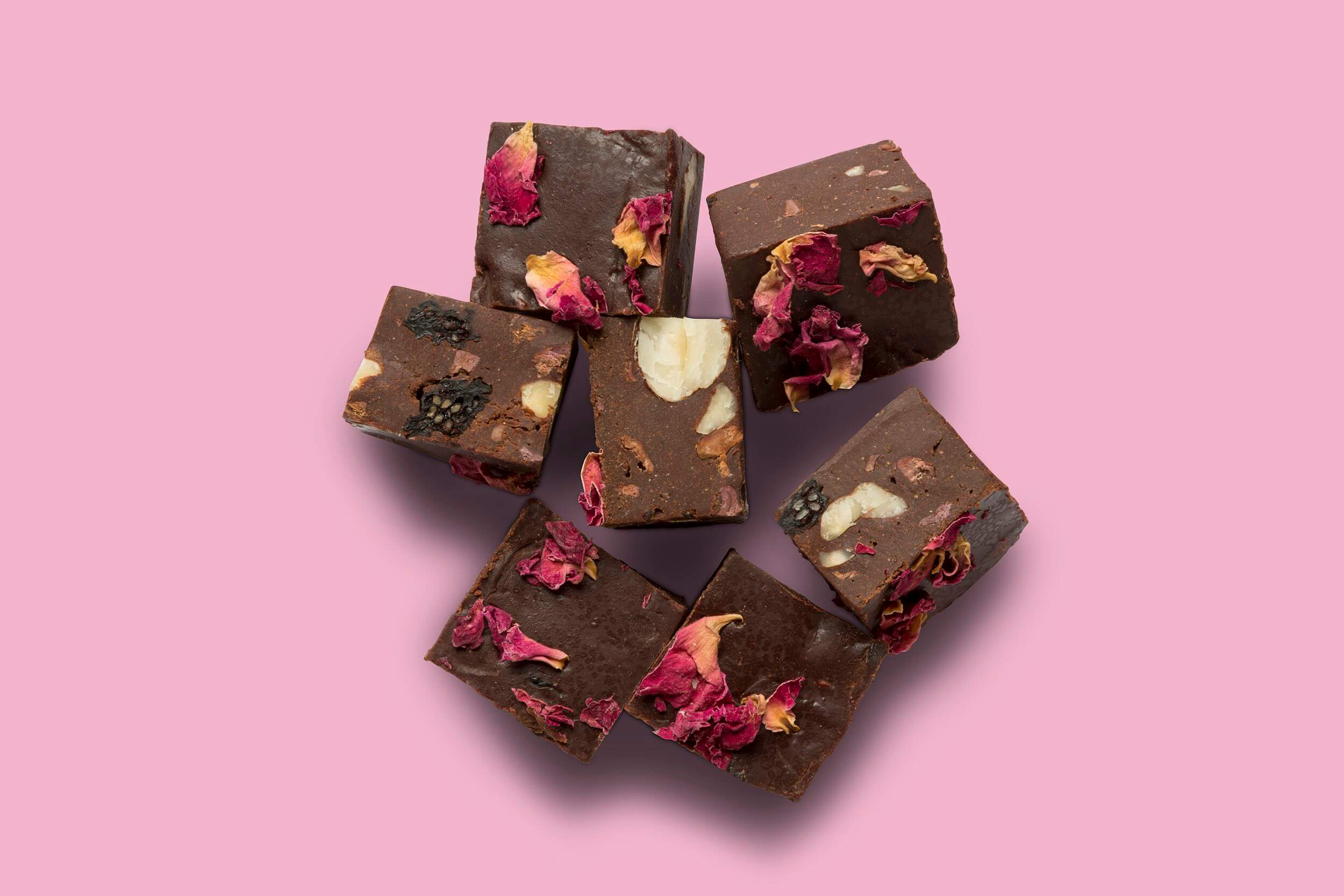 The Chocolate: The chocolate is made from organic, single origin, unroasted cacao and other superfoods, including combinations such as Goji and Pistachio, and Coconut and Banana. The chocolate is packed full of micronutrients and has an enticing fudge like texture, making it a step into the unknown for those tasting the product for the first time. Free from refined sugars, dairy, gluten and soy, this innovative chocolate gives a burst of energy without the usual sugar crash to follow.
Where: Buy online 
4. For Gluten-Free Chocolate: Well + Happy 
The Story: Founder Chelsea fused her knowledge of nutrition with her chocaholic nature, to create Well + Happy. Chelsea made it her mission to curate indulgent treats, which are kinder to your body, your mind and to the planet. Well + Happy's approach is to keep it natural, beautiful and simple.
The Chocolate: The bars contain no dairy, refined-sugar or gluten and are always made with organic ingredients, ethically sourced. Most generic chocolate bars contains synthetic vegetable oil and soya lethicin – theirs are free from these and contain 100% natural ingredients. The dark chocolate range includes; Chunky Monkey – dark chocolate, infused with banana and buckwheat -Pistachio and Vanilla and Midnight Dark, made with less coconut sugar and extra cacao.
Where: Yumbles and their website
5. For Vegan Chocolate: Essy and Bella 
The Story: Essy and Bella understand the need for good, dairy-free chocolate. Ditching the usual bland free-from flavours, they've worked hard to create chocolate products that are suitable for both people with allergies, and for people to enjoy, regardless if they don't have any special dietary requirements.
The Chocolate: Made with the finest ingredients, all of the products are dairy-free, gluten-free, and suitable for coeliacs and vegans. The dairy-free milk chocolate is made using rice milk, and come in a range of flavours. These include; Lime and Sea Salt, Peppermint and Cacoa Nib, Sunflower Seed and Sea Salt and Orange. There's also a gourmet range, inspired by British desserts, white chocolate bars, and a crunch range using gluten-free puffed rice.
Where: Order online 
6. For Proper Chocolate: NomNom
The Story: Started by bright young thing, Liam in a cowshed in West Wales, NomNom chocolate is some of the finest chocolate that has ever been created in Wales. Fact. All the bars are made by hand, by a small team that are passionate about glorious flavours, using ingredients from local suppliers and small businesses.
The Chocolate: Their cocoa is always sourced from a single region that naturally gives it a beautifully unique character. The Peanut Butter Bar is made using 44% Venezuelan milk chocolate, ridiculously Welsh peanut butter and Anglesey sea salt. The Halen Môn Bar features 44% Venezuelan milk chocolate and oak smoked Anglesey sea salt. They've recently teamed up with Black Mountain Roasters (another welsh company) and Chase Vodka to create a special Espresso Martini Chocolate Bar.
Where: Buy online
7. For High-End Chocolate: Lucocoa Chocolate
The Story: Lucocoa Chocolate is a London based start-up by Amarachi Uzowuru and Andy Clarke, who are responsible for the whole operation – from sourcing the beans to wrapping the bars. With a passion for health and fitness, they decided back in 2014 to challenge the status quo of chocolate. The duo make luxury chocolate that's better for you – we totally love it.
The Chocolate: All of the beans are sourced from a number of countries around the world, primarily located in Central and South America, but also in Africa. The coconut sugar is naturally produced in Central Java, Indonesia. It's unrefined and known for its low GI at 35 compared with regular table sugar at 65-70. That's not all, they coconut butter, lucuma and milk powder is certified organic.
Where: Order from their website 
8. For Dairy-Free Chocolate: Ethicoco
The Story: Ethicoco is a new start-up on the block, specialising in vegan chocolate. Named as the only bean to bar chocolate manufacturer in Hampshire, the company make chocolate in a strict dairy and nut free environment, championing organic farming practices, with all cocoa ethically sourced.
The Chocolate: All the ingredients are naturally grown, with beans certified by the Rain Forest Alliance, The FairTrade Organisation and are sourced via direct trade. The 'milk' chocolate bars are produced with oat milk, while all the chocolates use unrefined raw cane sugar. Nibble on flavours such as Matcha Rice Mlyk, Chai Latte, Dark Peppermint, and Orange and Peppermint.
Where: Buy online 
9. For Raw Chocolate: Raw Halo 
The Story: At Raw Halo, they don't believe in faddy diets; it's all about healthy living from the inside out. They don't make promises about quick-fix weight loss or an inner glow, but they're confident that their chocolate bars will help to nourish your body and boost your energy levels. Founder and chief chocolate maker Meg understands the importance you place on what goes into your food. That's why they're honest about what's in their bars and where the ingredients come from.
The Chocolate: Raw Halo chocolate is 100% natural and free from refined sugar. It's also free from artificial sweeteners, gluten, wheat, eggs and lactose. What's more, eight of the bars are vegan, too. They use significantly less coconut sugar than other raw chocolate companies; their Pure Mylk bar has almost half the amount of total sugars compared to other leading raw chocolate companies. An excuse to have a little Raw Halo every day? We like to think so.
Where: Online here and in all good health stores
10. For Quirky Chocolate: Seed and Bean
The Story: Since its launch, Seed and Bean's mission has always been to create the most ethical, sustainable, handmade British chocolate. They believe in courageous chocolate, mixing flavours from nature to transform the simplicity of a pure cocoa bean into what they call kaleidoscopic moments of pleasure; some tastes are easy on the palette, some quite unusual while others will rocket your taste buds – all are a taste sensation.
The Chocolate: 2016 sees the launch of 3 new flavours at Seed and Bean.  They always ensure their flavours are creative and imaginative, without being too off the wall. First up Rich Milk Caffe Mocha, tastes as the title sounds; smooth, creamy with a subtle hint of coffee for that little pick me up. Next up is a unique flavour to the chocolate world: Dark Aromatic Fennel, the sweet licorice flavour of the fennel sits wonderfully with the smooth dark chocolate. And, Dark Sweet Orange and Thyme, the combination of the citrus from the orange and the peppery fresh flavour of thyme is a smashing flavour blend.
Where: Waitrose, Selfridges, Wholefoods and Planet Organic