Chocolate Week in London: What to Eat, Drink & Do in the CapitalBy Angelica Malin
Chocolate Week in London is back and it's better than ever! For those that don't know, National Chocolate Week, now in its 12th year, is a celebration of all things chocolate in London and beyond – taking place on the 10th to the 16th October 2016. The special week culminates with The Chocolate Show London at Olympia National Hall from 14th to 16th October, bringing the best of the industry together all under one roof. There's so many amazing chocolate-themed events, special menus and tastings for National Chocolate Week in London and we've picked out the best for you. If you're hungry, look away now, because here's where to indulge in the capital:
Chocolate Week in London: What to Eat 
For Chocolate Afternoon Tea: Lancaster London
The Run-Down: Lancaster London is serving up a delicious duo of Divine Chocolate Afternoon Teas in support of the fair trade chocolatier. Having recently launched its lovely ARTea, Lancaster London will put a chocolate-y twist on the budding artists favourite. 
Eat: Inside the painters box will lay an array of edible art, alongside tempting Divine chocolate treats. State of the 'Art' Divine chocolate scones will be served alongside paint tubes filled with Cornish clotted cream and strawberry jam – giving you all the tools needed to devise a cocoa-creation. Those who prefer a more formal afternoon tea can enjoy the hotel's classic Divine Afternoon Tea with home smoked salmon on granary bread and truly 'Divine' desserts, including Divine milk chocolate scones with strawberry jam and Cornish clotted cream and Divine dark chocolate and popping candy lollipops. Yes, please.
Price: Lancaster London's Divine Chocolate ARTea Afternoon Tea is £35 per person and Classic Divine Chocolate Afternoon Tea is £30 per person.
Where: Lancaster Terrace, London W2 2TY
For DIY Chocolate: KITKAT Chocolatory at Westfield Stratford
The Run-Down: Calling all KITKAT lover, this is for you! This month sees an European-first pop-up KITKAT store opening at The Street, Westfield Stratford City. Running until Tuesday 8th November, the KITKAT Chocolatory gives you the chance to create your own ultra-premium KITKAT bar and bespoke packaging at the touch of a tablet screen. 
Eat: Simply choose your preferred chocolate from milk, white or dark and then add up to 3 toppings from 16 sensational choices! Launching alongside the Create Your Break KITKAT are weekly Special Edition KITKAT bars – hand-crafted in milk, dark and white chocolate, exclusively available at the KITKAT Chocolatory. What's more, Michelin-starred chef Michael O'Hare has partnered with KITKAT to create two Signature Edition KITKAT bars – a cool chilli and mint bar and his take on a retro British favourite: dandelion and burdock. Chocolate Week in London doesn't get much better than this.
Where: Westfield Stratford City, London E15 2DU
For Special Cake: Muriel's Kitchen
The Run-Down: Looking for a Chocolate Week special? Well, everyone's favourite Muriel's Kitchen are offering diners a sumptuous chocolate and orange lava cake (£5.95) throughout National Chocolate Week. This insanely decadent pudding has a deliciously oozing centre and is topped with a dusting of orange sugar. We want one now. 
Eat: It's the perfect treat to share – simply ask for two spoons and dive into chocolate heaven, or alternatively just order your own! If you still haven't had your chocolate fix, Muriel's chocolate ice-cream milkshake made with Oreo's (yes, Oreo's) will be sure to put a giant chocolatey smile on your face.
Where: Locations here
The Run-Down: Your favourite French family-run artisan bakery PAUL is challenging chocolate lovers to create the ultimate topping for the limited edition cocoa baguette (£1.95). Yes, you heard right… Chocolate bread. 
Eat: Only available for Chocolate Week, pick up your moreish baguette and get creative to be in with the chance of winning a PAUL bread making masterclass for two people. Whether you go nuts with crushed almonds and walnuts, embrace decadence with salted caramel sauce or switch things up for an unexpected yet delicious savoury option, share your suggestions on Instagram to @paul_bakeryuk using #mycocoabaguette and the most creative design will win.
Where: Locations here
For Sparkling Afternoon Tea: Hotel Chocolat
The Run-Down: If you ever find yourself dreaming of chocolate, then this is the perfect afternoon tea treat for you. For something different, head to Borough Market – a mouth-watering indulgent chocolatey twist on traditional afternoon tea at Hotel Chocolat's Rabot 1745.
Eat: Dine on a selection of delicious sandwiches, scrumptious scones, beautiful brownies and banana bread, whilst being served the finest selection of smooth and creamy Hotel Chocolat chocolates and sipping on your choice of tea, coffee, hot chocolate or special Hotel Chocolat cocoa infusion. Nom.
Where: 2-4 Bedale St, London SE1 9AL
For a Must-Visit: Dominique Ansel Bakery
The Run-Down: If you're looking for something amazing, you *need* to try the Mini Me Chocolate Cake at new Dominique Ansel Bakery in London. The bakery is situated between Victoria and Belgravia, with a quaint enclosed garden. The bakery's offerings, both sweet and savoury, are rooted in French techniques, with ultimate creativity.
Eat: The bakery's signature 4-textured cake with light chocolate mousse, sponge, ganache and crispy miniature meringues. Voted one of the top chocolate cakes in New York and totally gluten-free, you'll fall in love with this cake from the first bite.
Where: Dominique Ansel Bakery, Elizabeth Street, Belgravia
For Free Truffles: The Fine Cheese Co
The Lowdown: For something totally delicious, you need to try the Tartuflanghe hazelnut truffle at The Fine Cheese Co. With each coffee purchased, customers will be a complimentary tartuflanghe hazelnut truffle
Eat: The Fine Cheese Co. is one of the finest artisan food shops in London, specializing in cheese but also offering customers delightful sweet treats. Come here to have all your wordly cheese needs met.
Where: The Fine Cheese Co., Motcomb Street, Belgravia
For a Classic: TOZI's Chocolate Delice
The Run-Down: TOZI is an 80-seat, vibrant Italian restaurant and bar located in London, Victoria, specialising in Venetian cicchetti and classic Italian cocktails. Opening in May 2013, TOZI is the result of a collaboration between Chef Daniele Pampagnin and Head Chef Maurilio Molteni, who worked many years together at Soho House group and dreamt of starting their own restaurant project.
Eat: Looking forward to the chocoholics' highlight of the year? In celebration of Chocolate Week,  TOZI, the Italian cicchetti restaurant in London's Victoria, has revealed the recipe for one of its most popular desserts, the Chocolate Delice. Try out this supremely delicious dessert for yourself by making it at home… or just swing by TOZI and order one!
Where: 8 Gillingham St, London SW1V 1HJ
For Chocolate Truffles: Brindisa
The Run-Down: For a Spanish-inspired National Chocolate Week celebration, guests at Brindisa restaurants can enjoy The True Flavours of Spain Truffles. Read on, it gets exciting.
Eat: As an ode to the cornerstone of Spanish gastronomy, each of the three truffles are flavoured with traditional Spanish ingredients: Pimenton brought from the Americas by Columbus, olive oil introduced by the Romans and saffron from the Moorish occupation. To enhance the flavour profile, the tuffles are served with a Hoppy Coffee Saigon Stout from the Catalan brewery Cervesa Guineu, offering a taste of Spanish history in London. Right then.
Where: Locations here
For Chocolate Fondant: Flesh & Buns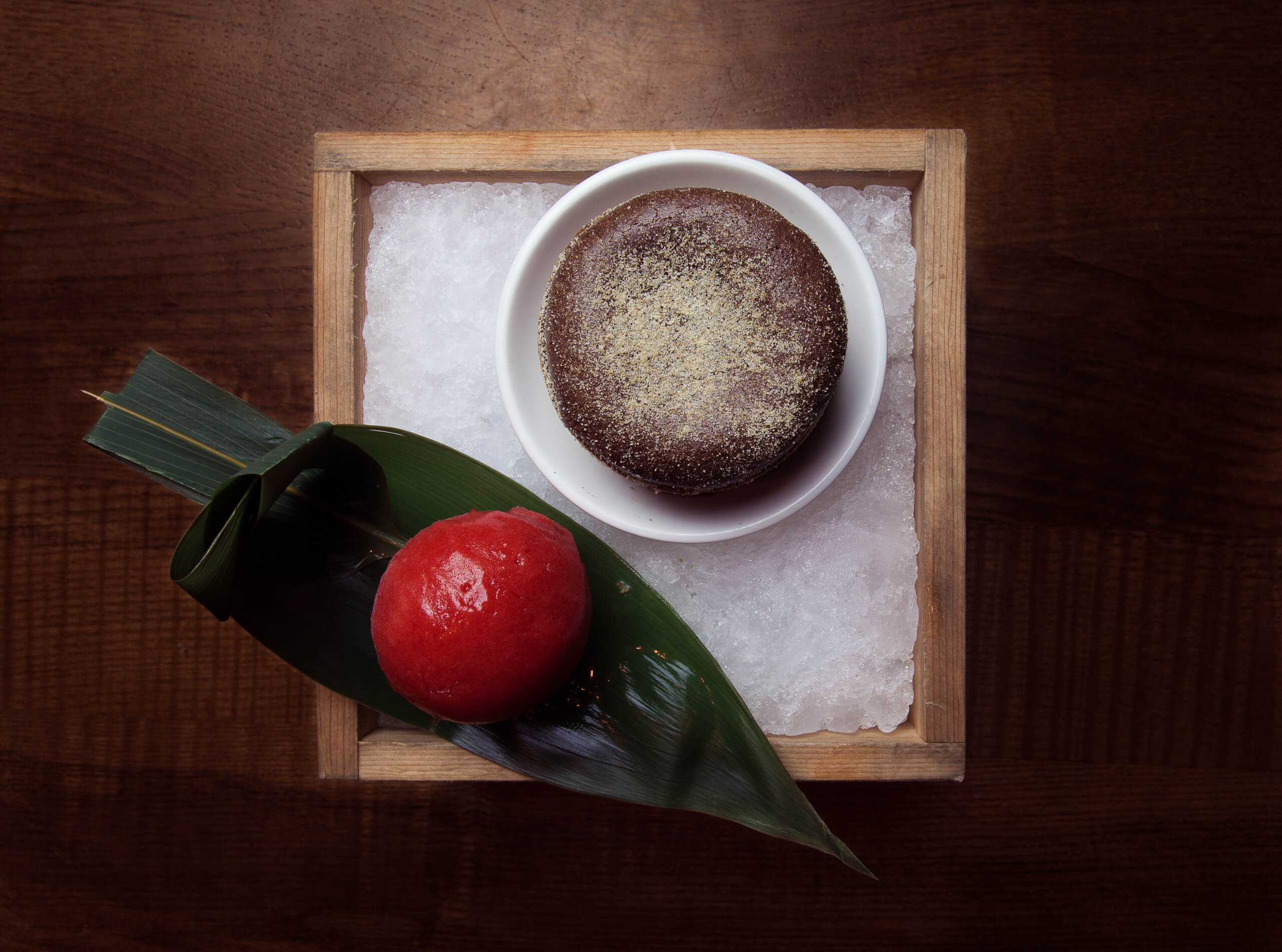 The Run-Down: In celebration of National Chocolate Week, Covent Garden favourite, Flesh & Buns, will be offering guests a chocolate fondant turned decidedly Japanese. We never thought soya sauce and chocolate fondant were two things that go together, but having tried the dish, we're totally sold.
Eat: A rich chocolate sponge will be filled with an oozing soy sauce salted caramel centre, for a Japanese-inspired chocolate fix this National Chocolate Week. Yes please.
Where: 41 Earlham St, London WC2H 9LX
For a Boozy Chocolate Roll: Sosharu
The Run-Down: For the ultimate chocolate indulgence this National Chocolate Week, Jason Atherton's Japanese izakaya-style restaurant, Sosharu, is offering guests a Japanese-inspired, chocolate-packed version of a classic Swiss roll.
Eat: Made from 85% chocolate, a fluffy Japanese sponge is rolled around sesame mousse and drizzled with a warming chocolate and Japanese whiskey sauce. Served with a chocolate chip potato crisp and chocolate sorbet, the dessert is garnished with a chocolate teddy in a nod to the Japanese love of all things kitsch.
Where: 64 Turnmill St, London EC1M 5RR
Chocolate Week in London: What to Drink
For Chocolate Cocktails: Divine
The Run-Down: Working with Fair, the world's first brand of spirits resulting from fair trade production, Divine is bringing you the fairest cocktail in town to celebrate Chocolate Week. Mixologists across the capital will be shaking and stirring up cocktails that are truly Divine, with Divine and FAIR rum or vodka based cocktails being served at Soho cocktail bars Jinjuu and 68 & Boston, Brixton Cocktail Bar Eckovision, Mayfair's THE BAR at The Athenaeum and Portobello House in London's Notting Hill.
Drink: Head to Marco Pierre White's London Steakhouse Company for their take on a classic Toblerone cocktail for Chocolate Week – an indulgent concoction of Divine's Milk Chocolate Toffee and Sea Salt and Milk Chocolate with Whole Almond, served in a chilled Martini glass in the Chelsea restaurant, and as a Shake in the City venue.
And: At Jinjuu, choose from Choffee cocktail combining, coffee espresso and a dash of apricot with rich Divine Chocolate. The Choffee cocktail includes FAIR Rum, Apricot Brandy, Illy Coffee Liqueur, Boricha, topped with a Divine chocolate and espresso foam. Taking inspiration from the bar's Korean heritage, the White Day Treat cocktail is named after the Korean traditional second Valentine's Day, where the women are the bearers of gifts. This rich, creamy chocolatey cocktail mixes FAIR Rum with Divine Chocolate infused soju, almond milk, and almond syrup.
Where: Information here
For Something New: Pollen Street Social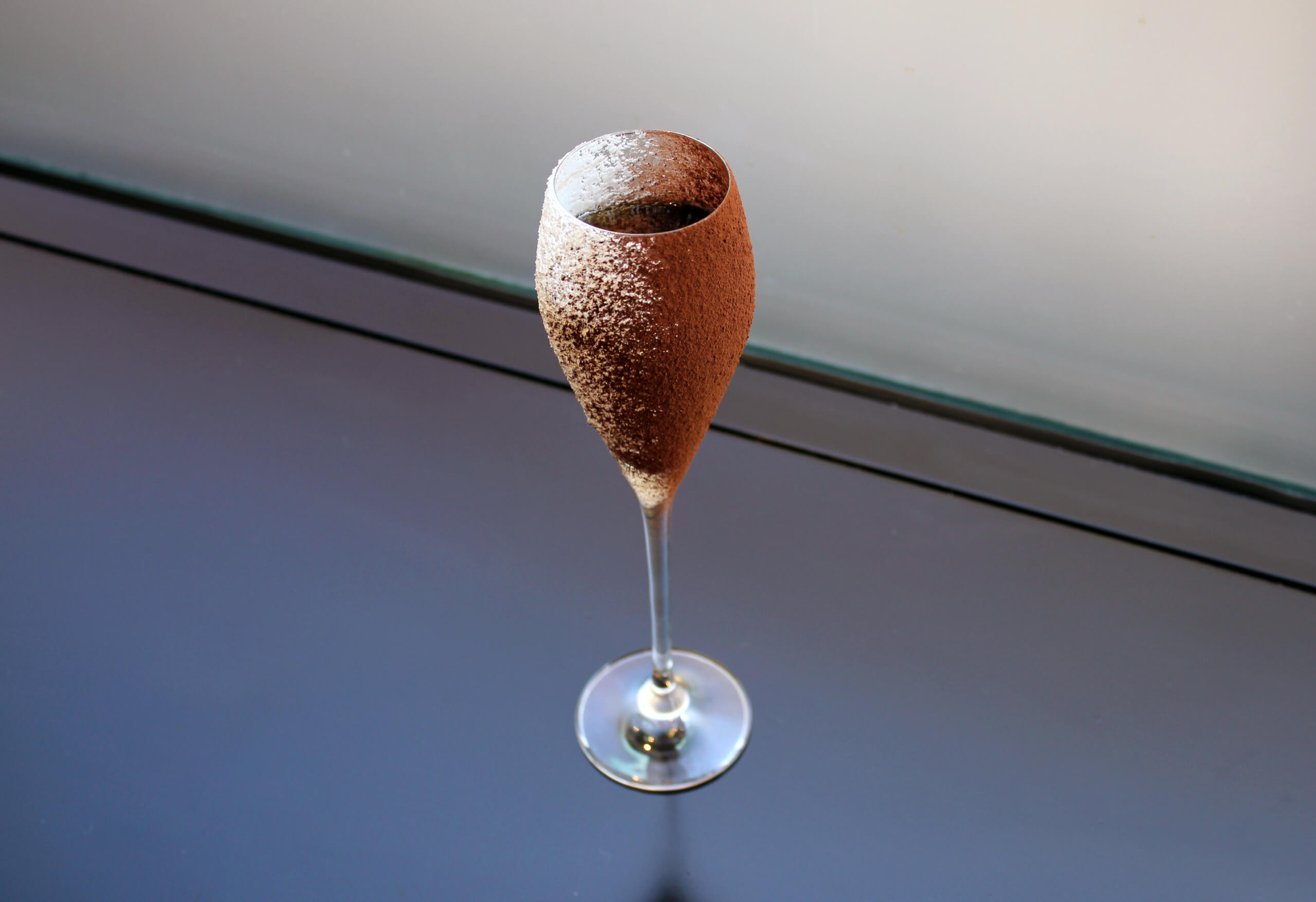 The Run-Down: We love the Chocolate Week dessert and cocktail pairing at Pollen Street Social's dessert bar. In honour of National Chocolate Week, the dessert bar at Jason Atherton's flagship restaurant, Pollen Street Social, will be offering guests a specially designed cocktail and dessert pairing.
Eat: Offering a chocolatey twist on a traditional Black Velvet cocktail, Tall and Stout combines a Guinness and Tonka bean reduction with a top of champagne. The smooth finish and caramel notes pair perfectly with bitter chocolate pave served with an olive biscuit, olive oil conserve and homemade chocolate ice-cream that can be enjoyed at the restaurant's destination dessert bar. Dive in.
Where: 8-10 Pollen St, London W1S 1NQ
For Cocktails + Truffles: 100 Wardour St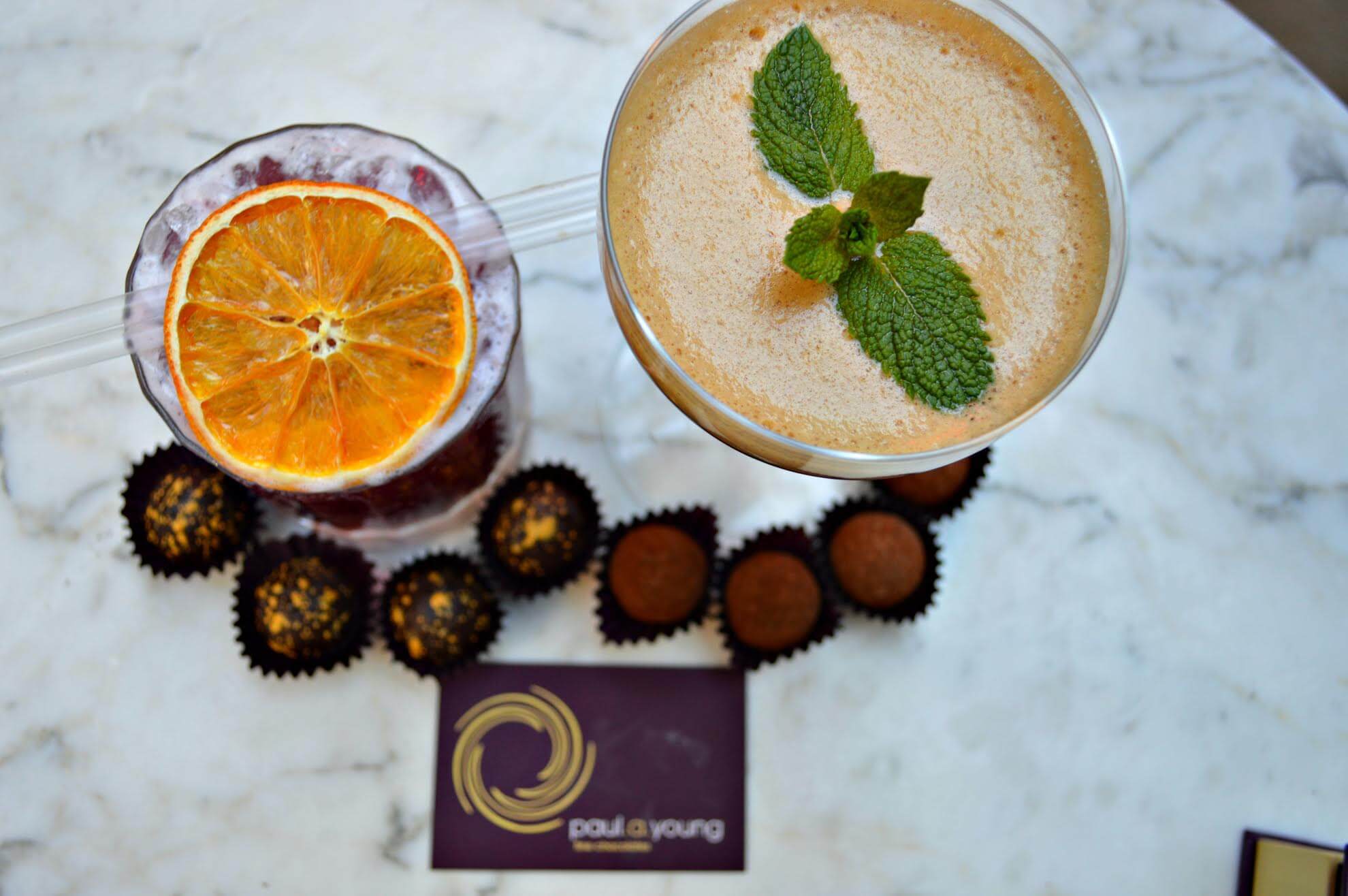 The Run Down: 100 Wardour St have teamed up with groundbreaking and inspirational chocolatier Paul A Young to create a mouthwatering menu of chocolate cocktails and truffles.
Eat: 100 Wardour St have created two exclusive cocktails and have paired these with Paul's truffles for a delicious chocolate combination. The After 8 Affair is made with Sailor Jerry, coffee liqueur, espresso and creme de menthe, paired with a 72% dark chocolate truffle – intense, strong and well-balanced. The second cocktail is the Kalamansi Sour; Johnny Walker Black, Otima Port and coco liqueur with choco bitters and paired with a Kalamansi Truffle for a smooth & buttery finish that will leave you with a strong and delicious chocolate aftertaste.
Price:
 Both cocktails are available during National Chocolate Week (
10th-15th October
) at £12.50 each.
Where: 100 Wardour St, Soho, London, W1F 0TN
The Run Down: Madison rooftop bar is celebrating National Chocolate Week with the moreish Trio Collection of cocktails, created specially by the expert bar team.
Eat: The limited edition cocktails include the Aero Bubble Martini, Chocolate Martini and Bounty Martini. The Aero Bubble features a green mint liqueur and is topped with crumbled Aero Bubble chocolate for the perfect minty hit. The Chocolate Martini includes Brown Creme de Cacao, Milk and White Chocolate Liqueur and a Chocolate dust garnish. Finally the Bounty is a rum based Martini with Coconut cream, Dark & White Chocolate liqueur and Bounty Chocolate crumbled on top. 
Price: The three cocktails will be available exclusively at Madison during National Chocolate Week for £10.50 each.
Where: One New Change, St Paul's, London, EC4M 9AD
Chocolate Week in London: Special Collaborations
For a One-Off: Cinnamon Club x Paul A. Young
The Run-Down: Now, this is one pairing that we're *so* on board with. Vivek Singh, Executive Chef of The Cinnamon Club, has teamed up with chocolate extraordinaire Paul A Young to celebrate this year's National Chocolate Week. Combining Paul's decadent chocolate with Vivek's spice expertise, the pair have crafted three curious truffles and an indulgent pudding; we've tasted them, and can confirm they are total heaven.
Eat: Representing a starter, main and dessert, the three unique truffles will take you on a cocoa taste adventure to remember. The first course is a sticky sweet lime pickle caramel, the second is an intriguing cumin and almond truffle and the final course is a paan truffle, which reflects the paan leaves eaten at the end of traditional Indian meals. Diners can also indulge in a limited edition dessert of dark chocolate paan and caramel muri bar served with carrot halwa and clover ice cream. Oh baby.
Where: The Old Westminster Library, 30-32 Great Smith St, London SW1P 3BU
For Chocolate Desserts: Galvin Restaurants x Valrhona Chocolate
The Run-Down: As part of National Chocolate Week, Galvin Restaurants have collaborated with Valrhona chocolate on a series of exclusive desserts unique to each restaurant. We've sampled each one, and can report they are absolutely divine – the chilled chocolate fondant is a real highlight.
Eat: Highlights include a rich chocolate sponge, white chocolate, Ivoire cremeux, 70% Guanaja chocolate ice cream and milk chocolate, served with a jivara sheet and hot pouring sauce of Gianduja Azelia at Bistrot de Luxe, indulgent chilled chocolate fondant with dark Manjari chocolate ganache, crème fraiche and white chocolate marshmallow at Galvin Centurion Club and a Chocolate éclair with Caramelia cremeux, Equatorial diplomate, Ivoire chocolate sorbet and Gianduja Azelia sauce at La Chapelle.
Where: Locations here
For Chocolate Cupcakes: Primrose Bakery x Divine
The Run-Down: We've super excited about the collaboration between Primrose Bakery and Divine Chocolate this year. Primrose Bakery is one of London's favourite and most elegant bakeries, that has been popular with celebrities and locals alike for years. The cakes here are all totally delicious – the Red Velvet is a personal favourite, and you can't miss the salted caramel cupcakes.
Eat: Primrose Bakery's three retro inspired stores will be selling limited edition Divine Milk Chocolate Cupcakes throughout Chocolate Week, the perfect afternoon pick me up! These are the most delicious, moist cupcakes you could ever try.
Where: Locations here
For a Chocolate Dinner: Sauterelle x Paul A. Young
The Run Down: Sauterelle is proud to announce their collaboration with renowned chocolatier Paul A. Young for a duration of Chocolate Week. Paul A. Young has expertly paired his chocolates with three of Head Chef Stefano Leone's favourite dishes to create the unique set menu, available for lunch and dinner.
Eat: Dishes include Mazara del Vallo red prawn carpaccio, fresh avocado, chilli croutons, herbs, seaweed tartare and salmon trout caviar alongside a bramble, goat's cheese and rosemary truffle; Old spot pork fillet, crispy pancetta, piquillo peppers, espelette chilli served with sesame seeds and almond praline; and raspberry tartlet, lavender sable and crunchy salted caramel with a truffle of raspberry and Chambord liqueur.
Where: Grand Café, Royal Exchange, Threadneedle St, London EC3V 3LR
Chocolate Week in London: Special Events
For a Free Tasting: Godiva Chocolates
The Run-Down: Godiva Chocolatier is offering a tasting of their new range of 'G' by Godiva tablets all this week; each one of the six varieties will feature on a different day from Monday to Saturday.
Eat: Super premium Mexican chocolate, selected for its purity, smoothness and wonderful depth of flavour. Monday to Wednesday highlights the three with flavour inclusions; solid Milk and Dark are on Thursday and Saturday respectively, while a stunning Blond Chocolate and Salted Caramel is showcased on Friday – Blond in this case being a blend of white chocolate and caramelised milk chocolate!
Price: Tasting is free – tablets cost £6 from all Godiva stores. This week, a bundle of 4 costs £20.
Where: All Godiva stores and in Harrods and Selfridges
For a Market: Duke of York Square Chocolate Market
The Run-Down: The Duke of York Square's celebrated chocolate market is back just in time to celebrate National Chocolate Week. Alongside the regular Fine Food Market on Saturday 15th October, the chocolate market will feature a carefully selected range of artisanal chocolatiers, offering an array of delicious treats to sample and purchase. Whether it's chocoholics looking for the latest delectable treat, or friends and family seeking the perfect edible gift to share, there will be treats galore for everyone to enjoy.
Eat: With each chocolatier carefully chosen by Chelsea institution Partridges, it's the perfect opportunity to try some of the most luxurious artisanal chocolate around, from the newest flavours from up and coming chocolatiers to your favourite brands, there's something for everyone to enjoy at the Duke of York Square chocolate market.
Where: Duke of York Square, Chelsea
For a Chocolate Feast: The Chocolate Show
The Run-Down: The grand finale of Chocolate Week, The Chocolate Show, returns to Olympia London from the 14th-16th October, where over 20,000 visitors are expected to walk through the doors to bars, truffles, cakes, patisseries and chocolatey activities ranging from celebrity demonstrations to tastings to the world-famous Chocolate Fashion Show and a Roald Dahl inspired kids' area hosted by Rococo Chocolates.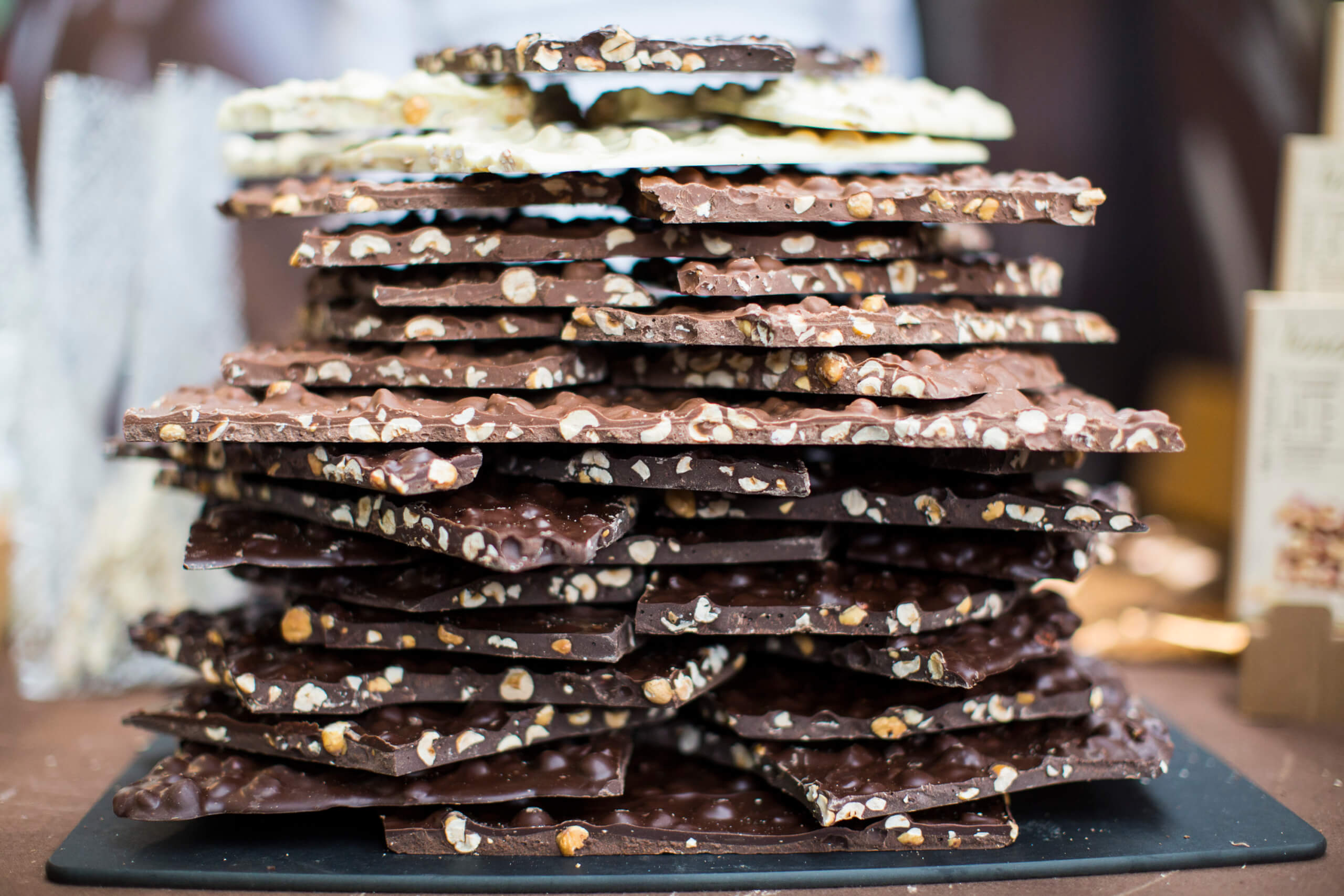 Eat: Everything. A small plates bar hosted by Adam Rawson, former chef at Pachamama, featuring chocolate in each dish, including beef, chocolate and BBQ sauce sliders, crispy cauliflower with pecan mole and smoked yoghurt and porcini chocolate truffles.
Hotel Chocolat will be bringing their School of Chocolate to The Chocolate Show, giving you the opportunity to make your own bean to bar chocolate, learn how to sculpt with chocolate and more. Paul a Young and The Intercontinental Park Lane will be hosting afternoon tea at the show with a menu including brown sugar scones with sea salted caramel.
Where: Hammersmith Road, Kensington, London W14 8UX
Chocolate Week in London: Must-Try Products
For Dairy-Free Goodness: CO YO
The Run-Down: CO YO is an award-winning brand that has revolutionised the dairy-free yoghurt market by launching the UK's first and most popular range of coconut milk yoghurts. CO YO's raw chocolate variety offers a diary free, gluten free and refined sugar free alternative for those looking for a delicious and nutritious chocolate fix. Oh baby.
Where: Buy here
For Beautiful Chocolate: Choc on Choc
The Run-Down: Choc on Choc pairs the finest Belgian chocolate with lifelike and detailed designs to create beautiful and delicious handmade confectionery. From a Gin & Tonic Stash made of pure Belgian chocolate infused with gin tasting notes, to handmade chocolates in the shape of Britain's favourite retro ice lollies, they have everything.
We love the Chocolate Biscuit collection which recreates Britain's most iconic biscuits in pure Belgian chocolate or a pack of six classic doughnuts made in pure Belgian chocolate containing three delicious milk chocolate and three candy pink designs –  there is something for every chocoholic.
Where: Buy here
For Popcorn Chocolate: Monty Bojangles
The Run-Down: Award winning truffle experts Monty Bojangles are excited to announce the latest taste innovation this October with Popcorn Carousel. Voted for by members of the public following a nationwide search, the new flavour includes a mouth-watering blend of buttery salted popcorn and crunchy crispy crêpe. Monty Bojangles enlisted the help of Michelin Starred Chef, Mark Sargeant, as Chief Taste Advisor to develop three unique flavours: Popcorn and Cripsy Crêpe, Lemon Meringue and Black Pepper and Coconut and Chilli. With over half of the votes, the combination of Popcorn and Crispy Crêpe was the stand out winner and will launch exclusively into Waitrose.
Where: Popcorn Carousel will be available in Waitrose from October RRP £4.00
For a New Collection: Hotel Chocolat
The Run-Down: Hotel Chocolat is launching a brand new collection, Rare & Vintage – 20 bars. 6 countries. Coinciding with National Chocolate Week, it consists of 20 single origin brand new chocolates labs, each set in a beautiful new casting. Made with some of the most sought-after cocoa in the world, each priced at £3.85, or 3 or more for £3.15. The more cocoa, less sugar collection has something for everyone, from milk and dark chocolate lovers to vegans and even a sugar-free option. The range climbs from an exceptionally creamy 45% milk to a heady 100% dark, with alluring notes of leather and smoke.
Where: Buy here
For a New Bar: Green & Black's Organic
The Run-Down: Green & Black's Organic welcomes a delicious new addition to its family of chocolate bars: THIN Dark Sea Salt. The new flavour combines the finest flakes of pure Sea Salt from British producer Halen Mon, based in Anglesey, Wales, with the rich and complex taste of dark 60% chocolate, creating a flawlessly moreish mix of sweet and savoury. Green & Black's Organic has always provided a range of stunning flavours; from the soft, buttery taste of Salted Caramel THIN bar to the treacle and molasses notes of the Burnt Toffee bar. The new THIN Dark Sea Salt bar continues the tradition of bold and exciting flavours in the new THIN format unveiled in 2015.
Where: Buy here
For Ice Cream: Jude's Peanut Butter Chocolate Ripple
The Run-Down: Peanut Butter Chocolate Ripple ice cream is the latest flavour to join the Jude's flavour hall of fame, launched nationwide this autumn. This tasty triumph blends crunchy peanut butter with a rich Belgian chocolate ripple for a perfectly balanced sweet and savoury scoop. Jude's fresh Hampshire milk in all their flavours from cows just down the road from the dairy.
Where: Peanut Butter Chocolate Ripple is available just in time for Chocolate Week at Sainsbury's from October 1st.