If you're on the hunt for the best gluten free pancakes in London, you've come to the right place. No one should be missing out on pancakes this Shrove Tuesday or any other day for that matter. There might only be one Shrove Tuesday each year, but every day can/should be a pancake day. Whether you're looking for crepes, galettes or a towering stack of heaven, we've got your back. Here's our pick of the best gluten free pancakes in London:
What: The Bach (pronounced batch) brings a touch of Kiwi hospitality, great food and  bloody good coffee to two locations across London – Broadway Market and Hoxton.
The Lowdown: The Bach has all your breakfast/brunch goals covered, but what shines the most is their thick, fluffy gluten free pancakes with maple syrup. You can even add blueberries, banana or smoked bacon for the ultimate pancake experience.
Where: 12 Broadway Market, E8 4QJ and 98 Hoxton Street Hoxton, N1 6SG.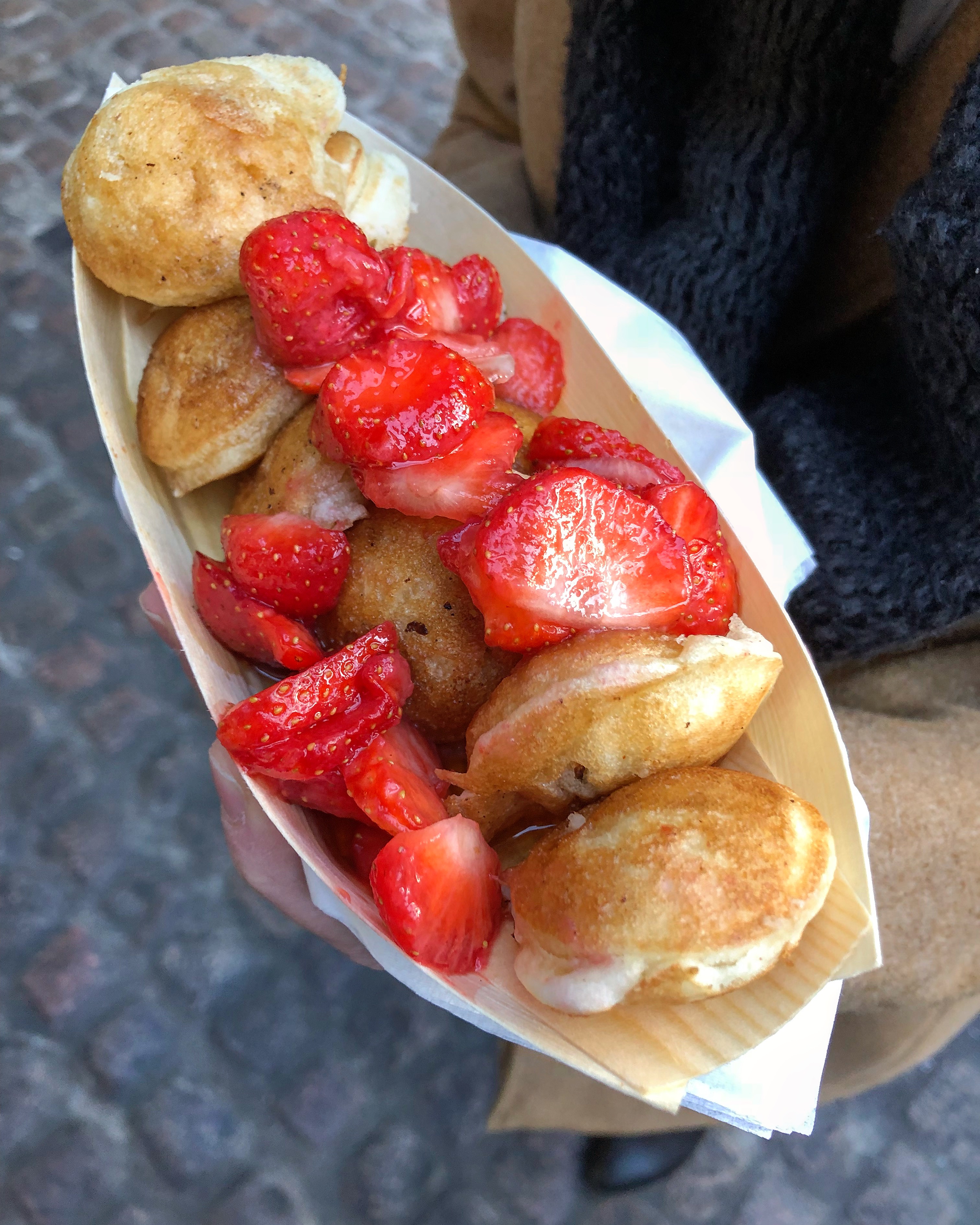 What: Planet Pancake offers one of the most unique gluten free pancake experiences, right at the heart of Greenwich market. One of our favourite places for gluten free pancakes in London.
The Lowdown: Planet Pancake serves up mini pancakes to order with a bunch of fresh toppings and dessert sauces. The best thing about it? All of the pancakes are gluten free and made with rice flour. Now that's a planet I want to permanently live on.
Where: Greenwich Market, SE10 9HZ
What: My Old Dutch is a traditional Dutch pancake house with locations in Holborn, Chelsea and Kensington.
The Lowdown: My Old Dutch can make all of their savoury and sweet pancakes, breakfast pancakes, light options and kids options upon request. They can even offer gluten free and dairy free pancakes too!
Where: 131-132 High Holborn, WC1V 6PS and 221 Kings Road, Chelsea, SW3 5EJ
What: Crepeaffaire is a national chain with multiple locations across London.
The Lowdown: With 7 locations across London, you'll find that you're never far away from Crepeaffaire. All of their buckwheat galettes are gluten free and whilst usually matched with savoury options, you can happily have sweet toppings on them too.
Where: Currently 7 across London including our favourite at 51-53 Camden Passage, Islington, N1 8EA
Image Credit @gluteninterrupted
What: OZone Coffee is a Kiwi-run cafe based in Shoreditch with quirky options for all times of day.
The Lowdown: OZone's brunch menu offers a gluten free pancake served with intercepted strawberry compote, quince ricotta, vanilla and dark chocolate. It's worth going just to find out what intercepted strawberry compote is.
Where: 11 Leonard St, EC2A 4AQ
What: Crêpes à la carte graduated from the eclectic food universe that is Camden market. Having now opened their own crêperie in Camden, their menu is very accommodating for gluten free and vegan options.
The Lowdown: Crêpes à la carte's buckwheat galettes are gluten free and vegan and beautifully filled and folded. You can even have sweet toppings on them too – one of our top gluten free pancakes in London.
Where: 112 Kentish Town Road, NW1 and various markets over the weekend
What: Senzala prides itself on serving French crepes with Brazilian flair at the heart of Brixton Village Market. The Brazilian flair applies to their food and the vibe as soon as you walk in the door. They also have a plant-based sister crêperie just up the road called Pipoca Vegan (plenty of gluten free on offer there too).
The Lowdown: Senzala's buckwheat pancakes are all gluten free with toppings that you won't find anywhere else. Their savoury toppings shine – like chorizo, onions, egg, chutney, beans, jalapeños, and guacamole. Yes, that's all on one plate!
Where: Brixton Village Market 41-42 Coldharbour Lane, SW9 8PS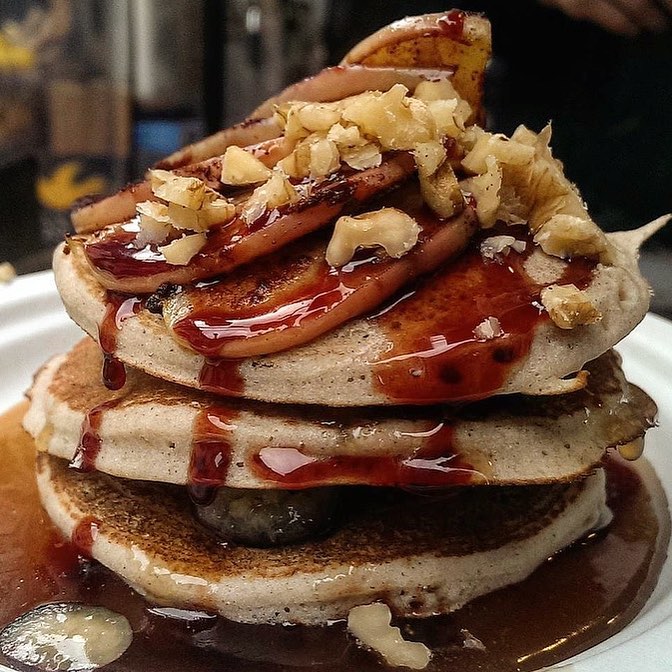 What: Osu Pancakes are made entirely using ingredients derived from coconuts. They've previously flipped exclusively at markets across London, but they recently opened shop at Westfield, Stratford.
The Lowdown: As all their pancakes are made using ingredients from coconuts, they're all naturally gluten free too. Their toppings are equally as exotic and you can't go wrong with their apple sprouted walnut crumble.
Where: Westfield Stratford City and Broadway Market on Saturdays
Image Credit @_tashcakes_
What: Apres Food Co is a 100% gluten free restaurant in Clerkenwell with options that you'd never know were gluten free. Plus. they have an amazing dog Archie who is adorable!
The Lowdown: But what really shines is their gluten free pancakes (how convenient for this post!) which are served up with blueberry compote, natural yoghurt and whatever else takes your fancy.
Where: 72 St John Street,  Clerkenwell, EC1M 4DT
What: You might know about Dalloway Terrace because of their irresistibly Instagrammable interior. Who knew that this restaurant and bar set in the heart of Bloomsbury actually served food too?
The Lowdown: Dalloway Terrace's buttermilk pancakes are gluten free and topped with winter berries, syrup and lemon curd. Who could say no to that?
Where: 16-22 Great Russell Street, WC1B 3NN
And one for luck…
What: Farm Girl brings Melbourne's vibrant brunch culture to Notting Hill, Chelsea and Soho.
The Lowdown: Farm Girl's buckwheat buttermilk pancakes taste every bit as good as they look. They come with maple syrup, fresh berries, candied pistachios and coconut shavings. One of our favourite gluten free pancakes in London.
Where: 59a Portobello Rd, W11 3DB and 9 Park Walk, SW10 0AJ