National Curry Week is here and we couldn't be happier. Mainly because it's given us an excuse to feast on the best Indian delights in London. From London's fluffiest naans to the capital's finest paneer dishes, we've literally gone mad(ras) for curry.
We're so excited to be working with Kingfisher Beer for National Curry Week to discover all the curry goodness London has to offer. This week, we'll be discovering all the Indian secrets of London – get involved by following Kingfisher on Twitter here and liking them on Facebook here, using #NationalCurryWeek.
We've spoilt our veggie friends with paneer, so it only felt right to direct our meat eatings pals to London's best lamb chops. Let's chat chops:
1. For the Tender Chop: Gunpowder 
Order: Maa's kashmiri lamb chops
The Run-Down: Gunpowder leaves other Indian restaurants for dead when it comes to their food. It's fantastic. Their menu comprises of sharing plates, and are served as and when they're ready. Leading you on this culinary journey is Head Chef Nirmal Save, who earned his kitchen stripes at The Oberoi in his hometown of Mumbai, and at Zaika and  Tamarind Collection in London. The menu features eats from the Northern and Southern regions of India, and is well balanced by having as many veggie options as there are meaty dishes.
The Dish: Maa's Kashmiri lamb chops should be ordered. Immediately. The chops are just, glorious. The way in which these chops are cooked, adds a smokey, rich taste and compliments the heady mix of spices. The chops are served alongside a homemade mint sauce – it's aromatic and adds another layer of tang to the dish.
Don't Forget: Veggies, listen up – the sigree grilled mustard broccoli is a taste sensation. In essence, it's a broccoli cooked in spices, but it's just so well executed.
Where: 11 White's Row, Spitalfields, London, E1 7NF
2. For the Sharing Chop: Talli Joe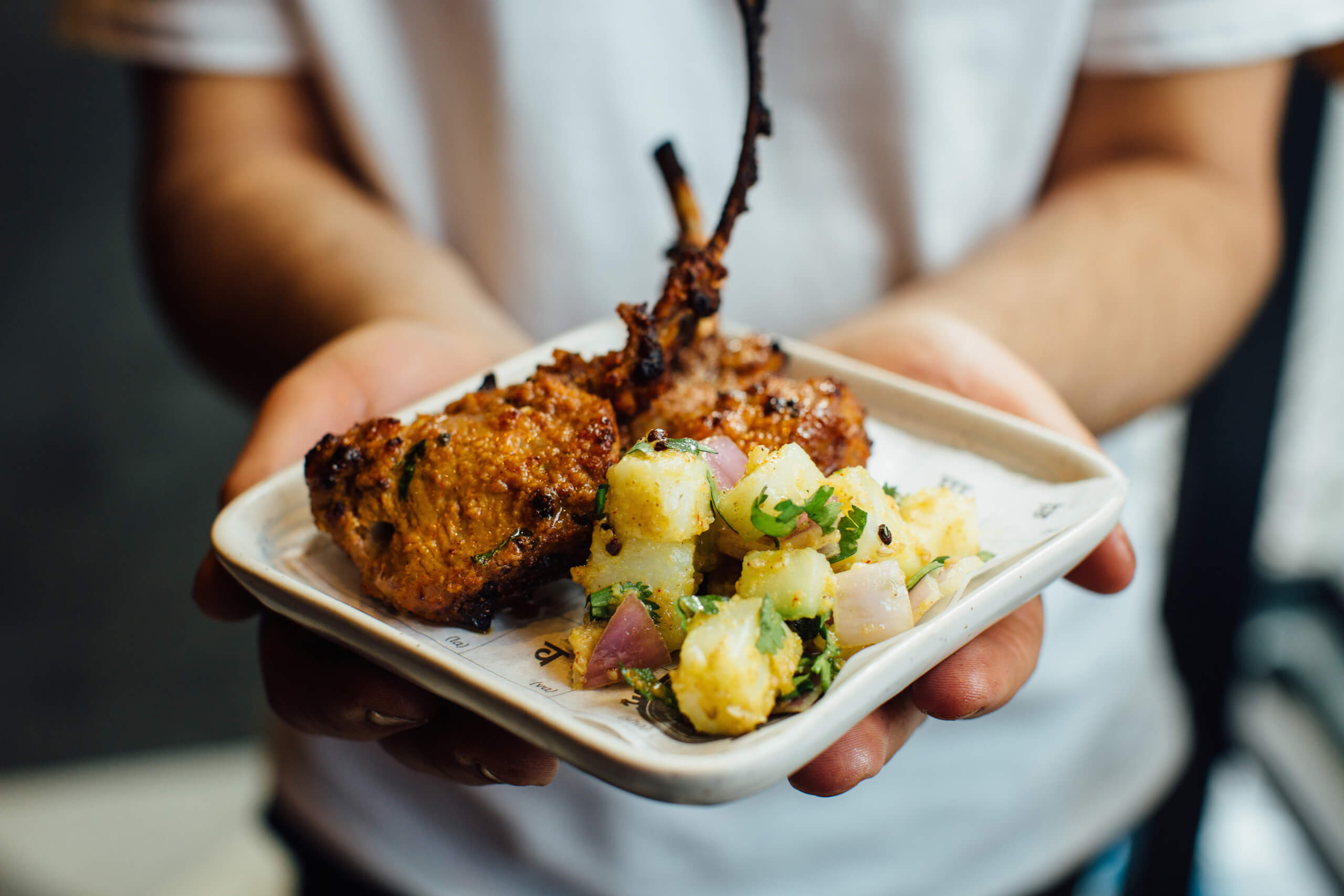 Order: Kolhapuri chaap
The Run-Down: Talli Joe on Shaftbury Avenue opened earlier  this year, and the place has already caused a stir (for all the right reasons). Specialising in regional half-plates with a host of Indian-style cocktails, Talli Joe is perfect for a quick lunchtime feed, or for a post theatre munch. This casual, all-day bar and restaurant is inspired by the dive bars that punctuate India, and the menu, created by Executive Chef Sameer Taneja, show off an undiscovered side of this subcontinent.
The Dish: The whole idea of Talli Joe is to order a few small plates and get sharing. The tandoori lamb chops are covered in a slightly spicy mustard dressing – not too overpowering, with a nice bit of heat. The chops are served with potato salad, which thankfully, hasn't been covered in a tub of mayo.
Don't Forget: Specially for National Curry Week, the team have launched a special Discovery Menu of three regional Indian curries, drawing on the unique cooking styles of Rajasthan, North Kerala and Punjab. The spiced lamb mince and chicken curry comes highly recommended by us.
Where: 152-156 Shaftesbury Avenue, London, WC2H 8HL
3. For the Blow-the-Budget Chop: Trishna
Order: Tandoori lamb chops
The Run-Down: High-end Indian restaurants can either go one or two ways; they can be overly concept, and you just long for a pillow-like naan and buckets of bhuna, or they can exceed your expectations. Thankfully, Trishna is the latter. The menu pays homage to the coastal cuisine of south-west India – think classic Indian eats with a whole lot of pizzaz. Opened in 2008, Trishna was awarded its first Michelin star in the 2013 Michelin Guide, and is still regarded as one of the pioneers for classy Indian grub in the capital.
The Dish: These are undoubtedly some of the best lamb chops in London. Bold shout, but so true. The chops are seared beautifully, and take on bold flavours with the addition of Kashmiri chilli, ginger, crushed onion and kasundi mooli. The chops are super succulent and literally fall off the bone.
Don't Forget: Indian restaurants are known for their shoddy desserts. Remember those ice creams served in a penguin? Yeah, we do too. The rose bappa doi is baked yogurt topped with candied rose, gulukand and biscuit, and is much better than a Neapolitan.
Where: 15 -17 Blandford Street, Marylebone Village, London W1U 3DG
4. For the Fuss-Free Chop: Needoo Grill 
Order: Lamb chops
The Run-Down: Needoo Grill wouldn't rank too high in the cool stakes, but don't let dodgy font, cheap decor and neon signs put you off entering this hallowed ground. Opened in 2009 by a former Tayyabs manager, Needoo Gril has heavyweight restaurants such as Tayyabs and Lahore Kebab House as neighbours. This famed Punjabi spot draws in the crowds with their cheap nosh and friendly service. Oh, and it's BYOB. 
The Dish: These lamb chops are absolute belters. Spicy, tender and cooked to perfection. Served with a handful of token salad (that never gets eaten). This dish is a real ode to simple really is the best.
Don't Forget: On Monday they serve a khara lamb chop masala. Lamb chops swimming in a tangy, tomato sauce. Oo-er.
Where: 87 New Rd, London E1 1HH
5. For the Sweet Chop: Tamarind 
Order: Peshawari champen
The Run-Down: Tamarind of Mayfair delivers exceptional Indian fare every single time. Known as one of the first Indian restaurants in the world to win a Michelin star (which it holds to this day), Tamarind elevates North-Indian cuisine to new, elegant heights. The guys really are masters of their craft; well-excuted dishes that excite the tastebuds, and keep people coming back time and time again. Tamarind is a pretty special place, and must be on everyone's restaurant list in London. It may not be the cheapest, but it's worth every penny.
The Dish: These chops are cooked ruby-pink, and they're worth all the hype. Every mouthful is just sensational. The chops are marinated in raw papaya, fennel and yoghurt which adds a sweet taste to the meat. It's seriously delicious. You don't expect everything less from the kitchen wizards at Tamarind.
Don't Forget: Tamarind offer a pre and post-theatre menu – included in the deal is a starter, main, side and dessert. And for £35 per person, you can't go wrong.
Where: 20 Queen St, London W1J 5PR