About Time You Tried: London's Best Ice Cream in 2017By Angelica Malin
Looking for the best ice cream in London? Good news: the search ends here. In the name of journalism, we discovered some amazing new ice creams in the capital, and on the shelves of UK-wide supermarkets, to keep you cool this summer. Here's the unusual frozen delights you simply can't miss:
Best Ice Cream in London: Unmissable Scoops
For a Dessert Restaurant: Chin Chin Club
What: Calling all dessert lovers! Chin Chin Club is the capital's first dedicated dessert restaurant, in the heart of Soho. You simply must visit: the parlour is a vision of gold, with beautiful floor to ceiling marble, giving a feast to all the senses.
The Lowdown: Come here for the best ice cream in London. The Chin Chin empire began in a little shop in Camden Market, where it quickly gained a reputation as the best parlour in London. This summer, it extends its offering to a plethora of puddingy goodness and mastery at ChinChin Club, with brand new dishes such as The Choux-wich – a choux ice cream sandwich with Persian pistachio and olive oil ice cream and Avo Taco – purple corn waffle taco filled with avocado ice cream, topped with house cream and crunchy fried corn.
There's an array of ice cream on offer, including Tonka Bean, Cherry and Shiso Leaf. Chin Chin Club will also be including some of their cult classics on the menu, such as The Brownwich and Chin Chin Hot Chocolate. You can tell: we're too excited.
Price: From £3
Where: 54 Greek St, Soho, London W1D 3DS
For a Taste of the Philippines: Dirty Ice Cream by Mamasons
What: Want to try something new? Dirty ice cream is an endearing nickname used to describe ice cream sold on the street by family run street vendors in the Philippines. These vendors produce affordable and delicious natural ice cream, by using an age-old churning method of ice and salt, a steel pot and a whole lot of elbow grease.
The Lowdown: Mamasons want to bring Filipino flavours to London – they don't just want to serve ice cream, they want to create a cultural experience. Opening this month, some of their signature flavours include Ube, a Filipino local purple yam, whose natural vibrant colour and unique earthy taste combined with a rich and creamy underlying sweetness is something Filipinos cannot get enough of. There's also Kalamansi, a cherry sized citrus fruit, known for its refreshing, cool and tangy flavour, similar to the lime and Japanese yuzu fruit which makes a great sorbet.
Where: 91 Kentish Town Road, Camden, London, NW1 8NY
For Authentic Italian Ice Cream: Gelupo
What: Undoubtably the best in town, the Ricotta and Sour Cherry ice cream at Gelupo is our current favourite ice cream in London. Launched in 2010, Gelupo is Jacob Kennedy's highly-lauded artisan gelateria in Soho, and somewhere you simply must try.
The Lowdown: A traditional Italian gelateria, delicatessen and espresso bar, Gelupo is located opposite Kenedy's celebrated trattoria on Archer Street. Italian gelato is made daily at Gelupo, with exceptional flavours that include ricotta, coffee and honey and pine nut and fennel seed, alongside superlative renditions of Italian classics such as pistachio and mint stracciatella.
Price: £3 for one scoop, £4 for two scoops and £5 for three scoops.
Where: 7 Archer St, Soho, London, W1D 7AU
For a New Creation: Dominique Ansel
What: In celebration of summer, Chef Dominique has transformed a fresh kiwi into a refreshing ice-cream treat by filling a milk chocolate "skin" with fresh kiwi sorbet, Tahitian vanilla ice cream and poppy seeds.
The Lowdown: Filled with fresh kiwi sorbet, Tahitian vanilla ice cream, and poppy seeds and delicately coated with a milk chocolate on the outside with a "fuzzy" texture – this is one creation you don't want to miss.  Not only does the cold treat taste delicious but true to all of Dominique Ansel's creations there's a hidden fun element; a surprising fuzzy texture on the outside just as you would expect from a real kiwi fruit.
Price: The Kiwi Sorbet Bar is priced at £6 and available now until the end of summer at Dominique Ansel Bakery in Victoria.
Where: 17-21 Elizabeth St, Belgravia, London, SW1W 9RP
Best Ice Cream in London: Special Collaborations
For Wimbledon Ice Cream: Canary Wharf
What: Tennis lover? You'll like this. Canary Wharf has teamed up with independent, lactose-friendly ice cream-makers, Greedy Goat, to create a limited-edition range of flavours inspired by Wimbledon, to celebrate the arrival of the tournament as part of its Summer Screens event.
The Lowdown: One of the best ice cream in London for Wimbledon fans. Ice creams include Game, Set and Matcha – a typically British Earl Grey flavoured ice cream covered in Matcha sauce, garnished with mini edible rackets and tennis balls, served in a green sprinkled waffle cone. There's also Murray's Mint – a mint and caramel mix in honour of Britain's #1 player, flecked with grass-green 100's and 1000's to represent the lush lawn of Centre Court.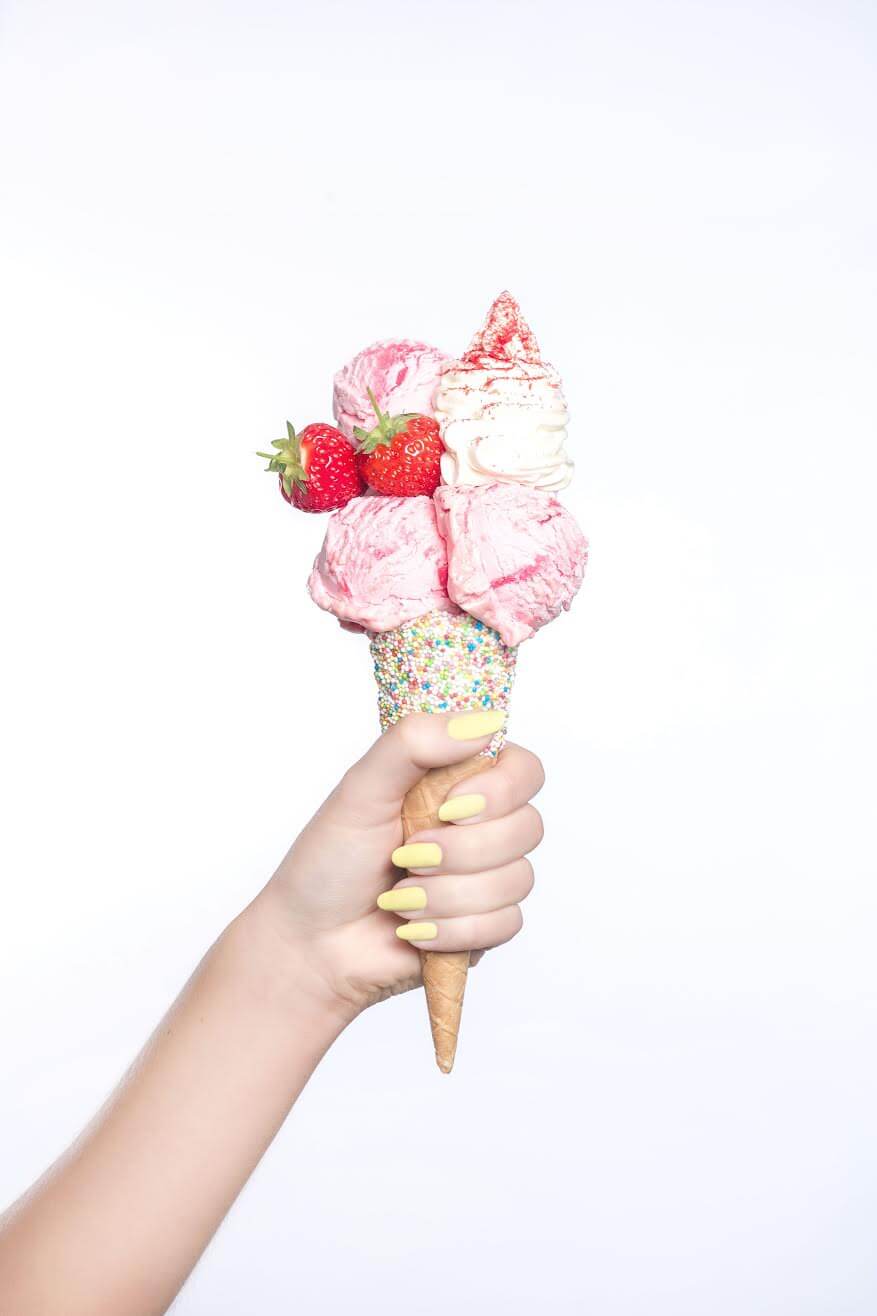 Price: £3
Where: The Grand Stand, Canada Square Park, Canary Wharf, E14. Monday 3rd July-Sunday 16th July 2017 (except Sunday 9 July when there is no play at Wimbledon) – 11am-8pm.
For Quirky Ice Cream: Mercante x La Gelatiera
What: Want to find the best ice cream in London when you fancy something different? Well, discover a new range of ice cream with innovative flavours, created by tastemakers from Mercante and La Gelateria. The ice creams can be enjoyed on-the-go from the pop-up retro gelato cart on Mercante's terrace.
The Lowdown: The teams of tastemakers have come together to create a unique offering of ice creams, with quirky pairings ranging from basil and chilli to Cornish blue and caramelised walnuts, as well as some classic favourites. The menu includes Sicilian pistachio sorbet, limone sorbet, milk chocolate ice cream, honey, rosemary and orange zest ice cream. There's also basil and chilli ice cream, if you're feeling fancy.
Price: Small £3.30, Medium £4.30, Large £5
Where: Mercante, Sheraton Grand London Park Lane, Piccadilly, London, W1J 7BX
For a Seasonal Special: Häagen-Dazs x Björn Borg
What: Holding proudly to the title of the official ice cream of The Championships, Wimbledon, Häagen-Dazs is celebrating their mutual love of Strawberries & Cream with a bespoke limited edition ice cream bar that boasts an exciting story.
The Lowdown: In a true celebration of tennis, Häagen-Dazs has partnered with the sports fashion label, Björn Borg, to create a bespoke limited edition pack this summer. This indulgent treat is made with handpicked strawberries, Häagen-Dazs' signature luxury ice cream, and enveloped in a rich Belgian chocolate coating. Björn Borg and Häagen-Dazs will be hosting a celebratory summer tennis pop-up at the brand's fashion showroom in Oxford Circus from the 5th – 7th July to bring the collaboration to life. Visitors will be able to purchase Björn Borg's new tennis whites from the Björn Borg collection line, with Häagen-Dazs Strawberries & Cream giveaways to indulge the lucky shoppers.
Price: £2.29
Where: The Häagen-Dazs X Björn Borg limited edition will be available during The Championships Fortnight in ground. You can also get your hands on ice-cream via Amazon Prime Now.
Best Ice Cream in London: Healthier Options
For Dairy-Free Ice Cream: Booja-Booja
What: Vegans rejoice! This will be the first summer that Booja-Booja's new range of organic dairy-free ice creams will appear in freezer cabinets across the UK. The new flavours have taken their cues from the most elaborate of premium dairy ice creams and feature an abundance of nutty caramel sauces, fruity ripples and swoons of truffle swirls.
The Lowdown: There's 6 delicious flavours to choose from, including Raspberry Ripple, Hazelnut Chocolate Truffle and Hunky Punky Chocolate and Caramel Pecan Praline. Booja-Booja's new tubs are made from a handful of simple organic ingredients, look beautiful and have won many taste awards, including the Great Taste Awards 2016 for Hunky Punky Chocolate and Keep Smiling Vanilla M'Gorilla. What's more, they have 70% less saturated fat than leading dairy ice cream! 
Price: £5.99 (500ml) and £1.99 (110ml)
Where: Booja-Booja dairy free ice creams are available from independent health food stores, Ocado, Holland and Barrett and Waitrose.
For Better-For-You Magnums: MiiRO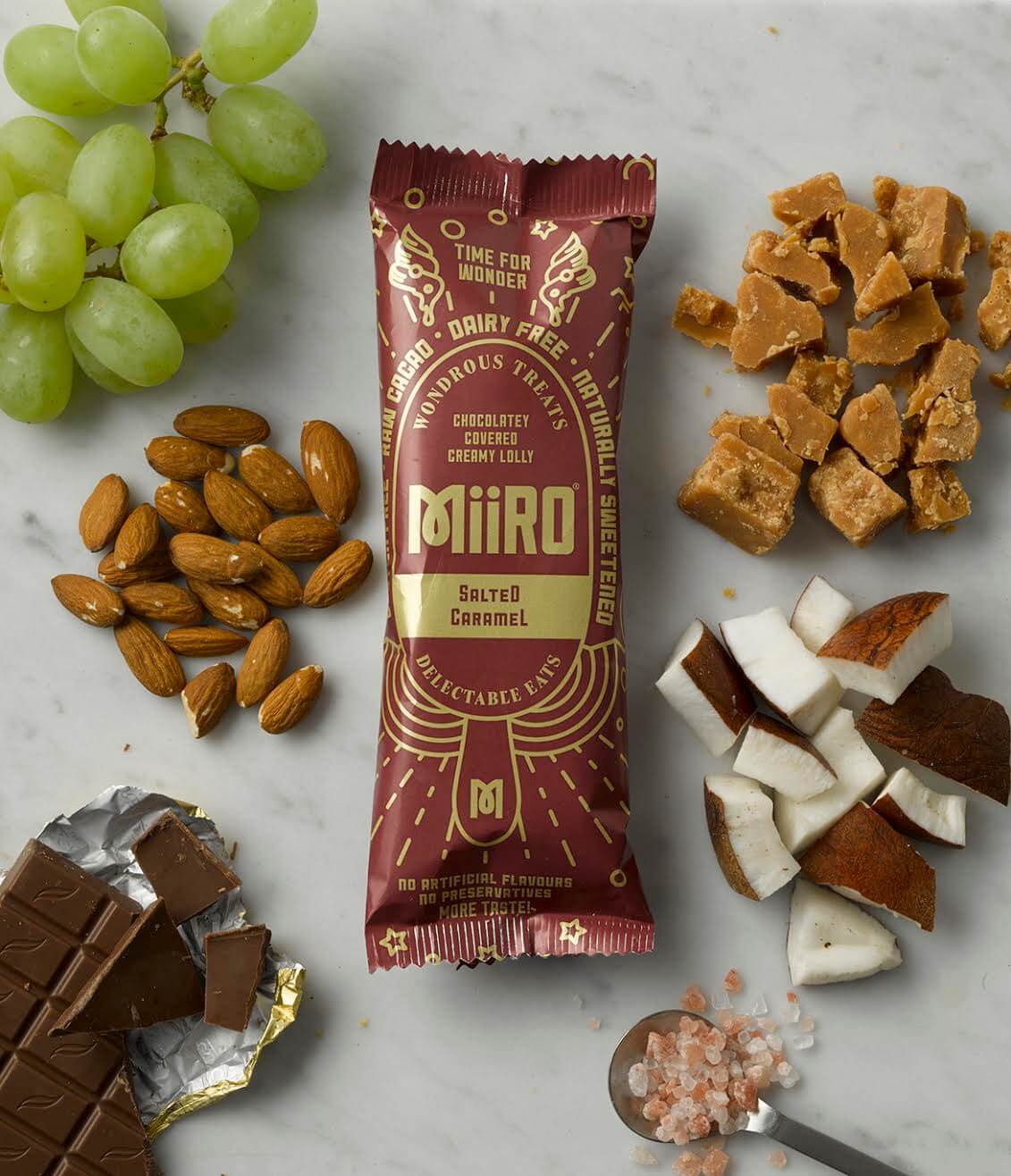 What: Shoreditch-based startup MiiRO is launching three delectable vegan pops, made with frozen coconut milk, tasty nuts, sweetened with coconut sugar and Italian grapes, balanced by Himalayan pink salt and fortified with pea protein. Each luxurious Magnum-shaped treat is coated in a thick layer of nutrient-dense raw cacao and contains no refined sugar, no preservatives or artificial flavourings. Launched in Spring 2017, MiiRO is already a two-time Free From Awards Gold Award Winner.
The Lowdown: Available in three flavour combinations, Salted Caramel, Peanut Butter and Chocolate Hazelnut, each variety has been thoughtfully designed for rich taste and creamy texture, but also with nutrition front of mind. The handy on-the-go bars contain a careful balance of protein, carbohydrates and good fats, they are also rich in fibre. These ice-lollies are sweetened with nature's treasures: grapes and coconut sugar, and contain 166 calories. We love the raw chocolate coating lends a satisfying crunch and melts beautifully on the tongue.
Where: Initial stockists include Whole Foods as well as delis, health food stores and cafés nationwide, listings from Planet Organic and As Nature Intended will follow in May and Ocado in June 2017.
Price: £2.49 for an individual bar and £6.49 per 3x70ml portioned pack
Best Ice Cream in London: Boozy Creations
For a Boozy BBQ: Cheers Luxury Alcoholic Ice Cream
What: Experience Ice Cream the grown up way – treat yourself to a boozy ice cream with these special delights. Cheers Luxury Alcoholic Ice Creams bring your favourite cocktails to a new, cooler form. With the same alcoholic content and all natural, fresh ingredients, Cheers Luxury Alcoholic ice creams are the perfect way to enjoy your go-to cocktail as the perfect treat or dessert. 
The Lowdown: Our favourite is the Toffee + Vodka, closely followed by indulgent Chocolate Espresso Martini. Continuing the party is sweet and succulent Strawberry Daiquiri and rounding off the night at a record breaking 8.4% ABV, and the most alcoholic ice cream in the world, is their sharp and citrusy Mojito.
Price: £4
Where: Available at Selfridges, The Hippodrome Casino, Hammersmith Apollo, Kensington Roof Gardens, Deliveroo and more.
For a Refreshing Lolly: Poptails by LAPP
What: Poptails by LAPP have launch a trio of distinctly grown up, delectably alcoholic ice pops. Founded by two French friends living and working in East London, LAPP are creators of gourmet Poptail lollies made from a yummy blend of fresh fruit and premium alcohol.
The Lowdown: The boozy, Calippo-shaped, sorbets are an inviting combination of the popsicle and the cocktail; the coolest way to chill off this summer. Choose from the beautifully smooth Mojito with rum, strawberry and mint sorbet, Punch, a medley of rum, mango and pineapple sorbe or the Limon with limoncello, lemon and coconut sorbet.
Where: Uber Eats, Spar Eat 17, Albion Counter, Shoreditch Platform, and Autumn Yard in  Hackney Wick
Best Ice Cream in London: Restaurant Favourites
For Talking Point Sorbet: Flat Three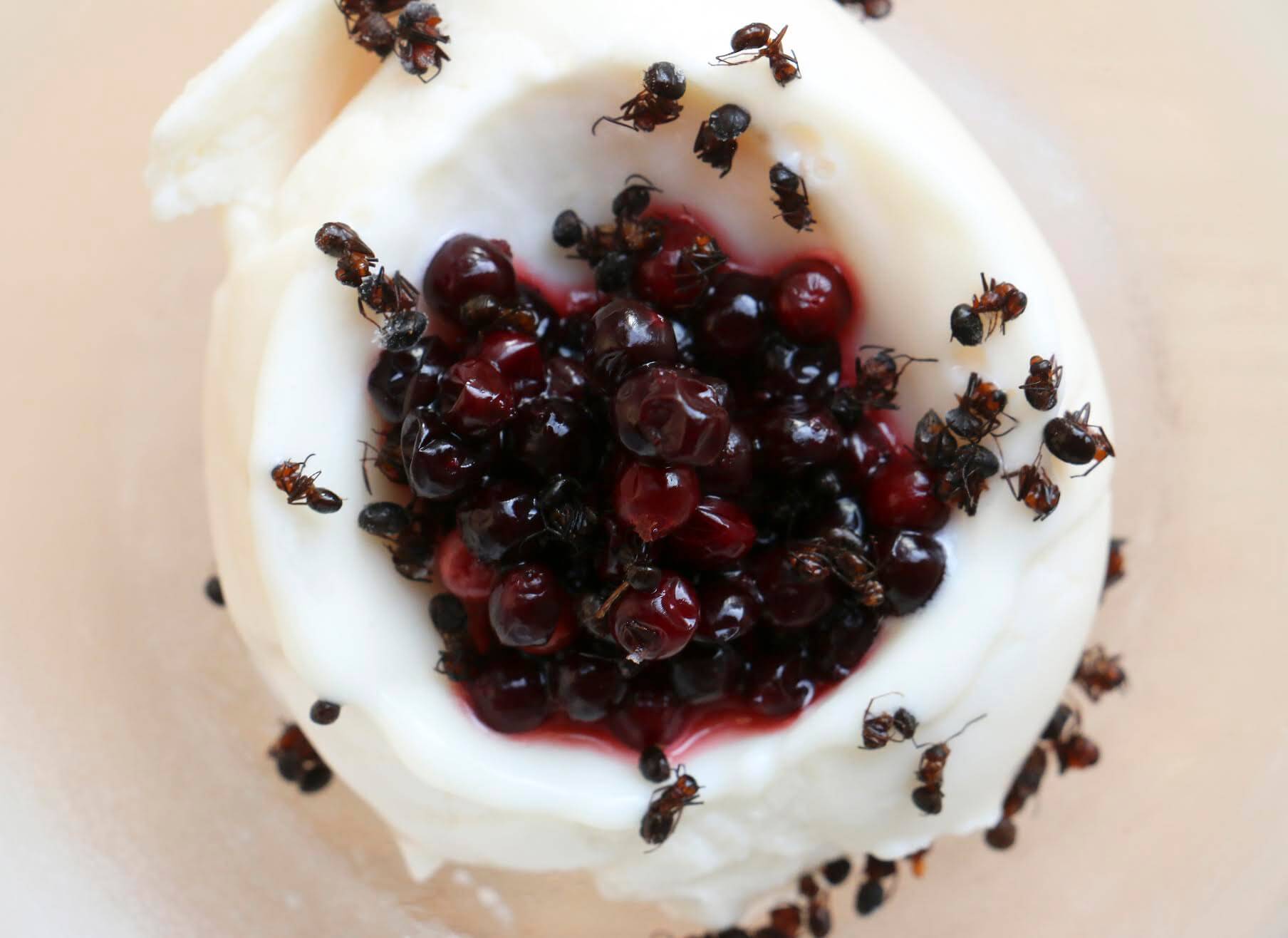 What: Tofu Sorbet, pomegranate and wood ants at Flat Three. Flat Three is a high-end, eclectic restaurant, serving up amazing tasting menus and à la carte dishes, alongside some winning craft cocktails.
The Lowdown: Visit Flat Three for their unmissable plant-based menu. Head Chef Pavel Kanja and his team are nurturing a sustainable way of thinking about food and lifestyle 365 days a year, at the same time challenging perceptions that vegan food has to be tasteless and unimaginative. Witness Pavel Kanja transform humble vegetables into something extraordinary and you'll be back for more as he continues to thrill and delight all who dine there.
Price: £8
Where: 120-122 Holland Park Avenue, London, W11 4UA
For Iconic Ice Cream: 108 Garage
What: Artichoke ice cream, served with chocolate cremeux and wild rice at 108 Garage. Think: a former garage, which has become a relaxed, bohemian backdrop to inventive, fusion-style British-Asian cuisine.
The Lowdown: Serving up an eclectic mix of cuisines in his own unique style, chef Chris Denney has been hailed by Giles Coren as "The kind of chef who comes along only once or twice in a decade." 108 Garage has stormed on to the London scene and is now one of the most sought after bookings, don't miss out.
Price: £7
Where: 108 Golborne Rd, London W10 5PS
For Peanut Butter Treats: Hush
What: Peanut butter frozen yogurt served with sliced banana, blueberries, and granola crunch at Hush. Hush is a cosy brasserie, 30s-style restaurant and oasis courtyard, with a great cocktail bar and private dining rooms to boot.
The Lowdown: The newly renovated interiors and the beautiful courtyard make it the perfect escape from busy London. Guests can enjoy stunning cocktails including the Carmen Miranda with Yaguara Blanco Cachaca, fresh papaya and fresh watermelon in the awarding winning Aviator bar. Add a touch of theatre to your meal with the Cacio e Pepe served in a parmesan wheel at the table.
Price: £7
Where: 8 Lancashire Court, Mayfair, London W1S 1EY