If you know the About Time team, you know that we love brunch. What's not to love? Brunch allows you to drink copious amounts of Prosecco and Bloody Marys before midday – a bit like eating your bodyweight in Celebrations for breakfast, because it's Christmas Day and all the rules are thrown out of the window on Christmas Day. We've eaten our fair share of brunches, and we wouldn't say we're tough cookies when it comes to brunch, but we know what we like. Prime example: don't serve us avocado on toast that's basically guacamole. Give us the chunks. The chunks.
Last weekend, we ventured to Dickie Fitz for their late-breakfast offering, and we don't want to give it away – but it exceeded expectations. If you're not familiar with Dickie Fitz, here's what you need to know: 
Dickie Fitz: The Lowdown
Dickie Fitz is a modern day brasserie, on the corner of Newman and Goodge Street. The menu marries big-hearted Pacific flavours, courtesy of Matt Robinson (Bluebird, Skylon and maze) with a carefully-crafted New World cellar, Australian and Asian inspired dishes, and a casual-friendly service. What was once the site for Newman Street Tavern, Dickie Fitz has ditched the dowdy interior for minimal, clean decor and a good coat of white paint.  It's a Saturday afternoon and the place is packed (but not uncomfortably so), but the secret about Dickie Fitz has obviously done the rounds. The restaurant has great appeal to different crowds;  purse friendly prices means this is an ideal spot for a catch-up brunch with your pals, great for groups, or just a laid-back brunch with the girls.
Dickie Fitz: The Food 
Before you order your nosh, their coffee is a good place to start. Their soya latte went down an absolute treat, and if you're in the mood for something fruiter, and less caffeinated, we recommend the pineapple, mango and lychee smoothie. Now, if you're after the harder stuff – the Dickie Fitz Bloody Mary ticks all the boxes. Spicy, heady and far too drinkable, especially when you can go bottomless for an extra £25.
The avocado on toast is not as chunky as we'd hope for (more of a paste), but there's still plenty of flavour in the spread-like consistency. The avocado is served with charred tomato, kale and a decent portion of feta for added creaminess. We won't hold the avocado smashing against them – it still tasted mighty fine, and the sourdough was dreamy too.
The zucchini fritters is our pick of the menu. Unlike sweetcorn fritters which are usually deep fried and oily, these fritters are cooked under a grill, meaning no soggy residue. They're a sort of potato pancake hybrid – filling, but not overly dense. Dickie Fitz has managed to turn a handful of ingredients into something really quite special. You've got the crisp bite from the kale, paired well with the rich goat's curd. We say, order an extra side of bacon.
The hot smoked salmon with slow-poached eggs nods to the fresh and vibrant Californian and Australian cooking that Dickie Fitz has become known for. The portion of smoked salmon is generous, and the hollandaise has been tinged with a portion of dukkah which really sets the whole dish off.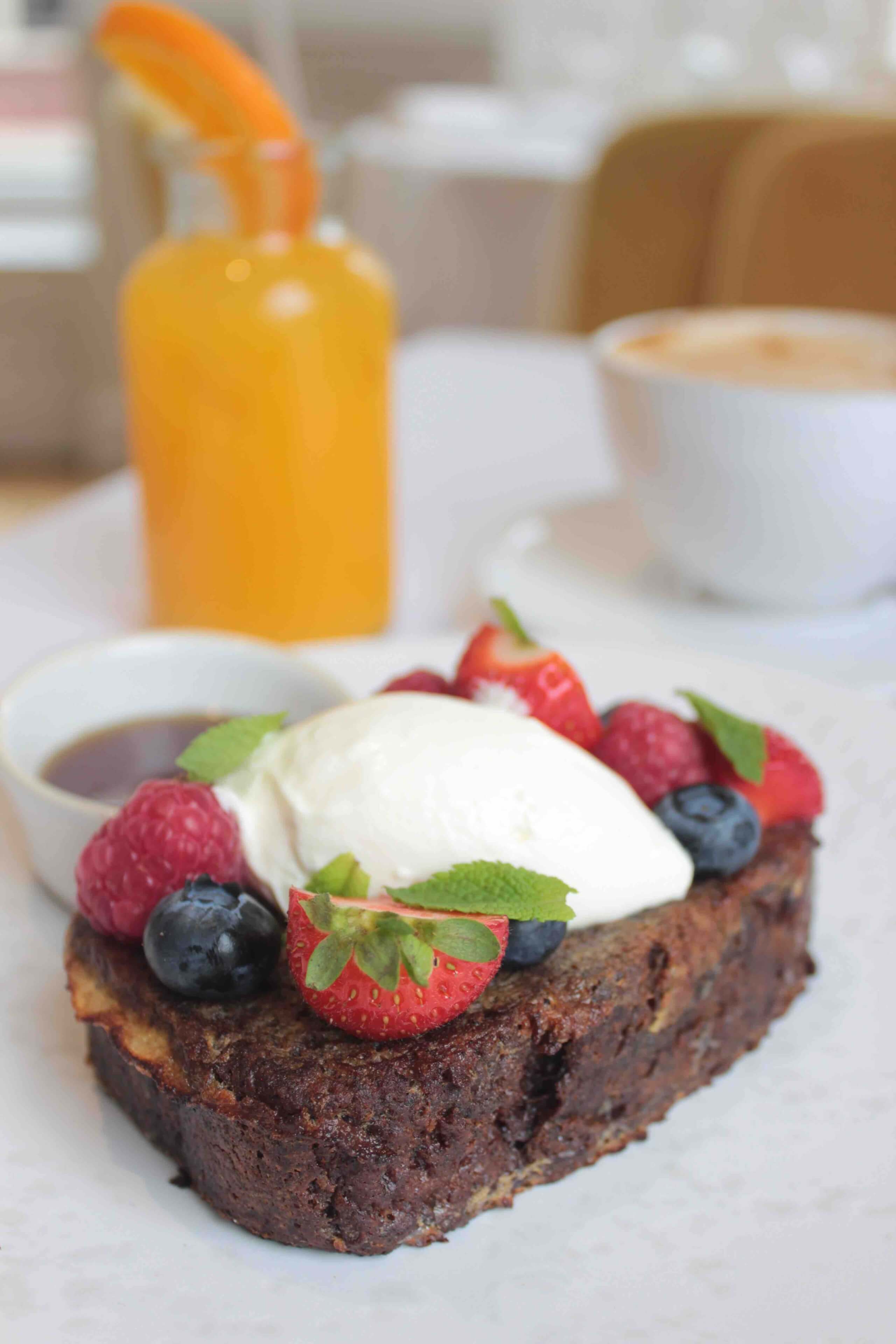 And let's be honest – we're never ones to shy away from a pudding. The dessert menu features favourites such as chocolate nemesis with bitter orange and cardamon, and banana bread French toast with creme fraiche and berries (which actually can be enjoyed as a sweet brunch dish). However, it's the pavlova that deserves all the praise. The pavlova is a fluffy pillow of delight. And made all the more magical with the addition of lemon curd and raspberries. Make sure you save space for the pavlova, you'll only regret it on the bus ride home.
Dickie Fitz: The Verdict 
Dickie Fitz does what it says on the tin. Fresh, wholesome food that's full of flavour and doesn't cost the earth. The service is speedy, the vibe is easygoing and the staff are welcoming. If you're in need of a new brunch spot, may sure Dickie Fitz is top of your list.
 48 Newman St, London W1T 1QQ. For more information, visit their website here.