Need a bit of foodie inspiration this week? Look no further because as usual, we've found a whole host of delicious new bites to try – discover 6 new places you need to eat in London this week. From colourful KALEIDO rolls to melt-in-the-mouth Swiss raclette and decadent Italian gelato here are the six tasty treats you need to eat in London this week: 
What: Bao a hot topic right now and where better to enjoy it than Shaftesbury Avenue's very own Pho & Bun, a haven for reasonably priced and authentic Vietnamese street food! This cosy little restaurant – complete with a colourful interior and wooden benches – transports you to a slice of Vietnam in the city. 
The Lowdown: The first of its kind on the London Vietnamese culinary scene, Pho & Bun's fresh steamed bao bun burgers combine beef patties with freshly steamed buns made in house every day. Served with a generous helping of their signature smoky mayonnaise sauce, these bao bun burgers are perfect for a quick bite with your friends any time of the day or night!
Price: £8.95
Where: 76 Shaftesbury Avenue, London W1D 6ND 
What: While away the weekend at Momo, the recently reimagined North African Mediterranean restaurant in Mayfair. Launching a Morrocan twist on the iconic Afternoon Tea, exquisite sandwiches, teas and sweets can be enjoyed on a beautiful terrace covered with mimosa plants, traditional rattan chairs and tables, and Moorish lanterns.  
The Lowdown: Created by Executive Head Chef Hervé Deville (previously Executive Head Chef under three Michelin Starred Pierre Gagnaire at Sketch Mayfair for seven years), this Afternoon Tea is the ultimate North African meets Mediterranean indulgence. Expect to be served traditional sandwiches with a twist from Tunisian fricassee with egg, tuna and olives and cucumber with labneh and mint. Sweet treats include Muhalabiya, a Middle Eastern milk pudding delicacy with strawberry rosewater and Momo's exotic twist on a lemon tartlette. Complete your North African experience by sipping on a selection of traditional Moroccan mint teas infused with rose water, cardamom and saffron. Heaven. 
Price: £32 per person with tea, £42 per person with a glass of champagne 
Where: 23 – 25 Heddon Street, Mayfair, London W1B 4BH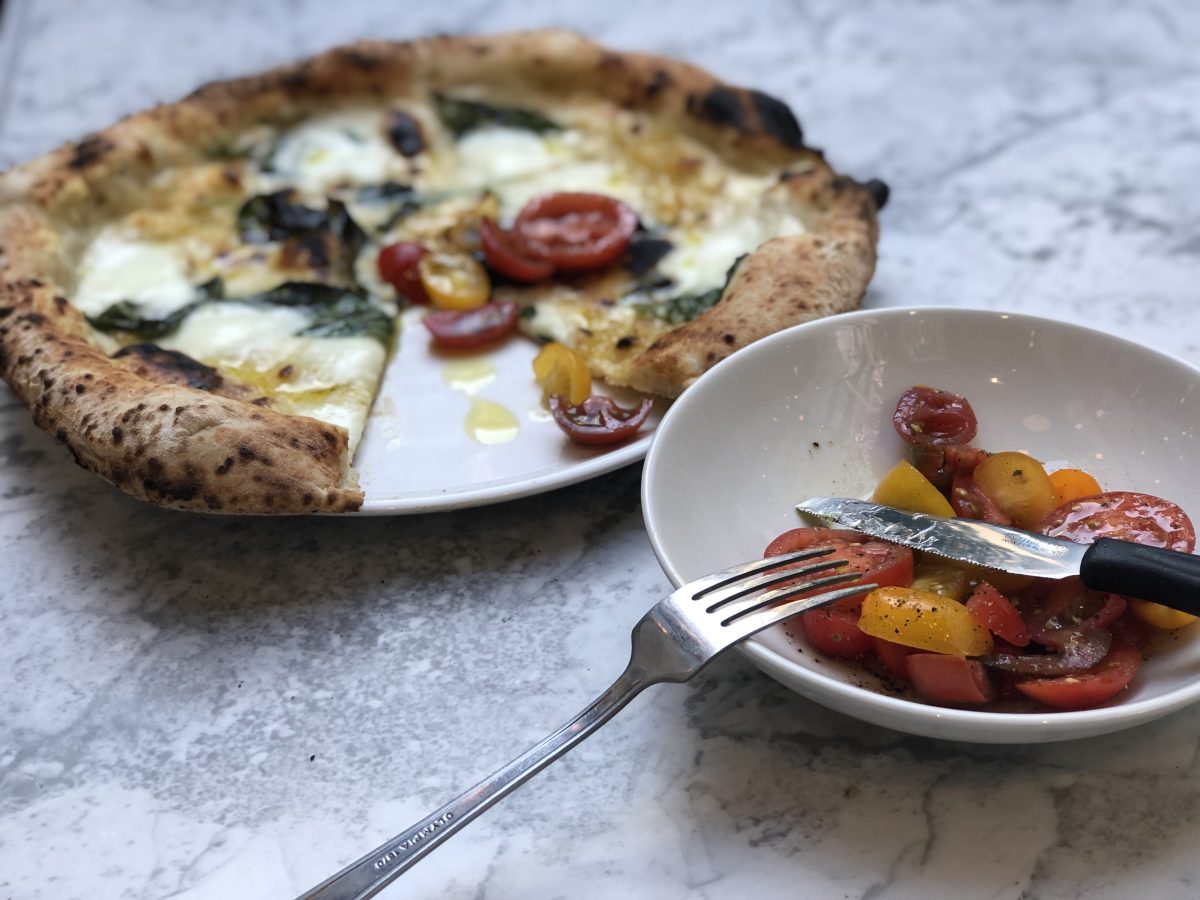 What: For one month only, the limited edition IOW Tomato Pizza at Pizza Pilgrims is the perfect accompaniment to a hot summer's day. 
The Lowdown: Summer is finally here and Pizza Pilgrims are celebrating with a limited edition guest pizza available until July 12th. An ode to summer, this pizza features Isle of Wight tomatoes – known to be the best in Britain thanks to the high levels of sunshine the island receives. To complement this tomato feast, this pizza will also include fresh buffalo mozzarella, basil and fragrant garlic olive oil as well as a side salad of sweet and tangy tomatoes sourced straight from the Tomato Stall on the Isle of Wight. It's a fantastic explosion of colour and flavour on a plate but hurry as it won't be available for long!
Price: £12
Where: Find your nearest Pizza Pilgrims here
What: Do you ever wish salads were more portable? Well, your prayers have been answered thanks to the start-up KALEIDO whose funky, colourful and downright delicious rolls have reinvented the humble salad as you've never seen it before! Sold in Selfridges across London, they're a perfect lunchtime snack that make you feel healthy AND indulgent. 
The Lowdown: Inspired by the kaleidoscope, a tube filled with colours and an endless combination of shapes, KALEIDO wrap their rolls in translucent rice paper to allow the vibrant fresh ingredients to shine through. Putting the playful back into nutrition, their constantly changing array of rolls include classics such as smoked salmon, cucumber, cream cheese and dill and tamari roasted aubergine, spring onions, sesame and chilli. Versatile and portable, these rolls are great for a bite on the go. 
Price: Prices start at £4.95 for a box of two KALEIDOs, £6.75 for three and £7.95 for four rolls served with complementary dips. 
Where: Find your nearest KALEIDO at Selfridges here
What: Opening this week, Heritage Restaurant is a destination for sophisticated Swiss cuisine. Celebrating Switzerland's signature dishes of fondue, raclette and rösti, Heritage Restaurant is marrying luxurious ingredients such as wagyu beef, lobster and black truffle with interactive dining – guests will be able to barbecue meat and fresh seafood on table-top charbonnade grills. 
The Lowdown: For the ultimate indulgence, tuck into a traditional Swiss dish of raclette served with a daily selection of Coble Lane charcuterie featuring 24-month ham, wagyu bresaola and saucisson and chateaubriand of Dedham Vale beef. This gooey feast of deliciousness is an ideal weekend treat for those wanting to taste something a little different. Reserve your table in advance to avoid disappointment. 
Price: From £13
Where: 18-20 Rupert Street, London W1D 6DF
What: Cool down on a hot summer's day with an award-winning Italian gelato from Remeo. Available in several different flavours this gelato is not just any old Italian ice cream. Proud to join the war on plastic, Remeo have become the first ice cream brand in the world to switch its packaging to 100% recyclable plastic. As if that wasn't enough, Remeo have also launched their brand-new eco-chic jars brought to life by their campaign 'I'm not a virgin'. 
The Lowdown: Remeo have incorporated the elegance of designer beauty products with the luxury of Italian gelato served in a transparent jar. Crafted in Italy, this authentic gelato is slow churned using less air, little cream and no eggs for a naturally low in fat and smooth texture. Remeo's trademark jars designed by a fashion designer, an artisan, and a team of engineers over a period of eighteen months in the Italian Northeast Region of Veneto, make this authentic gelato the ultimate summer treat.  
Price: £4
Where: Stocked by Waitrose, Ocado, Sainsbury's and other independent retailers