We've been slowly sipping our way around this famous tourist hot spot to bring you the best coffee shops in Camden. Save your cash on naff t-shirts, and stock up on croissants and coffee instead. Time to explore:
1. For a Cute Hangout: Coffee Jar
Eat: Banana bread with butter – it's served warmed. *Insert drooling emoji*
Drink: Iced latte
The Rundown: Any Camdenite that knows its beans will agree with us on this: The Coffee Jar is where you go for a fine cup of hot Joe. The Coffee Jar just gets it. The 'it' being the well executed coffees, the choice of freshly baked pastries, and the perfectly formed breakfast menu featuring bacon butties and that banana bread. The beans are sourced from Monmouth, with guest roasters also making an appearance from week to week. Prime time is in the morning when there's a queue out the door – it doesn't matter how busy the Coffee Jar becomes, you'll always end up with a cracker of a coffee.
Where: 83 Parkway, London NW1 7PP
Photo Credit: Regis Boileau
2. For a Freelancers Dream: Leyas
Eat: Open sarnies.
Drink: Soya latte. A dairy-free delight.
The Rundown: It's slim pickings in Camden when you're looking for a coffee shop with adequate wifi and a decent americano. Unless, of course, you want to frequent the chain coffee haunts that line the high street. We don't. Leyas is a beacon of hope for the freelancer crowd; there's heaps of plug points, sofas to crash on for a few hours, and a superb food offering (note: tarragon mushrooms on toast). They source their coffee from a wide variety of roasters in the UK and abroad and have served coffees from Union Hand-Roasted, Mission Coffee, Square Mile, Notes Roastery, Nude Espresso and Alchemy. Basically, all the big caffeine hitters.
Where: 20 Camden High St, Kings Cross, London NW1 0JH
3. For the Australian Cafe Culture: Lantana
Eat: Carrot cake
Drink: Coconut milk cappuccino
The Rundown: You might have noticed; day by day, coffee by coffee, Aussie-inspired coffee spots are popping up all over the city, as London finally takes the hint from its cousins down under. We're happy to sail away in a sea of Aussie-inspired brunches, flat whites and chalkboard menus. And no where is this more true than at Lantana. Coffee is a big deal at Lantana, as all caffeine creations are made with their unique Lantana Blend. Their carrot cake can divide a nation: it contains pineapple. But you know what, it tastes damn fine.
Where: 45 Middle Yard, Camden Lock Place, Camden Market, London NW1 8AF
4. For Vegan Everything: The Fields Beneath
Eat: Any of their vegan burgers
Drink: Try their oat milk coffees – steamed to perfection
The Rundown: As you walk in to this place, brace yourself. You will be bombarded by vibes. They will be everywhere. You'll have to swathe through the vibes until you reach the high countertop and lustfully peer at a selection of vegan baked goods, which will make your heart ache with desire. They serve vegan croissants, and if you don't think that's somewhat revolutionary, then go back to 1999. The stuff they're creating with humble veggies need to be tasted to be believed. Honestly. The bean burgers, the wraps, the sandwiches – it's the stuff of plant powered dreams.
Where: 52a, Prince of Wales Rd, London NW5 3LN
5. For Pastries: Melrose and Morgan
Eat: Almond croissant
Drink: Everything – it all tastes good
The Rundown: Melrose and Morgan makes our heart ache with happiness. They get our needs – up for making our cappuccino extra hot and our latte stronger than usual. There's no judgement here. Oat milk has received a lotta love in recent times, and we're fully behind this. Their oat milk beauties are deliciously different to the dairy variety, and we really recommend you trying one out. Their coffee is best enjoyed with their almond croissant; nutty almond paste encased in layers upon layers of buttery, flaky pastry and topped with almonds. It's the best way to kick off the week. And when the sun bares its face – bask on the benches outside.
Where: 42 Gloucester Ave, London NW1 8JD
6. For Tea and Cake: The Flour Station
Eat: Come for the eccles cakes. With buttery, flaky filo cocooning sticky, spiced mincemeat, these babies are festive enough to give any mince pie imposter syndrome.
Drink: Flat white
The Rundown: Camden Stables Market used to be a place where goths went to replace their misplaced skull rings and tourists went to find authentic London ethnic throws and cheap 'Chinese lemon chicken', but things are changing, slowly. There is light at the end of the tunnel, and that light goes by the name of The Flour Station. Fresh, gorgeous loaves of bread lines the shelves, homemade conserves and butter sit beside them waiting patiently for you to delve, seasonal salads sit seductively on the right-hand side, English cheeses and charcuteries lurk around the corner. As you can probably tell by now, The Flour Station is a treasure trove. Did we mention they also sell godly granola? Cherry and almond. Get some.
Where: Unit 91, North Yard, Camden Market, Chalk Farm Road, London NW1 8AH
7. For South Asian Drinks: Pamban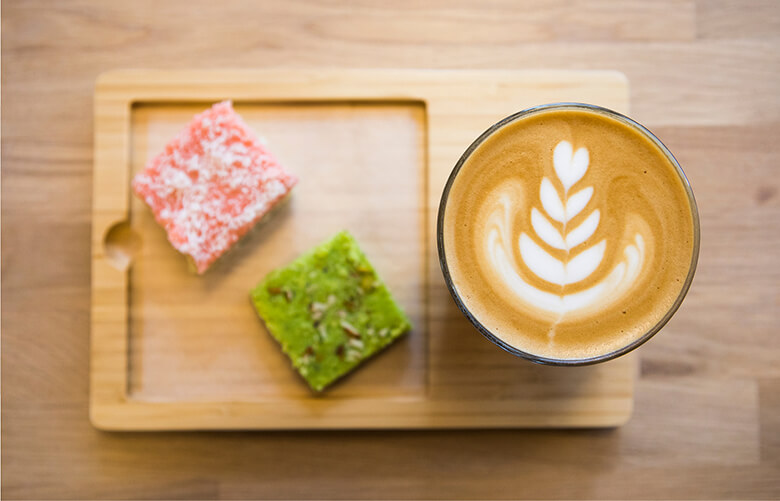 Eat: Bun Maska – a sweet bread bun served with tropical jams
Drink: Anything chai based. It's their speciality.
The Rundown: Camden Market gave birth to a new arrival this year: Pamban. Unlike the other caffeinated spots in this list, Pamban offers something different. Chai. All the chai. They could probably keep North London going with their chai menu. It's a bit like the salad bar at Morrisons – you can pimp up your original masala chai with a variety of different flavours. We're talking about fudge, rose and lavender (there's plenty more options to choose from). And all drinks are served in clay pots. How cute.
Where: Camden Market, North Yard, Chalk Farm Road, Camden NW1 8AH
One for luck…
8. For Buying Beans: Doppio Coffee 
Eat: Sicilian cannoli. Don't be shy.
Drink: Doppio espresso
The Rundown: You can walk in hankering for a flat white, and you can walk out with a new coffee machine, beans and other coffee paraphernalia; Doppio Coffee is a coffee warehouse with a cafe and workshop to boot. We can't lie, the food menu is limited (think baked goods and a few cakes), but we can look past this when their coffee tastes this darn good. The team really know their beans and they have plenty to choose from. Worth the short walk from Camden, trust us.
Where: 177 Kentish Town Rd, Camden Town, London NW1 8PD