Top 5: Cocktails You Need to Drink in London This WeekendBy Alicia Grimshaw
When the days are balmy and the sun is hot, we like nothing more than sinking a few cocktails on an outdoor terrace. We've discovered the best cocktails you need to be drinking in the capital this weekend. Happy drinking, London:
1. For a Gin Cocktail: Jensen's Gin x Ropewalk Bar at LASSCO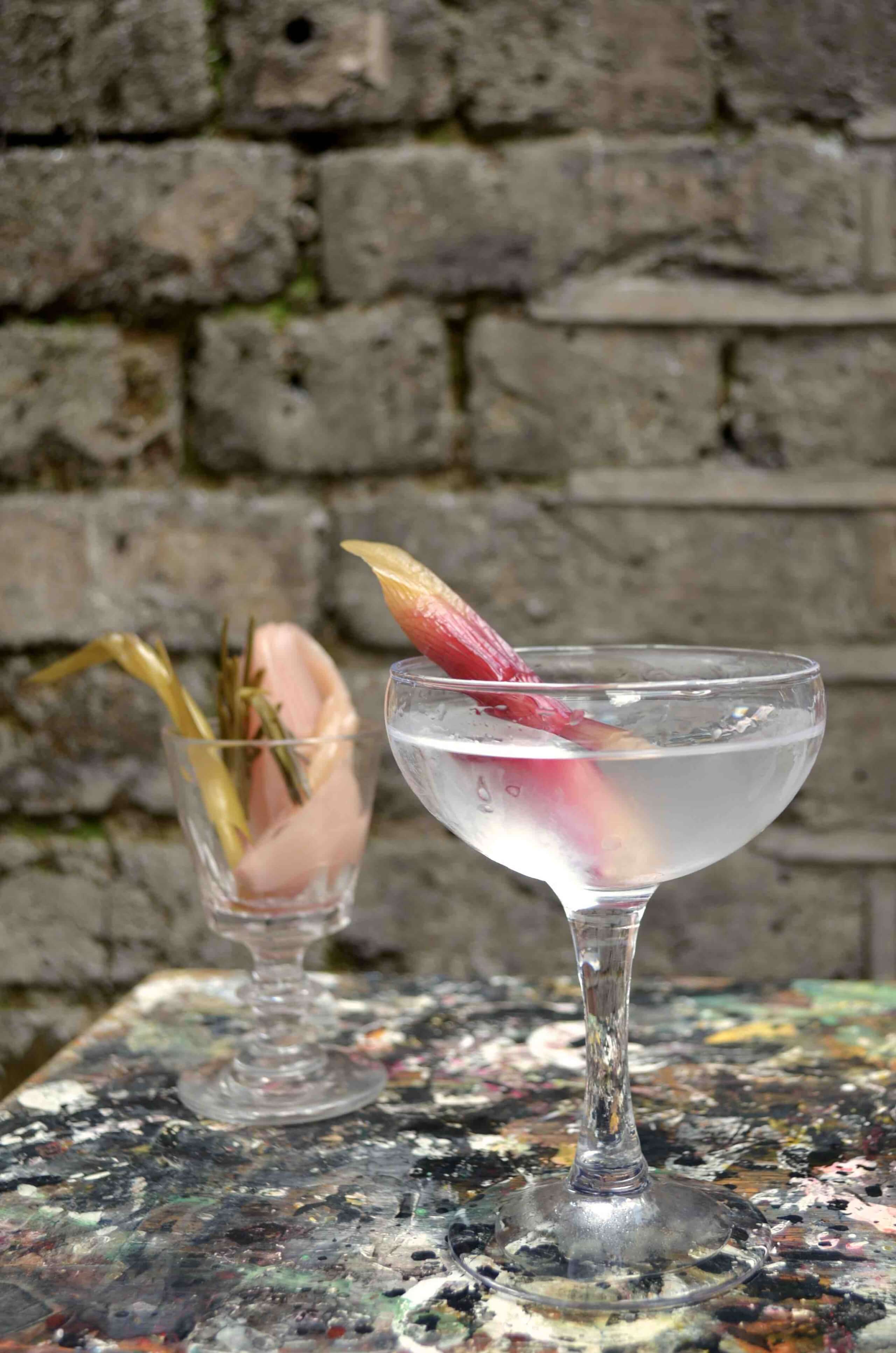 The Drink: The Spring Onion Gibson (£9)
The Blend: Jensen's Dry Gin and Dry vermouth
The Story: This summer, Jensen's Gin have raided East London's allotments for a series of 'garden to glass' cocktails, a celebration of seasonal, local and homegrown produce plucked straight from the heart of 'London's larder' Bermondsey. Teaming up with newly opened Disappearing Dining Club's Ropewalk Bar at LASSCO, Head Bartender Jerome Slezinksi, has dreamt up a selection of cocktails that reflect the flavours of British summer gardens using fresh herbs and vegetables commonly found in window boxes, roof terraces and gardens. Maltby street is both home to the Jensen's distillery and LASSCO, with the new cocktails will be served throughout the summer.
Where: 41 Maltby St, London, Southwark, SE1 3PA
2. For a Non-Alcoholic Cocktail: Seedlip x Little Social 
The Drink: Due Dilligence (£9)
The Blend: Seedlip Garden 108, Elderflower Cordial, Fresh Ginger Syrup and Lemon
The Story: Seedlip, the world's first non-alcoholic spirits, have partnered with The Social Company to create a special cocktail serve to celebrate this year's RHS Chelsea Flower Show. This unique serve is created using Seedlip's newest product, Seedlip Garden 108, which is a green and floral blend of copper-pot distillates including handpicked peas and hay from the founder's family farm and traditional herbs including spearmint, rosemary and thyme. Due Dilligence" is now exclusively previewed in all Jason Atherton establishments including Little Social, Pollen Street Social, Social Eating House and Berners Tavern before Seedlip Garden 108 officially launches on 24th May and is then available throughout the summer.
Where: 5 Pollen St, London, W1S 1NE
Photo Credit: Brian Whar 
3. For a Negroni: 45 Park Lane
The Drink: Aged Negroni (£25)
The Blend: Hendricks Gin, Bombay Sapphire, Campari, Aperol and Antica Formula
The Story: For all the Negroni lovers out there – keep calm. Mayfair hotel, 45 Park Lane has introduced a Negroni Trolley at BAR 45, offering three variations of the popular drink: The Classic Negroni, Vintage Negroni and an Aged Negroni. The Aged Negroni recipe, perfected by BAR 45's bartenders, has been placed in an American oak barrel for eight weeks, allowing the liquid to slowly absorb the woody flavour to create a fuller taste, with hints of vanilla and caramel notes also present.
Where: 45 Park Ln, London, W1K 1PN
4. For a Floral Cocktail: Plateau 
The Drink: Drylight (£12)
The Blend: Martini Extra Dry, Cointreau, Elderflower Cordial, Lemon and Fresh Basil Leaves
The Story: This month sees D&D London launch their #BlossomCity campaign in its restaurants across the capital with an array of flower-fuelled pop-ups, blooming terraces, floral-themed dishes, alongside flower power parties and McQueens' awe-inspiring floral installations. Plateau have specially created their own floral cocktails, using the restaurant's own-grown herbs.  Sip on the Drylight, made with Martini extra dry, Cointreau, elderflower cordial, lemon and fresh basil leaves or the Plateau Garden – Fair gin, martini extra dry, sugar syrup, fresh sage, basil, rosemary and olives. Read more about #BlossomCity here.
Where: 4th Floor, Canada Square, London, E14 5ER
5. For a Whisky Cocktail: Kansas Smitty's
The Drink: Piney Brown Julep (£8)
The Blend: Single Grain Whisky, Lavender, Pine and Salted Heather
The Story: World Whisky Day invites whisky-lovers and newcomers to the spirit to raise a dram and celebrate the unique, golden nectar. The fifth annual World Whisky Day celebration will be taking place this Saturday (21st May). Broadway Market's hidden live music gem, Kansas Smitty's has created the  Piney Brown Julep (£8), in collaboration with new brand R&B Distillers. This fresh and fragrant julep contains R&B Borders single grain whisky, laced with lavender, pine, salted heather honey, bergamot and lemon. Kansas Smitty's will be holding an interactive and fun session from 5.30pm – 7pm on World Whisky Day to explore this julep as well as enjoying a selection of malts and single grains.
Where: 63-65 Broadway Market, London E8 4PH