This month sees D&D London launch their #BlossomCity campaign in its restaurants across the capital with an array of flower-fuelled pop-ups, blooming terraces, floral-themed dishes, alongside flower power parties and McQueens' awe-inspiring floral installations. We say, kick back and drink all the floral cocktails. Happy exploring, London:
For a Pop-up: Cantina del Ponte 
What: For May only, Pizza Pilgrims' and Chase Distillery have teamed up to host a special Pococello pop-up bar. Grown in Amalfi, distilled in England and born in Soho, Pococello fuses the world's most sought-after Amalfi lemons with the world's best-tasting potato spirit from Chase Distillery. This collaboration of carefully curated cocktails includes the Poco-Spritz Pococello –  London Dry Gin, fresh lemon juice and rose flavoured sugar syrup, and the Lemon Mule – Pococello, lime juice and Fever Tree ginger ale.
Where: 36c Shad Thames, London SE1 2YE
What: Skylon has curated decadent handcrafted marshmallows, courtesy of The Marshmallowist, paired with a specially created selection of cocktails. The sweet treats have been given a grown-up twist with flavours such as: spring bloom with Yorkshire rhubarb and violet, and Amere floraison with bitter orange and white peach.
Where: Royal Festival Hall, Belvedere Rd, London SE1 8XX
What: If wine is your bag, head to the renovated Victorian gymnasium, German Gym for floral cocktails in the Meister Bar. Try the Kent's Jelly Jar, an edible jelly cocktail infused with jasmine blossom. There's also a range of other cocktails to sample, too. Executive Chef Bjoern Wassmuth has also created a flower-packed restaurant menu as an ode to all things spring. 
Where: King's Blvd, London N1C 4BU
What: Hit up Coq d'Argent's rooftop terrace and bask in the rays, with a herbal and spice infused cocktail in hand. The terrace has been taken over by Tanqueray, with cocktails including the Cardamom Martini and Eucalyptus Collins, which accompany a three course floral menu created by Executive Chef Damien Rigollet. The star of Damien's menu is the red apple dessert, which as well as celebrating London's blooming season, marks the release of the much anticipated film, The Huntsman: Winter's War. In addition, a flamboyant Flower Power Voga garden party will take place on the 8th May to launch Coq d'Argent's renowned summer Voga sessions, which will run on a bi-monthly basis. 
Where: 1 Poultry, London EC2R 8EJ
For Even More Cocktails: Old Bengal Bar and New Street Grill 
What: Monkey around on the new jungle experience on the outdoor terrace to celebrate Kipling's masterpiece, The Jungle Book. Spicy cocktails include the Mowgli – Tanqueray Gin, Yellow Chartreuse, Vida Mezcal, Pineapple Juice, Elderflower Cordial, Lemon Juice and Thyme, and The Baloo – Ketel One Vodka, Aperol, Strawberries, Rose Water, Lemon Juice and Tonic. 
Where: 16 New St, London EC2M 4TR
What: Le Pont de La Tour are bringing a slice of Provence to the Thames with their St Tropez-themed terrace. Head chef Frederick Forster has also created a signature dessert of lemon cream with poached rhubarb, ginger sorbet and viola flowers. That's summer on a plate, right there. 
Where: 36D Shad Thames, London SE1 2YE
What: Foodies, this one is for you guys. Plateau has created a six-course Blossom City tasting menu which finishes with a spectacular floral dessert concealing a hidden ring. In collaboration with jewellery designer Cadenzza, each dessert showcases a beautiful ring, made with Swarovski Elements. Plateau's outdoor space has also be turned into a herbal garden terrace. Floral cocktails using Plateau's own-grown herbs include the Drylight – Martini extra dry, Cointreau, elderflower cordial, lemon and fresh basil leaves, and Plateau Garden – Fair gin, martini extra dry, sugar syrup, fresh sage, basil, rosemary and olives. 
Where: 4th Floor, Canada Square, London E14 5ER
For a Picnic: Butlers' Wharf Chop House 
What: Nothing quite beats soaking up the sunshine in London, especially when there's a picnic involved. Butlers' Wharf Chop House has put together bespoke picnic hampers to be enjoyed at the restaurant's terrace throughout summer. Costing £35 per person, complete with gingham table cloth, the hampers include a selection of sandwiches such as chicken and sweet corn, cheese and onion, prawn mayo and ham and mustard; cheese platter with farm house pickles; crudits and dips, and strawberries and cream. Hampers must be ordered at least 48 hours in advance, and are designed to be eaten at the restaurant 
Where: 36e Shad Thames, London SE1 2YE
For a One Off Special: Kensington Place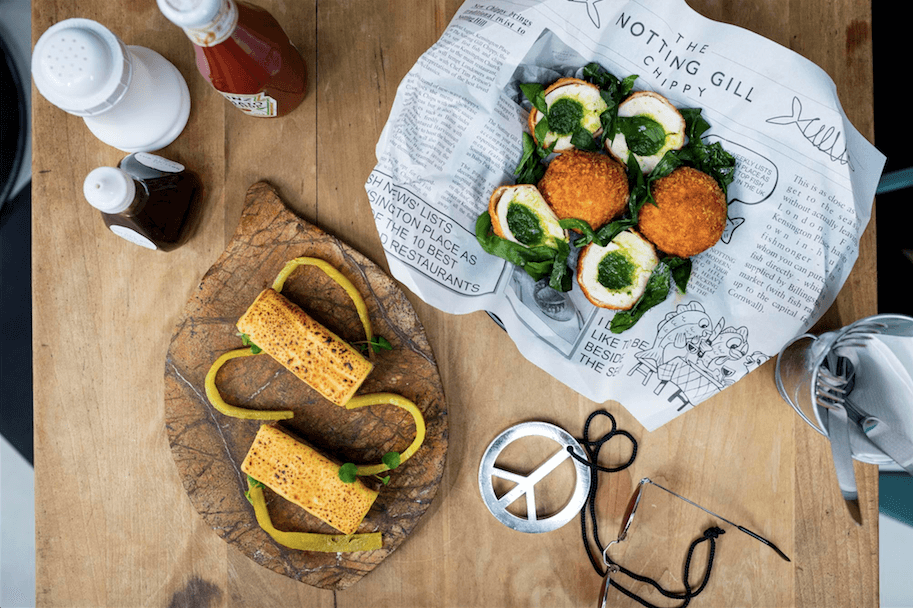 What: Don the flares, dust off your naff fancy dress wig and take a trip to Kensington Place's much loved Notting Gill Chippy, and fully embrace  flower power with a one off Hippy Chippy night on 18th May. From 6:30-10pm enjoy  super retro dishes including prawn cocktail, chicken kiev, and pineapple and cheese. We're always down for a hippy style throw down. 
Where: 201 Kensington Church St, London W8 7LX
What: Orrery's terrace will be awash with flowers for its Paris in Bloom themed rooftop. Designed by florist-to-the-stars McQueen's, the terrace will open on 19th May and will see floral dishes such as confit fillet of salmon with caramelised fennel, white asparagus and fresh strawberries; and blossom scented sorbet being served.  
Where: 55 Marylebone High St, London W1U 5RB
For Afternoon Tea: Bluebird Chelsea 
What: To celebrate the release of new film, 'Alice through the Looking Glass',  Bluebird Chelsea has given their outdoor space a makeover, turning it into a magical spring courtyard. Expect whimsical afternoon tea, Mad Hatter cocktails and special events and workshops.
Where: 350 King's Rd, London SW3 5UU
For Honey Cocktails: South Place Hotel
What: South Place Hotel has partnered with Butterfly and the Bee to offer a selection of five honey cocktails. These will be served in the hotel's Secret Garden bar from next week, which will be decked out in a honey bee flower and tree display by McQueens. When you order a cocktail, you'll be given a wooden honey stirrer – allowing you to add your own honey from giant pots of different honey infusions along the bar.
Where: 3 South Pl, London EC2M 2AF
For a Unique Installation: Avenue 
What: The St James' restaurant is encouraging everyone to get their hands sugary and sticky with some floral infused Candy Bloss (candy floss), while an aptly named 'Flower (Sour) Hour' will take over the bar from 8-9pm each day, offering cocktails such as the Elderflower sour, and Cherry Blossom for the bargain price of £6. Blooming dishes include: pickled cucumber and strawberry salad, fennel pollen, scallop ceviche, vanilla and pink peppercorn, and Green pea velout, wild garlic and smoked ham knuckle.  
Where: 7-9 St James's Street, London SW1A 1EE