It's British Tomato Week! You could celebrate by making tomato pasta. Or you could drink your weight in Bloody Marys over brunch and kind of, sort of, count it as one of your 5-a-day. From bacon in your drink to Peruvian-inspired creations and the dirtiest, filthiest Bloody Mary Martinis, here's 15 creative ways to drink Bloody Marys in London this week:
1. Beetroot Bloody Mary: Village East
What: Village East on buzzing Bermondsey Street, South East London, offers a mouthwatering selection of Bloody Marys. All contain The Village Mary mix which is created in-house by combining Tabasco, Worcestershire sauce, celery salt, and freshly grated horseradish root. Try it in the Cucumber Mary with Tanqueray gin or Stolichnaya vodka, freshly made cucumber juice, green Tabasco and green peppercorns.
Why: Village East was created out of a desire to address the needs of the local creative community throughout the day and night. In 2005 Village East opened as a New York, Scando-style cocktail bar and brasserie, with the aim of continuing to serve an exciting cocktail menu and seasonal food offering. It's truly awesome.
Where: Village East, 171-173 Bermondsey Street, London, SE1 3UW
2. Yellow Bloody Mary: Percy & Founders
What: At new restaurant and bar, Percy & Founders, a series of unusual Bloody Marys sit on the breakfast and brunch menus, including The Bloody Maria – a twist on the classic made with yellow tomatoes – and The Bloody Consommé, a lighter Bloody Mary, and the classic Percy Bloody Mary.
Why: For the sheer beauty of the place. Percy & Founders is situated on a prominent corner on Mortimer Street, within the new Fitzroy Place development, occupying the site of the former Middlesex Hospital. The venue has a brand new outside summer terrace, perfect for soaking up the fleeting rays.
Where: 1 Pearson Square London W1T 3BF
3. Japanese Bloody Mary: Ippudo
What: Ippudo offers an eclectic range of cocktails, including the Bloody Oishi, a twist on the classic Bloody Mary – a blend of sake, vodka, Ippudo original tomato juice, celery, lemon and Japanese spices.
Why: Ippudo is a Japanese ramen restaurant group which now operates restaurants across 13 different countries, with sites in New York, Singapore, Hong Kong and Sydney, serving a staggering 50,000 bowls of ramen each day. That's an awful lot of ramen.
Where: Central Saint Giles, London, WC2H 8AG
4. Oyster Bloody Mary: Wright Brothers
What: Wright Brothers find their niche in Blood Mary's, with three variations on offer at the Soho establishment. Choose from the Oyster Shooter a combination of  Belenkaya vodka, Wright Brothers house spices, tomato juice and oyster or The Spring Mary a mixture of Lemon Stolichnaya vodka, cucumber, lime, lemon, orange and tomato juices with salt and pepper, not forgetting  The Wright Brothers Bloody Mary, a classic Blood Mary infused with Wright Brothers spices.
Why: Oyster specialists Wright Brothers reopened their Kingly Street restaurant in spring 2014, following a major redesign, with head chef Sasha Ziverts, formerly of Eight Over Eight. Wright Brothers Soho features a modern seafood menu with an occasional Asian twist within timeless and elegant interiors. It's beautiful and well worth a visit.
Where: 13 Kingly Street, Kingly Court, London, W1B 5PW
Photo by Paul Winch-Furness
5. Secret Bloody Mary: The Bull & Gate
What: Secret recipe Bloody Mary with a choice of garnishes at The Bull & Gate, a newly opened Kentish Town pub, with a great atmosphere.
Why: As well as being a really tasty Bloody Mary mix, drinkers can choose from a wide range of garnishes here including bacon, fresh horseradish, and Tabasco & garlic infused cherry tomatoes. They also do a re-tox cocktail menu on Sundays featuring a Bloody Nose cocktail which contains Absolut citron, Drambuie, Port, tomato juice, hot paprika, soy sauce, Tabasco and lemon. Come and check out the refurbished site and indulge in a spot of weekend brunch.
Where: The Boulogne Bar, The Bull & Gate, 389 Kentish Town Road, Kentish Town, London, NW5 2TJ
What: Over at Brew, they serve up their Bloody Mary as per the classic recipe, only with one surprising twist which you'll either love or hate. Brew's Bloody Mary consists of vodka, tomato juice, horseradish and a vegemite soldier! That last ingredient is of course the Australian cousin of a certain sandwich spread we have here in the UK, and you will be pleasantly surprised at how it makes the perfect companion to a Bloody Mary.
Why: This small cafe offering creative breakfasts, and modern Mediterranean lunches and dinner, is great for a relaxed weekend meal. It's got a lovely buzzy crowd on Sundays and there's no finer place to wash away your hangover with a delicious breakfast.
Where: 21 High Street Wimbledon, Wimbledon SW19 5DX
7. Build-Your-Own Bloody Mary: Andaz Hotel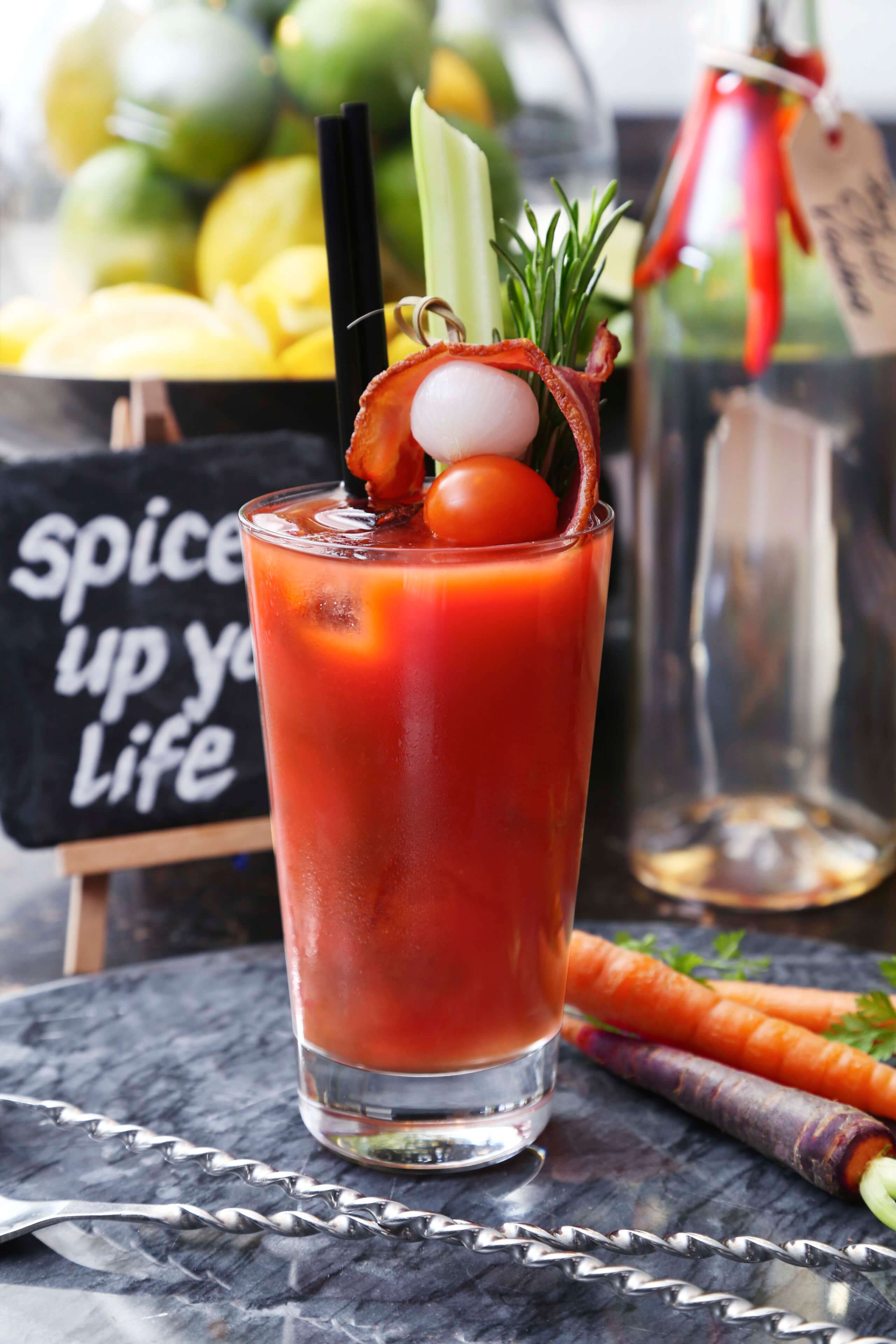 What: The Bloody Mary Bar at Andaz is on hand as part of the their incredible brunch to take the edge off teeming hangovers, enlivening visitors with pungent spices including chilli and horseradish. If all else fails, unlimited offerings of Bellinis and mimosas float on the menu for £19 per head.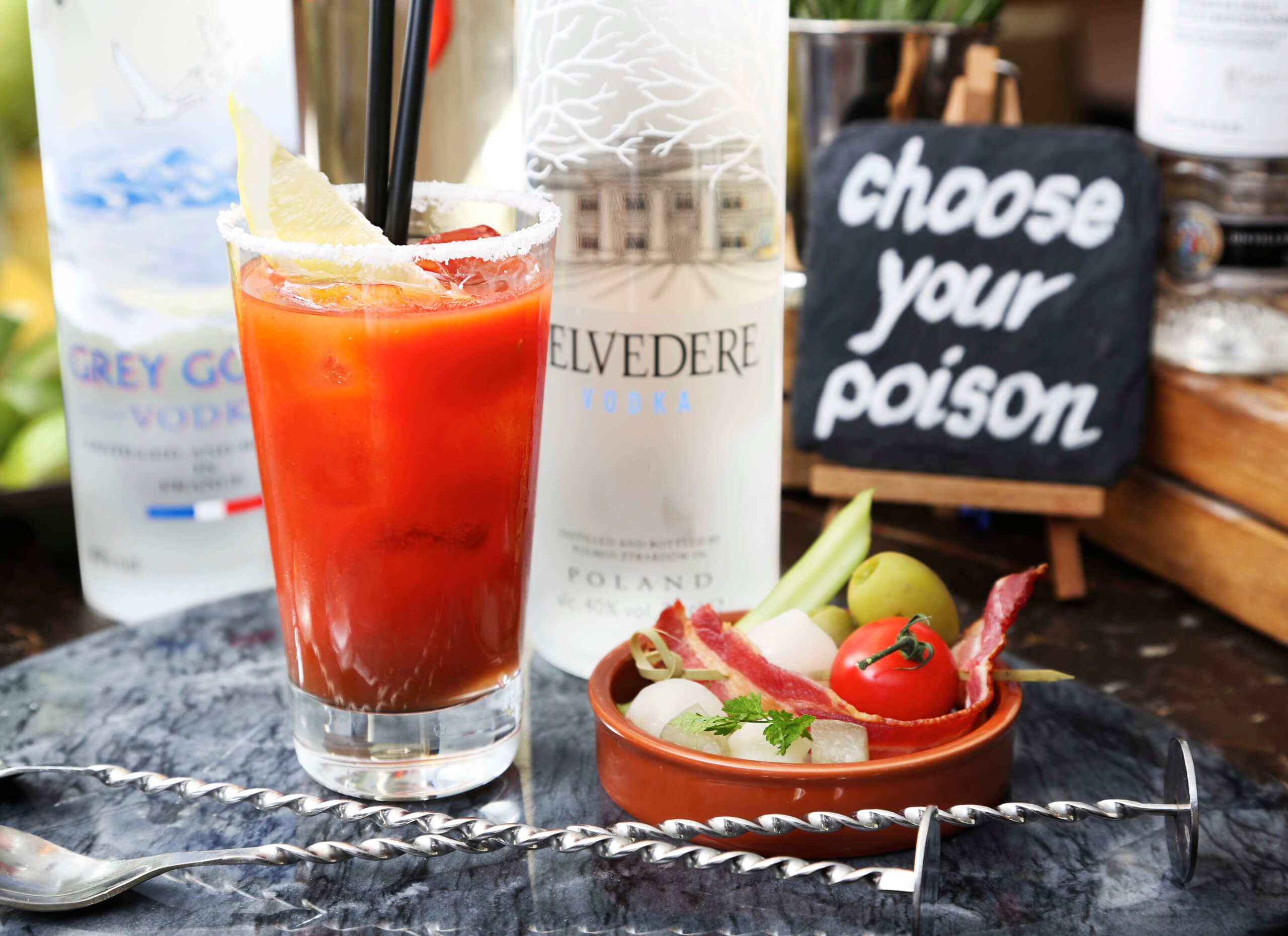 Why: Their brunch is top; the signature brunch dish at the 5* Andaz Hotel in Liverpool Street is confit chicken legs with Marmite. If you're not brave enough for that, there's plenty of other indulgences that merge global cuisines: everything from New York-inspired cheddar and blackberry Blintez, to Eggs on Brick Lane.
Where: 40 Liverpool Street, London EC2M 7QN
8. Vodka Bloody Mary: The Folly
What: The Ketel One Vodka Kitchen at The Folly lets you sample a lot of Bloody Marys from the bar, as well as creating your own in a series of interactive masterclasses held on Wednesday and Thursday. 
Why: Hosted by Ketel One's expert mixologists, craft your very own personalised Ketel One Bloody Mary using a wide array of perfectly fresh market fruits and vegetables, freshly ground spices and secret seasonings.  This experience offers a chance to explore the world of Ketel One through the Bloody Mary signature serve, one of the most iconic and distinctive cocktails ever created.
Where: 41 Gracechurch Street, London EC3V 0BT
9. Smoky Bloody Mary: SixtyOne
What: Yet another menu with a wide range of Bloody Marys available, the Sunday Brunch at Sixtyone is a must for any Londoner. The Smoky Mary offers an evocative BBQ flavour while the Spriggy Mary boasts a unique rosemary-infused tomato juice.
Why: SixtyOne is great for a super naughty brunch – the food is beautifully presented, and truly indulgent. Get your brunch with The Bloody Mary Martini – great if you're feeling shaken and stirred from the night before. Sixtyone are justifiably proud of their house Bloody Mary which comes complete with cucumber foam.
Where: 61 Upper Berkeley Street, London W1H 7PP 
10. Chorizo Bloody Mary: Tapas Revolution
What: This casual eatery, which serves dry-aged ham and other classic Iberian tapas, was opened by Spanish Chef Omar Allibhoy in February to rave reviews. For a Spanish twist on the classic, try their Blood Mary offering – a chorizo-infused vodka Bloody Mary with smoked pimenton and sherry tomato juice.
Why: Tapas Revolution is the latest opening from Spanish chef Omar Allibhoy, it's his personal interpretation of the lively and bustling tapas bars in his hometown of Madrid. It's got a great atmosphere and perfect for a date.
Where: 58 Bethnal Green Road, Shoreditch, London E1 8JW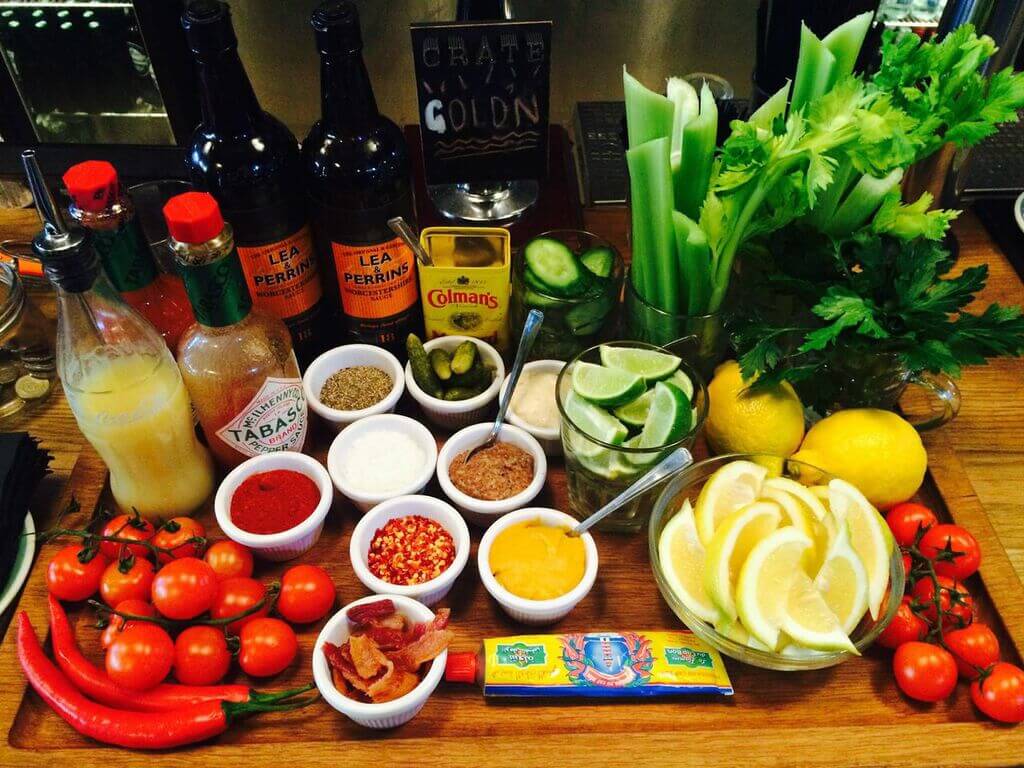 What: Stories is a buzzing neighbourhood bar in Broadway Market; they fuse daytime boozy brunches, cocktail-fuelled evenings and thought-provoking cultural events, live music, DJs and contemporary art. It's a daytime hub for freelancers, mates and mums to meet, eat and work and an evening bolt-hole for getting together with friends.
Why: The cocktails are simple and well executed, they've got a great Bloody Mary station where you can make it as spicy as you like. It's great for a bite, too; the food is locally sourced, with plenty of veggie and healthy options alongside more indulgent weekend eats.
Where: 30 Broadway Market, London E8 4QZ
12. Bacon Bloody Mary: Sea Containers
What: At Sea Containers, they mix things up with a Containers Classic Mary which comes with bacon. Award-winning chef Seamus Mullen, known for his inventive flavours and emphasis on real, whole foods, launched Sea Containers in the hope of bringing 'farm to table' dining to London. Come for the open kitchen, visible wood-fire oven, central "diner" bar and beautiful restaurant space.
Why: Sea Containers at Mondrian, with its fully retractable windows as well as some outdoor seating, is the perfect place for dining by the river this summer. They've also got the fantastic Rumpus Room rooftop bar, with views of St Paul's and the thames, the bar's outdoor terrace – with furniture from Tom Dixon – is a perfect city sun trap. Cocktails come from Ryan 'Mr Lyan' Chetiyawardana and there is live music on Wednesday evenings.
Where: 20 Upper Ground, London SE1 9PD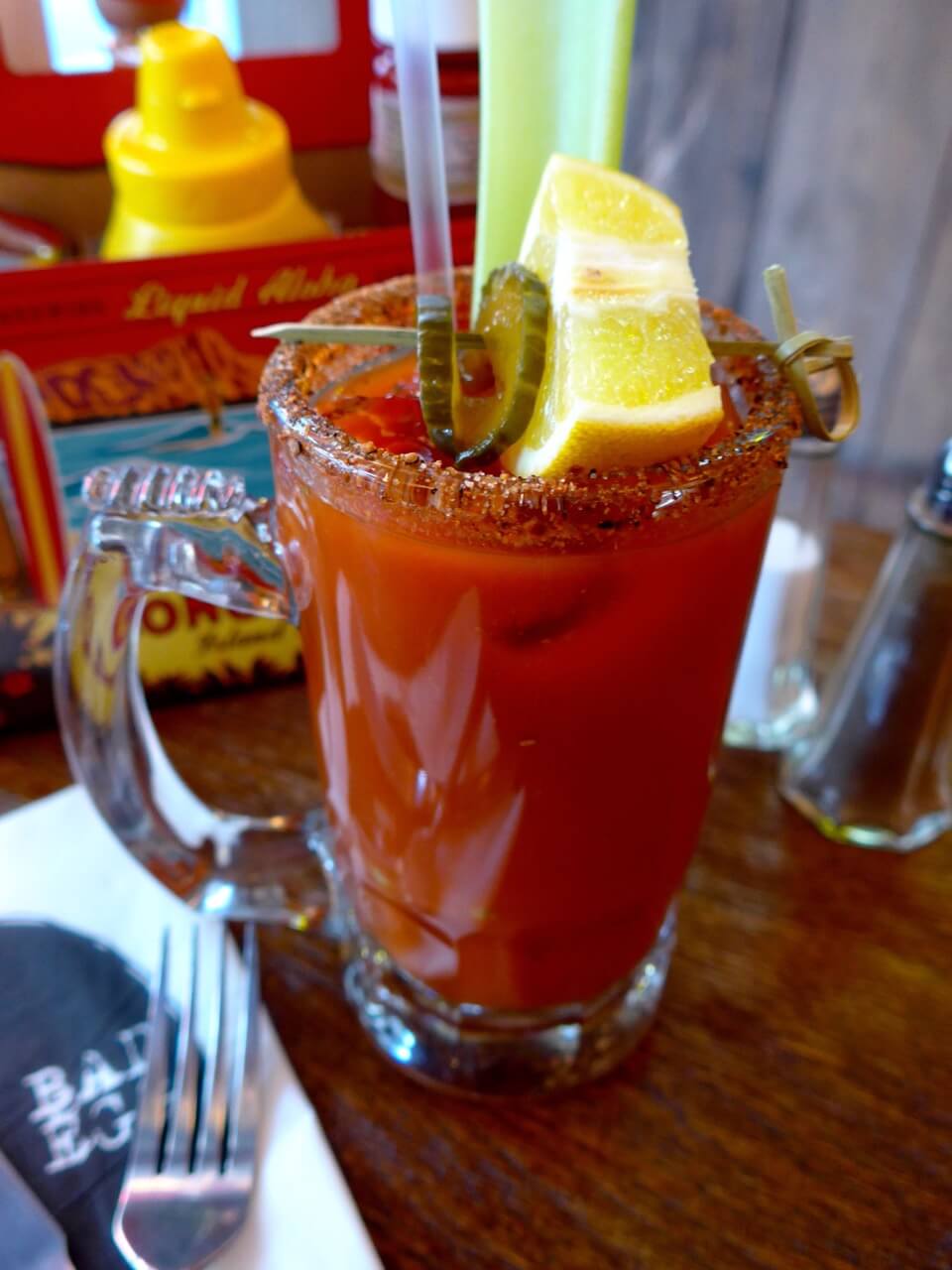 What: Bloody Mary with tomato juice, Gochujang, Luksusowa Vodka, Worcester sauce
 and Cholula
Why: Inspired by contemporary Chicago diners and featuring an eclectic all-day menu with bold flavours from around the globe, Bad Egg is the acclaimed chef Neil Rankin's take on the all-American dining scene Bad Egg serves tacos, ribs, burgers and a brilliant variety of egg dishes throughout the day, which are truly delicious. Their Bloody Mary is absolutely incredible – flavoured with Gochujang, a savoury and pungent fermented Korean condiment made from red chilli, glutinous rice, fermented soybeans and salt, it's the total dream.
Where: City Point, Unit 1b, 1 Ropemaker St, London EC2Y 9AW
14. Barbeque Bloody Mary: Q Grill
What: This barbeque restaurant from Des McDonald has a designated Bloody Mary station at the weekend choose from traditional ingredients such as vodka, tomato juice, Tabasco sauce and salt and pepper or spice it up with some Worcestershire sauce, lemon, cayenne pepper, chillies, ginger, pickled onions, horseradish sauce and celery amongst other vegetables.
Why: Pit-smoked beef hash, charred ribs & other American-style BBQ in this wood-decked eatery & bar, you really can't go wrong here. If you don't fancy whipping up your own concoction, Q's experienced bar staff will be on hand to help.
Where: 29 – 33 Chalk Farm Rd, London NW1 8AJ
15. Peruvian Bloody Mary: Andina
What: Andina's 'Bloody Andina' is made with fresh tomato, beetroot, red pepper, cucumber, celery-infused pisco, smoked vodka and rocoto tiger's milk. It's seriously delicious.
Why: For the drinks, Andina is famous for its Pisco Sours – they even have a dedicated Pisco bar downstairs, which has a great vibey feel. Ask for the spicy Peru Bravo, which is made with pineapple and their own chilli-infused Pisco, topped with ginger ale. It's got a real kick to it, and compliments the flavoursome ceviche perfectly.
Where: 1 Redchurch Street, Shoreditch, London E2 7DJ
Photo above by Paul Winch-Furness 
And if you want to make one at home…
Imbibery London: Cold Pressed Mixers
Why not try Imbibery London's new creations. The cold pressed juice company have recently partnered with Belvedere vodka to launch a cold pressed cocktail line; everything is raw and pure, such as the Greenacolada with spinach, coconut h2o and pineapple. These mixers are designed to be shaken, stirred and enjoyed with a measure of Belvedere vodka – to make a delicious Bloody Mary at home, mix vodka with the Hail Mary, a delicious blend of tomato, cucumber, beetroot, lemon and cayenne pepper.
Where: Online here